10 Best Things to Do for Couples in San Antonio
San Antonio's Most Romantic Places
San Antonio is better known for its turbulent history than a destination for lovers. However, romantics will find no shortage of things to see and do as a couple in the Alamo City. The River Walk area, in particular, is packed with great restaurants and sights, and has the kind of atmosphere usually found on the riverbanks of European cities like Paris and Venice. We've gathered together a list of the best things to do for couples in San Antonio to give you some inspiration on where to go with that special someone in your life.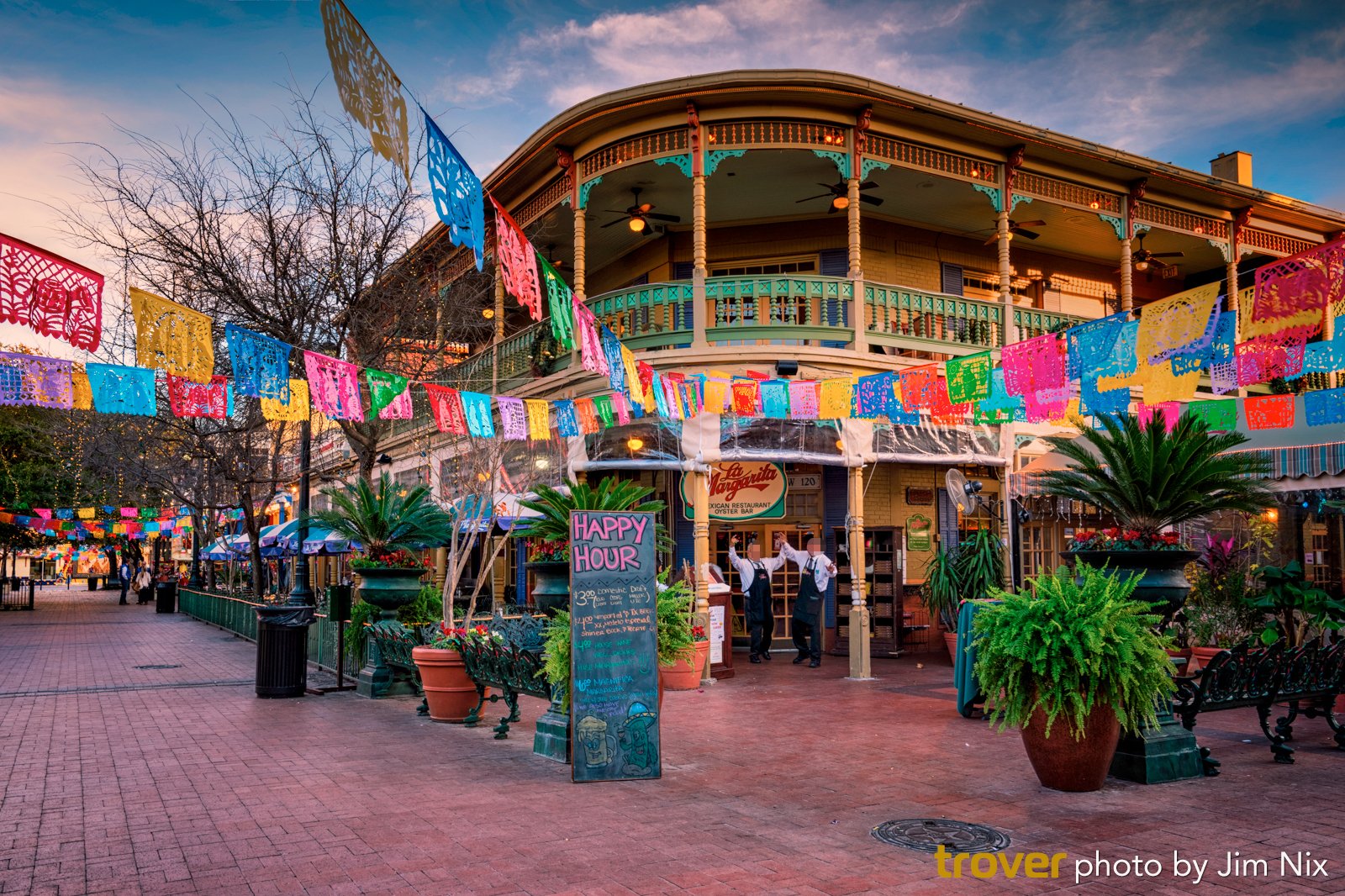 Have breakfast and shopping in Market Square
You have to try the breakfast burrito
As the biggest Mexican market in the US, Market Square houses over 100 shops selling jewellery, piñatas, textiles and many more Mexican products. Littered around these shops are bustling cafés and restaurants, offering unique Tex-Mex food. Whether you're waking up early or ending your night late, these cafés are sure to have something to satisfy your appetite. A visit in the morning is a better call so you can avoid the crowds. If you happen to crave some Tex-Mex food in the middle of the night, Mi Tierra Cafe y Panaderia serves up a mean burrito.
Location: 514 West Commerce Street, San Antonio, TX 78207, USA
Open: Market: Monday – Saturday from 10am to 7pm, Sundays from 10am to 6pm
Phone: +1 210-207-8600
Couples
History
Photo
Budget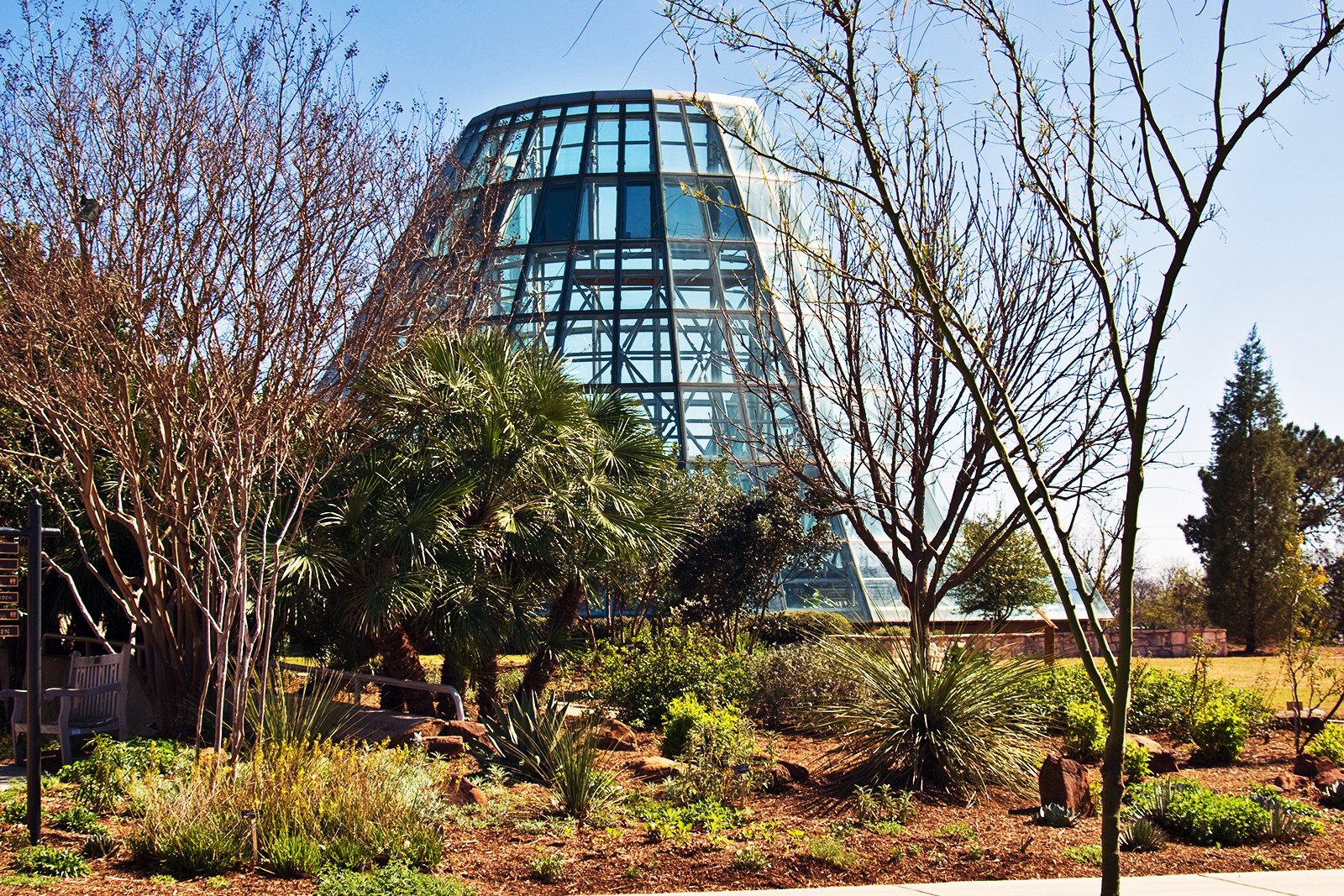 Relax in San Antonio Botanical Gardens
Enjoy the Texan sun in 33 acres of gardens
The San Antonio Botanical Gardens impresses with their great, green open spaces and the variety of flora on display. Perfect for a relaxing wander in the middle of the day, the gardens are large enough to allow you to get lost. In the fragrant, colourful confines of the gardens, there is a restaurant named Rosella at the Garden. Here, you can enjoy coffee, breakfast, lunch and brunch in the sun. The restaurant is within the historic Sullivan Carriage House, which is linked back to the legendary cattle drives of the 19th century.
Location: 555 Funston Place, San Antonio, TX 78209, USA
Open: Daily from 9am to 5pm
Phone: +1 210-536-1400
photo by Corey Leopold (CC BY 2.0) modified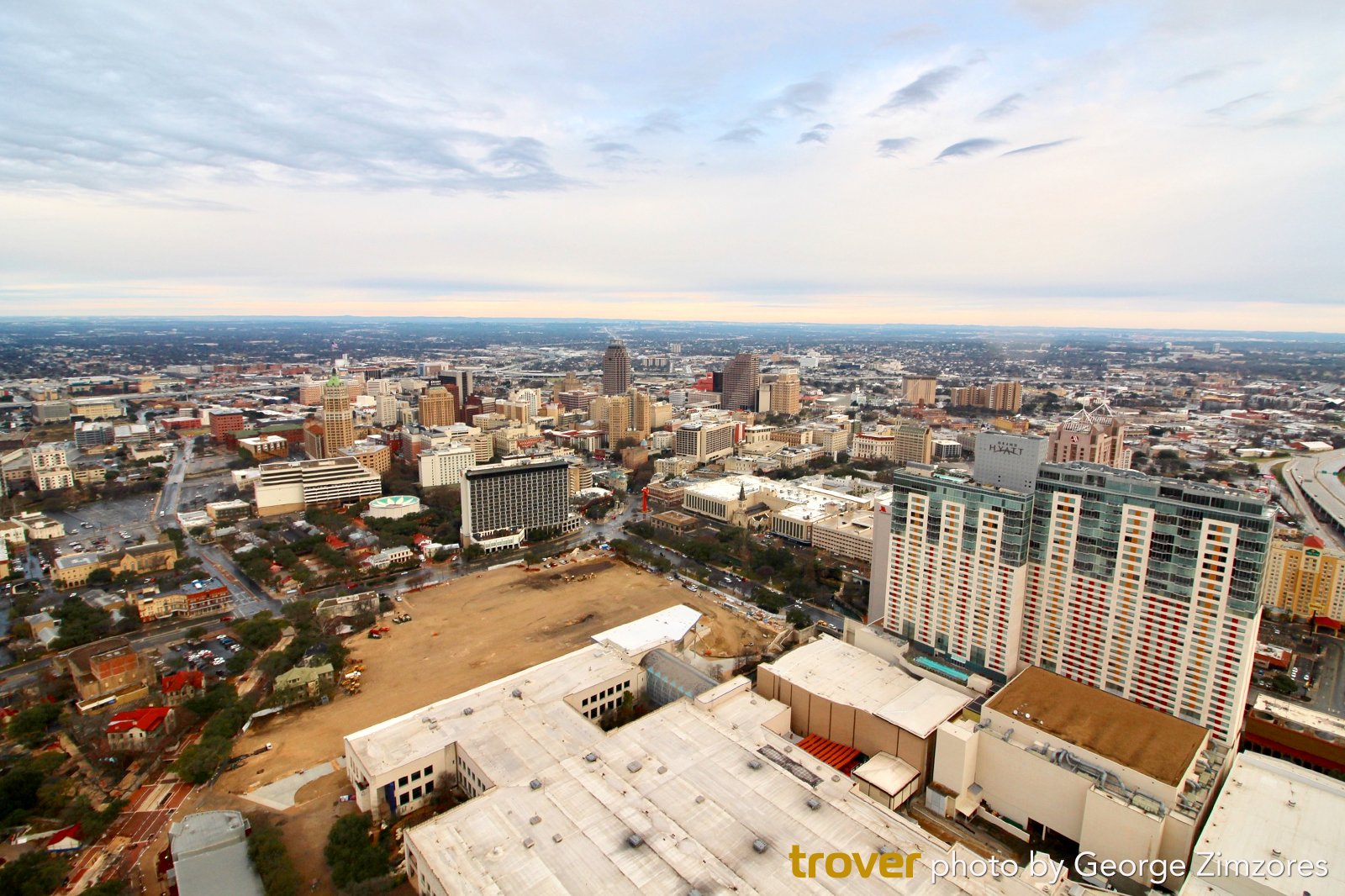 Enjoy the view from the Tower of the Americas
Have a high-class meal at high altitude
For some reason, panoramic viewpoints are always kind of romantic. There must be something in the air up there. Anyway, the 750-foot-tall Tower of the Americas has the highest viewpoint in San Antonio, with the added bonus of an award-winning revolving restaurant and lounge at the top, offering great views and even greater food. The Godiva Chocolate Lava Cake is worth the visit just on its own! It's a little bit pricey, with adult tickets costing about $13, but there's a happy hour on drinks between 4.30pm and 7pm every weekday, so you can save a little on winter sundowners.
Location: 739 E César E. Chávez Blvd, San Antonio, TX 78205, USA
Open: Observation Deck open Sunday – Thursday from 10am to 10pm, Friday – Saturday from 10am to 11pm
Phone: +1 210-223-3101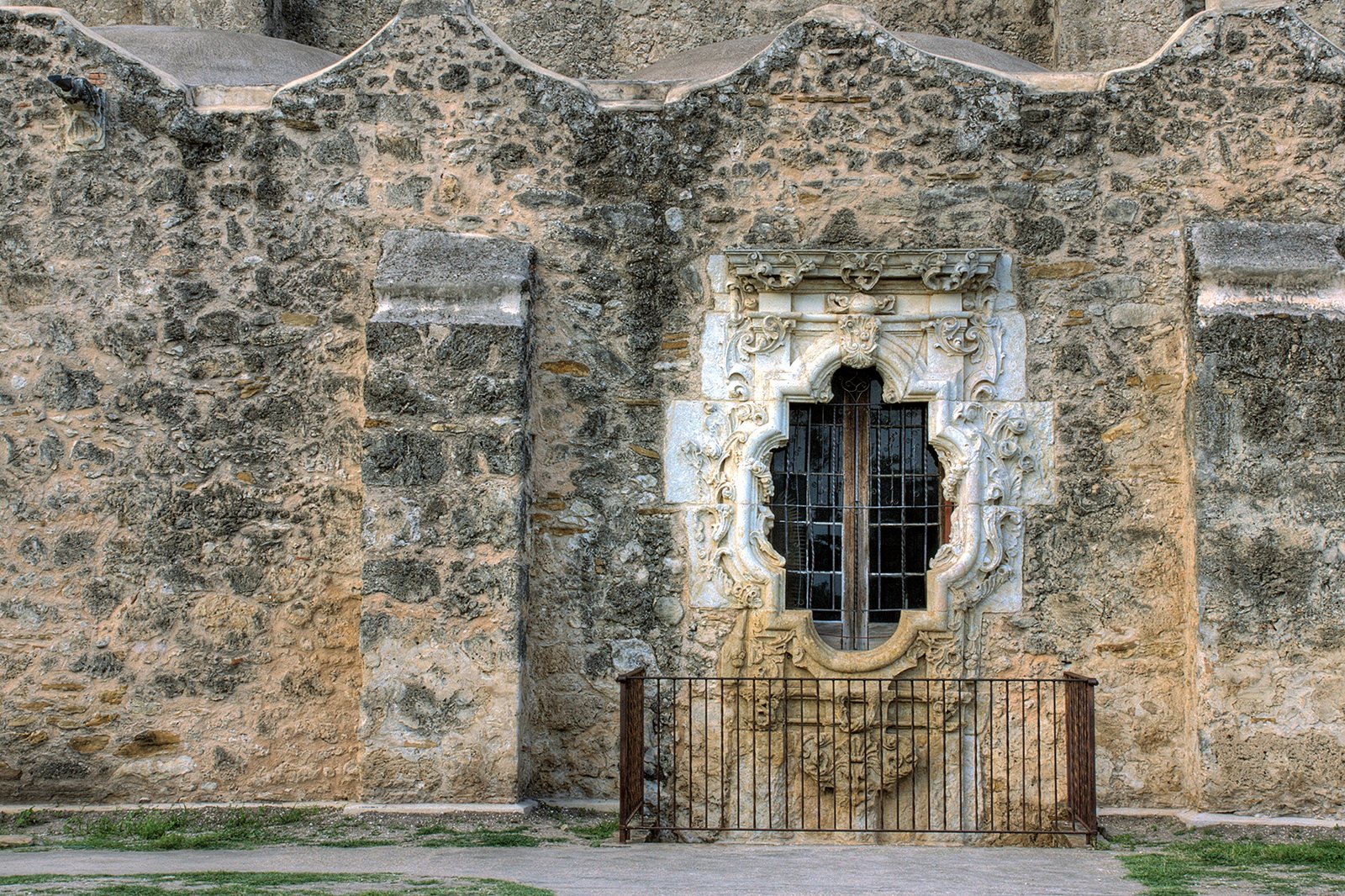 See the rose window at Mission San José
Explore the Queen of the Missions
Mission San José is beautiful, historic and the largest of the Texas missions. This church has been active for over 250 years and its power and history is evident through its enchanting presence. San José is almost fully restored to its original design and is therefore a remarkable example of the architecture of its time. The mission is perhaps the most visually pleasing of the 5 missions of San Antonio, with unique, grand archways and its famous Rose Window. It's said that the window was a gift from stonemason Pedro Huizar to his star-crossed sweetheart, Rosa.
Location: 701 East Pyron Avenue, San Antonio, TX 78214, USA
Phone: +1 210-922-0543
Couples
History
Photo
Budget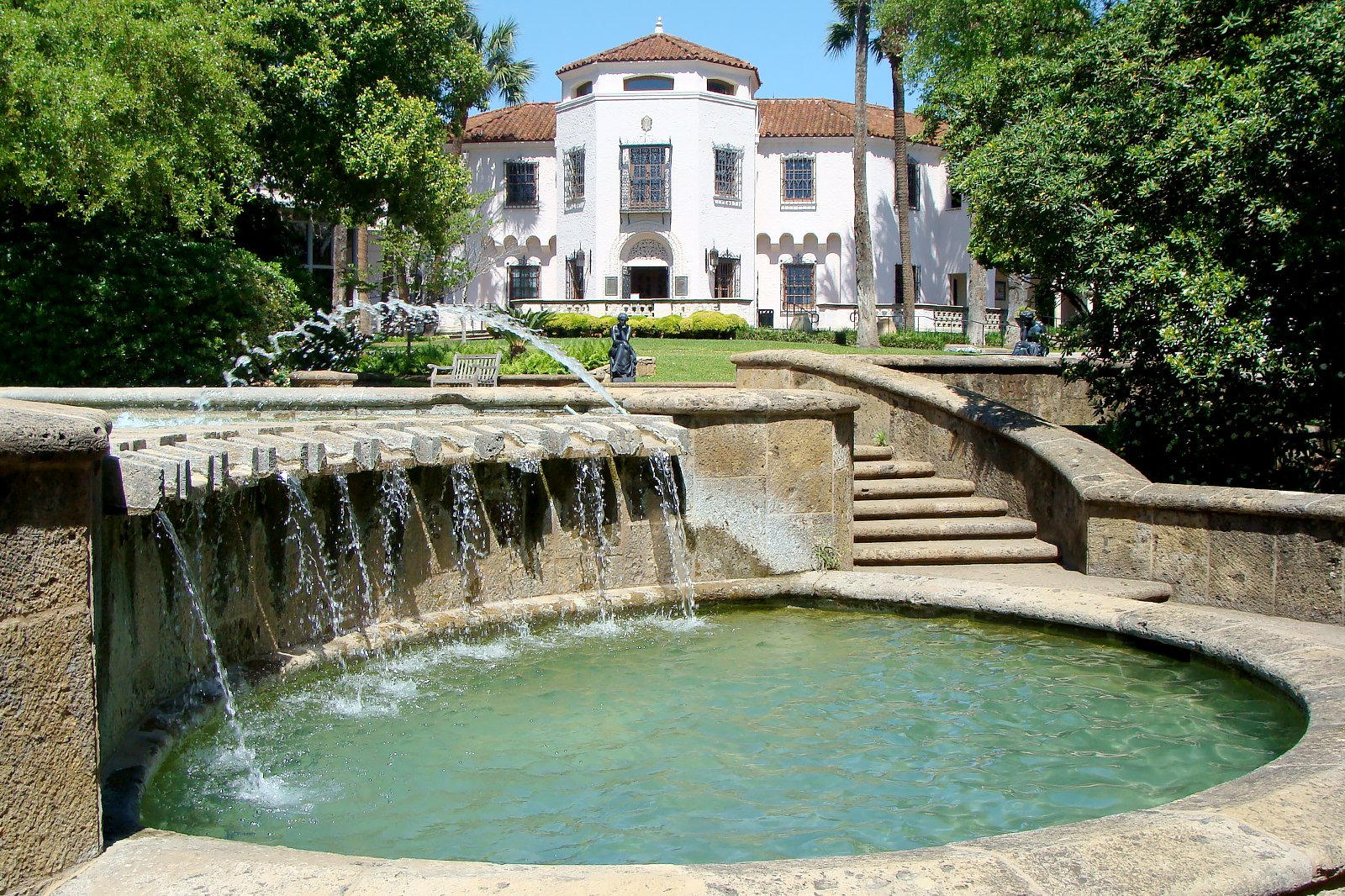 Pose by the fountain at McNay Art Museum
And check out the art collection, while you're there
The fountain in front of the McNay Art Museum is very popular with romantic couples and is regularly used as a backdrop for bridal photos and portraits. The beautiful 1929 mansion is a charming backdrop, but is also well worth a visit. It contains a remarkable collection of over 22,000 American and European artworks, dating from between the Renaissance and the present day. If you come on the second Thursday of the month, you can see a live local band playing, with local food trucks and beer available and free tours of the museum and its grounds.
Location: 6000 N New Braunfels Ave, San Antonio, TX 78209, USA
Open: Tuesday – Saturday from 10am to 4pm (open until 9pm on Wednesdays and until 5pm on Saturdays), Sundays from noon to 5pm (closed on Mondays)
Phone: +1 210-824-5368
photo by Zereshk (CC BY-SA 3.0) modified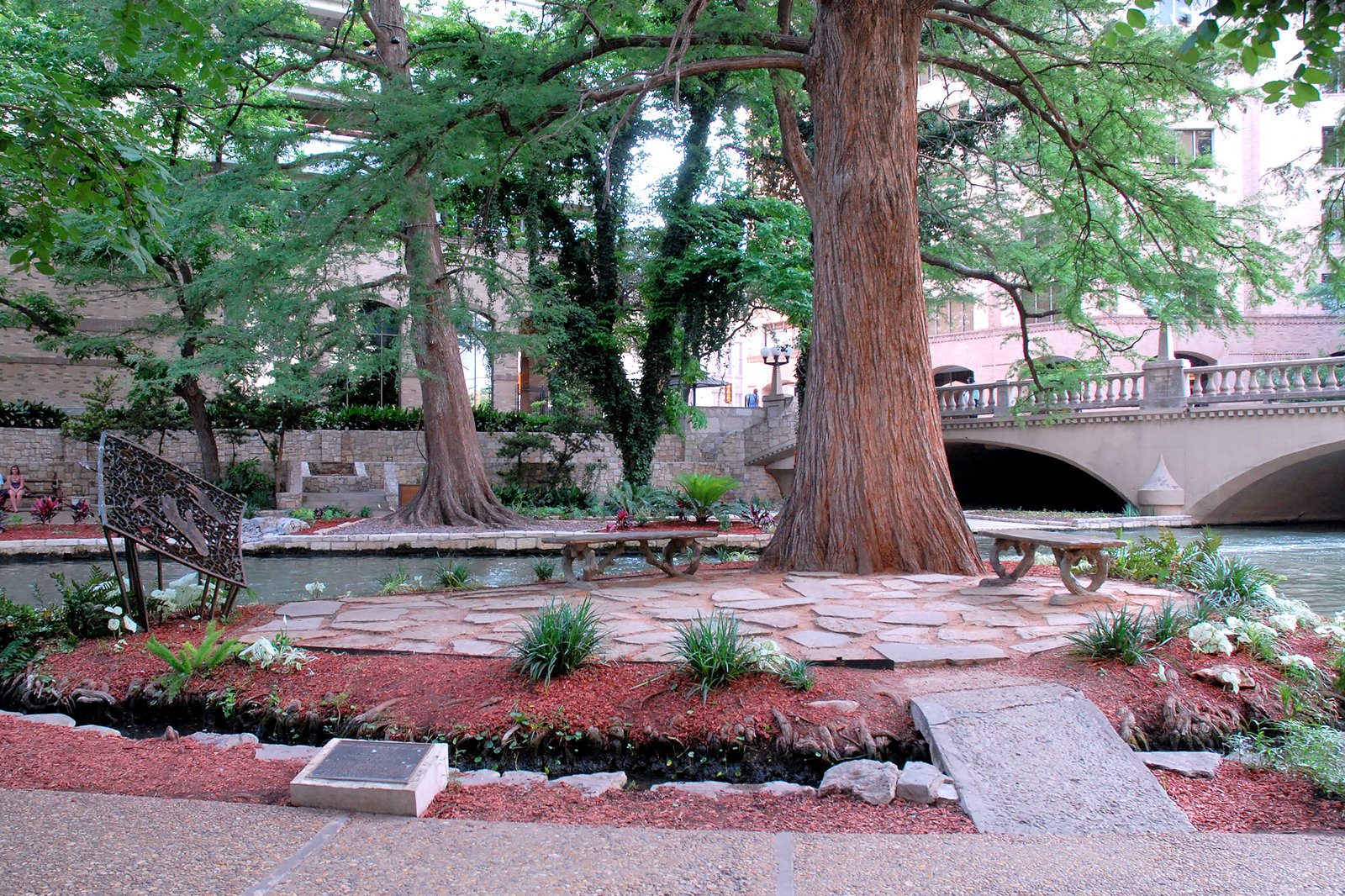 Pop the question on Marriage Island
It'll bring your union good luck
Calling this tiny lump of land in the San Antonio River an 'island' is quite generous, but it is actually separated from the rest of River Walk, even if it's by only about a foot of water. Cross the small bridge onto the tree-shaded stone patio, enjoy the view of the waterfront, then get down on one knee and propose. Local legend says that this popular romantic spot will bring your union good luck, especially if you hold your actual marriage ceremony there.
Location: River Walk, San Antonio, TX 78205, USA
photo by Isnapm (CC BY-SA 3.0) modified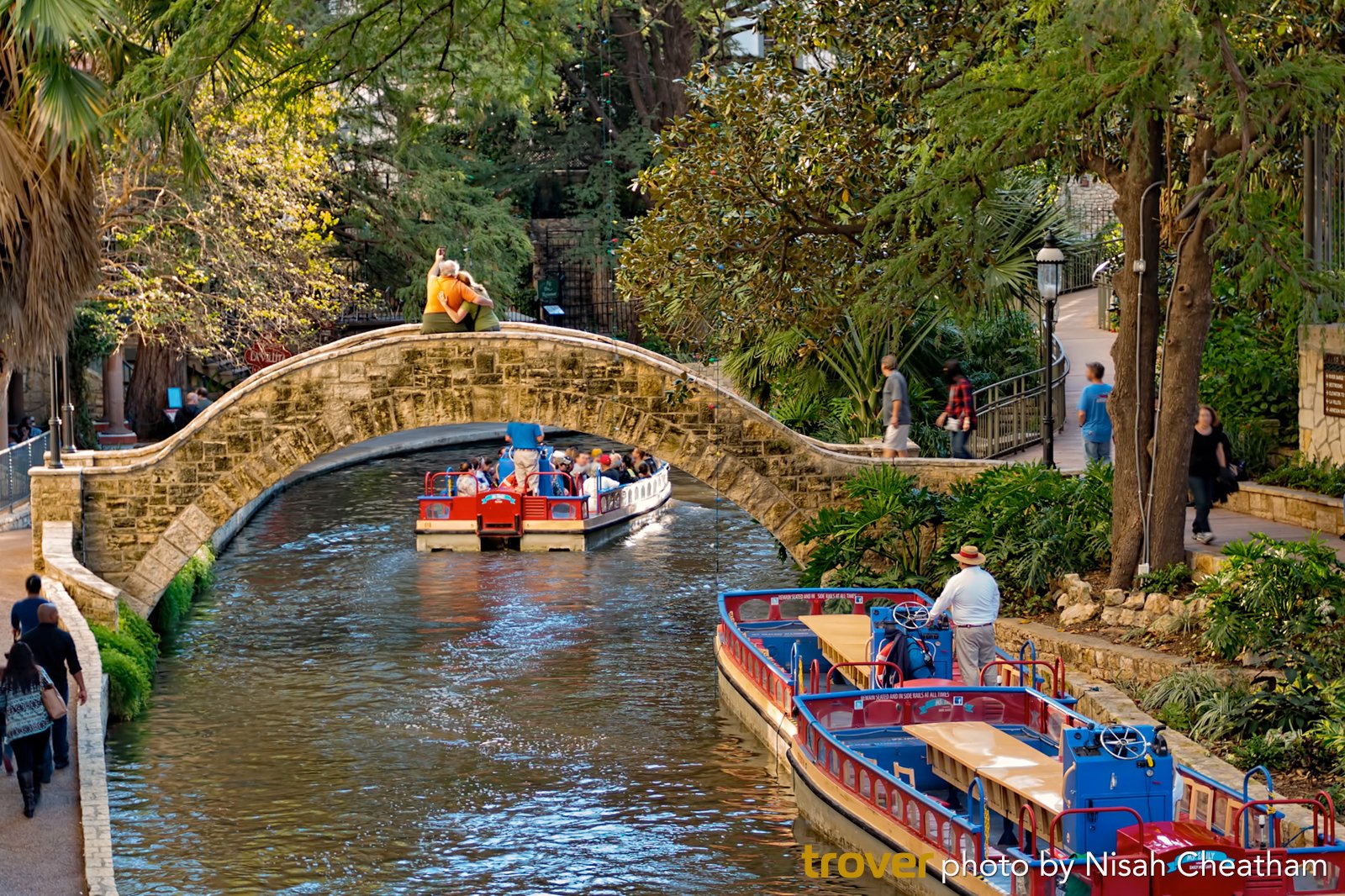 Cross Selena's Bridge
Re-enact the movie scene
There are a number of charming footbridges around the River Walk area, but Selena's Bridge stands out as the most popular, particularly with couples. It takes its name from Texas-born Mexican-American singer Selena Quintanilla. An important scene from the 1997 biopic Selena (starring Jennifer Lopez in the title role) was filmed on this bridge, and people have been coming to recreate the scene ever since.
Location: 1115-1137 River Walk, San Antonio, TX 78205, USA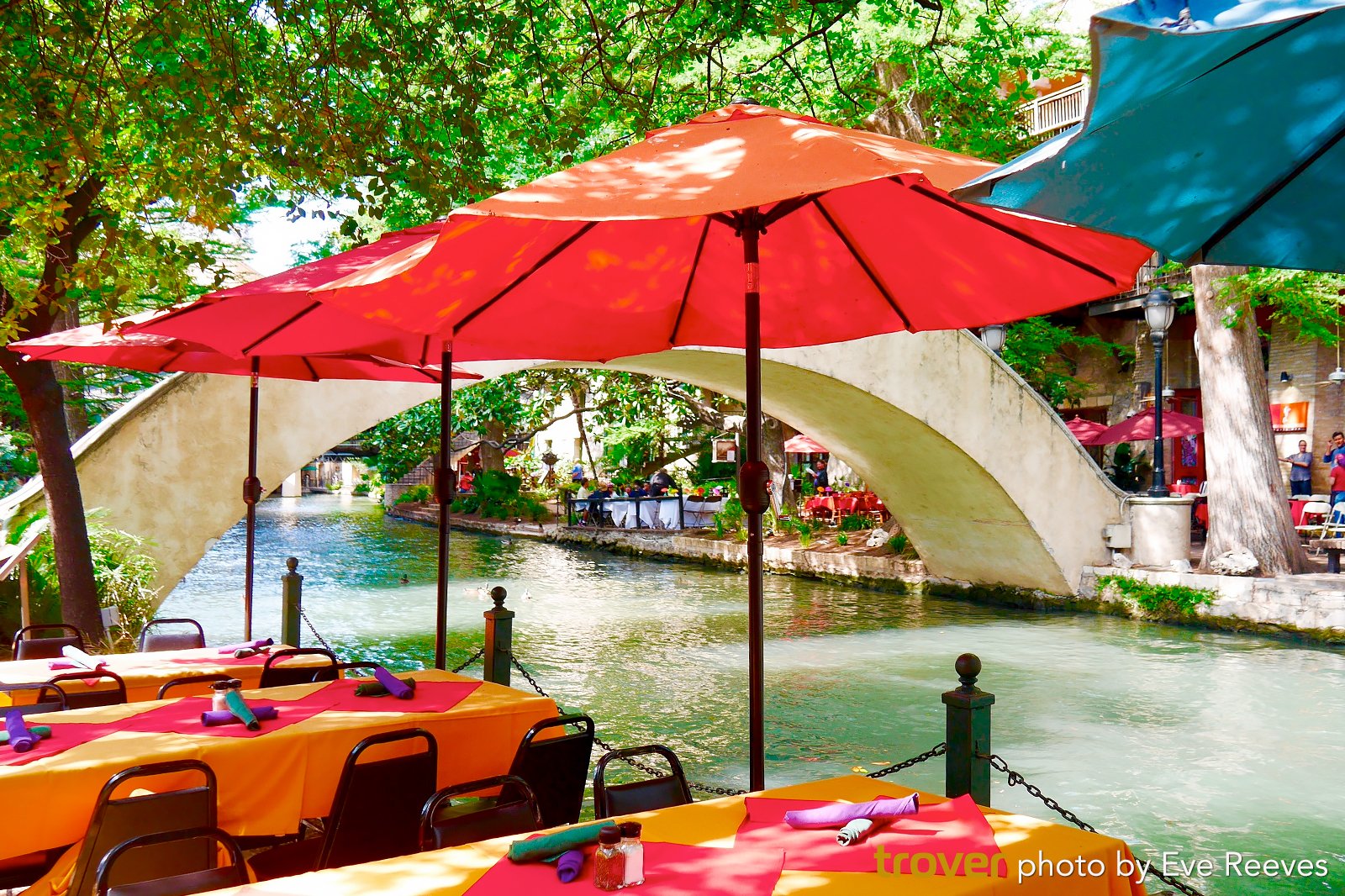 Dine on the River Walk
There are plenty of romantic choices
Looking a little like the narrow canals of Venice, Italy, the River Walk area is undoubtedly the most romantic part of San Antonio. The sunsets are certainly nice, with the colourful sky reflected on the river, but the place really comes to life after dark, when the colourful lights come on and the riverside bars and restaurants open.
The fine-dining Fig Tree Restaurant is among the best choices in the entire city, with outstanding food served in a beautiful historical setting. Meanwhile, the very refined Las Canarias, in the Omni Hotel, does an especially good Sunday brunch. For something on a more budget-friendly level, Bella On the River specialises in comfort food in a comfortable setting.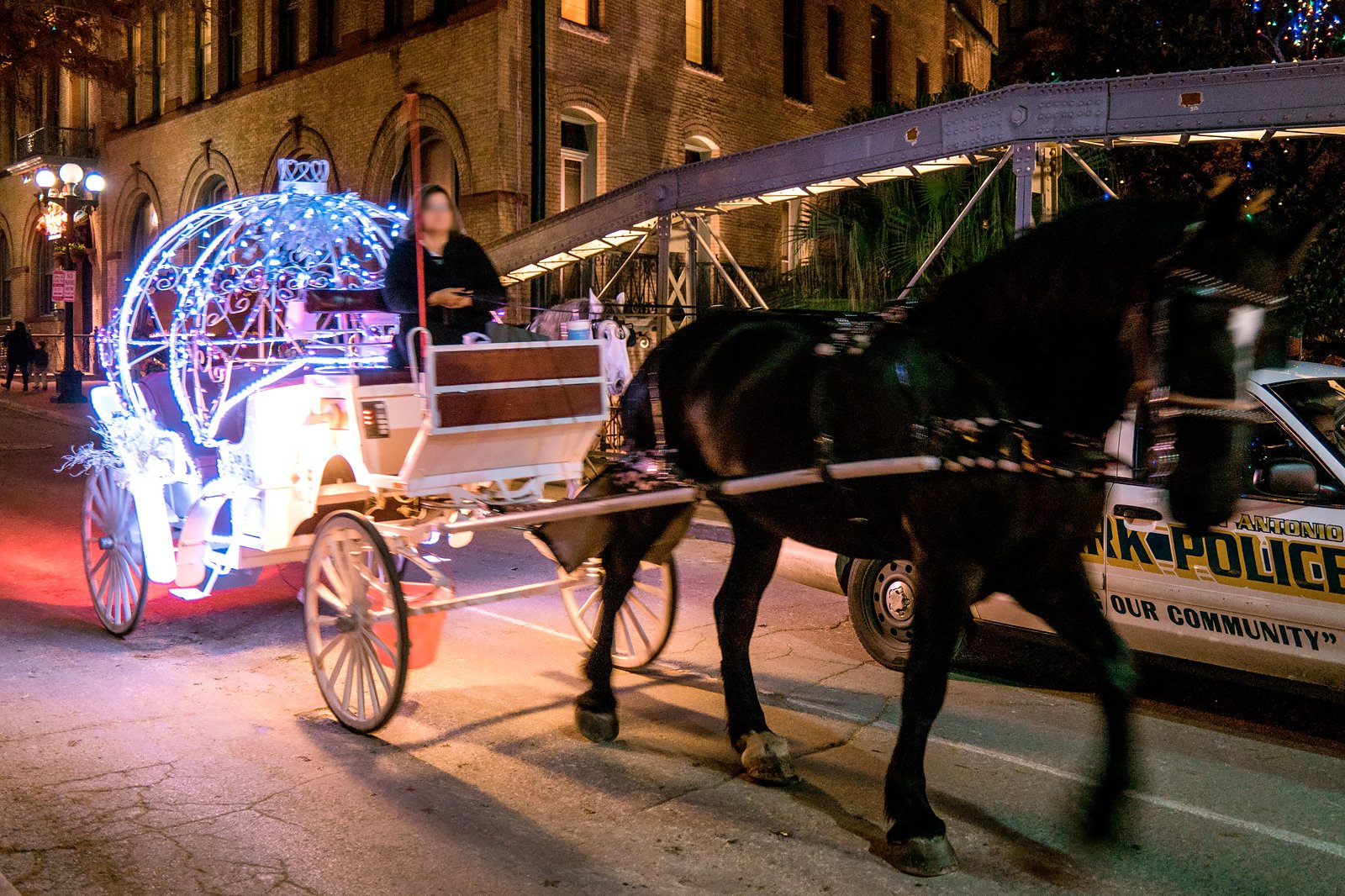 Ride in a horse-drawn carriage
See the city in the most romantic way possible
A ride in a horse-drawn carriages is like something from a fairy tale, and are almost certainly the most romantic way to explore a city. The Bluebonnet Carriage Company offers tours of Downtown San Antonio, with a special romantic package featuring a 20-minute ride, a bouquet of roses and a box of chocolates. This package costs $140 per couple, but there are others which are cheaper and some which are more expensive. Other carriage companies are available, giving you a few options when it comes to enjoying the open air and the rhythmic clip-clopping of the horse's hooves as you see the city together.
Location: 805 N Alamo St, San Antonio, TX 78215, USA
Open: Daily from 6pm to 2am
Phone: +1 210-599-2474
photo by Nan Palmero (CC BY 2.0) modified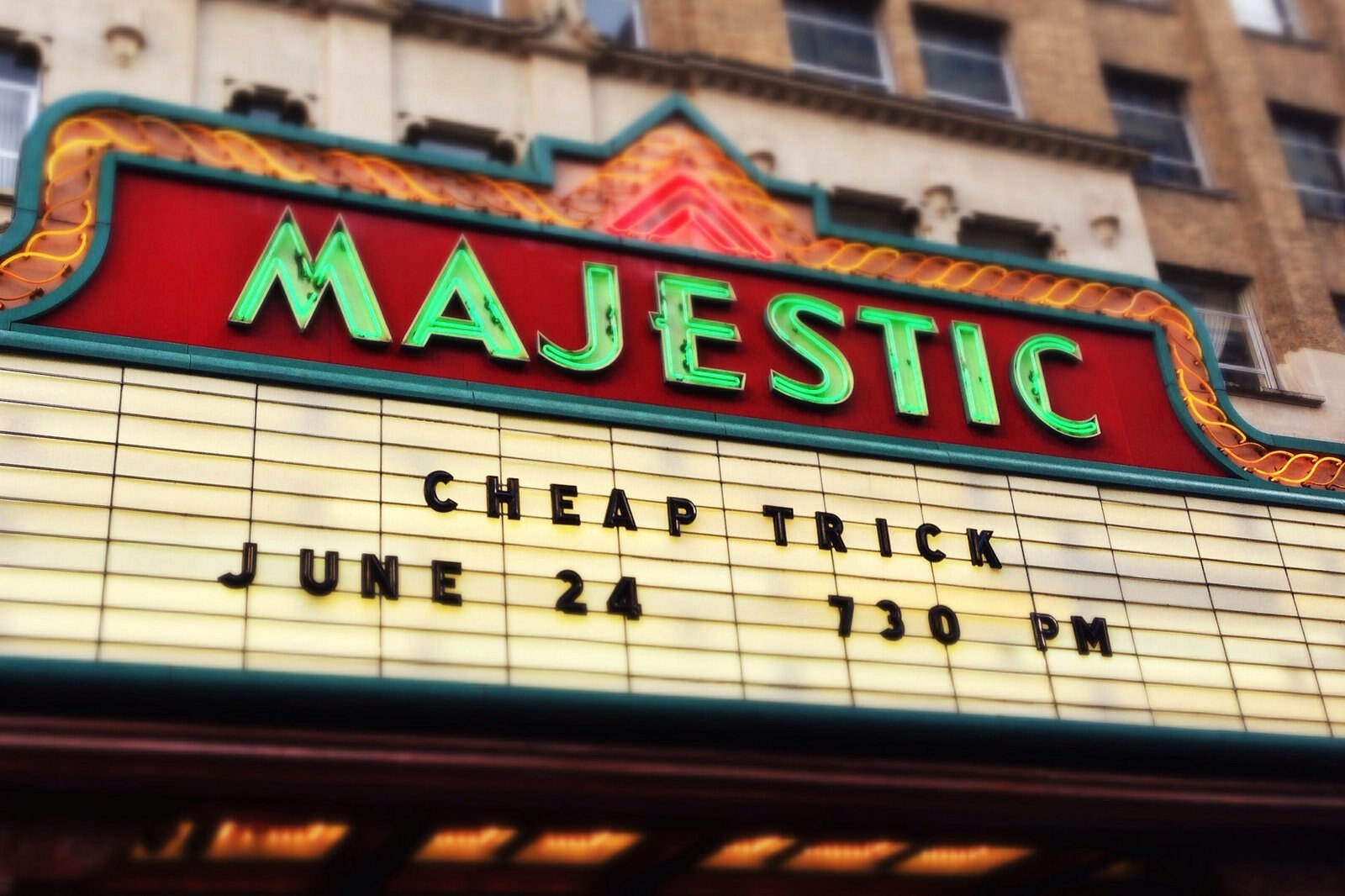 Watch a show at the Majestic Theater
Enjoy top shows in a fantastic old hall
The Majestic is San Antonio's oldest theatre, and one of the largest and grandest. It opened in 1929 and continues to showcase top acts and performances, including Broadway shows, concerts and symphonies. The Majestic Theater certainly lives up to its name, with a beautiful art deco interior and a distinctly classical exterior which, between them, have earned it a place on the National Register of Historical Places and a listing as a National Historic Landmark.
Location: 224 E Houston St, San Antonio, TX 78205, USA
Phone: +1 210-226-5700
photo by H. Michael Karshis (CC BY 2.0) modified