10 Best Things to Do in Chicago
What is Chicago Most Famous For?
Chicago is one of America's largest metropolises, which offers a great medley of modern wonders and cultural offerings. Beautiful skyscraper scenes are a given, with great cityscapes that you can take in from various leisure spots on the shore of Lake Michigan. Looking for the best panoramas? Try the Skyline Walk at Adler Planetarium.
The Magnificent Mile and the Chicago Riverwalk let you experience Chicago from up close. You can get a great overview of the so-called "Windy City" from the thrilling observation lounges and decks in some of the city's tallest buildings. Here are some of the great things to do in Chicago, to help get you started.
What are the best things to do in Chicago?
1
Start your day at Millennium Park
The Chicago Loop's art-filled urban park
Enter Chicago's great "front lawn" – Millennium Park. The public space is where you can find some of the city's most iconic scenery. Stroll through the blooming perennial Lurie Gardens, which are enclosed by a 15-foot-high hedge. Admire art installations along the tree-lined Chase Promenade, with different exhibitions held throughout the year. A must-see is Cloud Gate, fondly nicknamed "The Bean" for its shape. This giant sculpture features a smoothly polished mirror-like stainless steel surface, reflecting the skyscraper scene around it.
Location: 201 E Randolph St, Chicago, IL 60602, USA
Open: Daily from 6 am to 11 pm
Phone: +1 312-742-1168
2
Must-See: Adler Planetarium
Travel through space, then back to Earth for Chicago's sweeping skyline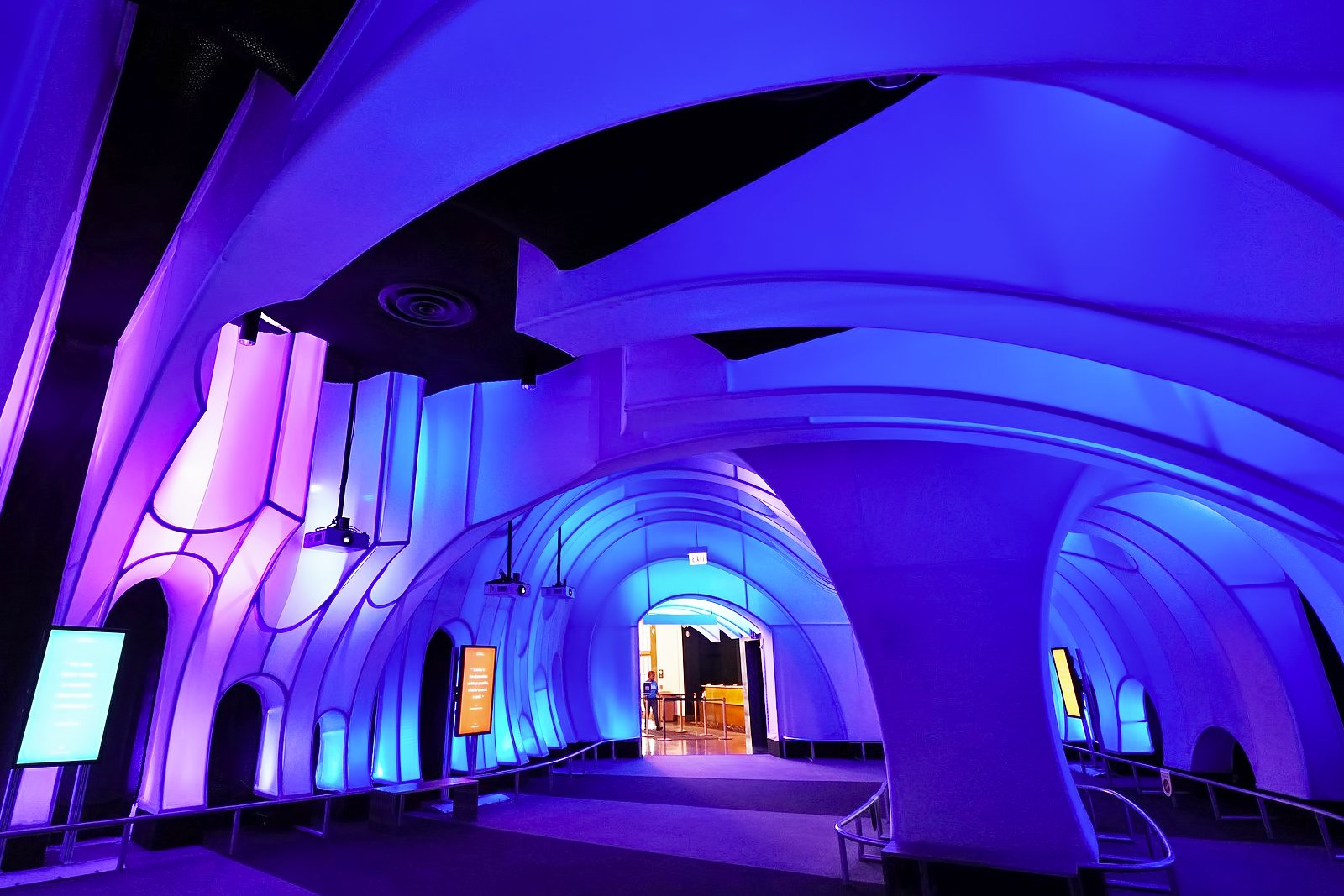 Founded in 1930, Adler Planetarium is a monumental science facility occupying the north-eastern tip of Chicago's Northerly Island. It has a vintage charm with its prominent planetarium dome and Art Deco exterior embellished with bronze zodiac reliefs. From inside the dome, you can travel through the universe through the Grainger Sky Theater's digital projection. Scenic offerings outside include the 12th Street Beach, the boat docks of Burnham Harbor, and ultimately, the Skyline Walk from where you can take in the best views of Chicago.
Location: 1300 S Lake Shore Dr, Chicago, IL 60605, USA
Open: Daily from 9.30 am to 6 pm
Phone: +1 312-922-7827
3
Do the Chicago Riverwalk
For a sightseeing trip through the heart of the city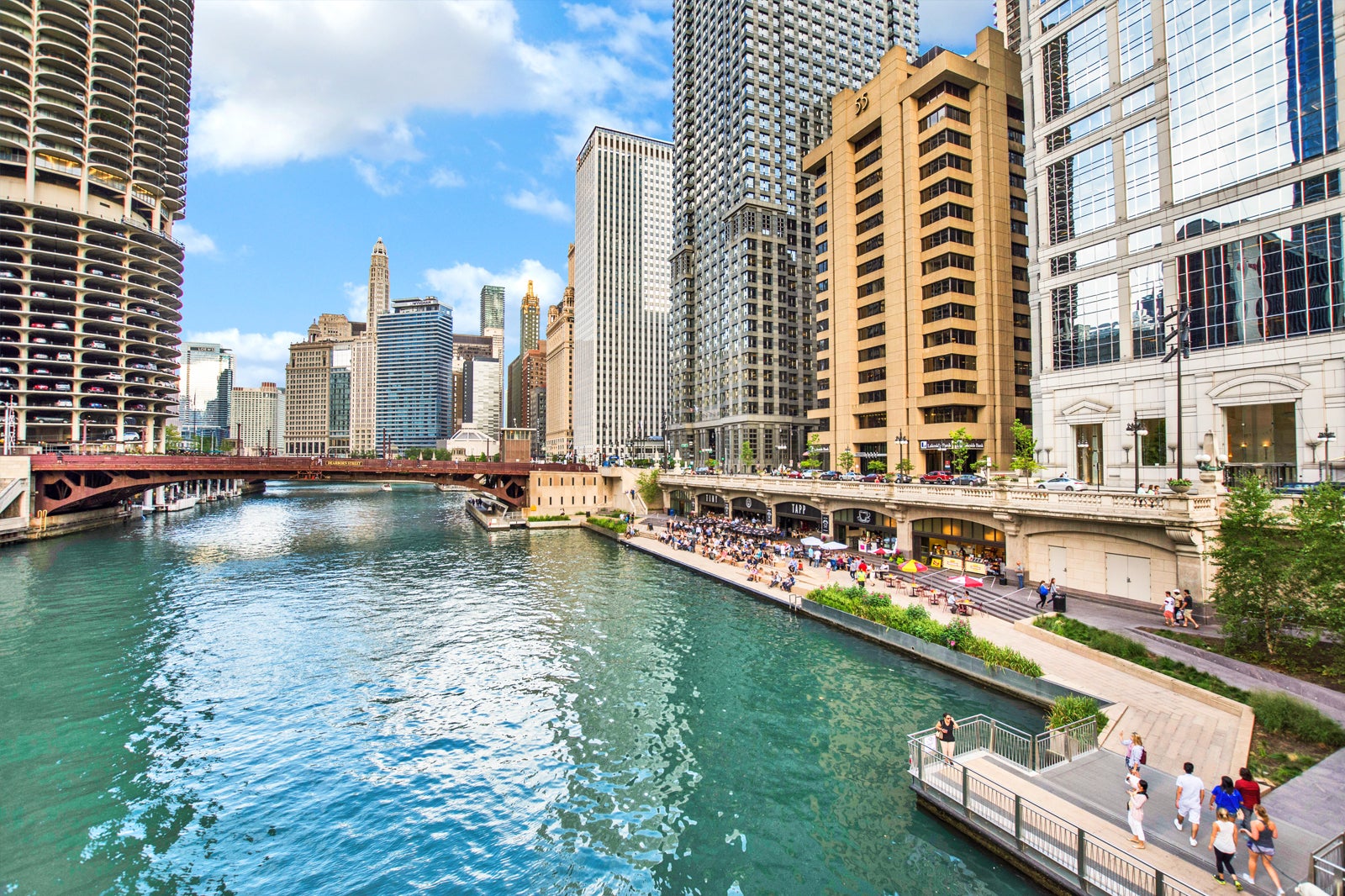 Before the flows of the Chicago River meet Lake Michigan, it runs through most of The Loop. One of the best ways to see the city from up close is the Chicago Riverwalk, a gentrified waterfront path through downtown, along the river's south bank. Start your walks from Lake Shore Drive and up to Lake Street. Along the way, you have plenty of restaurants, park gardens, and bridges, where you can pause and take in the high-rise city views.
Location: Chicago Riverwalk, Chicago, IL 60601, USA
Open: Daily from 6 am to 11 pm
Phone: +1 877-300-6746
4
Shop along the Magnificent Mile
Chicago's bustling commercial heart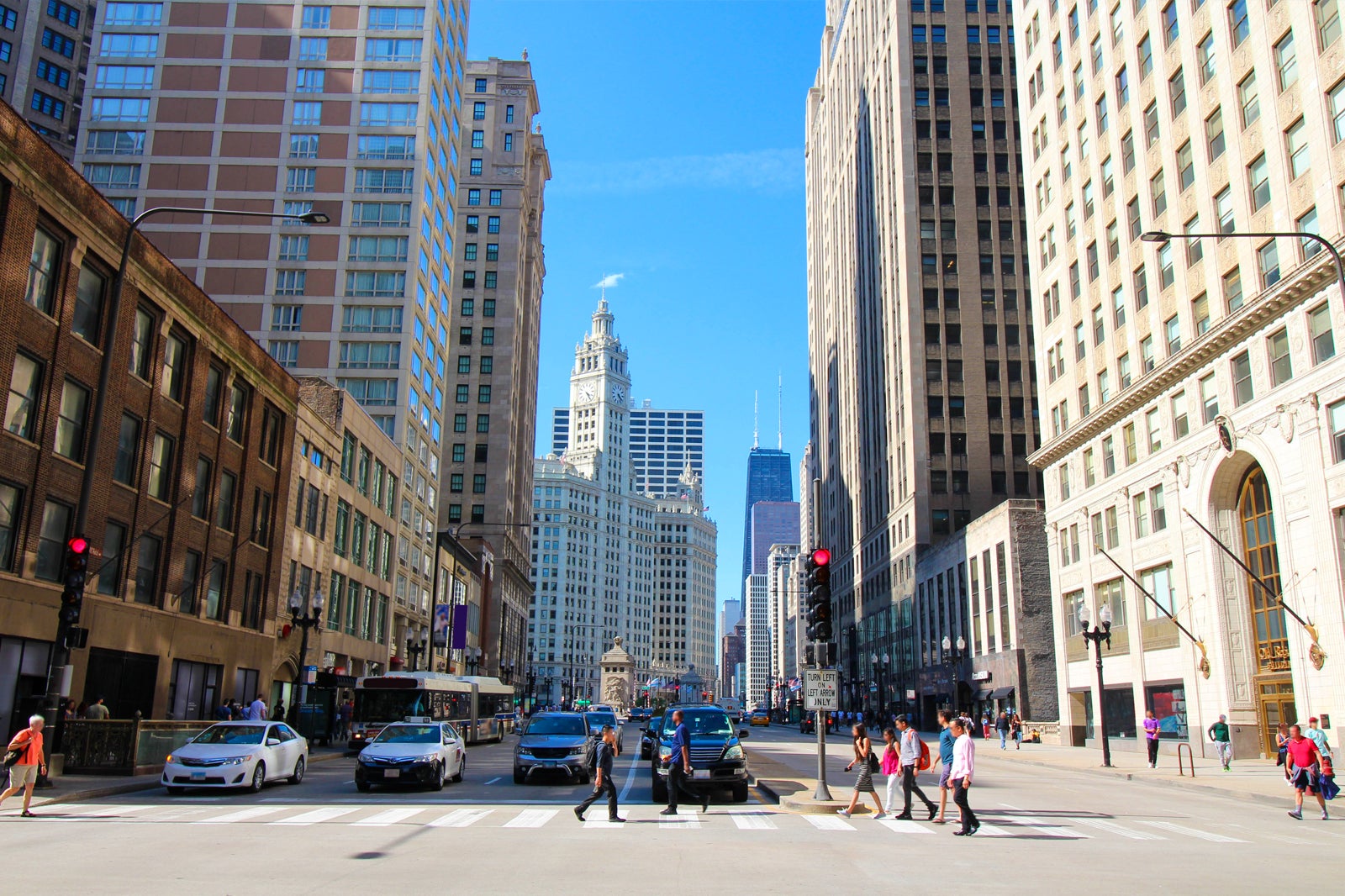 If you're looking for the most luxurious shopping scene in Chicago, head down to the Magnificent Mile. It's part of North Michigan Avenue, where you can find a series of upscale shops, hip dining spots and some of Chicago's finest big-brand hotels, such as the Four Seasons, Ritz-Carlton, The Conrad, and Park Hyatt. Grand malls here include Nordstrom, and Water Tower Place, which houses a Macy's. Come in the summer and you can experience the Gardens of The Magnificent Mile festival, where its blooming planters are sometimes graced with designer fashion.
Location: Magnificent Mile, Chicago, IL 60611, USA
5
Take the kids to Shedd Aquarium
Discover aquatic biodiversity from around the world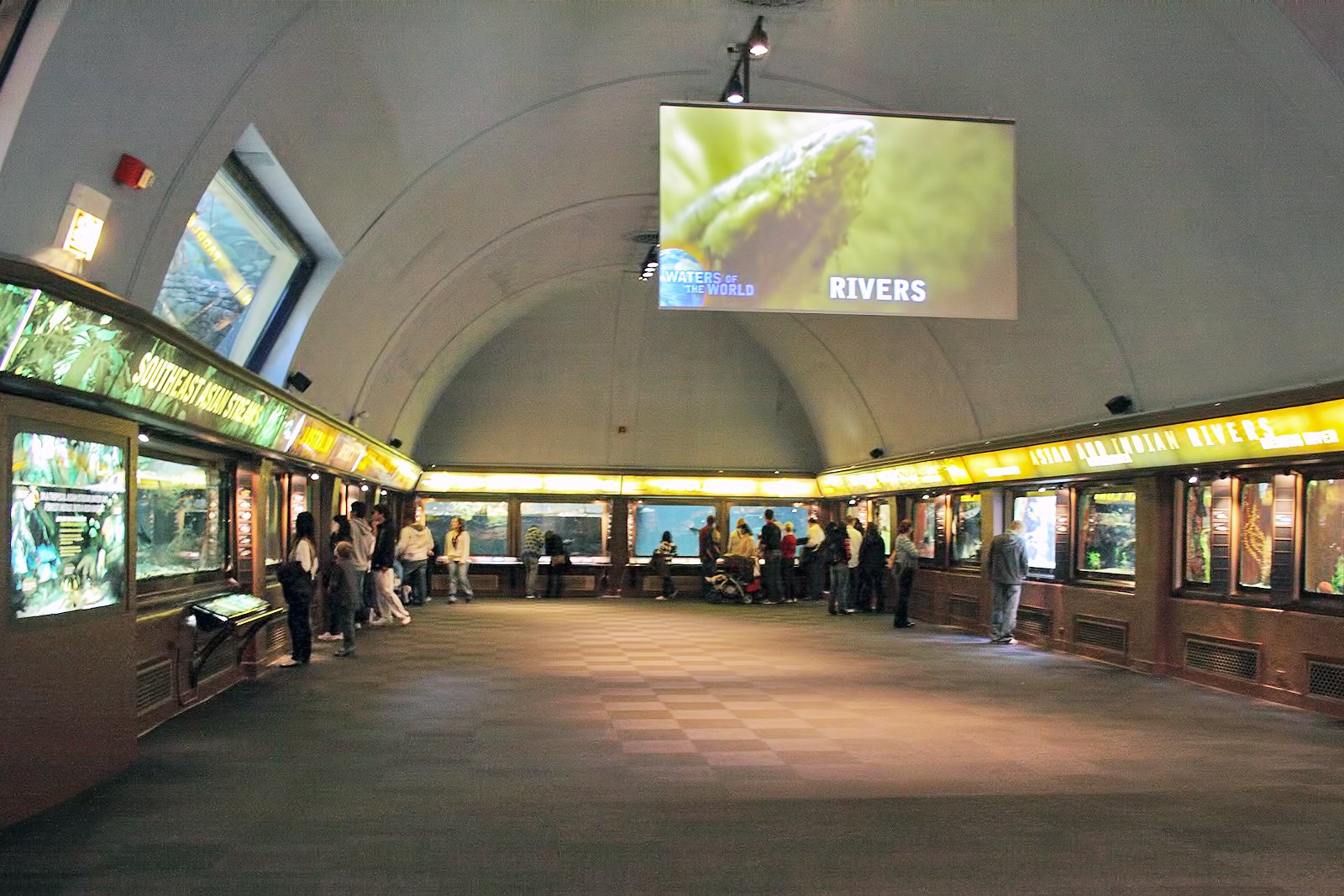 Shedd Aquarium features a great collection of aquatic displays, ranging from the flooded rainforests of South America to the tropical coral reefs of the Pacific. It's right on the South Lake Shore, before Adler Planetarium on Northerly Island. Don't miss the Abbot Oceanarium, where you can see beluga whales, dolphins, sea lions, and sea otters. Tickets are around $39.95 for adults and $29.95 for kids under 12. Wednesday after-hours feature Jazzin at the Shedd, where you can enjoy Jazz with wine from $25.
Location: 1200 S Lake Shore Dr, Chicago, IL 60605, USA
Open: Daily from 9 am to 6 pm
Phone: +1 312-939-2438
photo by Sage Ross (CC BY-SA 3.0) modified
6
Meet Sue at the Field Museum
The most complete T-Rex at one of the world's largest natural history museums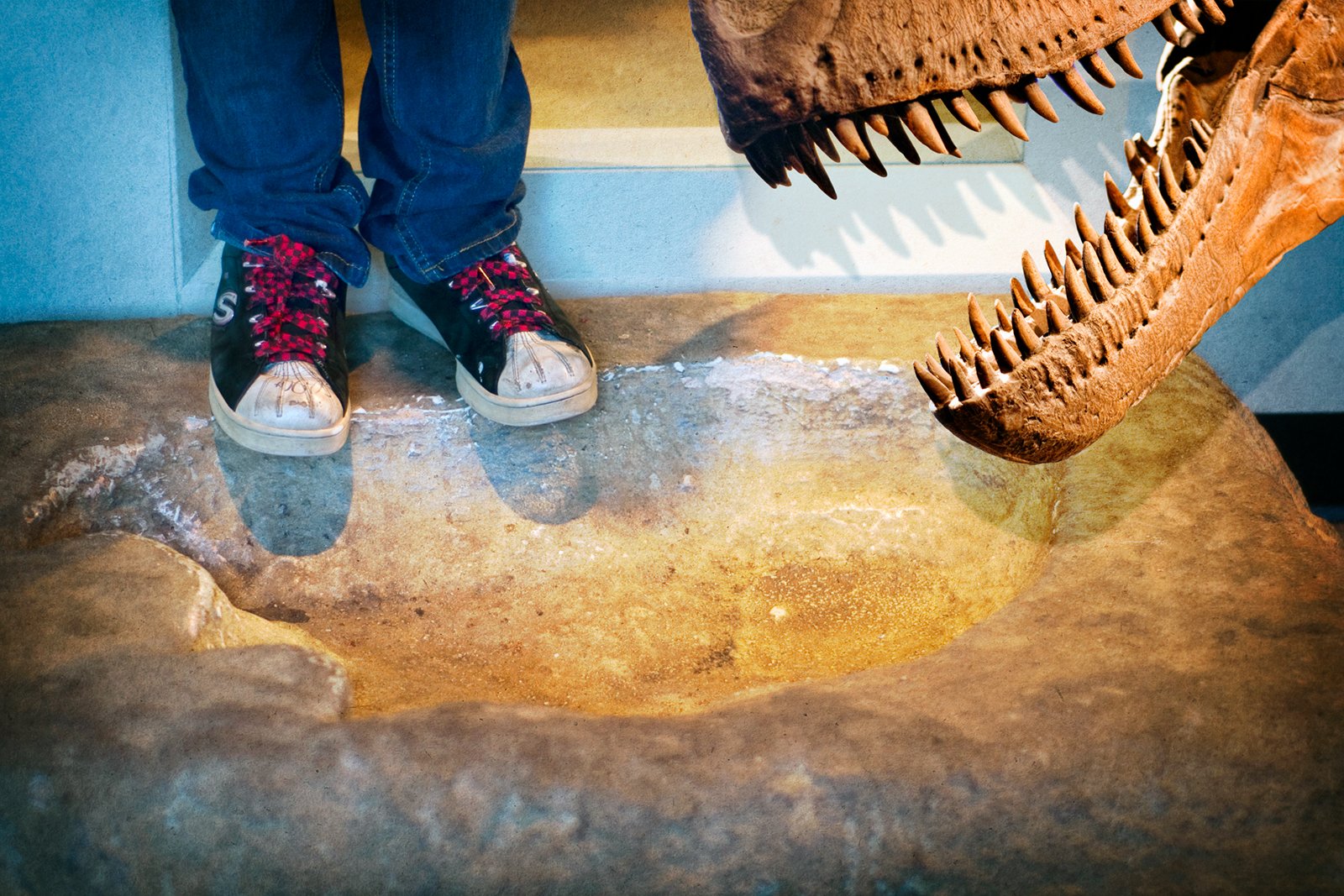 Just south from Shedd Aquarium, you can deepen your knowledge of the animal kingdom, geology, and palaeontology at the Field Museum of Natural History. Permanent exhibitions showcase everything from the evolution of life on Earth and the diversity of mammals on the world's continents to human history in the Ancient Americas. Among the main highlights are Sue, the most complete Tyrannosaurus Rex fossil the world has ever seen, and Maximo, the largest dinosaur that ever lived. Tickets are around $38 for adults and $27 for kids under 12.
Location: 1400 S Lake Shore Dr, Chicago, IL 60605, USA
Open: Daily from 9 am to 5 pm
Phone: +1 312-922-9410
7
Try Chicago-style pizza at Pizzeria Uno
Pizza that's succulently deep!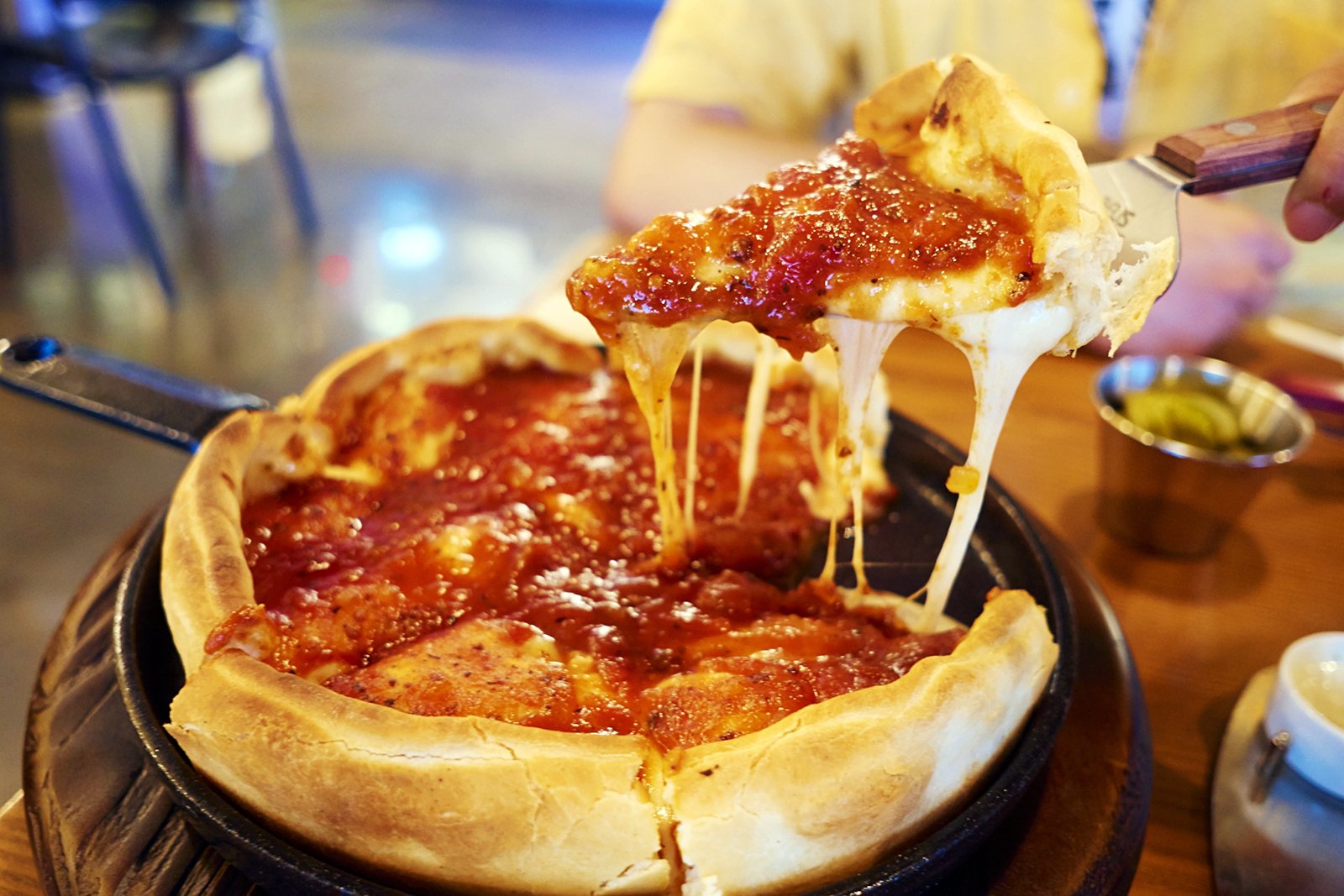 When in Chicago, don't miss out on trying the city's signature pizza. They don't do them thin-crusted here. Rather, Chicago-style pizza is a deep-dish preparation, using a deep pan with added toppings and cheese. One of the longstanding pizza houses where you can order the original pizza is Pizzeria Uno on East Ohio Street. They have a second branch, Pizzeria Due, on North Wabash Avenue. You can usually choose from cheese, sausage, pepperoni or the original Numero Uno, all of which come in 10-inch deep-dish sizes.
Location: 29 E Ohio St, Chicago, IL 60611, USA
Open: Daily from 11 am to 1.30 am
Phone: +1 312-321-1000
8
Ride the Navy Pier Centennial Wheel
A one-stop entertainment spot with an iconic Ferris wheel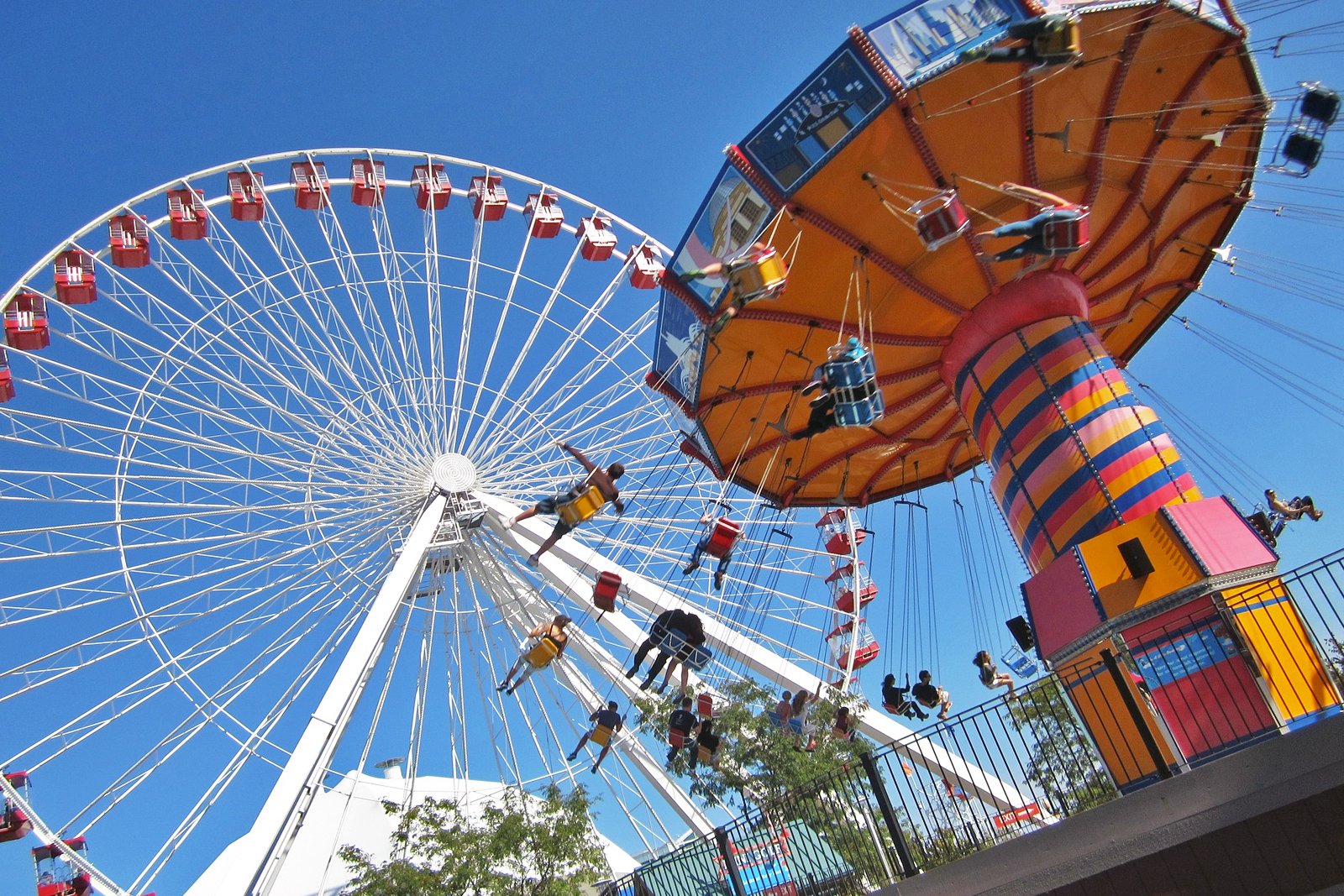 The Navy Pier is a great spot for families to head to on Chicago's Michigan lakefront. The pier juts out for over 3,000 feet into the lake and is filled with green spaces, shops, exhibitions, and restaurants. One of the pier's main features that also dominates its skyline is the Centennial Wheel. This Ferris wheel is open daily, but the coolest experience must be during the Navy Pier Summer Fireworks that display in sync to music over Lake Michigan every Wednesday and Saturday. Rides are from $16.
Location: Navy Pier, 600 E Grand Ave, Chicago, IL 60611, USA
Open: Daily from 10 am to 8 pm
Phone: +1 800-595-7437
9
Enjoy the views from Skydeck Chicago
A dizzying, thrilling sensations from up high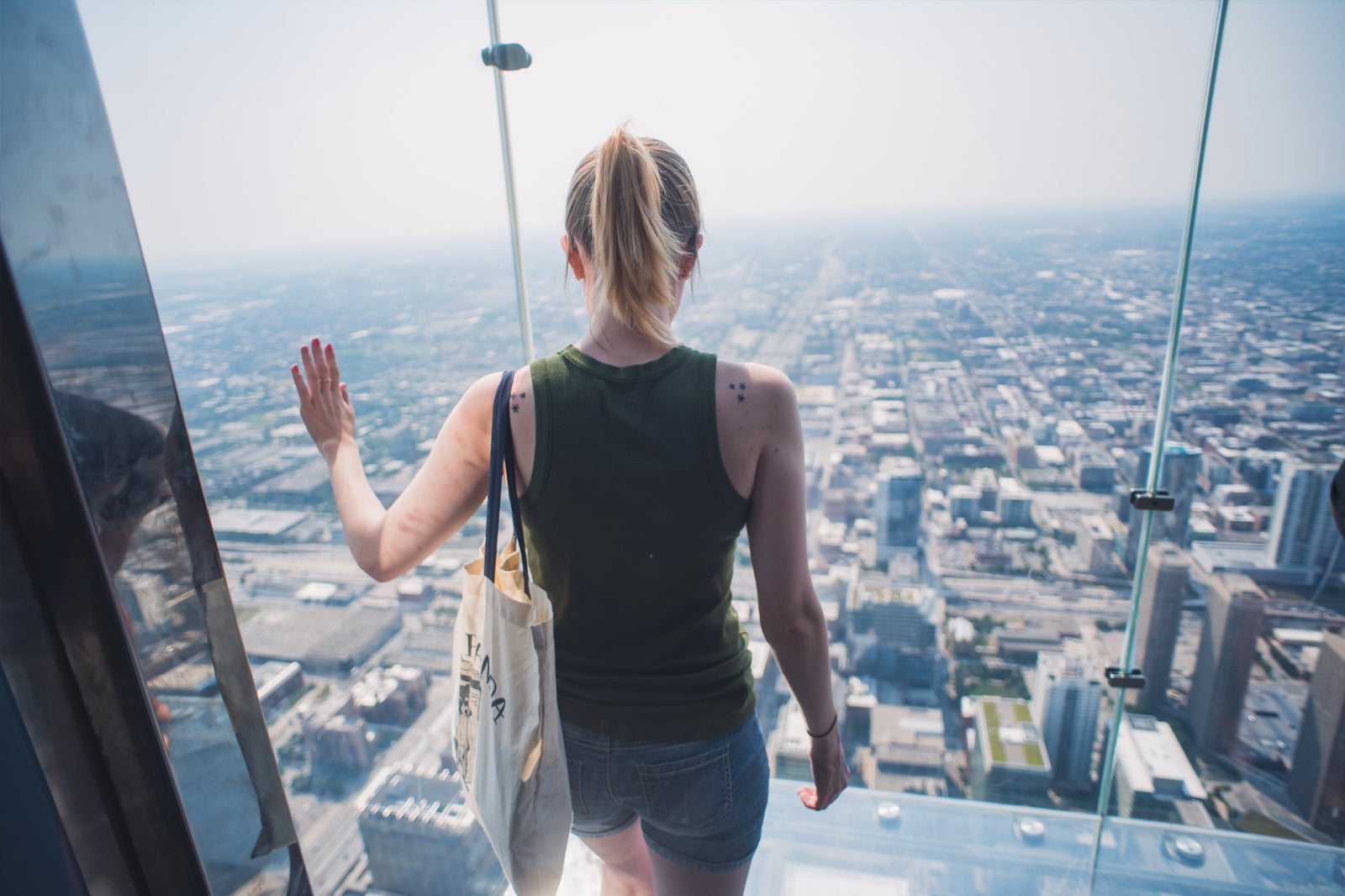 This feature lets you literally stand on the edge of the 103rd-floor of one of the world's tallest skyscrapers, at over 1,300 feet high, overlooking the Chicago cityscape. You can get a good view from the The Skydeck observatory, but the real highlight is the appropriately named 'The Ledge'. You step into either of the 2 glass boxes which extend out, with your feet seemingly hovering over the dizzying heights below. Another similar sensation that lets you experience the heights over the city is 360 Chicago, a 94th-floor observatory at the John Hancock Building. Rather than stationery, its lookout is a tilting glass enclosure for added thrills.
Location: 233 S Wacker Dr, Chicago, IL 60606, USA
Open: Daily from 9 am to 10 pm
Phone: +1 312-875-9696
10
End the day watching a concert at the Chicago Theatre
Evenings out in Chicago for music or comedic acts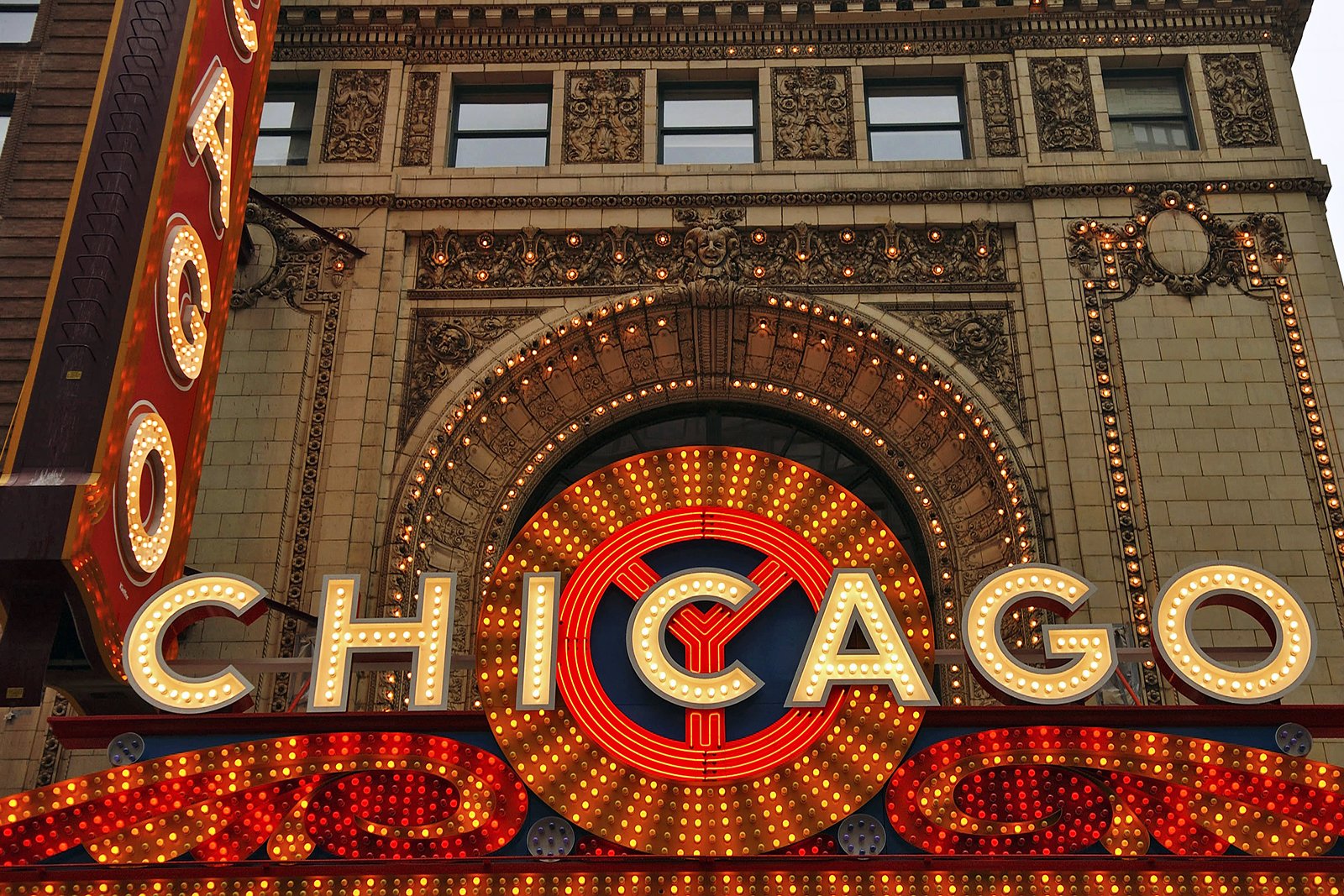 A high-rise Chicago landmark that features French Baroque architecture 7 stories tall, the Chicago Theatre is where you can watch the latest rock bands, Broadway musicals, as well as comedic acts perform. These range from hit TV musical series brought to life onstage such as Bring It! Live, to performances of rock to synth-pop bands, and hilarious nights with wisecracking acts such as Russel Peters. Ticket prices vary per event and your chosen seating level, but start from around $40.
Location: 175 N State St, Chicago, IL 60601, USA
Open: Most evening showtimes are from 7 pm
Phone: +1 312-462-6300