10 Things to Do in Fort Lauderdale in a Day
What is Fort Lauderdale Most Famous For?
The list of things to do in Fort Lauderdale is as impressive as any other city in Florida. From spring break central to the perfect grown-up holiday break for all, kick off your shoes and take to the beaches, boating canals and buoyant beating heart of Florida's Broward County. If you're looking for a place that combines coastal beauty with inland diversity and gleaming architecture with places to dance the night away, forget the fuss of nearby Miami. Find out what Fort Lauderdale is all about.
Whether you're dining at eclectic eateries, being whisked along the intercoastal waterways while treating yourself to a locally brewed beer, bagging yourselves a bargain in larger than life shopping malls or basking in the coastal rays of one of the world's best beaches, this city will showcase its most heady hidden treasures. To give you a little flavour of Fort Lauderdale, we've handpicked the best spots to uncover on your first day.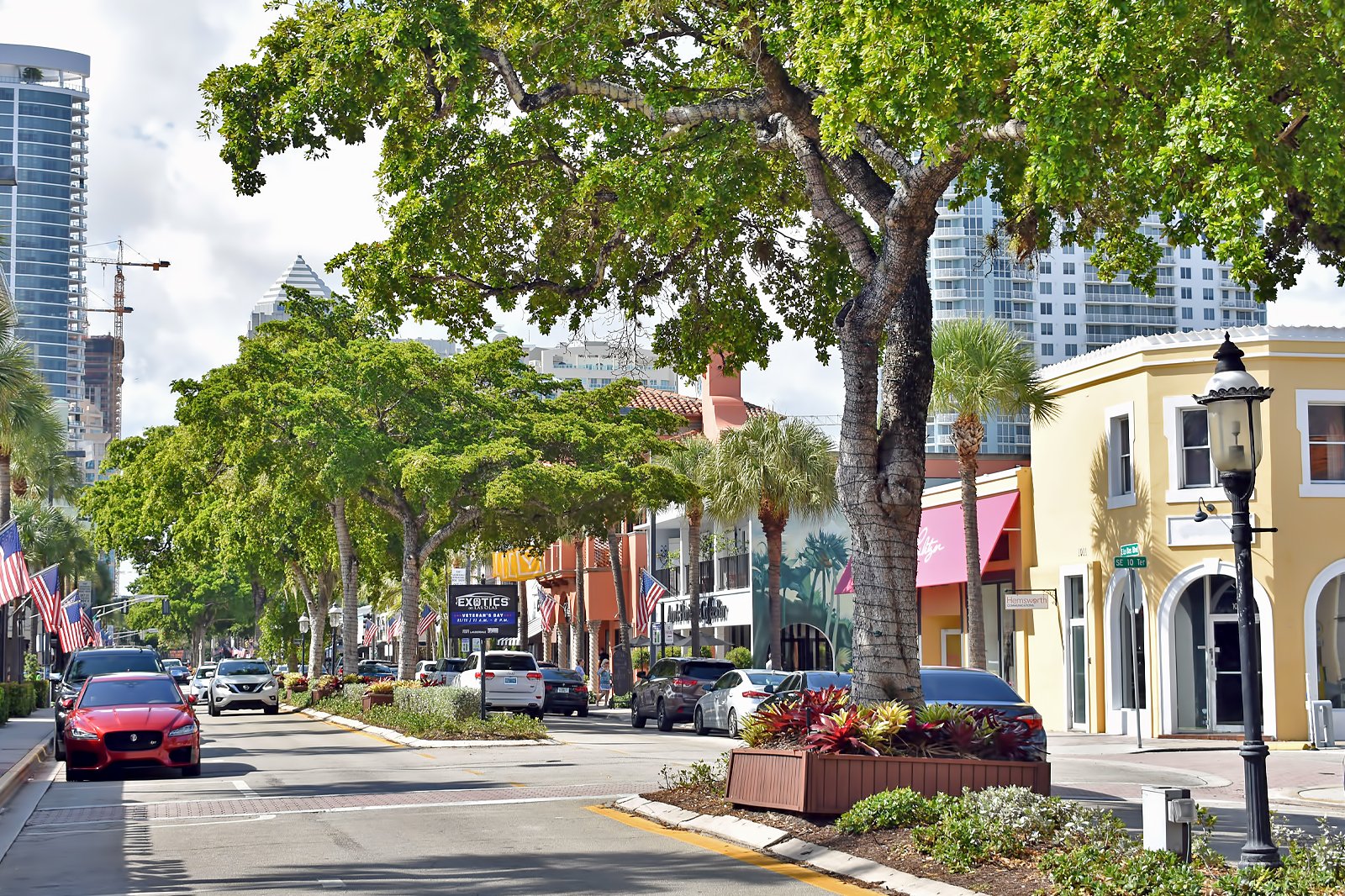 Start the day at Las Olas Boulevard
Las Olas Boulevard is the perfect place to take a morning wander, with eclectic boutiques, bustling restaurants and inviting cafés. From Sienna Fine Art to the Bellagio International Gallery, gaze at hidden treasures and feel the sea breeze in between antique window shopping. Hungry? Grab a powdered sugar treat to go at La Bonne Crepe before strolling along New River.
This dream destination is also a dream to get to, connecting Downtown Fort Lauderdale with the Atlantic Ocean. Fly straight in and if you get there early enough, take in a sublime sunrise over the beautiful boats lining this enigmatic boulevard.
Location: Fort Lauderdale, FL 33301, USA
photo by Tamanoeconomico (CC BY-SA 4.0) modified
Shop 'til you drop at Sawgrass Mills Mall
Head to the suburb of Sunrise and the Sawgrass Mills Mall to fill your bags with designer bargains in this slice of outlet heaven. Boasting over 350 stores, including Nike, Gap and Ralph Lauren, you'll be overwhelmed by the number of storefronts calling your name.
As one of the largest value retail shopping destination in the whole of the States, it's easy to spend the whole day here. The massive food court means you don't have to leave when you get hungry, and there's an 18-screen cinema in the northeast corner for when you need a break from buying.
Location: 12801 W Sunrise Blvd, Sunrise, FL 33323, USA
Open: Monday–Saturday from 10am to 9.30pm, Sundays from 11am to 8pm
Phone: +1 954-846-2300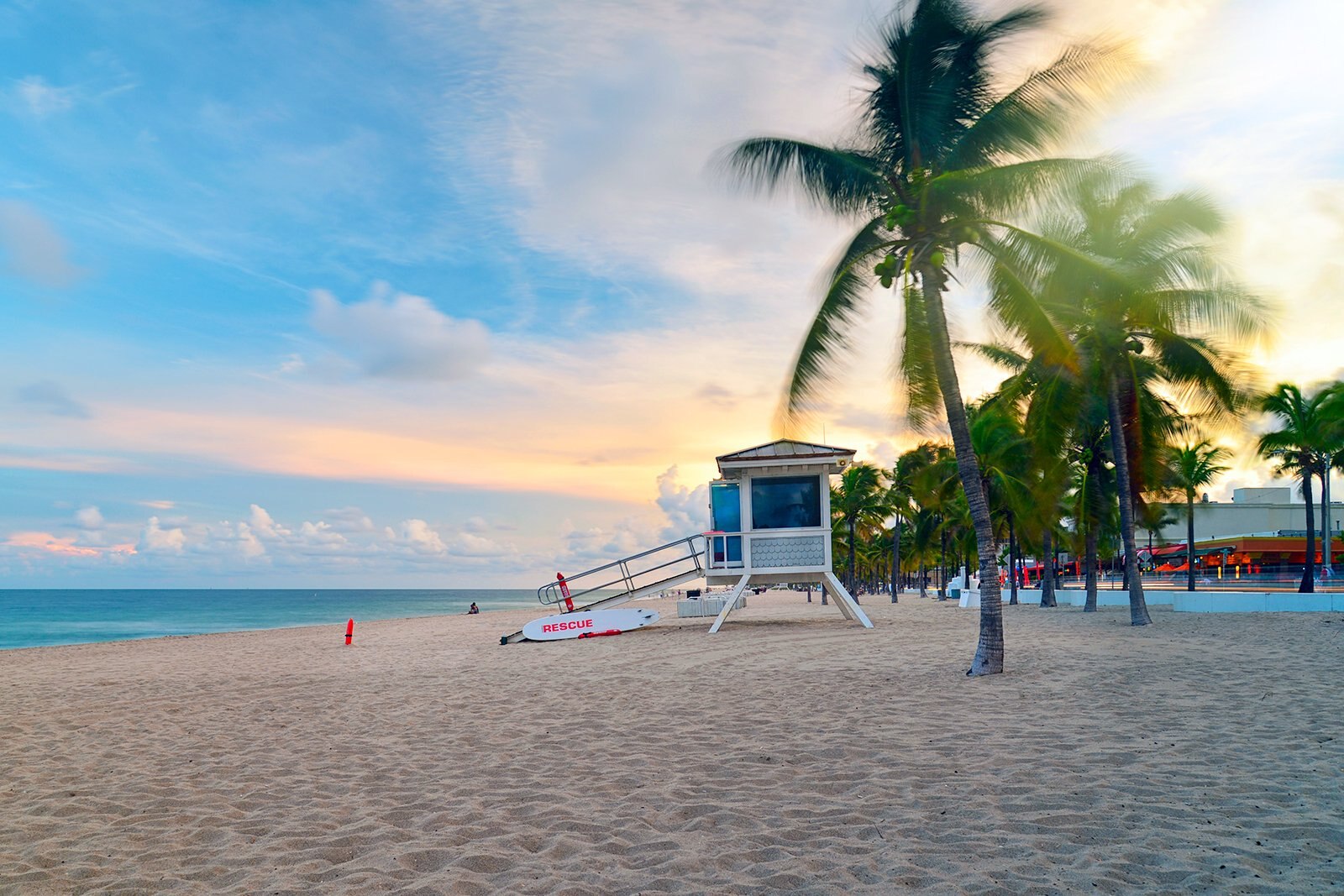 Sink your toes into the sands of Fort Lauderdale Beach
Welcome to sunbathing heaven. Take a break from the buzz of inner-city life and enjoy a moment to feel the sand beneath your tuckered-out toes. Fort Lauderdale Beach is iconic and upon your first breath of Florida sea air, you'll quickly see why.
Sitting pretty between Las Olas and Sunrise Boulevard, pure white sands stretch for miles around parks, lakes and palm tree-lined boulevards. Paddle out in some of the clearest water you'll see or sit under a shaded umbrella to take in this oh-so-famous beach.
Couples
Families
Photo
Budget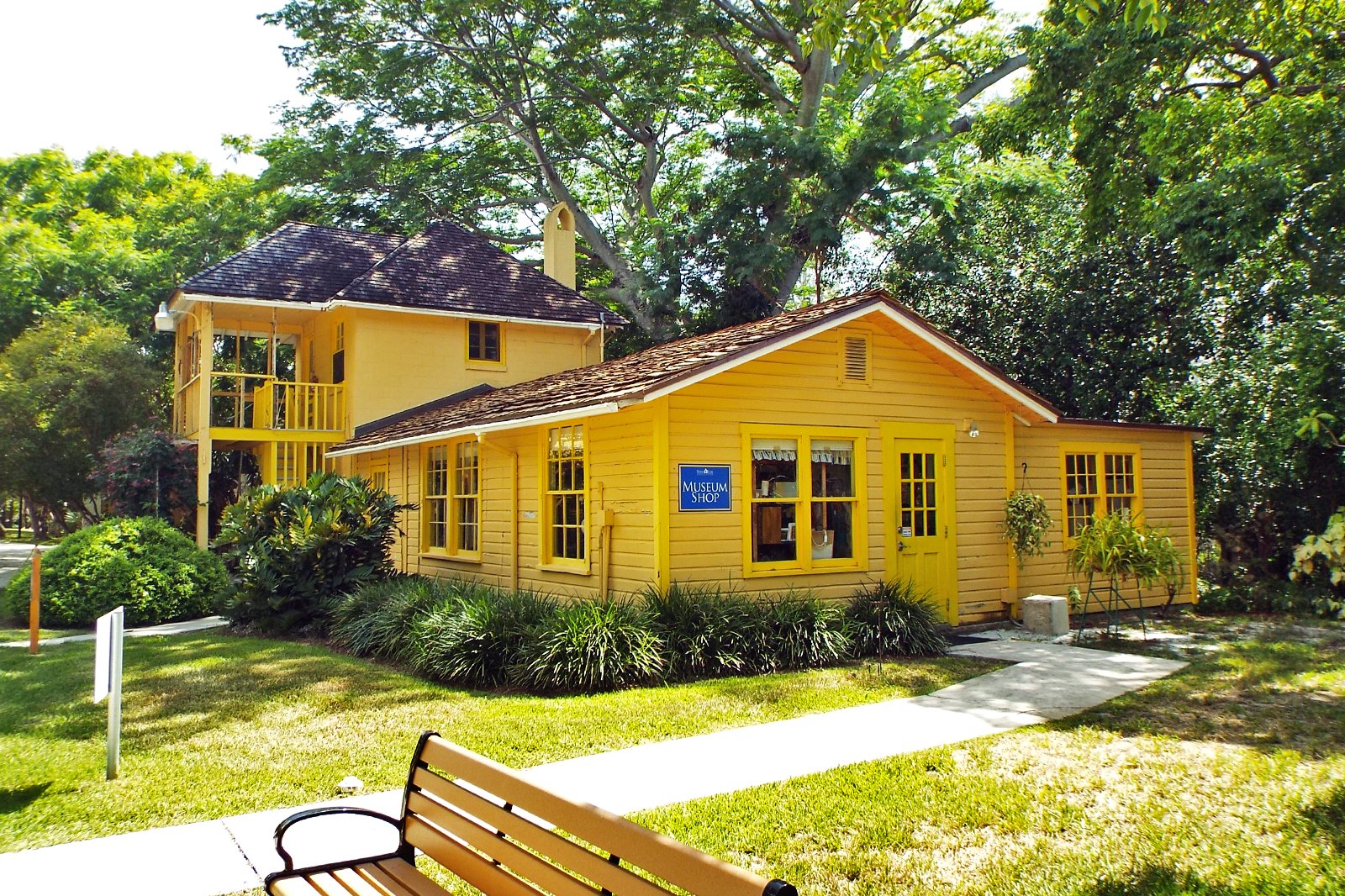 Must-See: Bonnet House Museum and Gardens
Open the inviting yellow gates to the perfectly preserved Bonnet House Museum and Gardens. This historic home is Old Florida at its finest. There's plenty to see as you tour the unspoilt hibiscus garden and artefacts that once belonged to the Birch and Bartlett families. Admission costs $20 for adults if you want to see both the gardens and take the 90-minute tour of the house. For just the gardens, it's only $10.
Situated just south of Sunrise Boulevard, jump in a water taxi and get ready to explore the gems within the 35-acre grounds. Make friends with the manatees bobbing in and out of the Boathouse Canal and see if you can spot the resident monkey as he swings from branch to beautiful branch.
Location: 900 N Birch Rd, Fort Lauderdale, FL 33304, USA
Open: Tuesday–Sunday from 9am to 4pm (closed on Mondays)
Phone: +1 954-563-5393
photo by Marine 69-71 (CC BY-SA 4.0) modified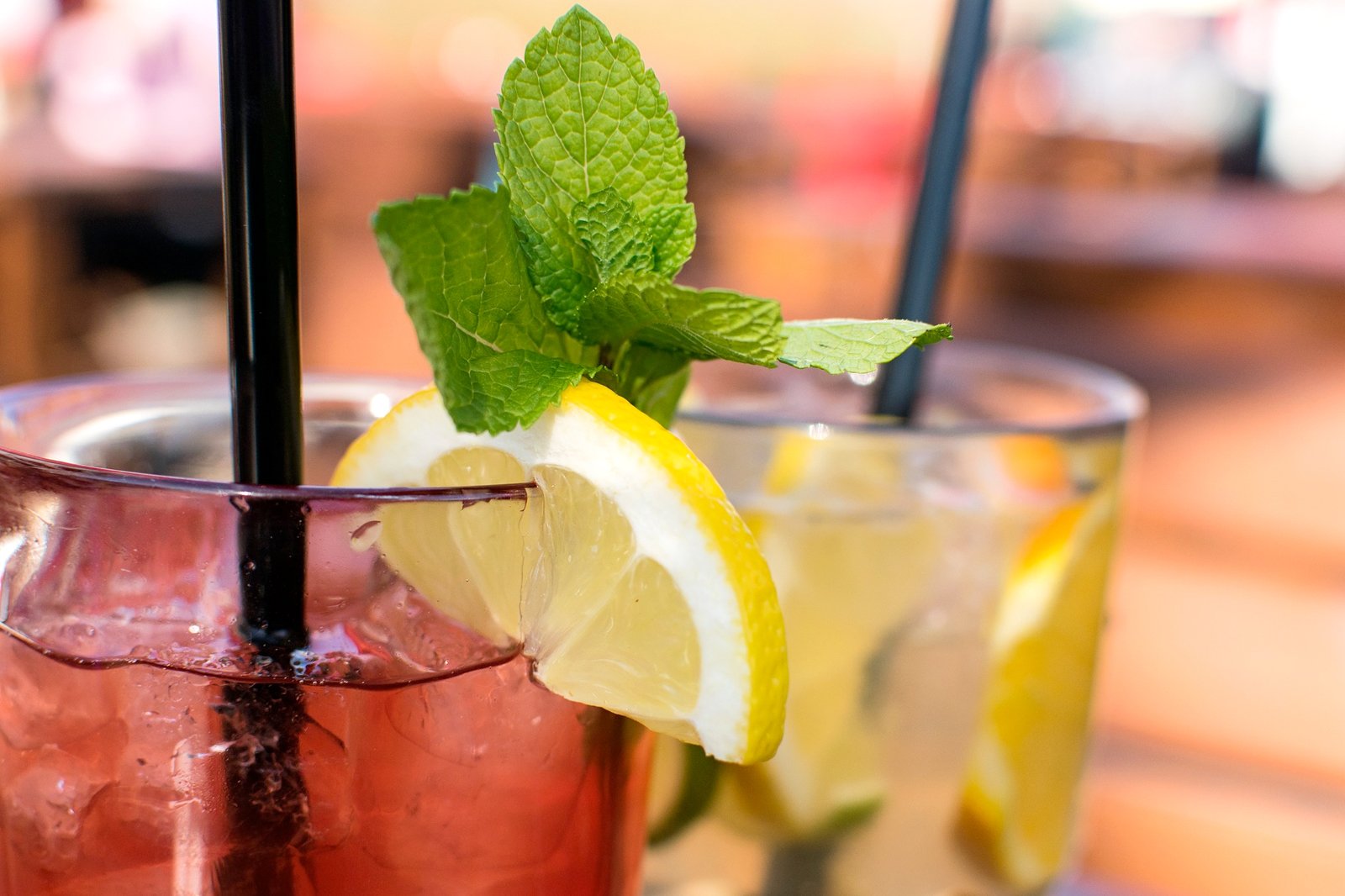 Whip up a rum cocktail at South Florida Distillers
Hands up who enjoys a rum punch? You're in luck, as Fort Lauderdale holds the key to the best spirits in Florida. Yep, we're talking the very real, physical kind. Thanks to long-time pals Avi Aisenberg and Joe Durkin, FWAYGO (that's their rum product) has become a real South Florida favourite.
You can find boozy beverages all around town but for the best rum, kush and gin around, head to the source and get ready to raise your glass to cocktails galore. There are gin-making classes at the distillery most weekends, which you can book online from $95 per person. Fruity fan? Try the skinny apple pie for a real sweet treat.
Location: 2612 S Federal Hwy, Fort Lauderdale, FL 33316, USA
Phone: +1 954-541-2868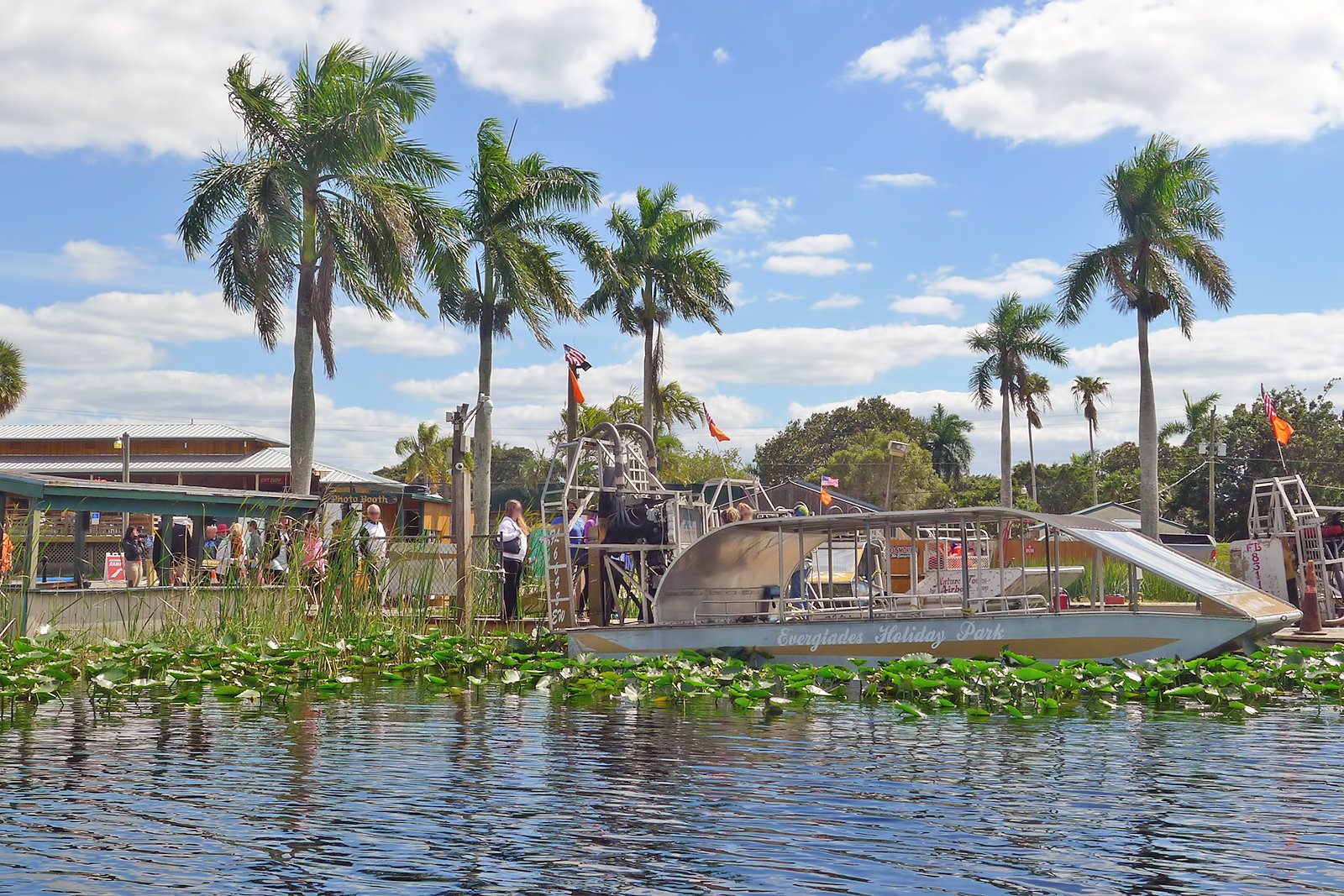 Must-See: Everglades Holiday Park
Wildlife Preserve? Tick. Theme park? Tick. No matter the weather, hop in an airboat and glide across the waters of the Everglades Holiday Parks as you try and spot the gators in their natural habitat. As your tour guide fills your mind with education and enthusiasm, you'll be filling your social media with once-in-a-lifetime snaps.
Head west to these welcoming wetlands for a real holiday highlight, where riverboat rides and live animal encounters are what it's all about. Airboat tours depart every 20 minutes from 9am every day, and last about an hour. Ticket prices depend on the package you get, but most of the top highlights can be covered with as little as $32.
Location: 21940 Griffin Rd, Fort Lauderdale, FL 33332, USA
Open: Daily from 9am to 5pm
Phone: +1 954-434-8111
photo by Tydence Davis (CC BY 2.0) modified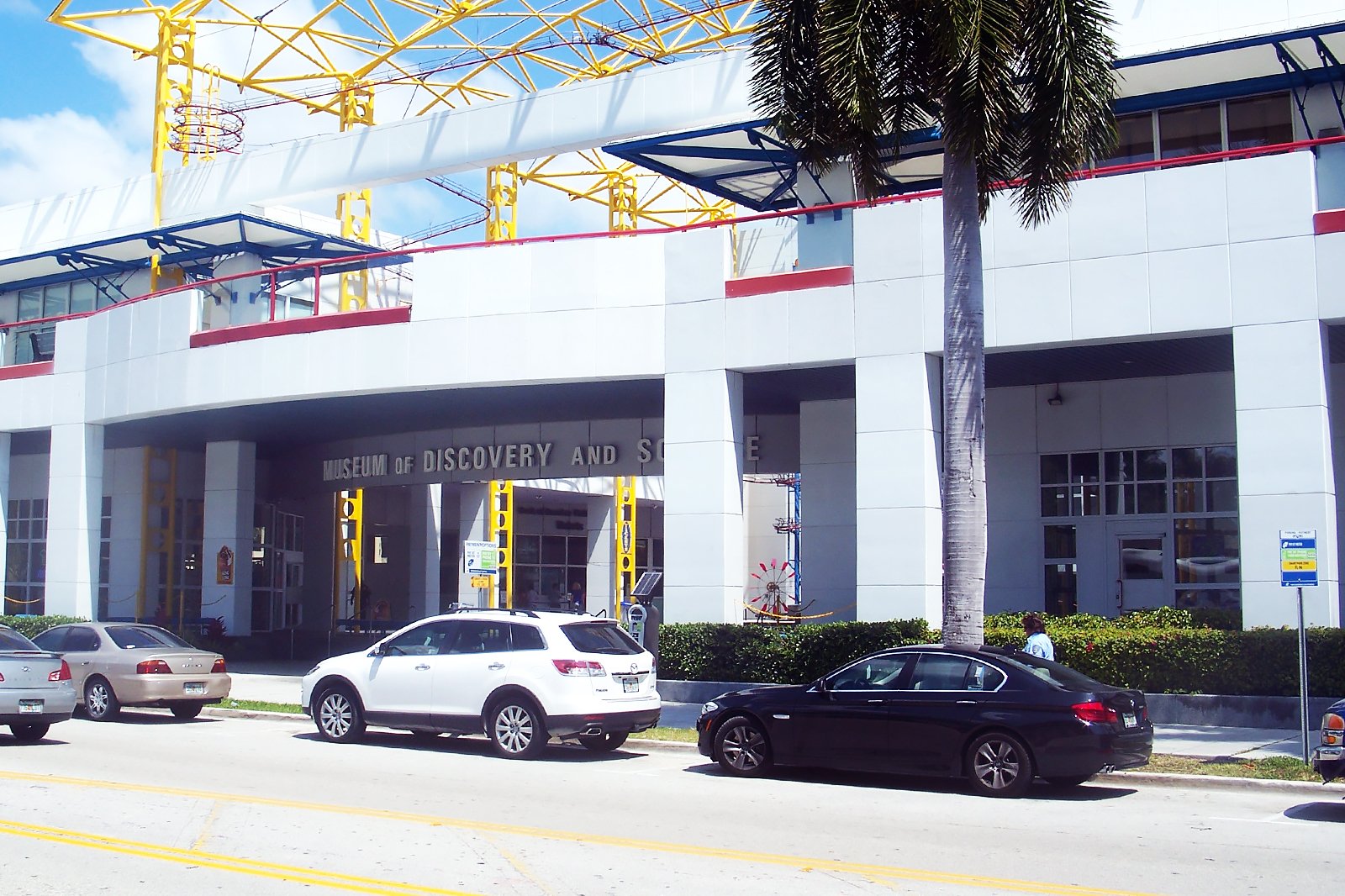 Get interactive at the Museum of Discovery and Science
From gators to prehistoric animals, aeroplane adventures and a simulated Everglades boat trip, get hands-on with an hour of interactive discovery at The Museum of Discovery and Science. Take a break from the hustle and bustle of everyday Fort Lauderdale life and encourage the whole family to explore, engage and enjoy the beauty of discovery.
Make your way downtown to where the Sabre-toothed cats, Imperial Mammoths and open-mouthed megalodons are waiting to tell the tale of a Prehistoric Florida, while skill-based experiments offer themselves up at the Science Park. Entry costs $17 for adults and $14 for children.
Location: 401 SW 2nd St, Fort Lauderdale, FL 33312, USA
Open: Monday–Saturday from 10am to 5pm, Sundays from 12pm to 5pm
Phone: +1 954-467-6637
photo by Ebyabe (CC BY-SA 3.0) modified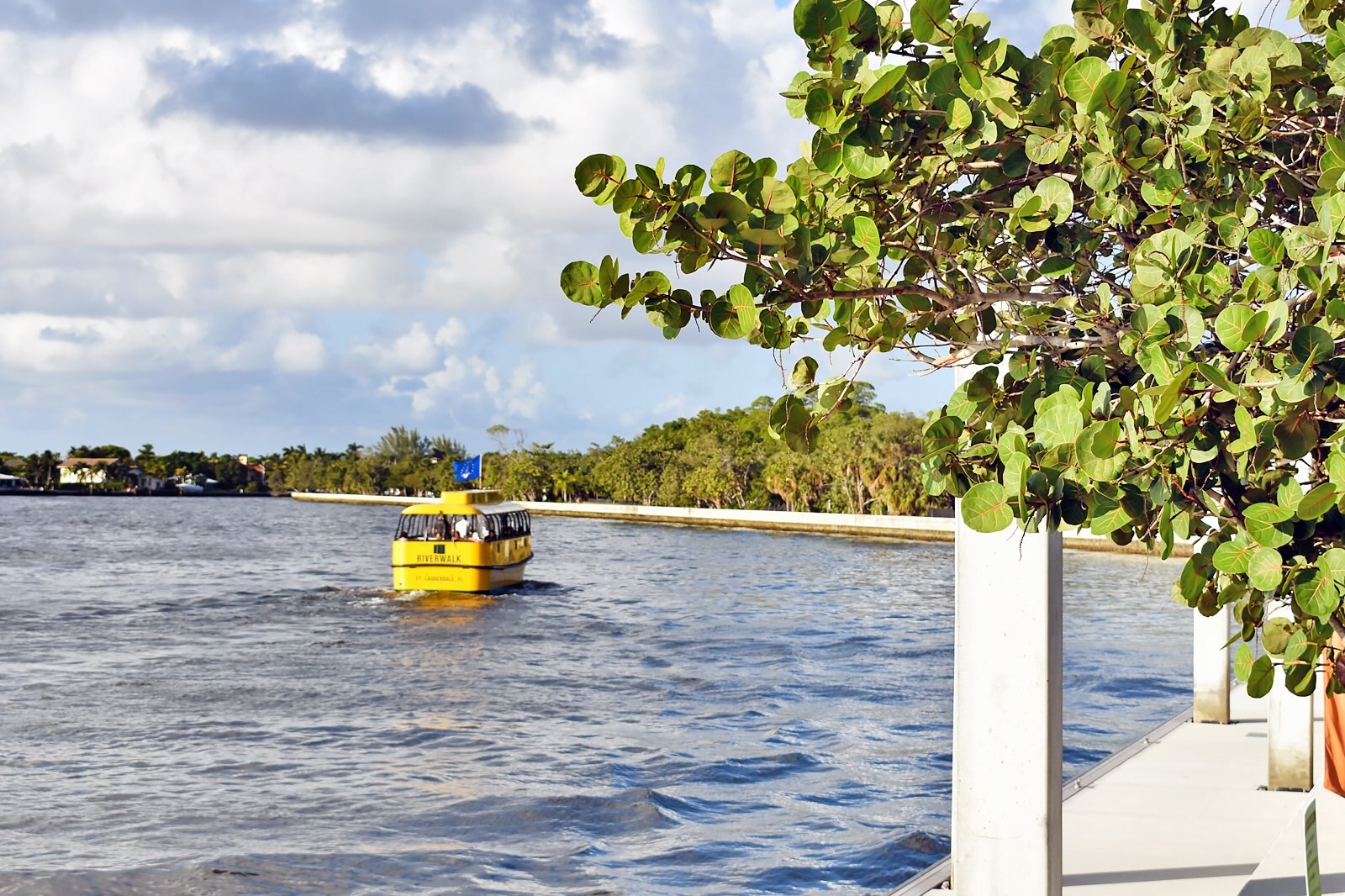 Take a water taxi from Birch State Park to 15th Street Fisheries
There's no better way to spot the sights of the south-eastern coast than with a water taxi ride. Breathe in the fresh Floridian air as you board your boat to take you from A-B, or more specifically from the majestic Banyan trees of Birch State Park to the tasty lobster rolls of the 15th Street Fisheries.
From the shaded park pier to the blissful marina deck, there's a reason why so many travellers opt to bob along the intercoastal waves of Fort Lauderdale's popularly nicknamed "Venice of America". It's a wonderful way to travel the city.
Open: Daily from 10am to 10pm
Phone: +1 954-467-6677
photo by Tamanoeconomico (CC BY-SA 4.0) modified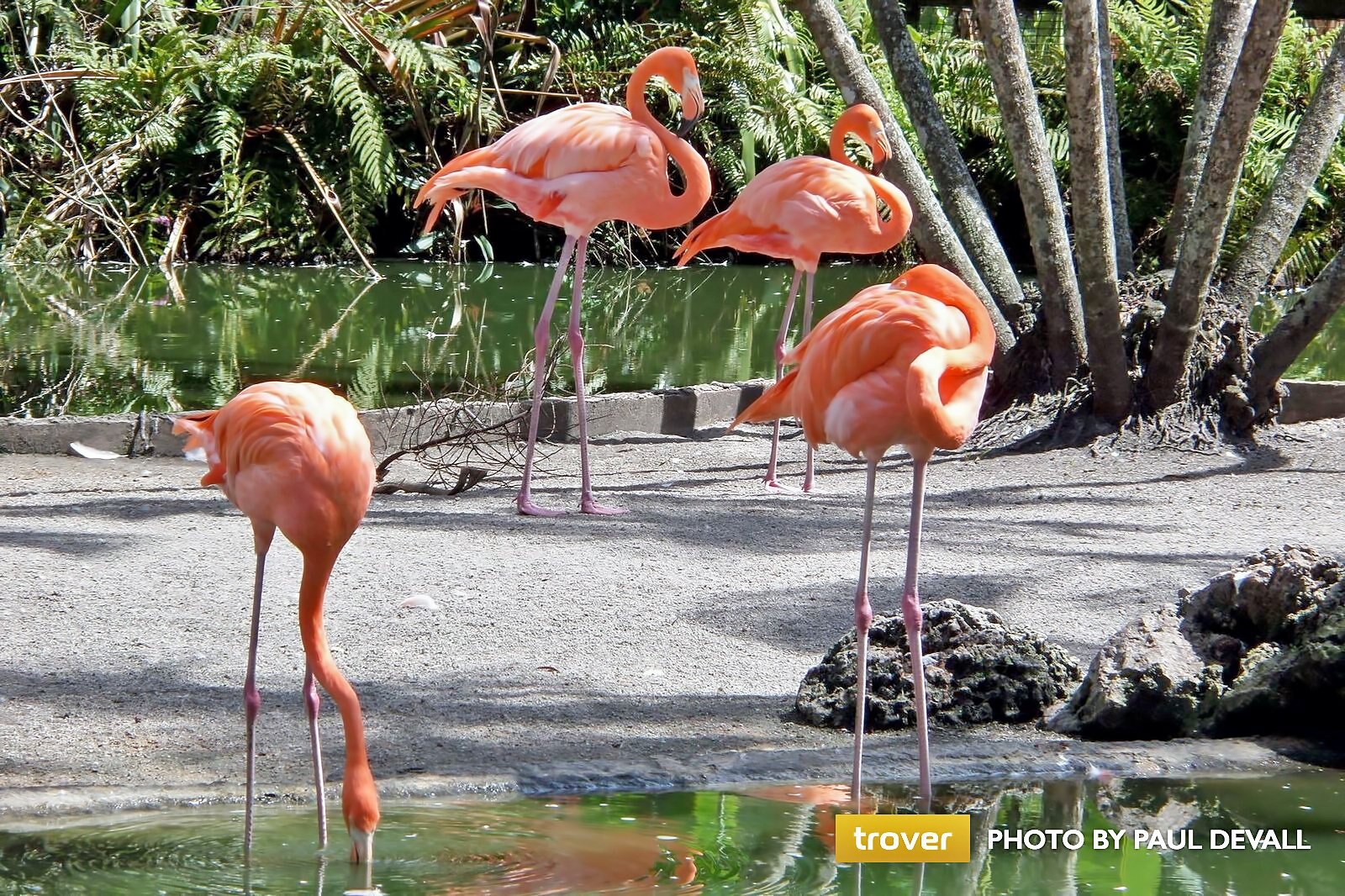 See the wildlife at Flamingo Gardens
As native gators greet your arrival, river otters put on a playful performance, and Josh the bear gives you a wave from his private pool, you'll quickly see why Flamingo Gardens is among the best animal sanctuaries in the Everglades. Florida's 5 unique ecosystems are showcased here, including sawgrass prairies and mangrove swamps.
Jump on board a tram tour to get the lay of this lush land and learn all about South Florida's natural and cultural heritage. While the flamboyant flamingos definitely run the show, Florida panthers and parading peacocks provide a tropical talking point.
Location: 3750 S Flamingo Rd, Davie, FL 33330, USA
Open: Daily from 9.30am to 5pm
Phone: +1 954-473-2955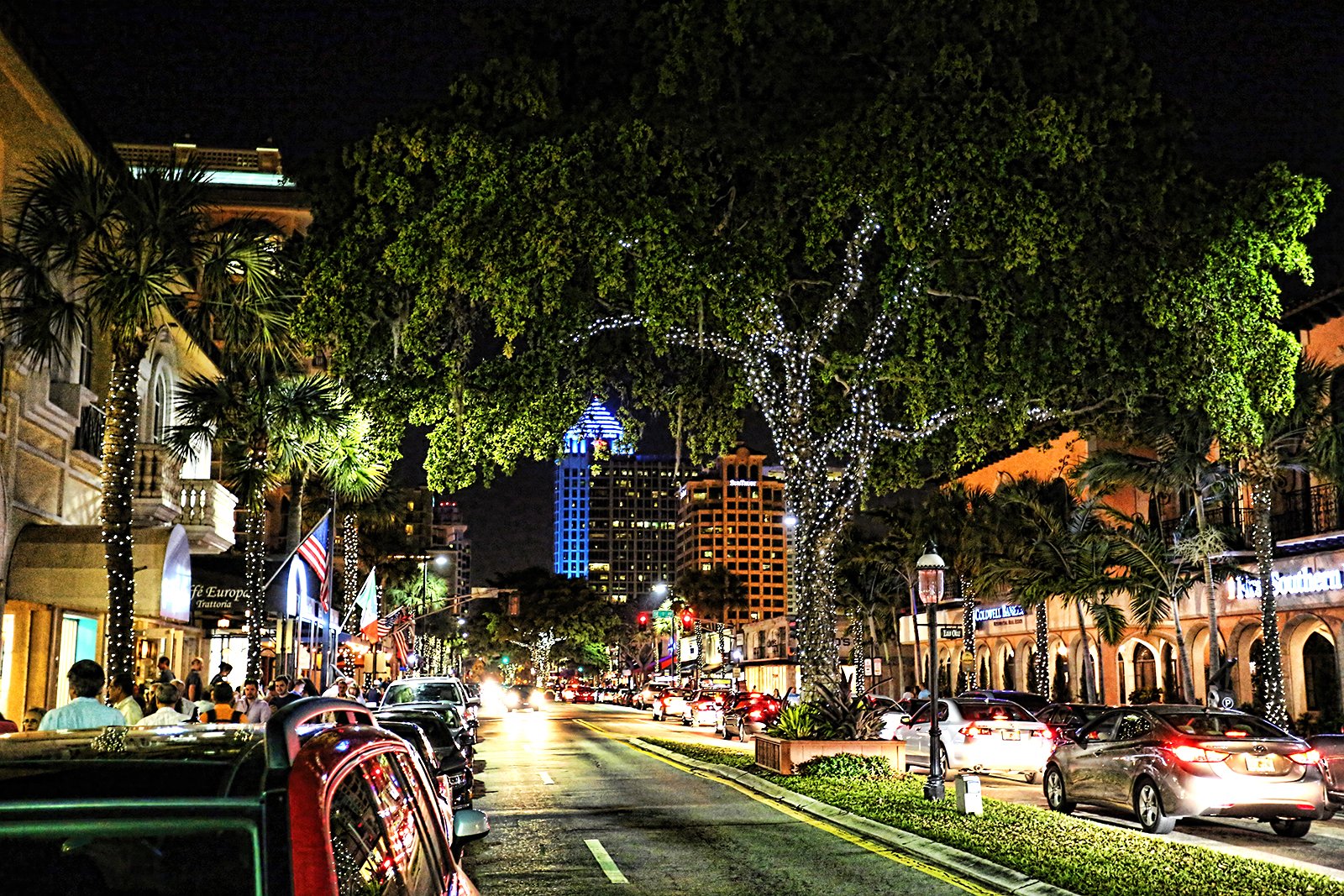 End the day partying downtown
Watch the sun go down with a happening party in downtown Fort Lauderdale, where popular nightspots welcome party worshippers no matter their choice of tipple. Sip colourful cocktails and listen to the nighttime beat in Capone's, YOLO and America's Backyard – all expecting eager feet to hit their disco-loving dancefloors.
Finish the day by hosting your own private party in this lively hub, just north of the river. Follow the mellow grooves of jazz lounges, bust your most rhythmic moves in ocean-front bars and clubs, and enjoy a nightcap in true downtown style.
photo by Steve Sutherland (CC BY 2.0) modified