Top 10 beaches in Fort Lauderdale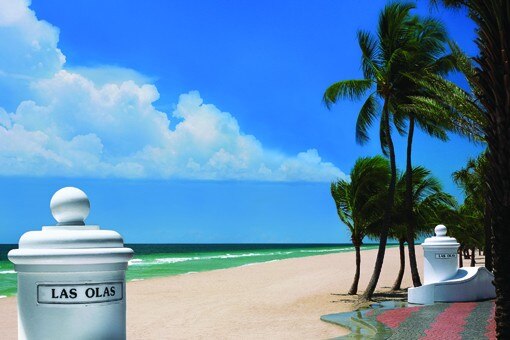 Whether you're looking for a secluded spot for kayaking and hiking or a beach packed with sunbathers where tropical drinks are served on the terrace, you'll find a Fort Lauderdale beach for you. Book a Fort Lauderdale hotel and follow this guide to the Top 10 beaches in Fort Lauderdale.
Family fun at Deerfield Beach
Build sand castles and bury one another in golden sand at Deerfield Beach, a family favorite free of cigarette boats, Jet Skis and alcohol. When families tire of the water, they toss Frisbees or play volleyball along the shore.


Lighthouse tours at Hillsboro Beach
Experience a bird's-eye view of Fort Lauderdale atop the 1907 Hillsboro Lighthouse. The black-and-white tower is a popular attraction, as is the Barefoot Mailman statue commemorating the 19th-century men who trod the shoreline shoeless delivering mail to coastal communities.


Fishing and golf at Pompano Beach
Experience the thrill of a jerk on the line, fishing South Florida's clearest waters. Taking its name from the tastiest fish in the Atlantic, Pompano Beach is popular with anglers and divers. Outfitters charter boats to the best water, and, inland, golf courses entertain visitors on dry land.


Beach village of Lauderdale-By-The-Sea
The ice cream shop dips generous scoops. The sandwich shop cooks to order. And Lauderdale-By-The-Sea's single street closes Friday nights for live music. Visitors looking for the South Florida as it was generations ago find it in this small beach town. A coral reef a few hundred yards offshore makes the beach a draw for snorkelers and divers.


Beach chic at Fort Lauderdale Beach
Book a hotel near Fort Lauderdale Beach, where stylish boutiques, sidewalk cafés and a beachfront promenade make it a great place to buy swimwear, sip margaritas and watch the world go by. With seven miles of beachfront, there's space enough for every visitor's favorite marine pastime: Jet Skiing, boating, swimming, snorkelling or just building sand castles.


Fresh seafood at Dania Beach
One of Fort Lauderdale's least crowded beaches, Dania Beach, is best known for its fishing pier. Watch the sky turn scarlet at sunset from the pier's restaurant, dining on "fresh fish caught today" or blue crabs.
Kayaking at John U. Lloyd Beach State Park
Kayak past twisted mangrove roots, watch diving pelicans and grill burgers on the beach. Boats can be rented by the hour at Lloyd State Park, where locals come to bodysurf and fish along its undeveloped beach.


Hollywood Beach boardwalk
Rent a bicycle and tour Hollywood Beach's two-and-a half-mile boardwalk, watching dogs fetch Frisbees (This is Florida's favorite dog beach), stopping at umbrellaed cafés and enjoying the unspoiled Florida ocean views at one of the top 10 beaches in Fort Lauderdale. If you still have energy, visit the Hard Rock Hotel & Casino for late-night dancing. You're in Hollywood.


Outdoor sports at Hallandale Beach
Deep-sea fishing, golf and boating make Hallandale Beach popular with outdoor enthusiasts. The golden strand is also a great place to swim or just work on a suntan.


Florida cool at Miami Beach
Less than an hour south of Fort Lauderdale, Miami Beach is the quintessential South Florida beach vacation, with hip shopping, beautiful sunbathers and around-the-clock night life. Swim all day. Play all night. And take the afternoon off to buy designer sunglasses and watch souped-up motorcycles cruise Ocean Drive.
Discover
Find your perfect holiday in Fort Lauderdale
From 950 hotels.