Brisbane Travel Guide - Your destination overview of Brisbane, Australia
Brisbane Travel Guide - Your destination overview of Brisbane, Australia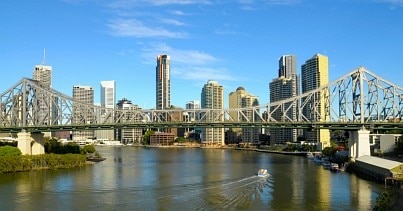 Brisbane is a fascinating collection of suburbs and districts in one of the most sun drenched areas of Australia. It is a warm, friendly city with spotlessly clean streets and impressive buildings and features a large, meandering river through the middle.
Its climate is one of its most appealing factors and visitors can simple don a pair of shorts at any time of year and take to the South Bank for a picnic. The fact that it is the gateway to Australia's Gold Cost and Surfers Paradise is another of its major draw points.

The city center is loaded with grand monuments, bustling thoroughfares, quality shops and viewpoints, while outlying suburbs all come with a certain amount of character and style to offer up a complete package.


Central Business District
Brisbane's CBD is the main area for tourists as well as its economical heart. It is just north of the river and has the majority of sights, including grand and historic buildings, unending shops and swanky eateries. Queen Street Mall along Queen Street is the main shopping area and the heart of the CBD.
South Bank
As the title suggests, South Bank is just across the river and is the city's cultural heart, loaded with quality museums and galleries and home to trendy cafés and ethnic restaurants. The Performing Arts Center is here, along with the city beach.


West End
The West End is behind South Bank and is another fun area with its bohemian look and feel and its many unique shops and homey cafés. This area is also home to popular hotels, vegetarian restaurants, book shops and market stalls.


Fortitude Valley
This region of the Queensland capital is one of its most vibrant. It has pedestrian-only streets, bars and clubs and some great shopping and eating. It is also the home of Brisbane's Chinatown and is the place to head for live music.




New Farm
New Farm is east of the CBD, to the south of Fortitude Valley, and lies within the next loop of the river. An upscale shopping and dining area, it is especially popular with locals and has many fine parks and areas to stroll the riverside.


Portside Wharf
Formerly Brett's Wharf, Portside Wharf is out at Hamilton toward the northeast of downtown Brisbane and is the spot where cruise ships dock. It has some of the best dining and specialty shopping and a state-of-the-art cinema.