Melbourne Entertainment Guide - For fun, recreation, and relaxation
Melbourne Entertainment Guide - For fun, recreation, and relaxation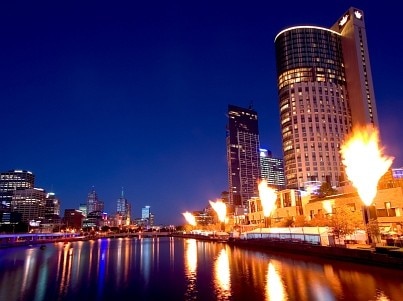 Melbourne is an entertaining city with a vast array of history, culture and heritage. Visitors will enjoy the fantastic museums, cosmopolitan city suburbs and outdoor sporting events. There is truly something for everyone in this exciting city.
Within the CBD of Melbourne there are countless attractions such as the Melbourne Aquarium, which showcases Australia's broad array of marine life. Be sure to catch a game of Australian Rules Football and be entertained by the interesting full contact sport and lively crowd.

Melbourne also has some colorful and interesting yearly events and festivals such as the Food and Wine Festival, which sees hundreds of exhibitors displaying their culinary creations and locally produced wines. The Melbourne Cup horse race is a popular event held each November and attracts the attention of the entire nation.


Melbourne Food and Wine Festival
Held along the shorefront of the Yarra River in the heart of Melbourne, The Food and Wine Festival is a popular yearly event that sees hundreds of individual stands and stalls showcasing a wide array of culinary treats. The event is held over 10 days and welcomes famous Australian winemakers and celebrity chefs.


Australian Rule Football
Australian Rules Football is a popular sport throughout Australia but it's without a doubt the most popular in Melbourne, where it was born. The weekly games held from April to September each year attract large crowds of up to 40,000 spectators. It's a worthwhile experience to attend a game and see the unique game played as well as the passionate supporters.


Horseracing
Melbourne has four racetracks in the city and hosts events each weekend throughout the year. The most popular race of the year it the Melbourne Cup, which is a world-class event that stops the nation with Cup Day celebrations held all over the country. Visitors will enjoy the fun atmosphere at the races and excitement of having a punt.


Melbourne Aquarium
The recently built Melbourne Aquarium is located on Wharf Road and provides an in-depth look at the unique Australian underwater world. There is an extensive collection of tropical fish from northern Australian waters as well as large sharks, manta rays and jellyfish.
Melbourne Museum
The fantastic Melbourne Museum is Australia's largest and provides an in-depth look at various natural and anthropological exhibits as well as having some great hands-on activities that will keep children entertained. There is also an award-winning aboriginal art center that displays impressive artworks.


Nightlife
Melbourne is known for its lively and exciting nightlife activities with a host of bars, clubs and discos offering something for everyone. Chapel Street is regarded as the best place to party, with numerous all-night discos and day clubs for those not wanting to stop. Fitzroy and Bourke streets are also popular, with the great bars here playing live music throughout the week.

Find more information about Melbourne and hotels in the area:
Melbourne hotels | Australia hotels | Melbourne Hotel Special Deals