Kyoto Shopping Guide - Find where and what to shop and buy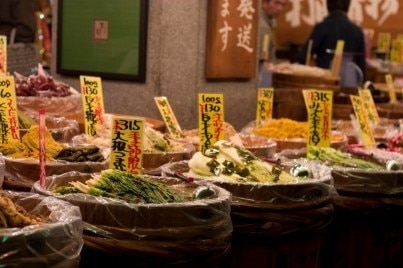 Kyoto is loaded with souvenir shops, boutiques, malls and arcades and is the best place to head for traditional Japanese items and handicrafts. You can find pottery, textiles, and high quality paper items in all parts of the city.
The streets around Shijo-dori and Kawaramachi-dori in the center have the busiest shopping, with many huge stores and malls to pick up after-Christmas items on the cheap. This is also the best place to pick up quality Japanese fashion brands.

Kyoto also has a load of markets, one of which is Japan's largest, —the flea market held at Toji Temple, —while the monthly Tenjin-san flea market is similar and has a stunning setting. Although arts and crafts are the best buy in town, specialty items like paper and anime are also a big deal in Kyoto.


Kawaramachi Dori district
This is the best area in town to pick up handicrafts. It is in the center of Kyoto, at the point where four main thoroughfares converge into a bustling square. The Kyoto Handicraft Center is perhaps the best place for handicrafts as it has several floors full of merchandise.
Gion
For those interested in antiques and seeing Kyoto's famed geishas, Gion is the best option. It is a pleasant area of wooden buildings and shrines and comes with a decent amount of shopping. Furumonzen Dori and Shinmonzen Dori are the top places here to pick up art and antiques.


Kitayama Street
Kitayama Street is a fashionable area to do clothes shopping. It lies to the east of Kitayama Bridge, in northern Kyoto, and has a good range of smart boutiques as well as many hip cafés and quality restaurants.


Teramachi Street
Visitors looking for Japanese anime items and comics should head for this street, which is one of the city's largest and most impressive shopping arcades. It is just off of Shijo-dori and is accessible with easy wandering on foot.


Tenjin-san market
Although only one time per month on the 25th, Tenjin-san market at Kitano Tenmangu Shrine is good for second-hand clothes, antiques, handicrafts and eating. It has an amazing setting and goes from morning to dusk. Take bus 101 to Kitano Tenmangu-mae.


Kyoto shopping tips
Stick to the department stores for high-end shopping and the flea markets for second-hand and cheaper items. The market and City Hall on the first Sunday of every month has locals selling off unwanted items cheaply. Credit cards and traveler's checks are both accepted at the bigger stores.
Discover
Find your perfect holiday in Kyoto
From 2200 hotels.