Seafood, Steaks, and International Fare - Where to Dine in Mooloolaba
Seafood, Steaks, and International Fare - Where to Dine in Mooloolaba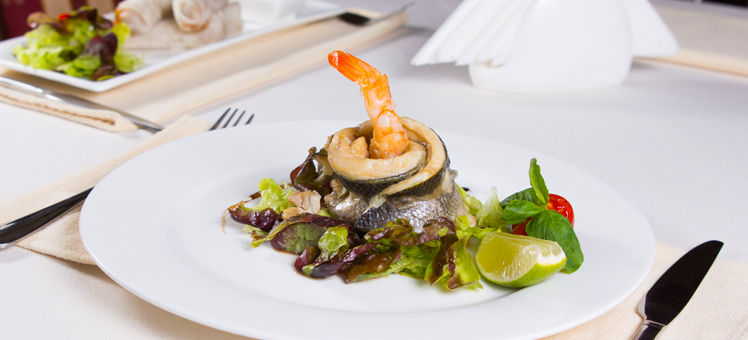 A centre for commercial fishing with an all-weather harbor, it's no surprise that fresh seafood abounds in Mooloolaba. Visitors often bring fishing rods to reel in their own meals, but the culinary scene has expanded beyond the sea. Restaurants offering cuisine from all over the world can be found in this seaside enclave, from Asian-fusion dishes at beachfront bistros to Portuguese-inspired fare at upscale eateries.
Typical dishes
A meal at a smart seafood restaurant could include Hervey Bay scallops, Morton Bay Bugs (a small lobster), battered and sesame-crusted prawns, and locally caught salmon. Fish and chips are a favorite pub meal.
Esplanade dining
World-class restaurants, casual cafés, and breezy seaside bistros share space along the popular Esplanade. As crowds stroll this oceanfront pedestrian strip, you can bask at an outdoor table for a meal with an inspiring view of Point Cartwright. More formal dining is nearby, with restaurants specializing in steaks and craft cocktails that make perfect companions to a romantic evening. The aroma of freshly brewed coffee draws the early morning crowd to cheery cafés, while light bites and tapas are popular with the "happy hour" (cut-price, pre-dinner drinks) punters.
The Beach Bar and Grill, Mooloolaba Esplanade, Mooloolaba QLD 4557; Tel: +61 7 5444 4498; Website: The Beach Bar and Grill

The 4th Floor Restaurant, Level 4/77 Mooloolaba Esplanade, Mooloolaba QLD 4557; Tel: +61 7 5477 7844; Website: The 4th Floor Restaurant
Dining at the Marina
A short stroll from The Esplanade, Mooloolaba's Marina is another centre of culinary delights. You'll find options like fried fish and budget-friendly selections from the sea at laid-back joints. Dockside offerings also include high-end, water-view dining experiences with catches from trawlers that dock in the harbor. Steaks, tapas, and locally grown produce are also prominent in Marina menus, while the kids can enjoy ice-cream from harborfront kiosks. On Fridays, the Marina hosts "Twilight Community Markets," with food vendors and live entertainment.
See Restaurant, 123 Parkyn Parade, Mooloolaba QLD 4557; Tel: +61 7 5444 5044; Website: See Restaurant

The Wharf Tavern, River Esplanade and Parkyn Parade, Mooloolaba QLD 4557; Tel: +61 7 5444 8383; Website: The Wharf Tavern
International fare along Brisbane Road
Culinary influences from across the globe are gathered in Mooloolaba, with many found one street back from the Esplanade on First Avenue and also along Brisbane Road - the main artery leading into town. You can enjoy local catches spiced with a taste of India at Journey to Bollywood, or try some fresh seafood used in dishes like barbecued prawns and Crispy Chili Fish at Siam Thai Restaurant. Alternatively, you can dig into some pasta at one of the area's many Italian eateries.
Journey to Bollywood, 3-13 Brisbane Rd., Mooloolaba QLD 4557; Tel: +61 7 5444 6688; Website: Journey to Bollywood

Siam Thai Restaurant, 8/30-32 River Esplanade, Mooloolaba QLD 4557; Tel: +61 7 5452 5100; Website: Siam Thai Restaurant