Where to Shop for Silk, Handicrafts, and Sandalwood in Mysore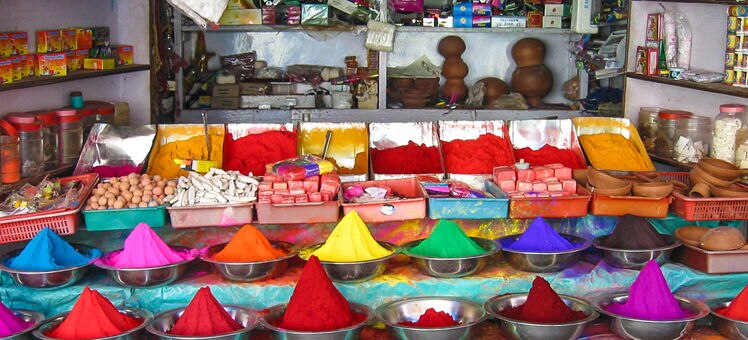 Mysore is a great place to shop for unusual and high-quality souvenirs. The city is famous the world over for its exquisite silks, which have been woven here for centuries. Also made locally are rosewood and sandalwood carvings, ranging from figures of the gods to pieces of inlaid furniture. Incense sticks, or agarbathies, are exported worldwide. Sandalwood and jasmine are the most popular scents.
KR Circle
Next to Mysore Palace, Krishna Rajendra Circle - known simply as KR Circle - is a handy spot to start a shopping expedition. There are several silk emporiums located on the roundabout, as well as jewelers, and mini-malls. The place to head for all forms of woven silk is Badsha Stores, who have been in operation since 1964. You'll find swathes of silk scarves and sarees embroidered with gold thread - Mysore crepe silk sarees are the most desired. A variety of other fabrics, including linen, are fashioned into ethnic-fusion clothes, while cotton bed sets make a practical purchase.
Badsha Stores, Shop No. 5, Vishveshwarya Bhawan, KR Circle, Devaraja Mohalla, Chamrajpura, Mysore 570001, Karnataka; Tel: +91 821 400 4022; Website: Badsha Stores
Sayyaji Rao Road
Running north from KR Circle, Sayyaji Rao Road is Mysore's main shopping street, where you'll be overwhelmed by the number of silk and handicraft stores. Head straight to Cauvery Handicrafts Emporium, which is a government-owned showroom - meaning goods have price tags. It's a relief if you're not used to haggling, or just want to get an idea of the correct price. Cauvery supports and promotes Kannada craftsmen, and the multitude of goods available include sandalwood statues, heady perfumes, silk sarees, embossed metalwares, carved stonework, and furniture with rosewood inlay work.
For an authentic - and overwhelmingly picturesque - shopping experience, go to Devaraja Market, on the western side of Sayyali Rao Road. You'll find locals and foreigners bargaining over arrays of polished tropical fruits and vegetables, as well as stalls selling the full range of incense scents, heaps of pungent spices, mounds of marigolds, and garlands of flowers. This bazaar is one of India's most colourful, and just wandering the little laneways is an experience in itself. The hundreds of vendors start setting just after sunrise and shut up shop around 8:00 PM.
Devaraja Market, Shivarampet, Mysore 570001, Karnataka; Website: Devaraja Market
Ashokapuram
The neighbourhood of Ashokapuram lies a mile or 2 south of the city centre, and it's worth the ride to visit the Sandalwood Oil Factory. The goods here are top quality, and the scent of sandalwood is dizzying. You can see how the oil is extracted from the wood and turned into products on a guided tour, and then stock up on cosmetics, soap, or even pure sandalwood powder. The factory has been making sandalwood soap since it was established by the maharajah in 1916.
Sandalwood Oil Factory, Manathody Road, Ashokapuram, Mysore 570008; Tel: +91 080 23371104; Website: Sandalwood Oil Factory