Launceston's Top Attractions - What to See and Do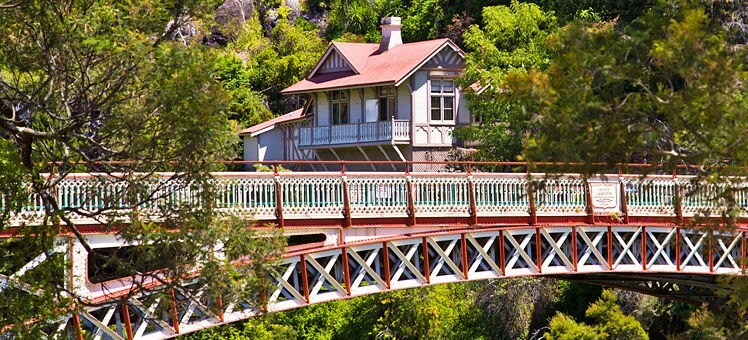 Located in a majestic natural setting, with a legacy of British history and period charm, Launceston is a visual treat. Grand historic buildings, nearby wonders of the natural world, and an old-time feel are some of the attractions you can expect. Enjoy walks through forests, breathing in pristine fresh air, and later sink into the comfort of a meal by a log fire. In the city itself, nature calls in a vast array of parks and gardens. Try riverside Kings Park and Royal Park for jogging and cycling tracks. For picnics, City Park is a picture of European gentility.
Cataract Gorge
It's only a 15-minute walk from the city centre to reach a landscape of dense green forest and towering cliffs. Cataract Gorge is a natural destination for visitors and locals alike. It offers hiking trails, a swimming pool, and what's said to be the longest single-span chairlift in the world. Grab a bite to eat and take in the view from the glass-fronted Basin Café, or enjoy a leisurely afternoon picnicking on the lawns.
Basin Chairlifts, Cataract Gorge, 69 Basin Rd., Launceston TAS 7250; Tel: +61 3 6331 5915; Website: Basin Chairlifts

Basin Cafe, Cataract Gorge Reserve, Basin Rd., Launceston TAS 7250; Tel: +61 3 6331 5222; Website: Basin Cafe
Launceston's lanes and heritage
To delve into some Launceston history, why not take a Ghost Tour? These popular excursions conjure up chilling moments, as you wind through the town's lanes and discover some of Australia's oldest buildings. For a half-day trip, head out to historic Beaconsfield, which lies 40 kilometers from Launceston city centre. Once Tasmania's richest gold-mining town, Beaconsfield has retained the charm of its boomtown past. The Heritage Centre provides great insights into the workings of Beaconsfield's mine, which closed in 1914.
Tamar Valley and premium beer
The Tamar Valley will delight nature lovers, wine connoisseurs, and foodies alike. Here you can visit berry farms, take in spectacular rolling fields - where some of the state's finest grass-fed beef comes from - or join a winery tour. At Jansz wine rooms, you can sip a vintage sparkling white while taking in breathtaking scenery. Back in Launceston, don't miss out on a beer-tasting and tour of James Boag's Brewery, first opened in 1881.
Creative design and art
Launceston has a rich history and heritage, as well as a lively contemporary cultural scene. At Queen Victoria Museum and Art Gallery (QVMAG) - the city's most important art temple - you'll find permanent collections, including a zoological gallery and colonial and decorative arts, displayed alongside temporary and touring exhibitions. The elegant Design Tasmania centre is home to exhibitions of contemporary art and design by local talents, some of which is for sale.
Dining in Launceston
Launceston is a gourmand's heaven. Menus around town focus on local, sustainable, and seasonal produce, and you can find anything from basic pub meals to fine French-fusion dining. Stillwater Restaurant, whose proprietors also own the popular restaurants Black Cow and Mudbar, is worth booking into your itinerary for its 6-course degustation dinner. Set in historic Richie's Mill at the mouth of Cataract Gorge, it is a true taste of Launceston.
Discover
Find your perfect holiday in Launceston
From 70 hotels.