Resorts, Rooms with a View, and Apartments - Staying on Hamilton Island
Resorts, Rooms with a View, and Apartments - Staying on Hamilton Island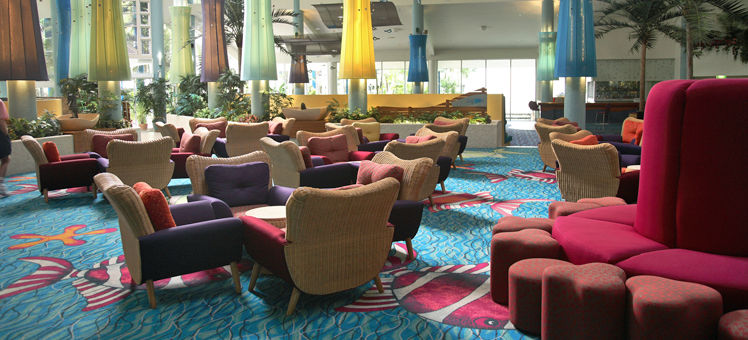 Whether you're planning a vacation as a couple, with the family, or with a group of friends, Hamilton Island affords an array of accommodation to suit your needs. There are premium, couples-only resorts, spacious hotel rooms, comfortable family apartments, or luxurious houses with their own pool and sweeping sea views.
Catseye Beach
Catseye Beach offers an idyllic, tropical island snapshot of white sands, swaying palms and sparkling waters at your doorstep. Hamilton Island Beach Sports is situated here, so you can wake up and decide to paddleboard, windsurf, or take a guided snorkeling tour. Main Pool overlooks the beach if the sand isn't your scene, and there are cafés and restaurants if you need a refreshment.
Hamilton Island has 2 upscale resorts, and 1 is situated right on Catseye Beach (the other is on the northwestern tip of the island.) It offers childfree serenity, and a relaxed, secluded vibe. Other accommodation on Catseye Beach includes the island's principal hotel, which offers rooms of all sizes, from couples to groups of 6. You will also find self-catering apartments and well-appointed bungalows.
Marina
The marina side of the island offers equally as impressive views and the main cluster of restaurants and other services, with accommodation focusing on high-end bungalows and apartments. The airport and Yacht Club are within close range, as is the bobbing-boat ambience of the island's Marina, and the ferry landing.
On the marina side of Hamilton Island, you can take your pick from a range of spacious rooms or suites, all with balconies or terraces, and sea or garden views. Many offer the chance to cool off in infinity pools and some rooms come with their own plunge pool. Everything that Hamilton Island offers is within easy reach.
Northern Tip
With much of the island undeveloped, many apartments, bungalows and holiday homes are scattered along the traffic-free roads that wind over its northern swathe. An exclusive resort at the northernmost tip offers a luxury spa waiting to pamper you, a stunning infinity pool, and sophisticated contemporary Australian cuisine in an intimate setting.
The northern swathe of Hamilton Island offers a broad choice of apartments, bungalows, and houses. Some also come with a free buggy to make it even easier to get around. You'll still have plenty of seclusion, and many properties afford sweeping coastal views.
Search for Northern Tip hotels