11 Best Things to Do in Nantes
What's Nantes Most Famous For?
Nantes is the capital city of the Pays de la Loire Region in the west of France. It's a lively and pleasant city that offers a good range of things to see and do. The long history of the city has left many sites of historical importance to discover, and the industrious spirit of the inhabitants of Nantes makes the city in constant evolution.
Nantes is a city full of interesting landmarks like the castle and the cathedral, with plenty of trendy venues and technological fantasy to enjoy too. Besides its manmade attractions, Nantes is famous for its vineyards that produce Muscadet white wine. This pairs well with the seafood caught 60 km away on the Atlantic coast.
What are the best things to do in Nantes?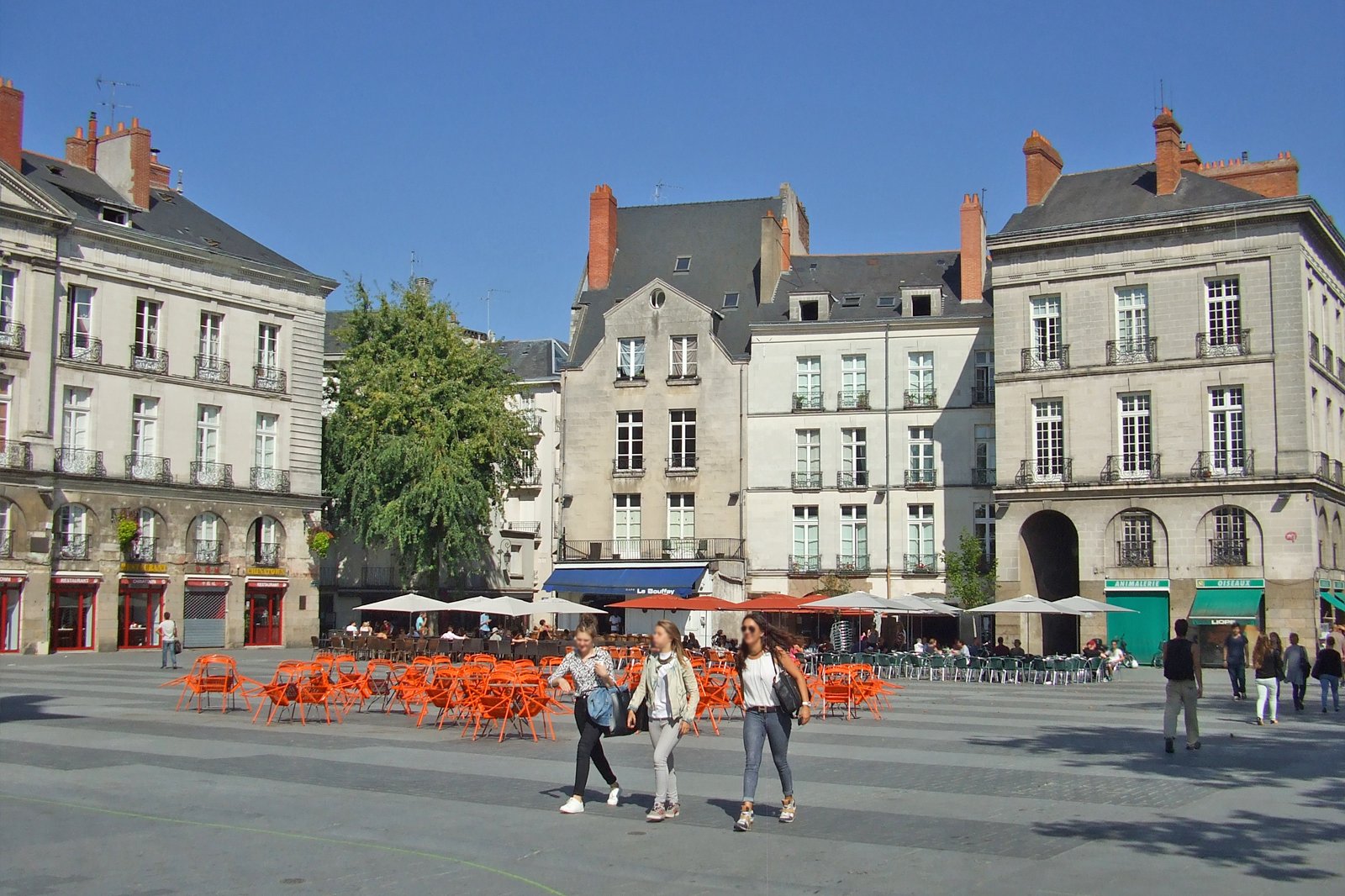 Start the day at Place du Bouffay
Hang around the oldest district of Nantes city centre
Bouffay is the oldest district of downtown Nantes. Located 250 metres west of the Castle of the Dukes of Brittany, this pedestrian area features many quaint streets and lanes that spread out from Place du Bouffay, a cobblestoned square that is a pleasant spot to have lunch or simply have a drink at one of the cafés and restaurants with outdoor terraces. Bouffay district is filled with boutiques selling all types of items, from clothing to shoes to mobile phones, and more.
Location: In the centre of Nantes, 250 metres west of the Castle of the Dukes of Brittany
Couples
Shoppers
History
Food
Budget
photo by Pj44300 (CC BY-SA 4.0) modified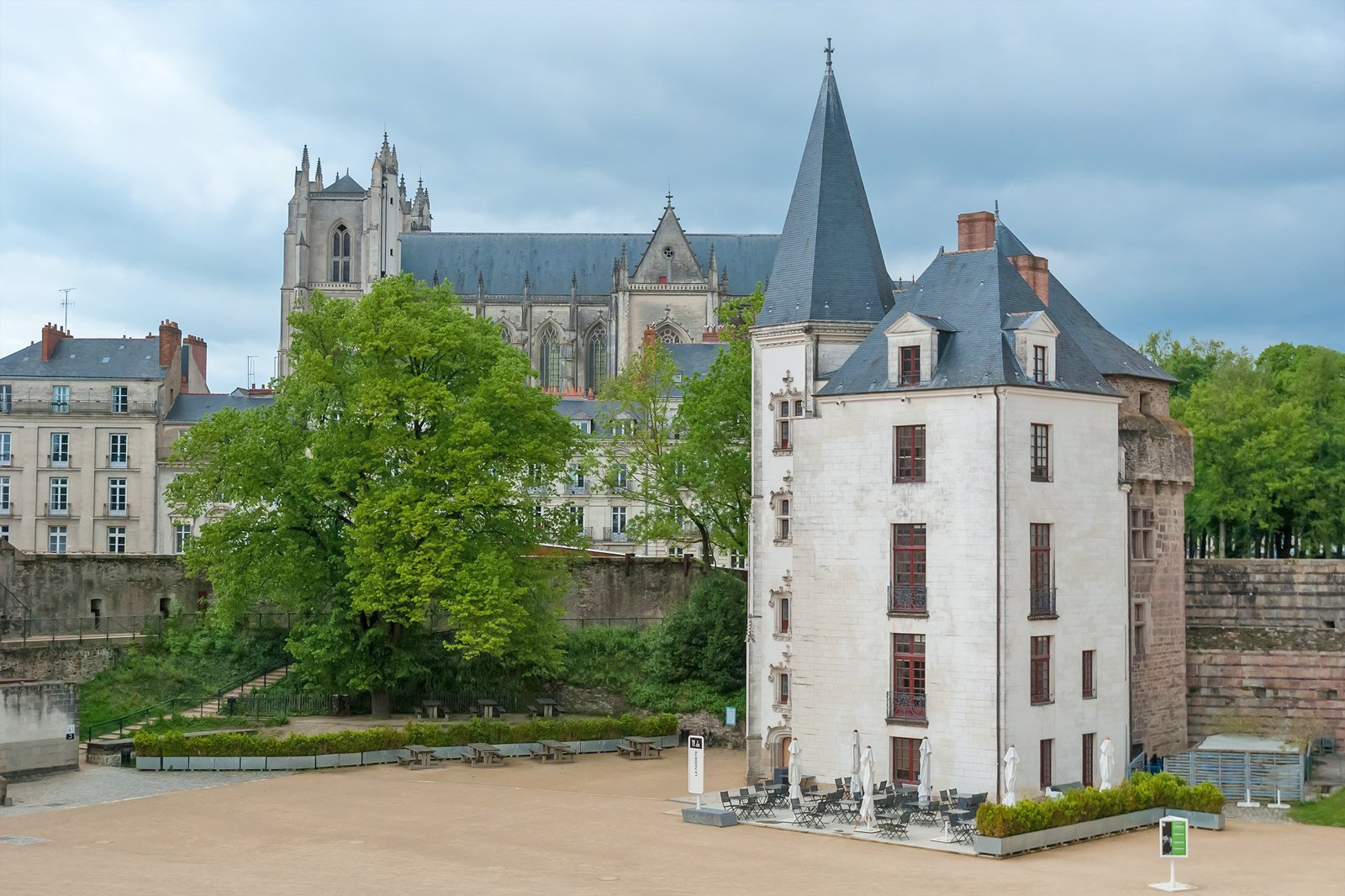 Visit the Castle of the Dukes of Brittany
Step into the history of Brittany
Nantes' most notable building is the Château des Ducs de Bretagne (Castle of the Dukes of Brittany). Located in the centre of the city, at walking distance from the train station, it's a Renaissance-style fortress that houses an urban history museum. From genuine historical objects to modern multimedia installations, you'll learn a lot about Nantes and the region, in a fun and educational way. The castle features 7 towers linked by a walkway that you can walk on. For additional fun, don't miss the slide going down the side of the castle.
Location: In the centre of Nantes
Open: Courtyard and rampart walk, daily from 8:30am to 7pm. Museum from 10am to 6pm, closed on Mondays.
Phone: +33 (0)2 43 48 19 19
Couples
Families
History
Photo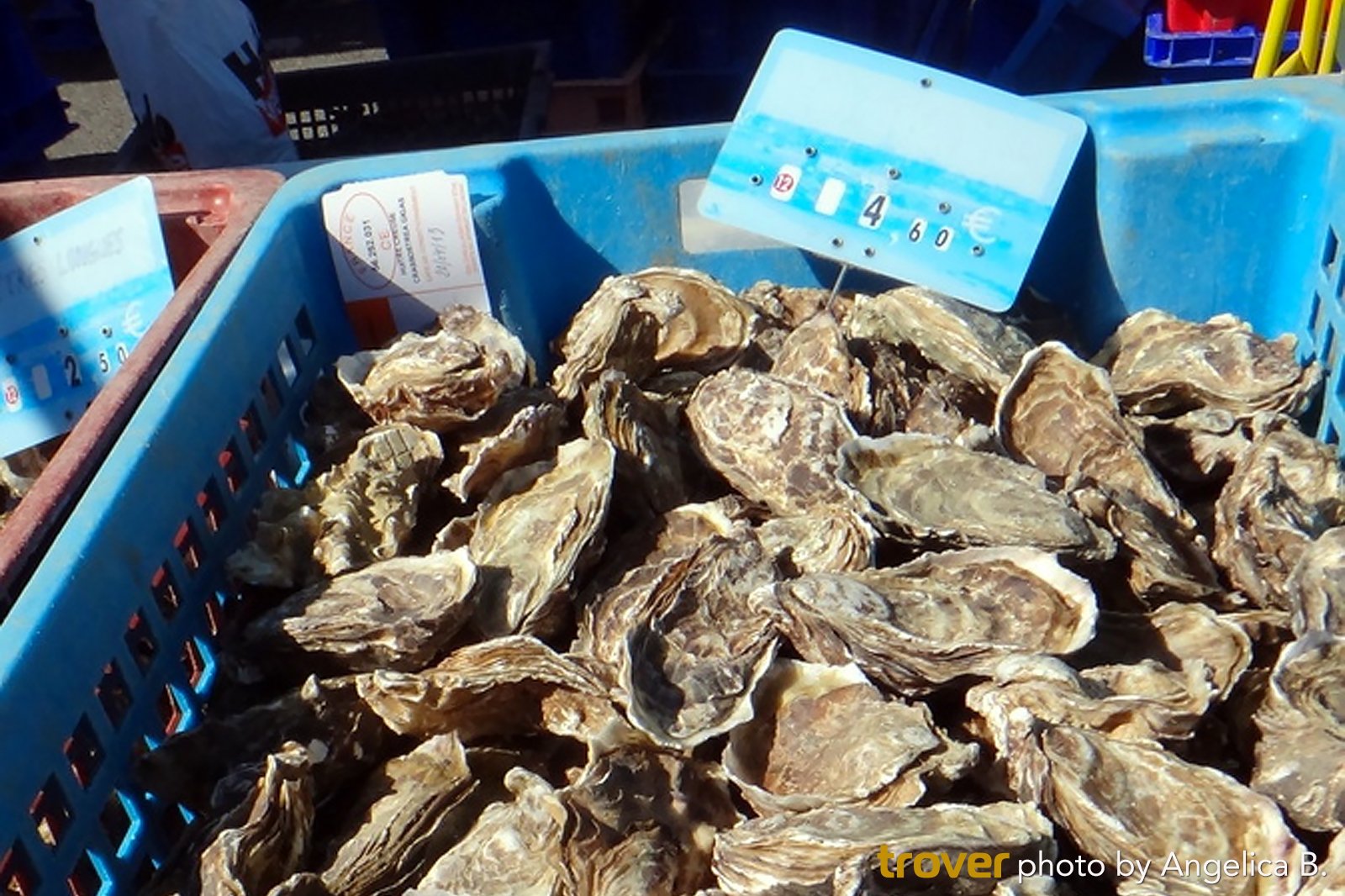 Wander around Talensac Market
Shop at a genuine French food market
Talensac is the main and largest market in Nantes. Located near the centre of the city, it hosts over 200 stalls in 3 separate sections: covered, semi-covered and open air. Here, you'll find mostly anything from fresh vegetable and fruits to meat and fish to clothing and artisanal products. Sundays at Talensac Market are liveliest. Tourists and locals alike come here to purchase groceries and ready-to-eat goods from recognised food professionals.
Location: On Talensac Street, just north of the eastern end of Cours des 50 Otages
Open: Tuesday to Sunday from 7am to 1.30pm. Closed on Monday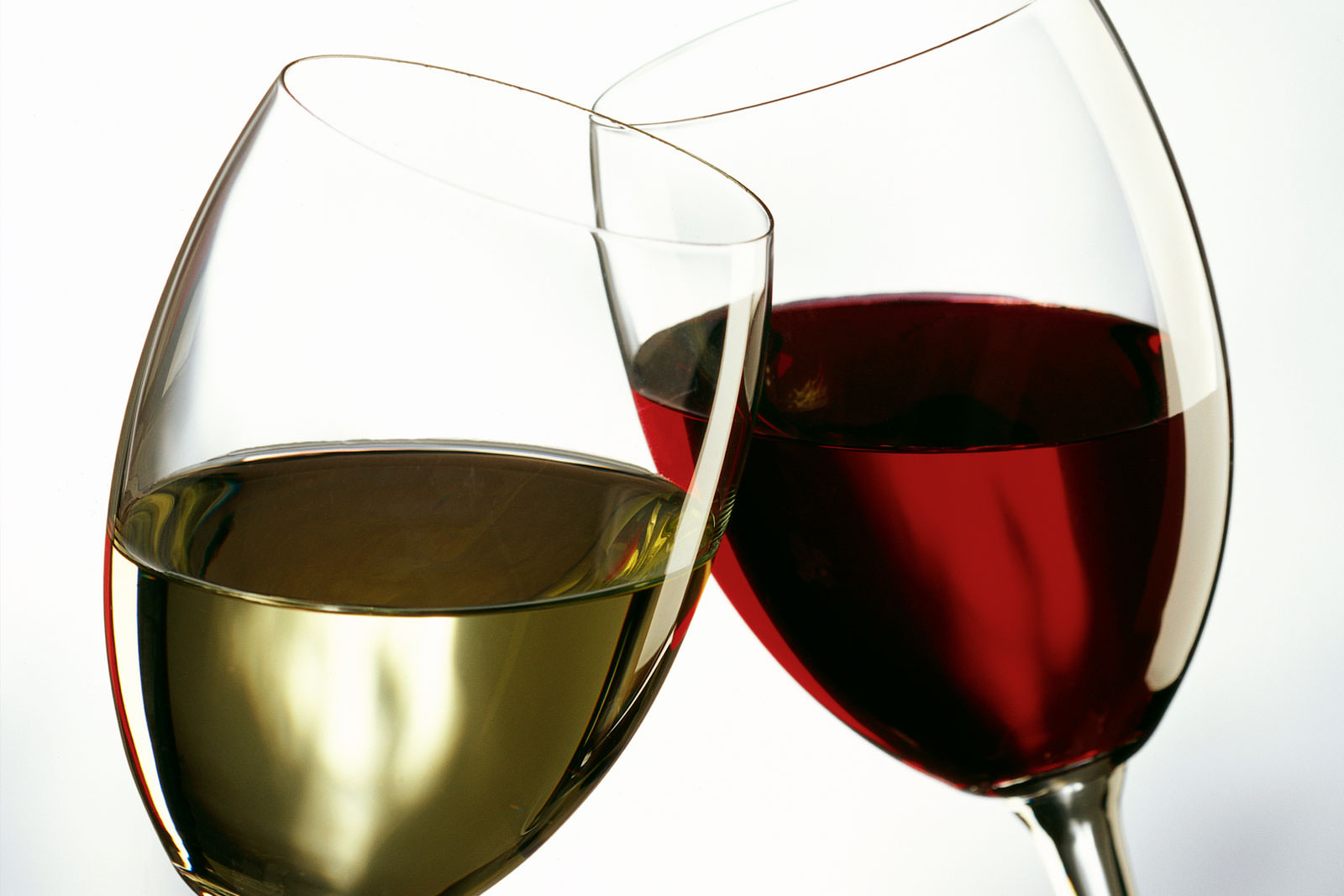 Sample wines at La Comédie des Vins
Discover local labels in a cool wine bar
Nantes region is reputed for producing light-bodied and crisp white wines such as Muscadet and Gros Plant. A pleasant venue to sample these regional labels is La Comédie des Vins, Rue Suffren in the centre of Nantes. Unpretentious and often busy, this wine bar has an impressive choice of top-notch wines on offer. The staff are knowledgeable and passionate, and you can accompany your wine degustation with a plate of tapas or cheese.
Location: Rue Suffren, a stroll away from Place Graslin in the centre of Nantes
Open: Tuesday-Saturday from 6pm to 11.45pm; closed on Sundays and Mondays
Phone: +33 (0)2 40 73 11 68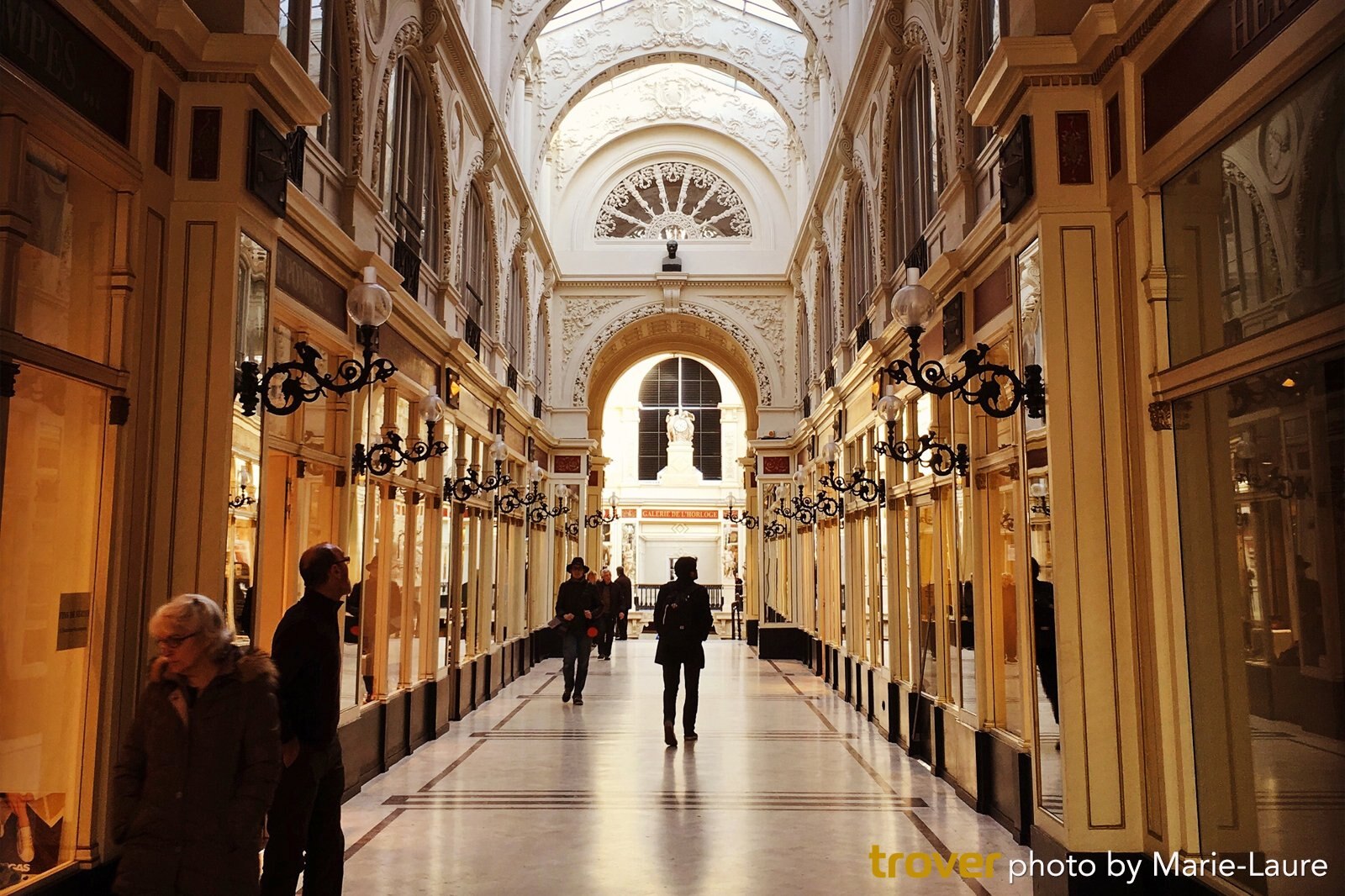 Shop in Passage Pommeraye
Explore an out-of-the-ordinary vintage shopping mall
Located in the heart of Nantes, in Rue de la Fosse, the Passage Pommeraye is a covered shopping street built in the mid-19th century. Designed in a classy Renaissance-style, it's classified as a historic monument, and is especially famous for its splendid marble staircases, statues and glass ceiling. The Passage Pommeraye hosts over 25 elegant stores on 3 floors of clothing, accessories, perfumes, jewellery. The boutiques are in line with the stylish atmosphere of the place.
Location: The Passage Pommeraye links La Fosse and Santeuil Streets in the centre of Nantes
Open: Daily from 8am to 8pm
Couples
Shoppers
History
Photo
Luxury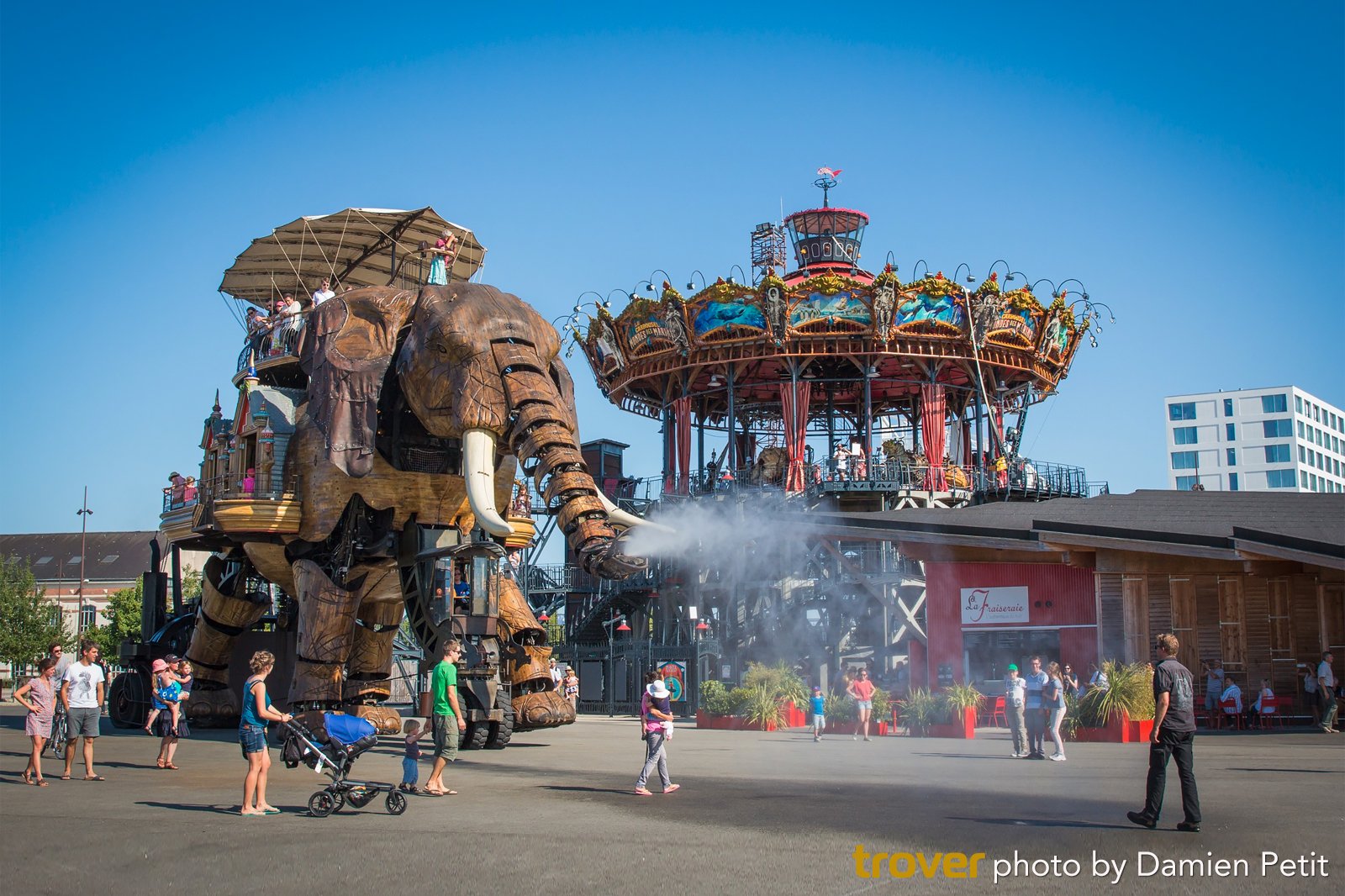 Experience the Machines of the Isle of Nantes
Enter a world of dream and fantasy in a vintage shipyard
Satisfy your inner-child with a visit to the Machines of the Isle of Nantes. Inspired by Jules Vernes' novels, Leonardo Da Vinci's visionary inventions and the industrial history of Nantes, this artistic and cultural project takes you to a true world of fantasy. The mechanical Great Elephant is the star of the place and the gallery of machines showcases a true bestiary of apparatus: giant mechanical spider, ant and heron, just to name a few. It's best to pre-book the ride on the Great Elephant on the internet beforehand to avoid long queues.
Location: On Beaulieu Island in the centre of Nantes
Open: Nov - March from 2pm to 6pm; Apr - Oct from 10am to 7pm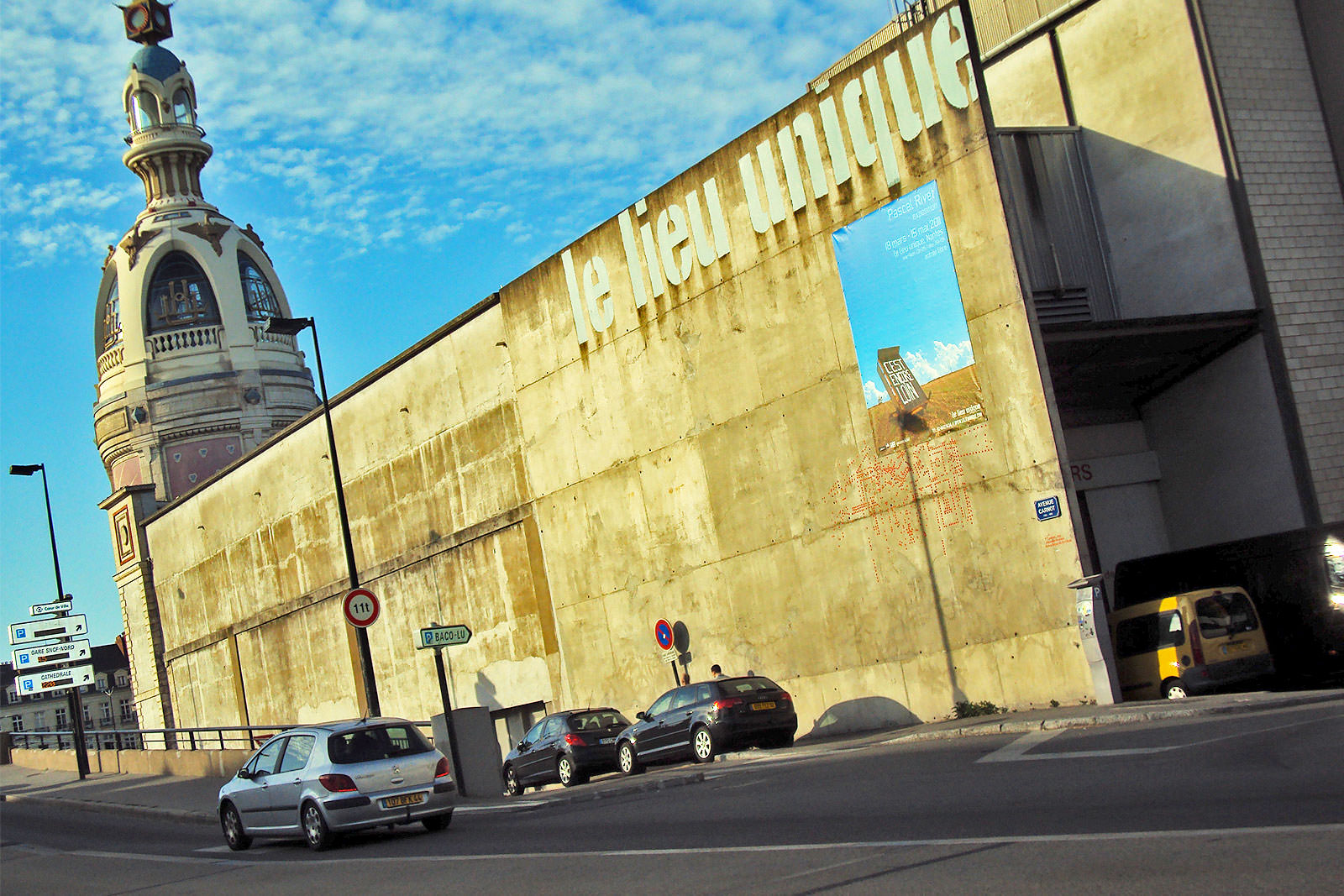 Get into arts at Le Lieu Unique
Enjoy Nantes' national centre for contemporary arts
Based in LU factory, an old famous biscuit factory, Le Lieu Unique is a complex that hosts Nantes' national centre for contemporary arts. It's a place where you can see all types of art, from live music concerts to theatre to literature to painting and more. In addition to the art exhibitions and events, Le Lieu Unique features a bar, a restaurant, a hammam, a day nursery, a bookstore and a gift shop. Blending cultures and styles, it's a great place to meet people from all horizons in a cool venue.
Location: 300 metres west from Nantes train station's south entrance
Open: from 12pm to 7pm. Closed on Sunday and Monday
Phone: +33 (0)2 40 12 14 34
photo by Erwan Corre (CC BY-SA 3.0) modified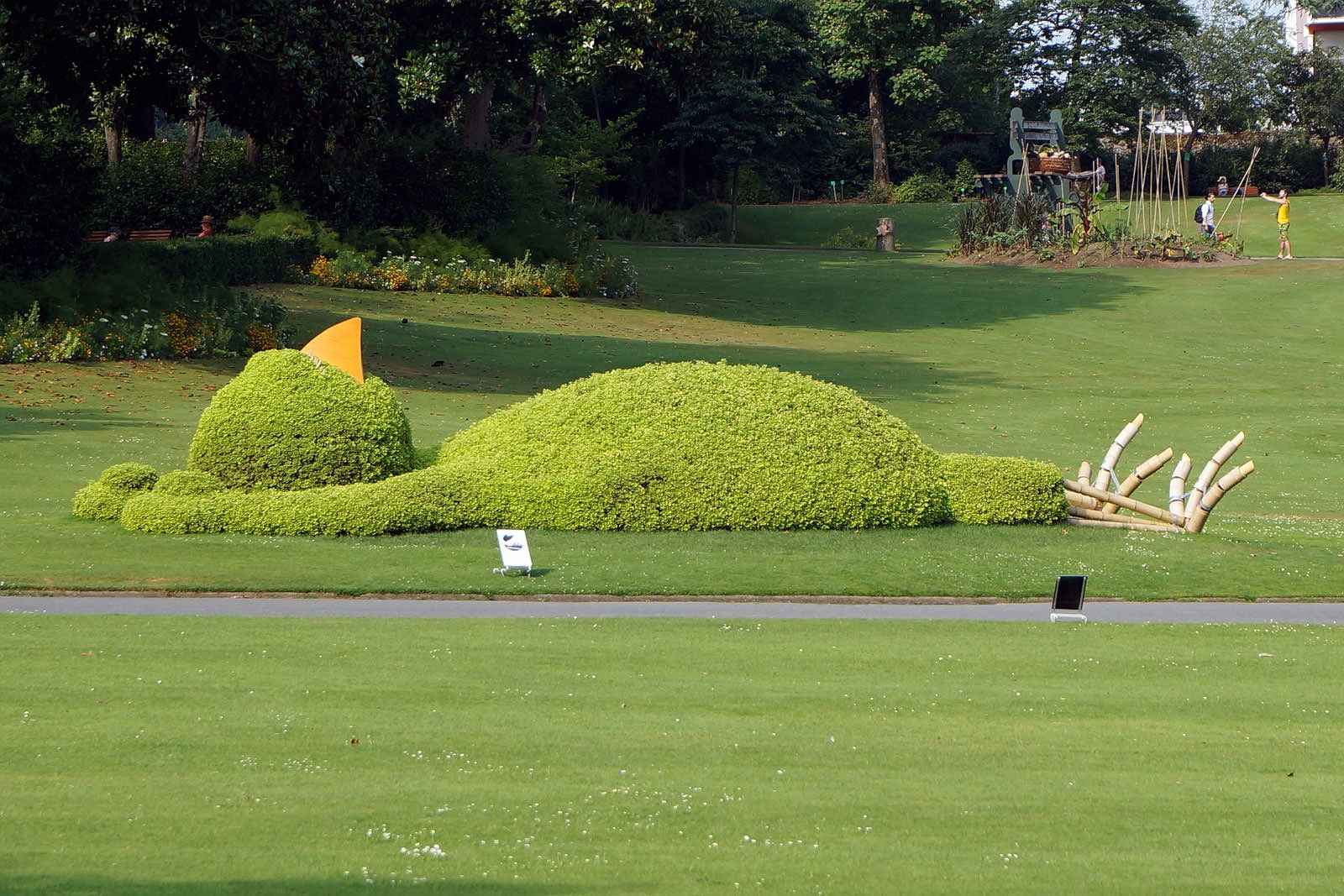 Roam around the Jardin des Plantes
Take a stroll in Nantes' Botanical Garden
The Jardin des Plantes is a green oasis next to the train station's north entrance in the heart of Nantes. The botanical garden covers an area of over 70,000 sq m which includes 800 sq m of greenhouses that contain an outstanding collection of African and Asian orchids. With over 11,000 species of plants and flowers displayed between waterways and ponds, as well as beautiful statues, fountains and a large children's playground, Jardin des Plantes offers a peaceful place to take a break from the hustle and bustle of Nantes city centre.
Location: Opposite Nantes train station's north entrance
Open: Daily from 8.30am to 5.15pm
Visit Cathedral of St. Peter and St. Paul
Visit the largest religious building in Nantes
Nantes cathedral is a splendid Flamboyant Gothic landmark located near the centre of the city, 150 metres north of the Castle of the Dukes of Brittany. Started during the 15th century, it was achieved at the end of the 19th century. Apart from its outstanding size and architecture, the 2 things you should not miss when you visit Nantes Cathedral are the splendid tomb of Francois II and Marguerite de Foix, the parents of Anne of Brittany, and the 11th-century crypt which houses a permanent exhibition about the history of the cathedral.
Location: 150 metres north of the Castle of the Dukes of Brittany
Open: In winter from 8.30am to 6pm and in summer from 8.30am to 7pm.
Couples
History
Photo
Budget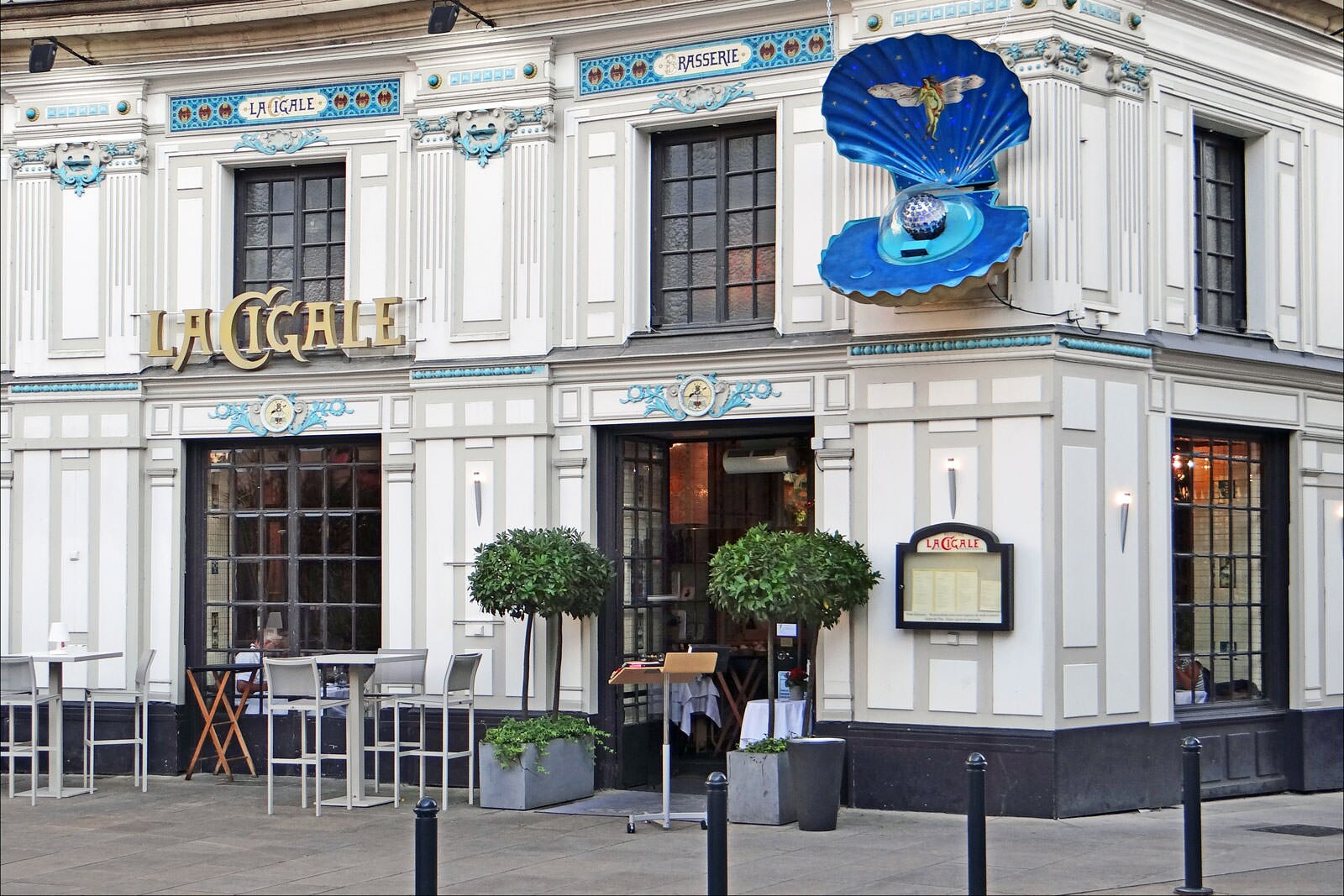 Dine at La Cigale
Feast on seafood in a historic monument
La Cigale is one of the longest-established restaurants in Nantes and it's classified as a historic monument for its Art Nouveau architecture and décor dated back to the year it opened, in 1895. Located on Place Graslin, in the centre of Nantes, you can sample a wide variety of classic French dishes at La Cigale, including fresh seafood from the Atlantic Ocean which lies 60 kilometres away. From scallop to oyster and from langoustine to cod, the selection is top-notch, and even more appreciated when accompanied by a glass of local Muscadet wine.
Location: Place Graslin, in the centre of Nantes
Open: Daily from 7.30am to 12.30am
Phone: +33 (0)2 51 84 94 94
photo by Jean-Pierre Dalbéra (CC BY 2.0) modified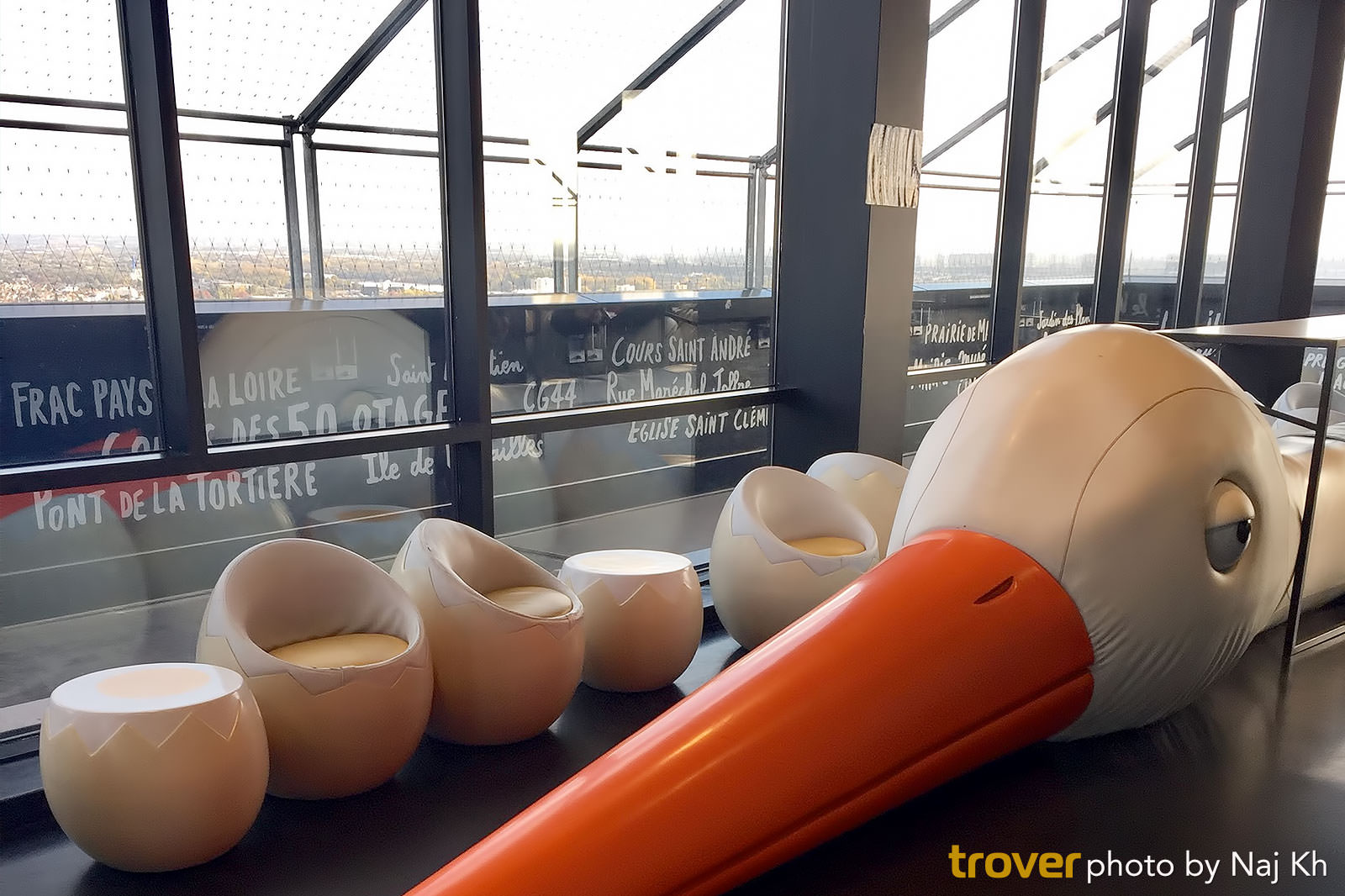 End the day at Le Nid
Enjoy a 360° view of Nantes from this rooftop bar
Le Nid is a stylish bar perched at the top of the Tour de Bretagne (Brittany Tower) which overlooks the city of Nantes from a height of 144 metres. Located in the city centre, 550 metres west of Nantes Cathedral, the Brittany Tower features a panoramic terrace that can be reached for the modest price of €1. But if you want to make the most of this place, you can have a drink at Le Nid, a stylish bar nestled on the 32nd floor of the tower. This trendy venue hosts music events with DJs on Thursdays and Live bands on Sundays.
Location: Place de Bretagne in the centre of Nantes
Open: Wednesday - Friday from 2.15pm to late; Saturday - Sunday from 10am to late; closed on Monday and Tuesday
Phone: +33 (0)2 40 35 36 49
Couples
Photo
Food
Nightlife
Luxury