Dam Square ensures the centre of Amsterdam is always thriving whether it's day or night. Built in the 13th century to dam the surrounding River Amstel, this early structure formed the first connection between settlements located on either side of the river. As the dam continued to expand over the years, it became the city's main marketplace and town square, featuring a range of vital commercial and governmental services like we still see today.
As the meeting point for many of the city's busiest arterial roads, you'll find Dam Square overflowing with locals and tourists throughout the year. With this bustling square surrounded by many of Amsterdam's most famous historical landmarks, there's also a great selection of restaurants, bars, boutiques, and shopping malls to explore. For a destination that's always buzzing with activity, head to Dam Square and put yourself in the centre of all the action in Amsterdam.
Dam Square in Amsterdam - one of the highlights of 10 Best Free Things to Do in Amsterdam and 10 Best Things to Do in Amsterdam (Read all about Amsterdam here)
What are the highlights of Dam Square?
Dam Square is flanked by many of the city's most fascinating destinations. One that clearly stands out is the National Monument, which was built in 1956 to commemorate the Dutch soldiers of World War II. Inside this towering limestone memorial are eleven urns filled with soil from every province in the Netherlands.
Head across Dam Square and stop by the remarkably opulent Royal Palace. Built between 1648 and 1655 as Amsterdam's city hall, it eventually became 1 of the 3 palaces used by the Dutch monarchy. Having undergone considerable renovations in recent years, the Royal Palace is open for tours throughout the year.
Another historic landmark that can't be missed is the New Church (Nieuwe Kerk). Originally built in 1408, after the old building burned down in the 17th century, it was reconstructed in outstanding Gothic-style architecture and hosts many of the nation's most important ceremonies, including royal weddings and inaugurations.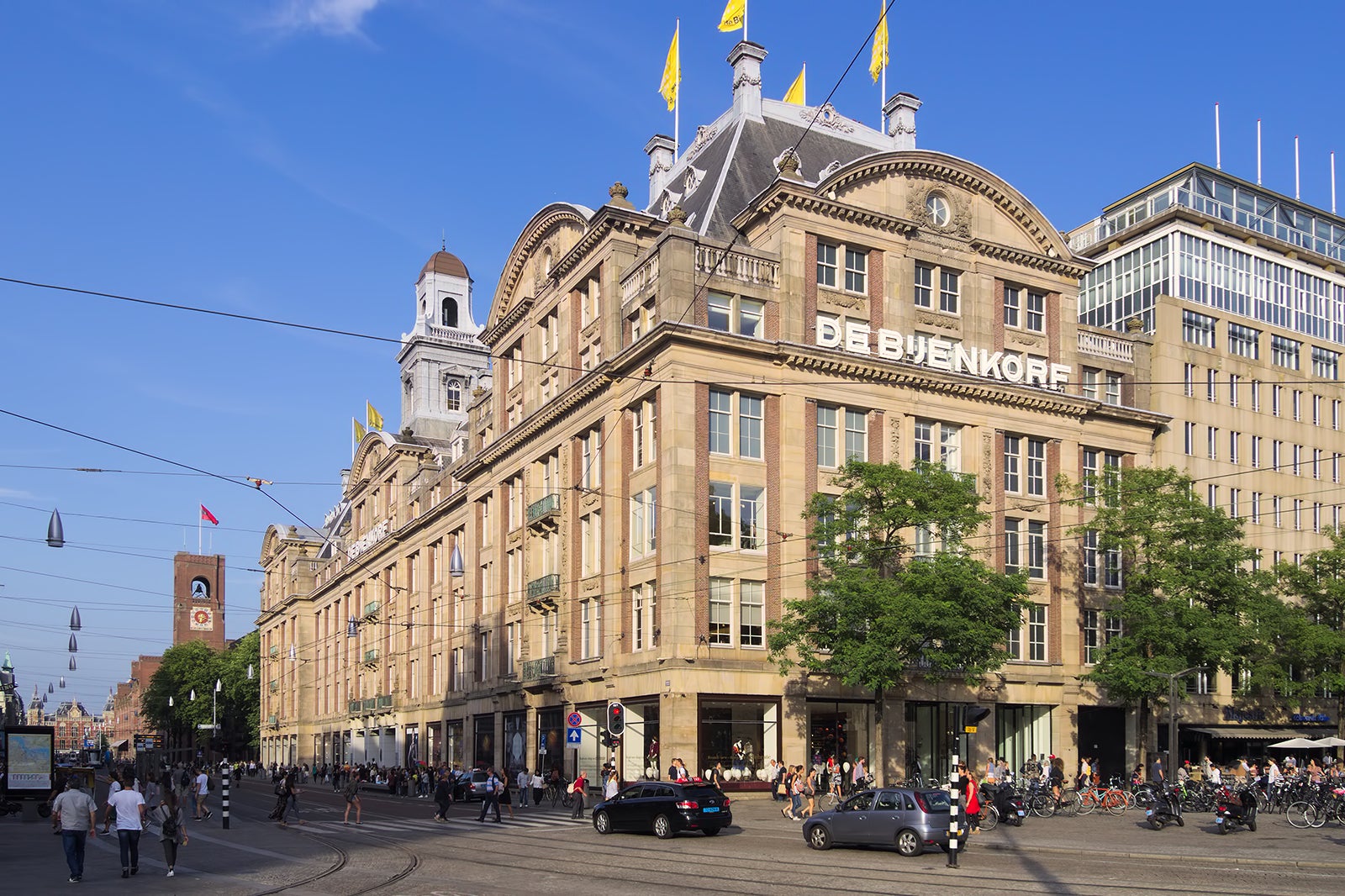 Where to eat, drink and shop near Dam Square?
As one of Amsterdam's tourist hubs, Dam Square has no shortage of great food and drink destinations. A top spot for lunch or dinner is Van Kerkwijk. Although the place doesn't have a set menu, the renowned waiters will recount the offerings from memory and make incredible suggestions based on your guidance. You can also find authentic Dutch seafood takeaway at Rob Wigboldus Fishmonger, while Cafe Belgique and Beer Temple are prime nightlife venues when you're ready to party.
Dam Square is also surrounded by many of Amsterdam's leading department stores. Perhaps the most famous is De Bijenkorf, which features high-end brands across clothing, shoes, toys and more. There's also the Magna Plaza shopping centre, situated inside a soaring 19th-century Neo-Renaissance structure, which has been taken over by 20 great stores located across 4 floors. There's even a gourmet food hall serving almost every cuisine imaginable.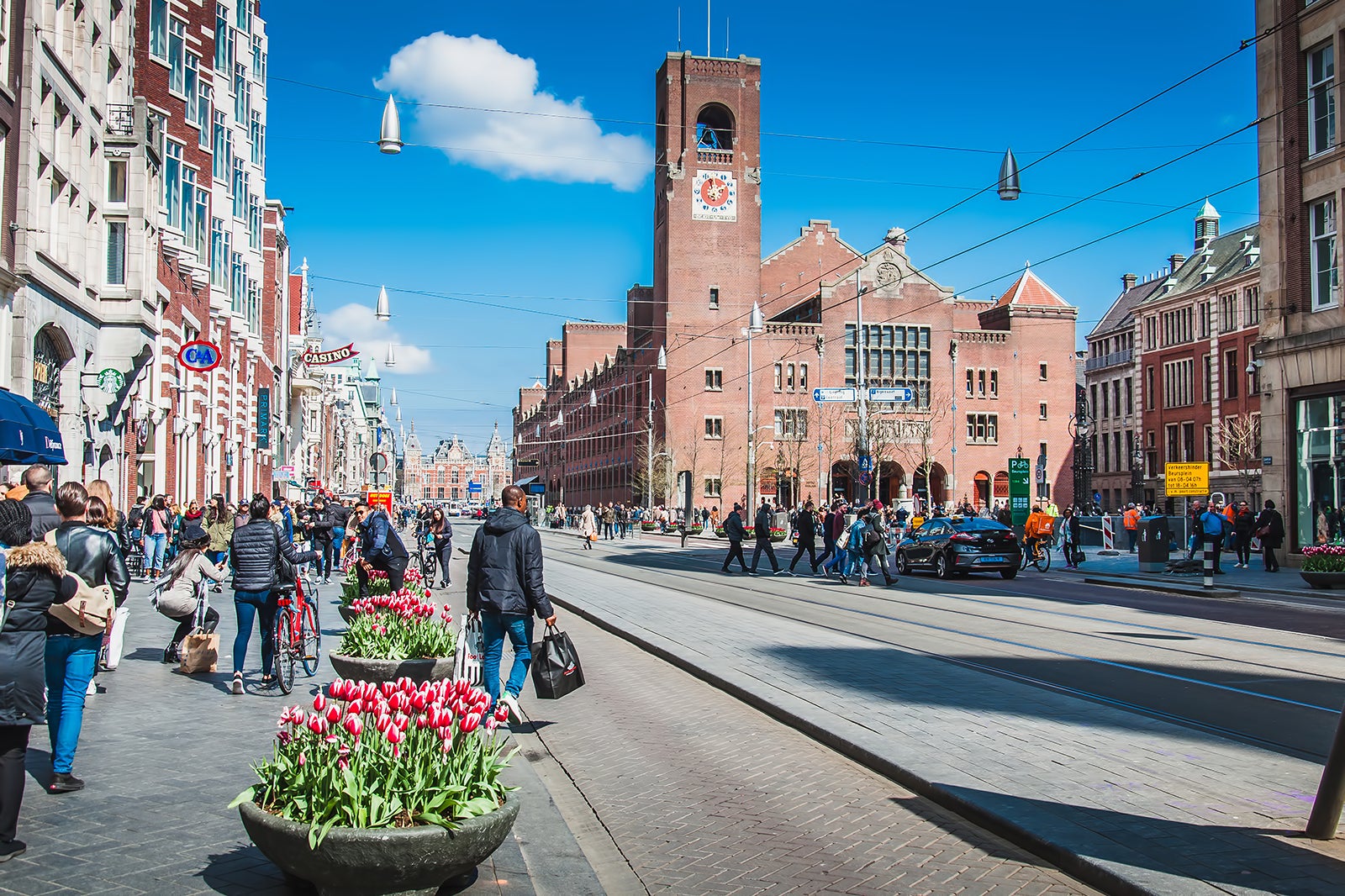 Good to know about Dam Square
If you've decided to make Amsterdam your next trip, Dam Square is easy to reach from basically everywhere in the city. If you're flying into Schiphol Airport, it takes around 30 minutes to make the trip. Meanwhile, Amsterdam Centraal train station is close to Dam Square, so it won't take long to commute from your hotel to the centre of town.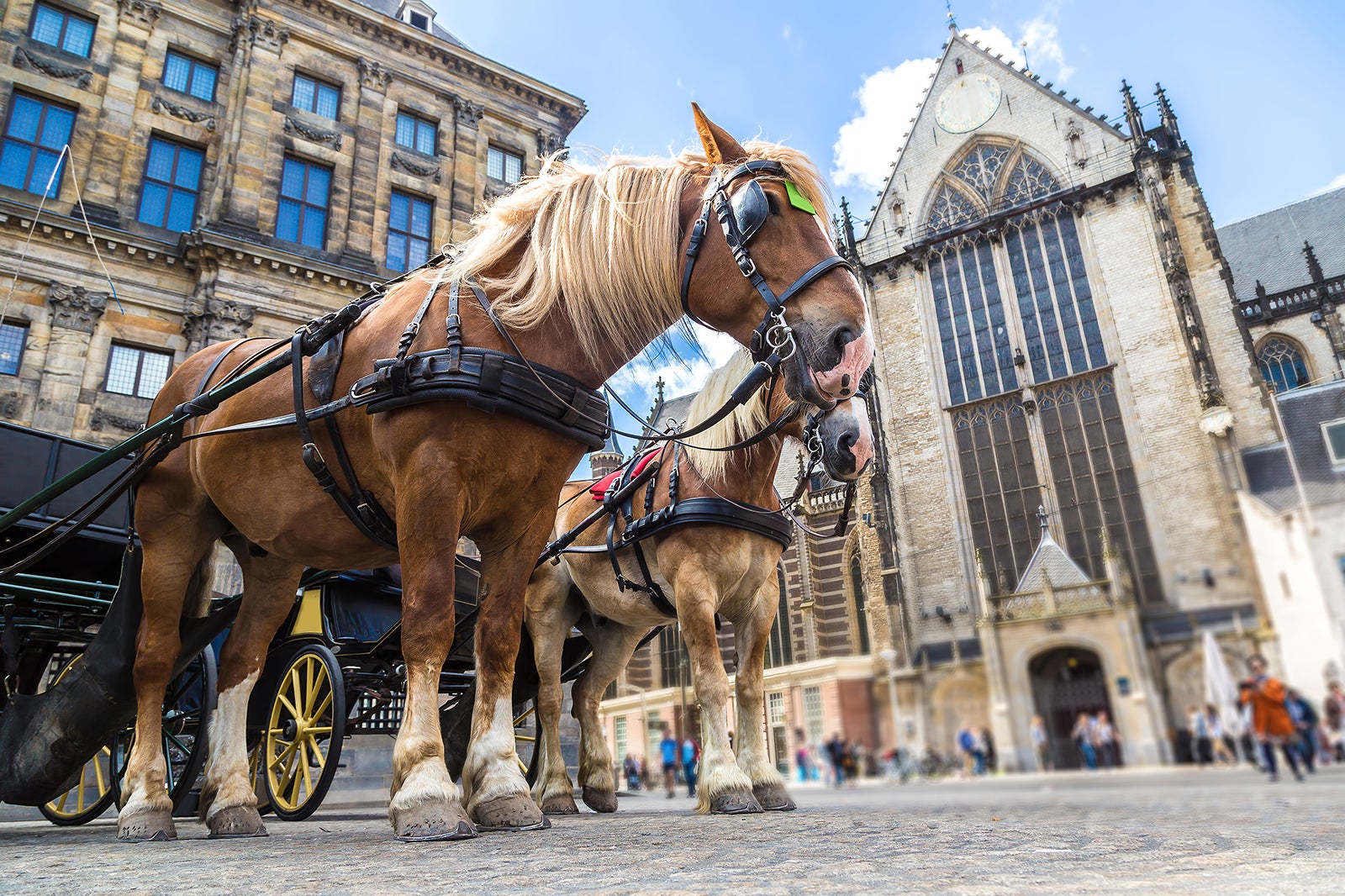 Dam Square in Amsterdam
Back to top