St Giles' Cathedral is the Church of Scotland's principal place of worship. You can find it midway along the Royal Mile between Edinburgh Castle and the Palace of Holyroodhouse. The cathedral has stood on this spot for a thousand years, though many of the architectural elements you see today aren't original – the building has been altered many times over the centuries.
St Giles himself was the patron saint for people with disabilities and beggars – historians know that the monks who founded the original church ministered to lepers. But the second part of its name is a curious anomaly. You'll see St Giles' referred to as 'Edinburgh's cathedral', just as Glasgow and Dunblane have theirs. Yet, though it was officially a cathedral from 1633 to 1638 and from 1661 to 1689, it hasn't officially held such status since then. The Church of Scotland is Presbyterian and, as such, has no bishops, so it follows that it also cannot have cathedrals.
St Giles' Cathedral in Edinburgh - one of the highlights of 10 Instagrammable Places in Edinburgh and 5 Things to Do For New Year's Eve in Edinburgh (Read all about Edinburgh here)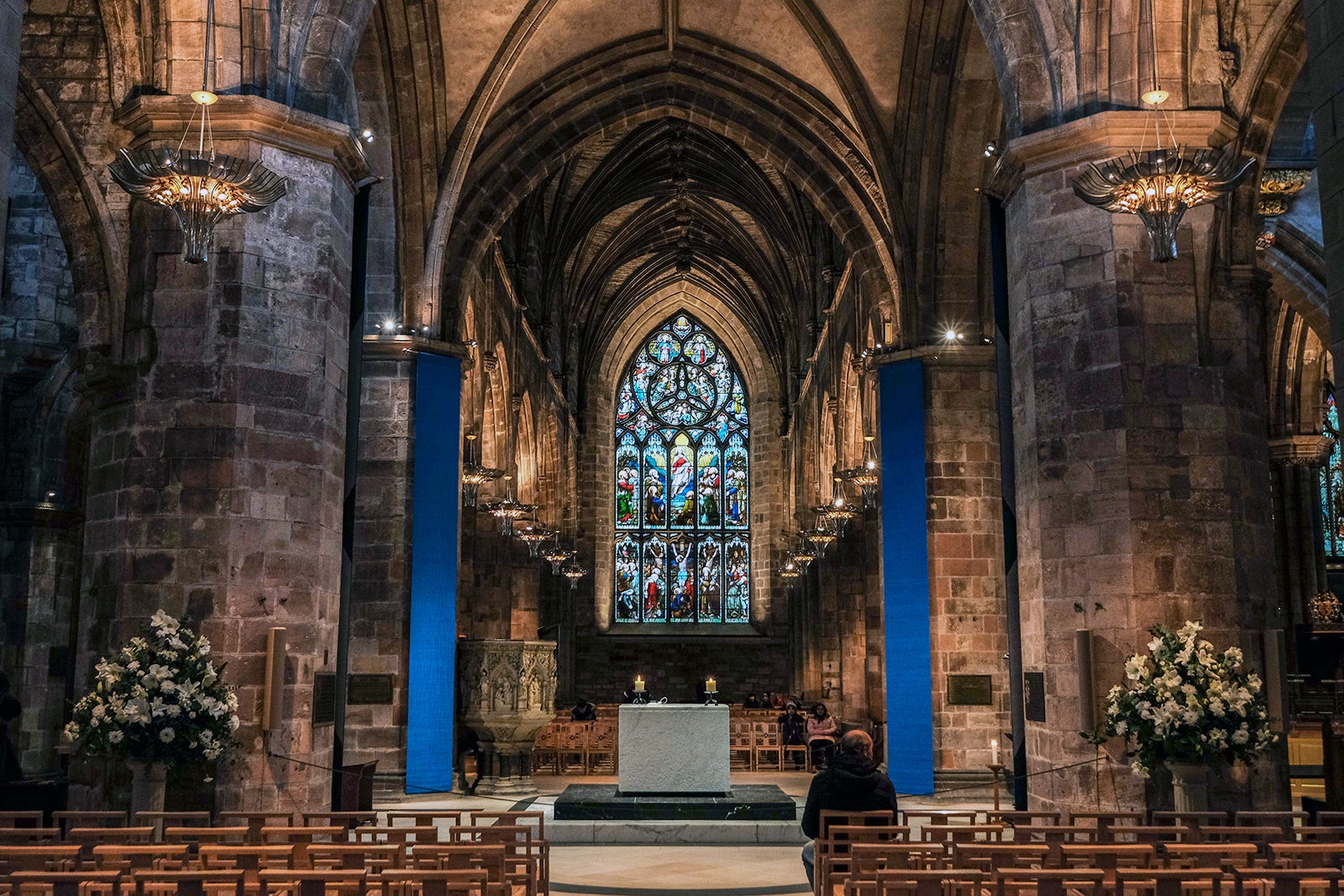 A brief history of St Giles' Cathedral
King David I, who features in one of the cathedral's stained-glass windows, founded St Giles' in 1124 on what was then the eastern edge of Edinburgh. At that time, very little of the city's Old Town existed. In 1320, the Scots declared themselves independent from England – 2 years later, an army sent by the English King Edward II set its church alight. In 1385, the English returned for a second go. This time, the damage was more extensive, though the building remained standing.
The next significant milestone in the cathedral's history was the appointment of John Knox as a minister in 1559. An avowed Presbyterian, he led the Scottish Reformation that abolished Catholicism in Scotland. St Giles' was stripped of its stained-glass windows and silverware – these were too showy for Presbyterian tastes.
By 1637, England and Scotland shared a king – Charles I – but when he tried to impose an Anglican prayer book on the Scottish church, he met with resistance. One member of the congregation even threw her stool at the preacher. The political alliance between the 2 nations was strengthened with the 1707 Act of Union, but without universal support. According to legend, the newly installed church bells at St Giles' rang out to the tune, Why Should I Be So Sad on My Wedding Day?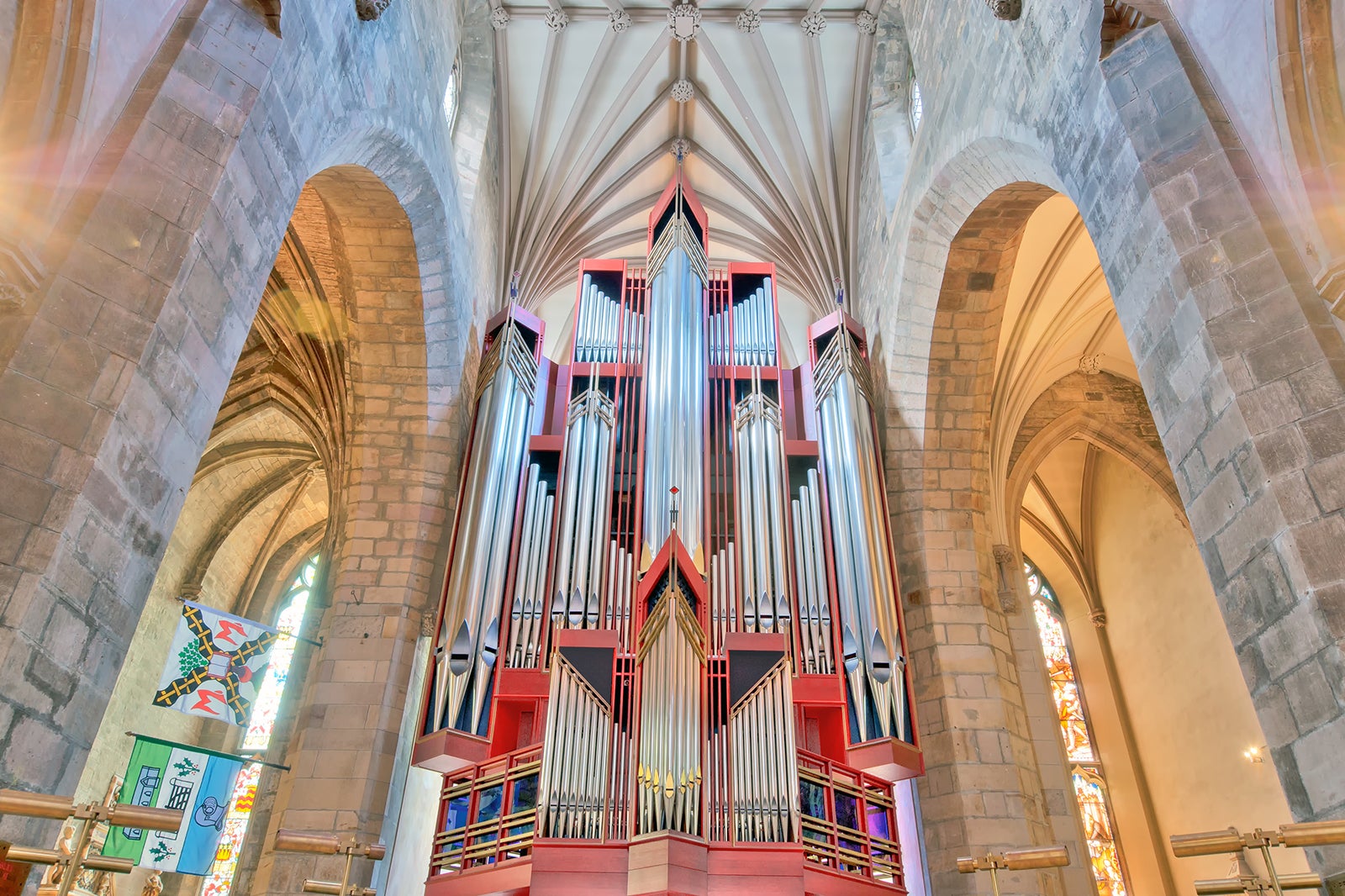 What are the highlights and features of St Giles' Cathedral?
By 1872, the church was in a state of neglect, though it was still in use. Refurbishments saw burn marks from the 1385 fire finally cleaned off its pillars and new tiles laid on the floor. Presbyterian attitudes to adornment had mellowed over the years, paving the way for a series of splendid stained-glass windows. The first commission was a sequence of windows telling the story of Christ, while others depict Biblical parables and saints.
Later additions to the cathedral include the construction of the Thistle Chapel in 1911, known for its beautiful woodcarvings, and the installation of a Rabbie Burns stained-glass window in 1985 after it was noted that there was no fitting memorial to the great Scottish poet anywhere in Edinburgh. The cathedral's glorious Rieger organ, made in Austria, dates from 1992.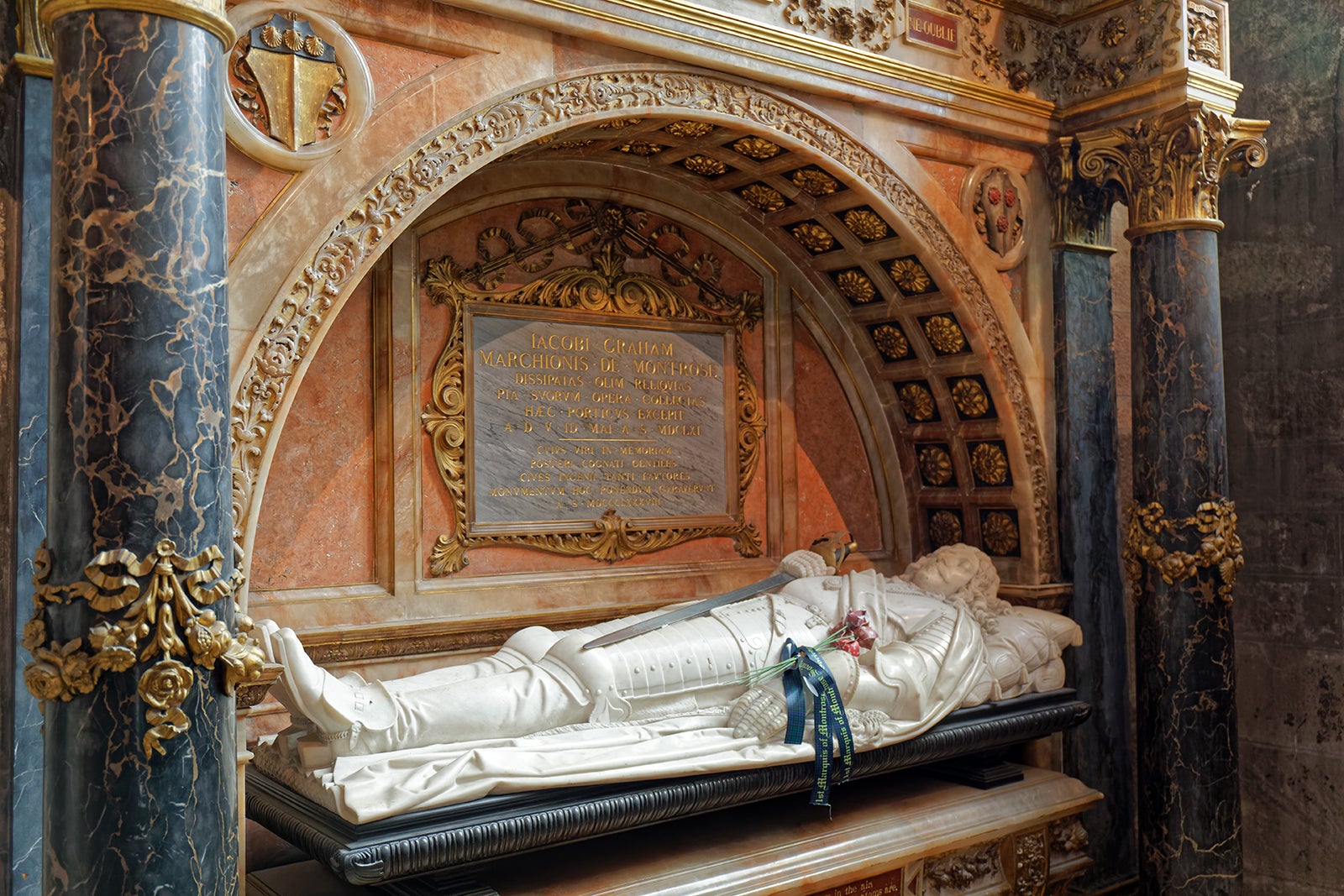 What are good things to know about St Giles' Cathedral?
As with most places of worship, entrance to St Giles' Cathedral is free. However, a photography permit will cost you around £2. Volunteer guides are on hand most of the time to host impromptu tours that share some of the building's rich history.
Free organ recitals take place on Thursday lunchtimes from April to June plus September and October and also on Wednesday evenings in July. A limited number of places are available for rooftop tours on Saturday and Sunday afternoons affording participants magnificent views along the Royal Mile and across Edinburgh.
Though the church is open to sightseers throughout the week, you'll get the greatest sense of its purpose if you time your visit for when a service is taking place. Weekdays at noon, visitors are welcome to attend for 15 minutes of readings and prayers. The 4 Sunday services take place at 8 am, 10 am, 11.30 am and 8 pm, 3 of which are Holy Communion. It's customary during Holy Communion for those who have not been baptised to accept a blessing.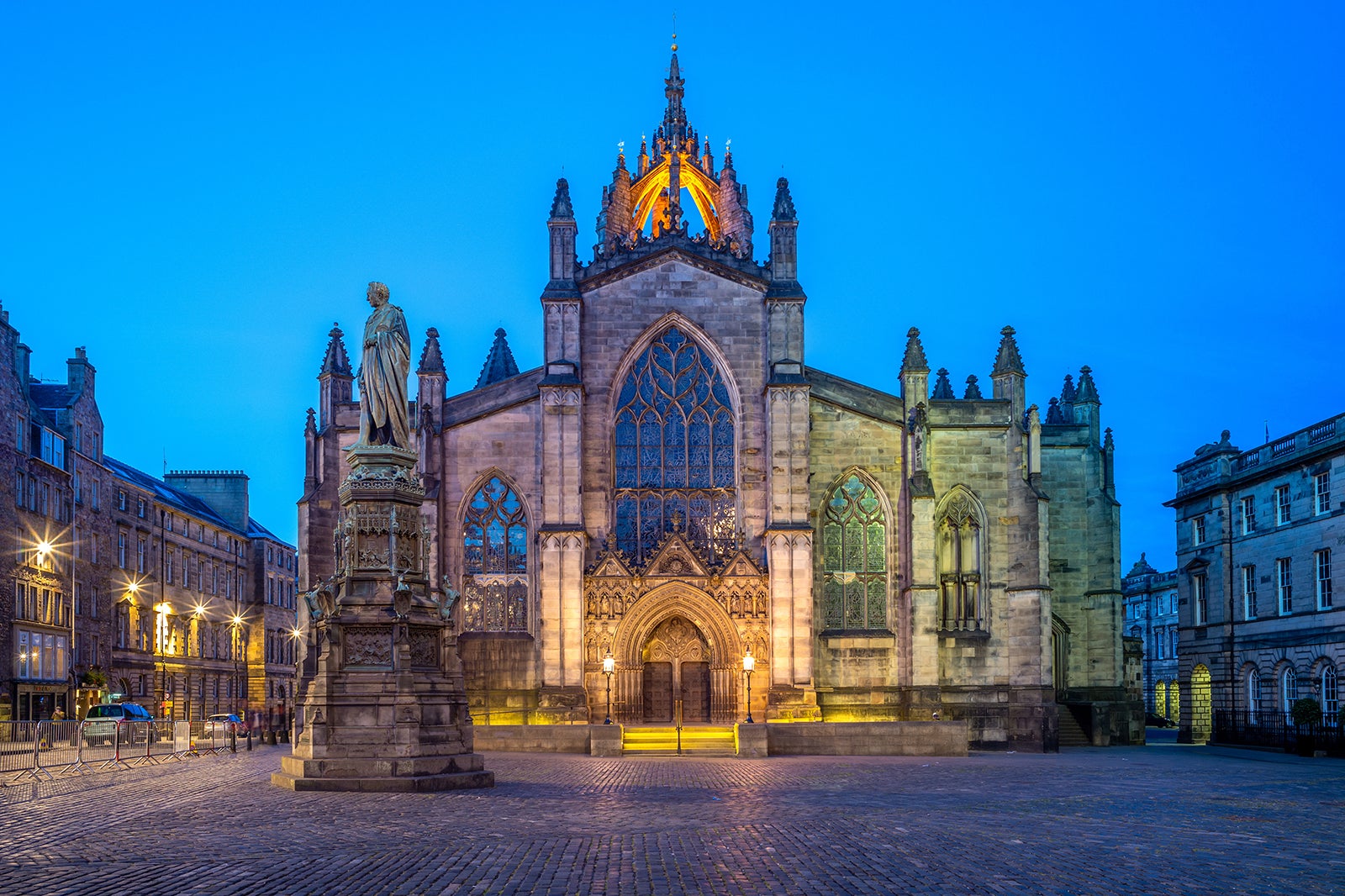 St Giles' Cathedral in Edinburgh
Location: High St, Edinburgh EH1 1RE, UK
Phone: +44 (0)1312 260674
Back to top