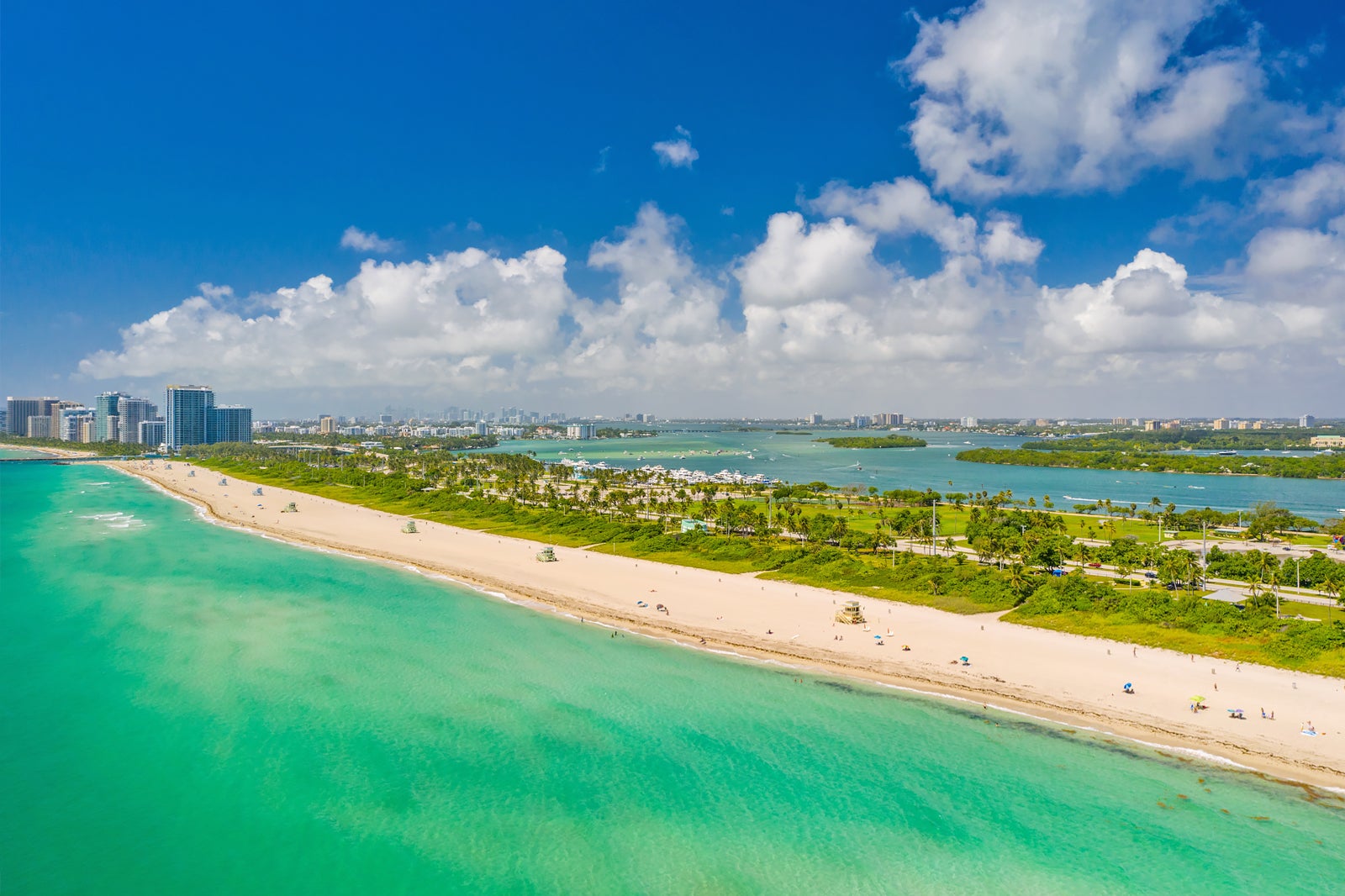 Haulover Beach is considered one of the best beaches around Miami. It's dog-friendly, allowing owners to let their canine chums run free, but also lets naturists go clothes-free, though both are limited to designated areas. As much as it may seem a bit of a cliché, this 1.5-mile stretch of sand really does have something for everyone.
This is a particularly convenient beach to get to and enjoy. Located just north of Bal Harbour and south of Sunny Isles Beach, the beach is right by a major road and within a 30-minute drive of Downtown Miami. There's plenty of car parking available, as well as public restrooms, picnic areas, playgrounds and, of course, soft white sand.
Haulover Beach in Miami Beach - one of the highlights of 10 Best Nudist Beaches in the World and 12 Best Beaches Around Miami (Read all about Miami here)
What are the best things to do in Haulover Beach?
Haulover Beach forms the eastern edge of the 177-acre Haulover Park, which opened to the public in late 1948. The western side of the park, facing into Biscayne Bay, has a large marina towards the southern end and a boat storage facility at the northern end, with a couple of huge car parks in between.
The Bill Bird Marina is a good place to arrange a fishing trip and there's a food truck event in the car park every Tuesday. You'll find little food concessions serving snacks on the beach. There are no other large dining options in the park, so you'll have to head to hotels immediately to the north or south (Newport Beachside Hotel & Resort and The Ritz-Carlton Bal Harbour, Miami respectively) if you want a big meal.
Cross under Collins Avenue through one of the pedestrian tunnels and you'll find the Haulover Skateboard Park, which is a modern and well-maintained facility with plenty of variety crammed into a relatively small space. There's an electric bike rental station nearby if you prefer an easier way of getting around the many paths and small roads along the park's length.
With all of these facilities in a comparatively small space, there isn't really much parkland left in the park. The woodland around the boat storage facility is too dense to explore, leaving just a couple of patches of grass dotted with trees on the western side of Collins Avenue, where you can fly the kites sold at the shop by the marina.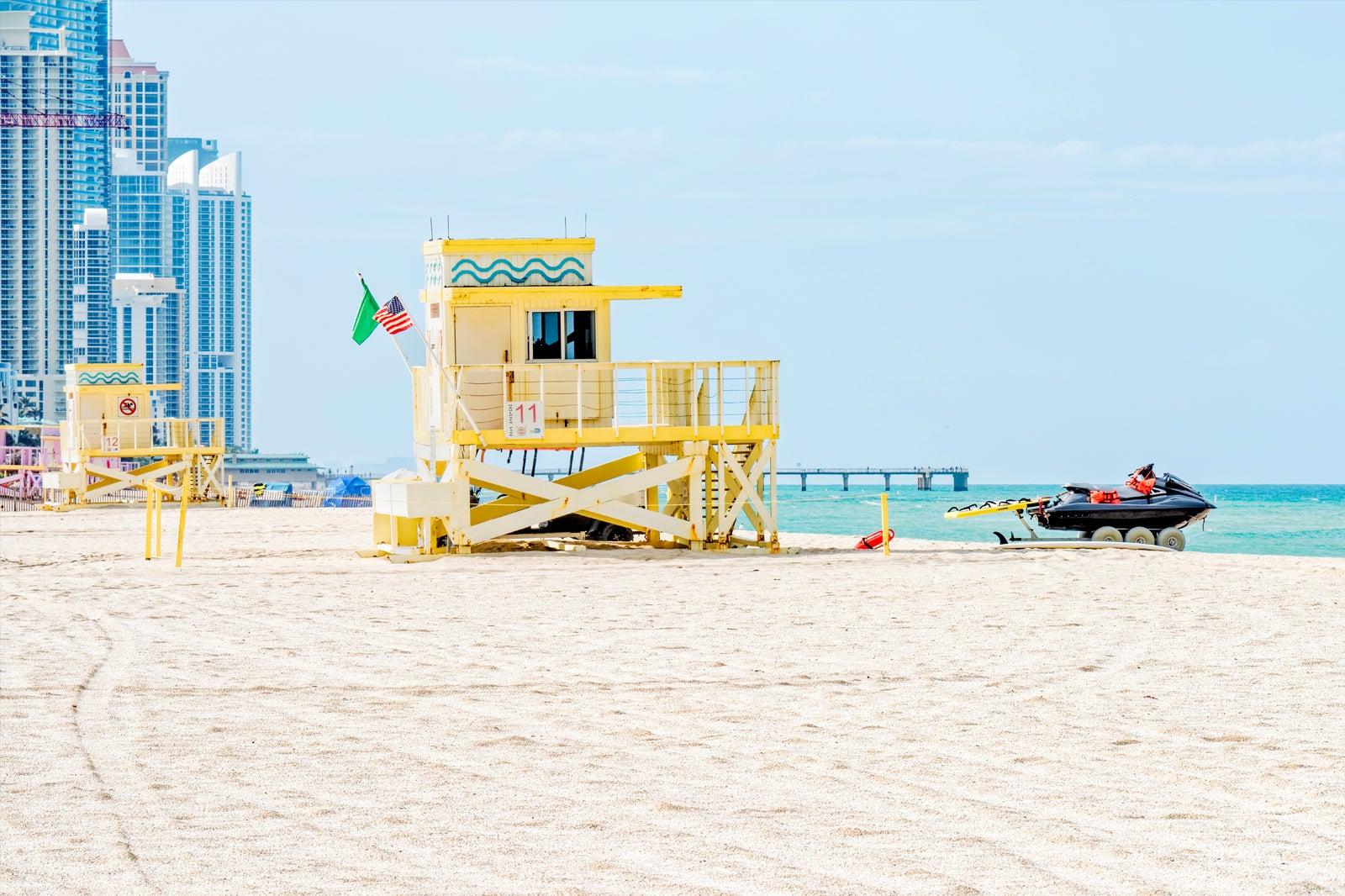 What are the highlights of Haulover Beach?
Of course, the fact that Haulover Park isn't much of a park isn't a major concern for most visitors, since Haulover Beach is such a fantastic beach. It's an especially good one for families as, along its entire length, there are lifeguard stations every 400 ft and restrooms every 600 yards.
There's a simple barrier as well as clear signs across the 220-ft width of the beach near the main lifeguard station, separating off the northern 700 yards of the beach. This northern bit was officially recognised as Florida's first clothing-optional beach by the local government in July 1991. Attracting about 1.3 million visitors per year, it's one of the largest and most popular official nudist beaches in the US.
On the other hand, if you're travelling with a 4-legged companion, you'll want to head towards the southern end of the beach, between lifeguard towers #2 and #3. This is the officially designated Haulover Beach Dog Park, where you can let your furry friend off their leash between 8 am and 3 pm. There are some limitations, however: you can only bring 2 dogs per person, none under 6 months old and all are trained enough to still be under control when off the leash. And, of course, you've got to clean up after your pets, including scooping their poop and filling in any holes they dig.
We haven't even mentioned the sea yet! For the most part, it's very calm, adding to the beach's family-friendly credentials. However, when the wind is blowing from the west, you can get some good beach breaks for surfing. Winter, especially in January, is the best time for consistently clean waves, but they tend to be pretty small and frequently blown out. It's a suitable spot for beginners, though it can get crowded due to the beach's popularity.
Good to know about Haulover Beach
At the southern end of Haulover Beach, you'll notice a very rocky stretch of shoreline that looks too angular to be natural. This is the edge of the manmade Haulover Inlet, built to provide a northern entrance to Biscayne Bay from the Atlantic Ocean.
Those visiting Haulover Beach should not consider swimming in the inlet. Besides boat traffic, it has very strong currents. It's even considered a bit of a risky route by experienced boat captains.
For getting to Haulover Beach, you can certainly drive as parking costs just a few dollars, but there's also a modest choice of public transport options. Buses 119 Route S and 120 Beach MAX both pass through Haulover Beach Park, though they take about 40 minutes to complete the journey from Miami Beach.
Haulover Beach in Miami Beach
Location: 10800 Collins Ave, Miami Beach, FL 33154, USA
Back to top