10 Things to Do in Nice in Winter
Enjoy Attractions and Activities All Winter Long
Nice has a variety of fun things to see and do in winter, ranging from exciting outdoor adventures to vibrant cultural festivals and fascinating museums. Though Nice has mild winter temperatures, you'll have plenty of options for indoor fun and sightseeing without the holiday crowds.
Another highlight of visiting Nice in winter is skiing and snowboarding at the many resorts in the French Alps on a day trip from the city. Whether you want outdoor fun or historical and cultural experiences, check out the top 10 things to do in Nice in winter.
1
Carnaval de Nice
Attend one of the country's biggest events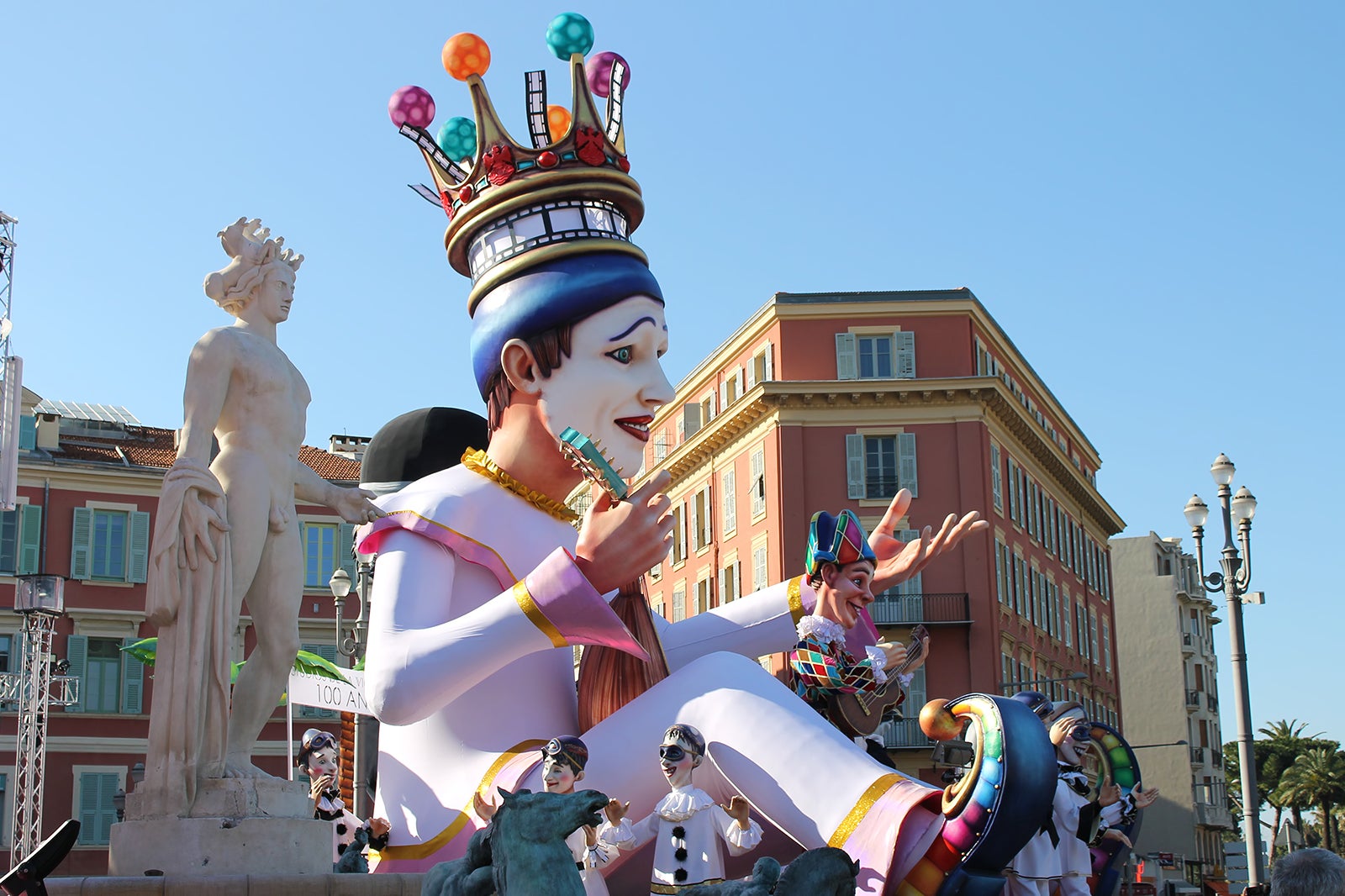 Carnaval de Nice is one of the world's major carnivals and is a thrilling event that includes parades, costumes, floats, food and 'flower battles'. Held on the Promenade du Paillon in the centre of the city, Carnaval de Nice is a popular event that allows you to experience some of Nice's vibrant culture.
The carnival takes place in February each year and features a unique theme, such as 'King of Animals', that influences the festivities. For 2 weeks, the streets are full of social events, floats, parades, puppets and more. You'll also come across vendors selling fabric, food and local cultural goods.
Location: Plassa Carlou Aubert, 06300 Nice, France
Phone: +33 (0)4 97 25 49 00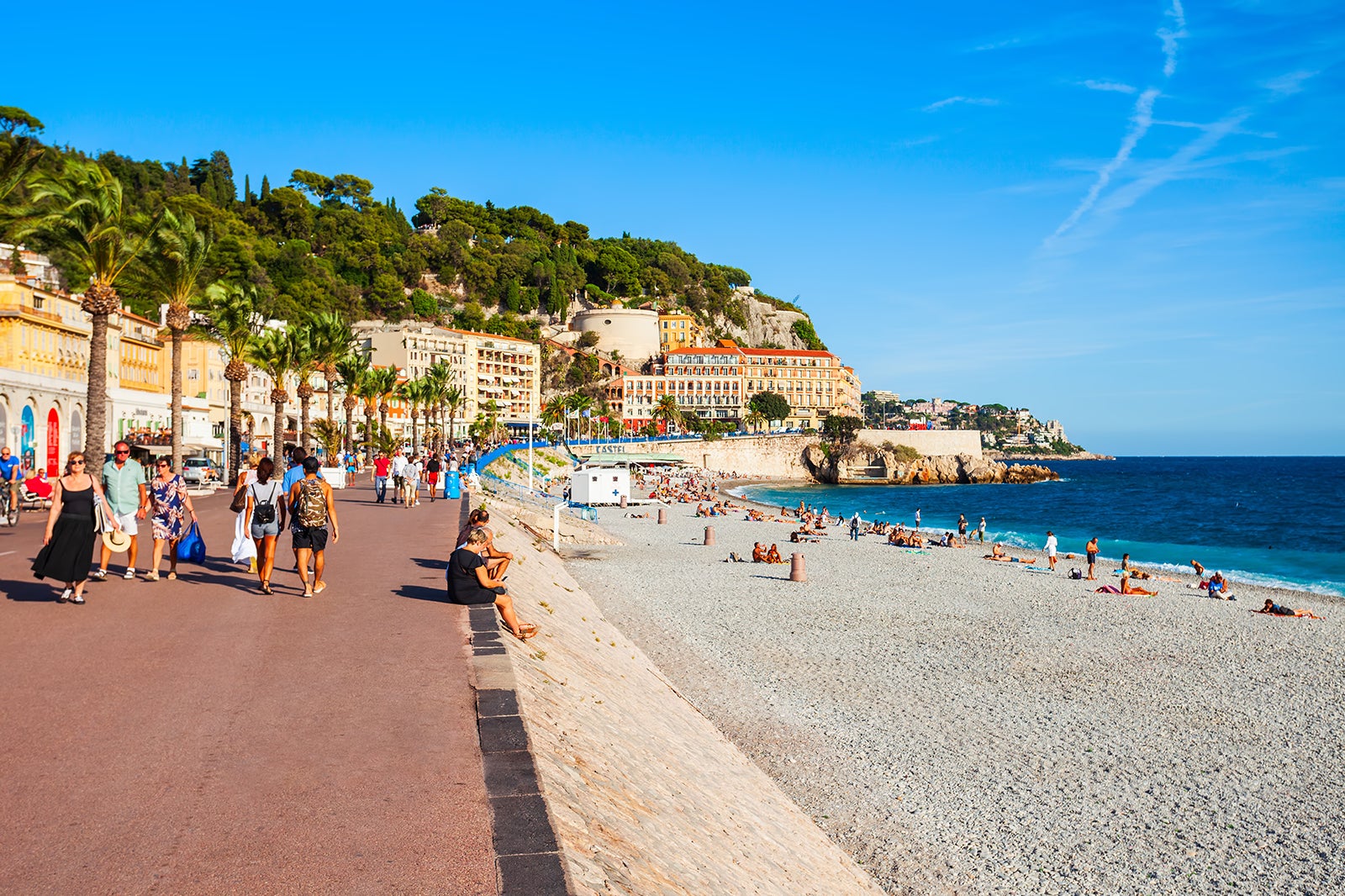 Promenade des Anglais is a walking path along the Mediterranean coast that's popular for families, bicyclists, and skaters. Running from the city centre to the airport, Promenade des Anglais is the perfect place to take in the views of the coast and enjoy some time outdoors.
The entire promenade has a dedicated lane for cyclists and skaters, as well as rental shops where you can hire skates, scooters, bikes, and Segways. Along the way, you'll come across several landmarks, including the art deco Palais de la Méditerranée and the historic Hôtel Negresco.
Read more
3
Monastère de Cimiez
Explore a historic monastery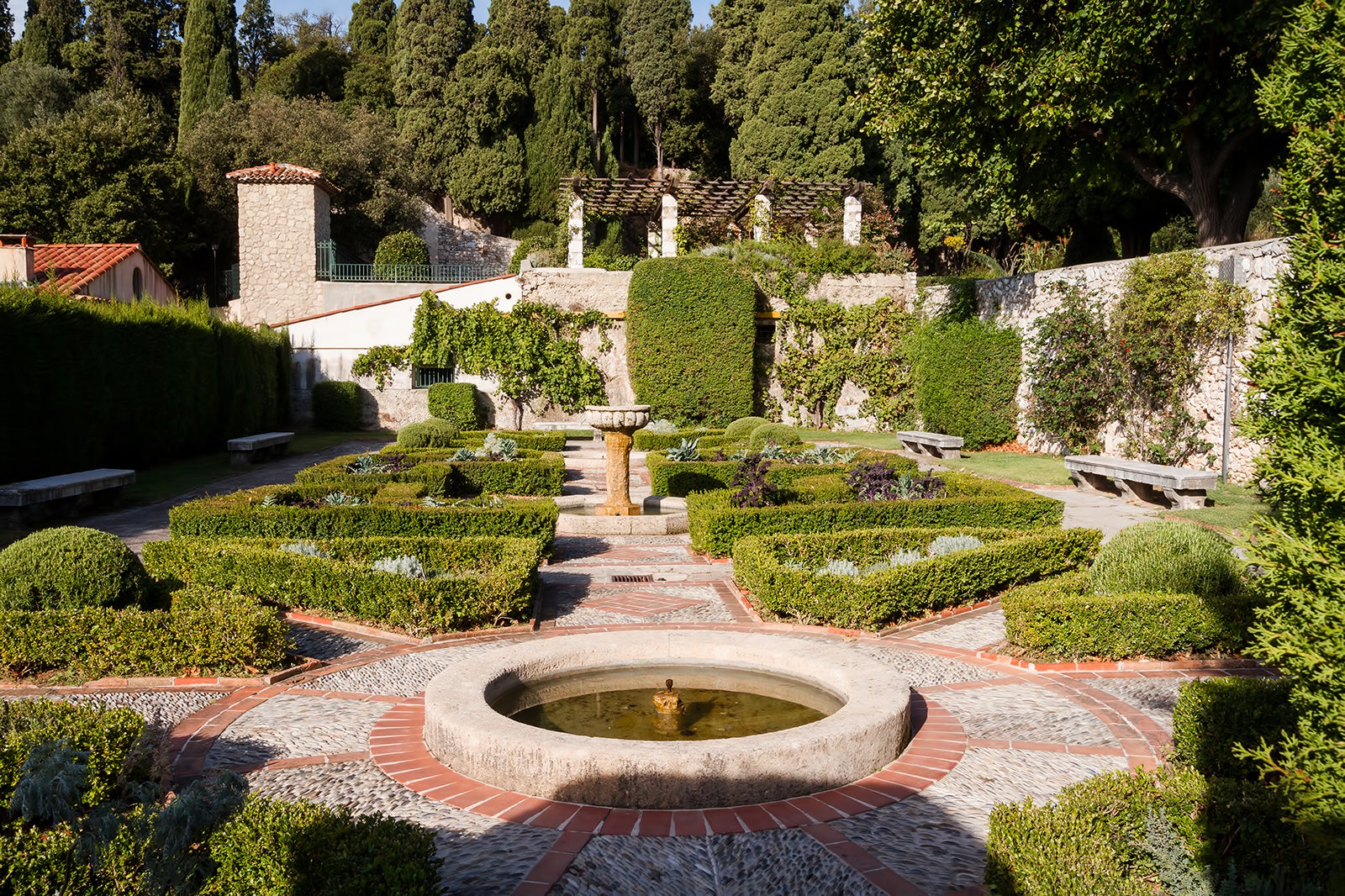 Monastère de Cimiez is a Franciscan monastery with gardens and a museum that holds artwork and memorabilia related to Franciscan life. Located in Cimiez near the city centre, Monastère de Cimiez can be visited on your own or as part of a city tour.
The monastery was founded in the 11th century by Benedictine monks but later became a Franciscan monastery. When you tour the museum, you'll see masterpieces of ancient artwork, gorgeous frescoes, and a monk's quarters that show you their simple way of life.
Location: Place Jean-Paul II Pape, 06000 Nice, France
Phone: +33 (0)4 93 81 00 04
4
Saint-Jean-Cap-Ferrat
Relax on the beach in a historic neighbourhood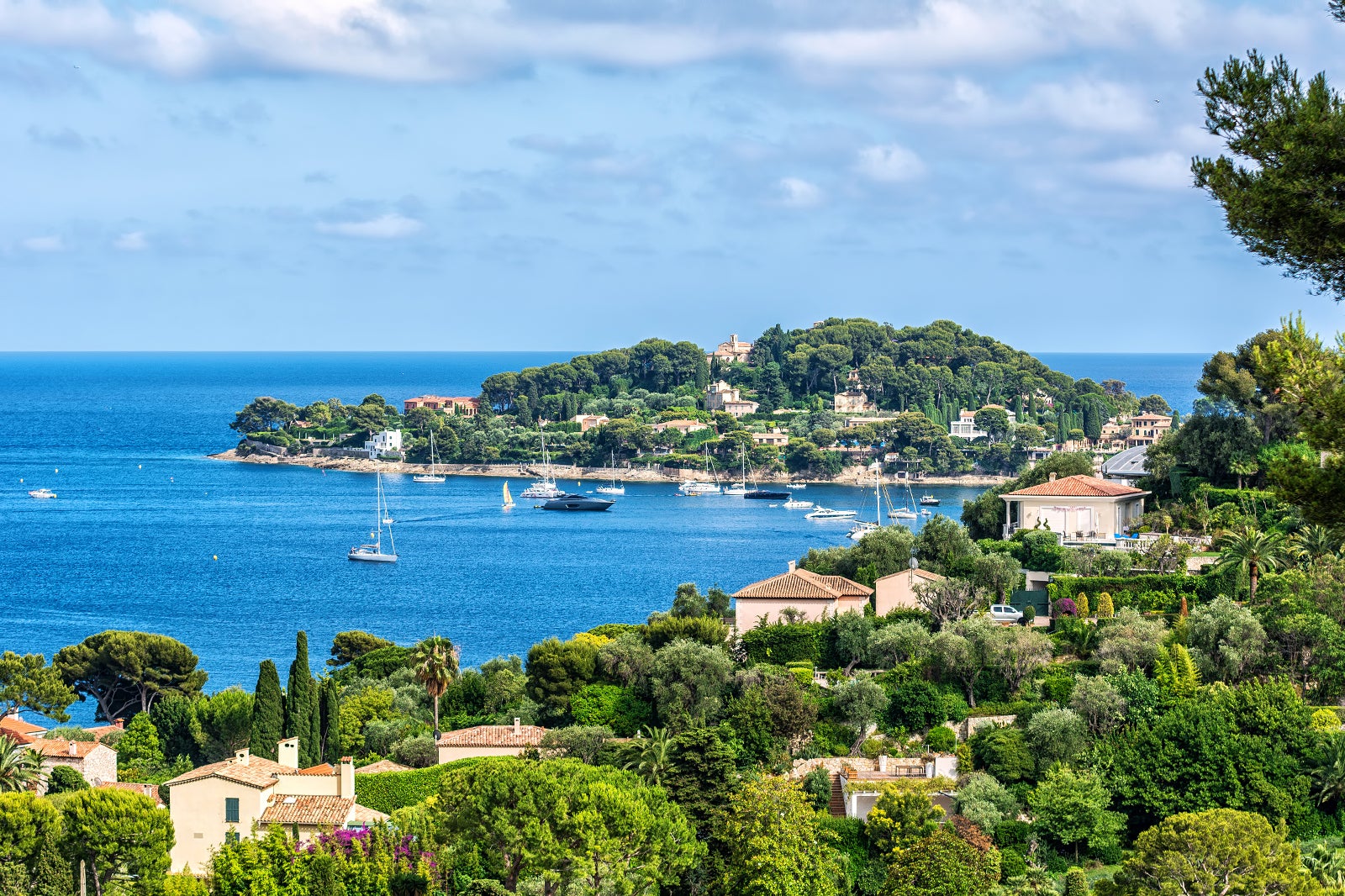 Saint-Jean-Cap-Ferrat is a vibrant commune that's home to historic sites and plenty of beaches for fun in the sun. Located about 22 minutes from the city centre, Saint-Jean-Cap-Ferrat is known for its upscale, relaxing atmosphere.
Some of the unique attractions include St Hospice, a 19th-century chapel with a military cemetery and a bronze statue of the Madonna and Child, and Le Phare, a 19th-century lighthouse commissioned by Napoleon III. You'll find numerous beaches in the neighbourhood, including Paloma beach and Passable beach, both of which offer stunning coastal views and gentle Mediterranean waters.
5
Cooking class (at Les Petits Farcis)
Learn Mediterranean cooking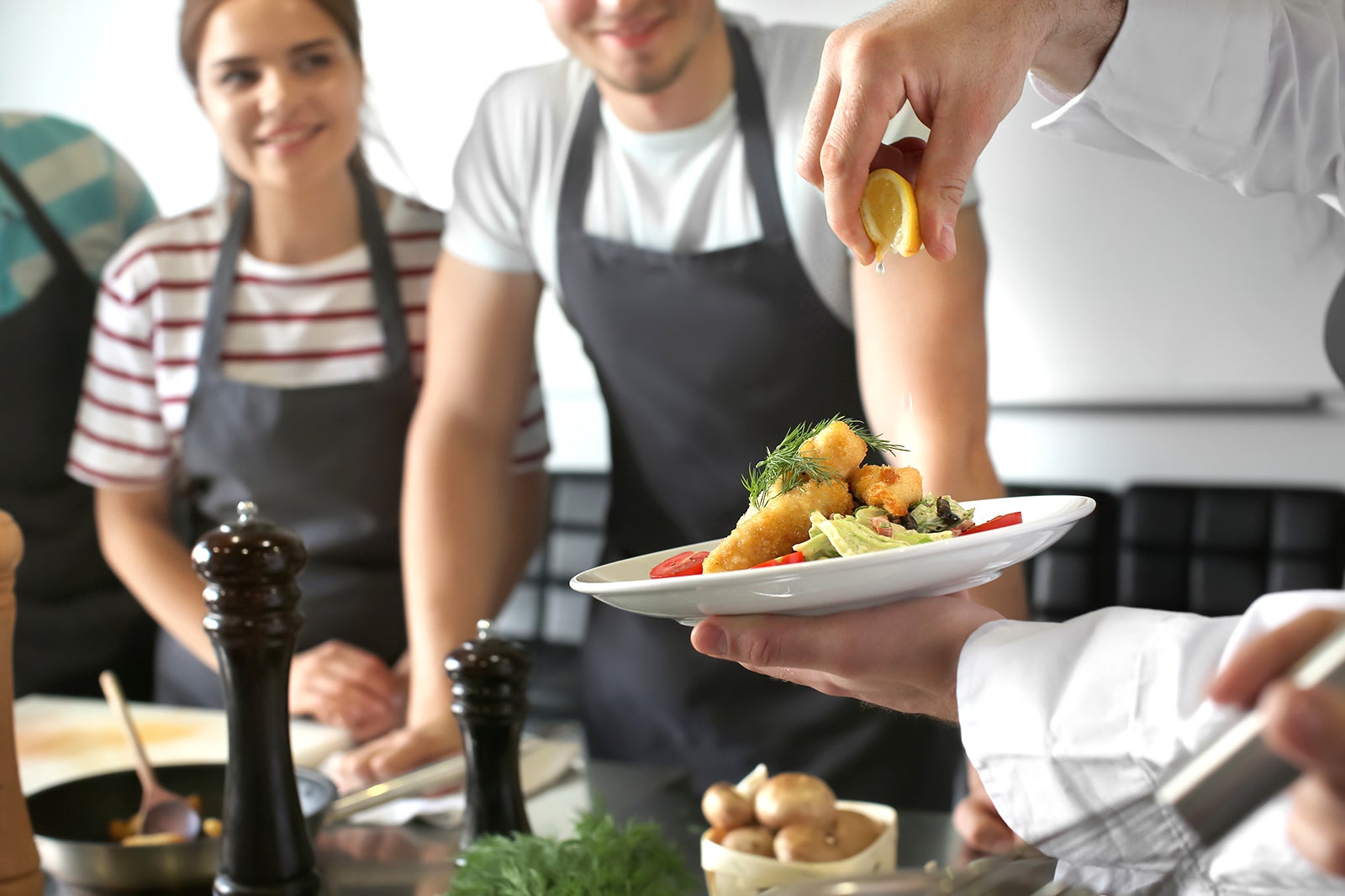 A cooking class at Les Petits Farcis is a great way to experience the local culinary culture and take home some Mediterranean cooking skills. Nice's unique cooking style is influenced by Mediterranean tradition, Provence, and Italy, giving it a taste all its own.
Les Petits Farcis, located in Old Nice about 10 minutes from the city centre, hosts a variety of classes for all skill levels. You can take Mediterranean cooking classes, pastry classes, master classes, and classes that focus on specific ingredients or dishes. Some classes include market visits. Another fun experience is street food tours, which are also hosted by Les Petits Farcis and introduce you to the best food and wine in the city.
Location: 12 Rue Saint-Joseph, 06300 Nice, France
Phone: +33 (0)6 81 67 41 22
6
Nice's beautiful churches (mention Russian Orthodox Cathedral and Cathédrale Sainte-Réparate)
Visit the best churches in the city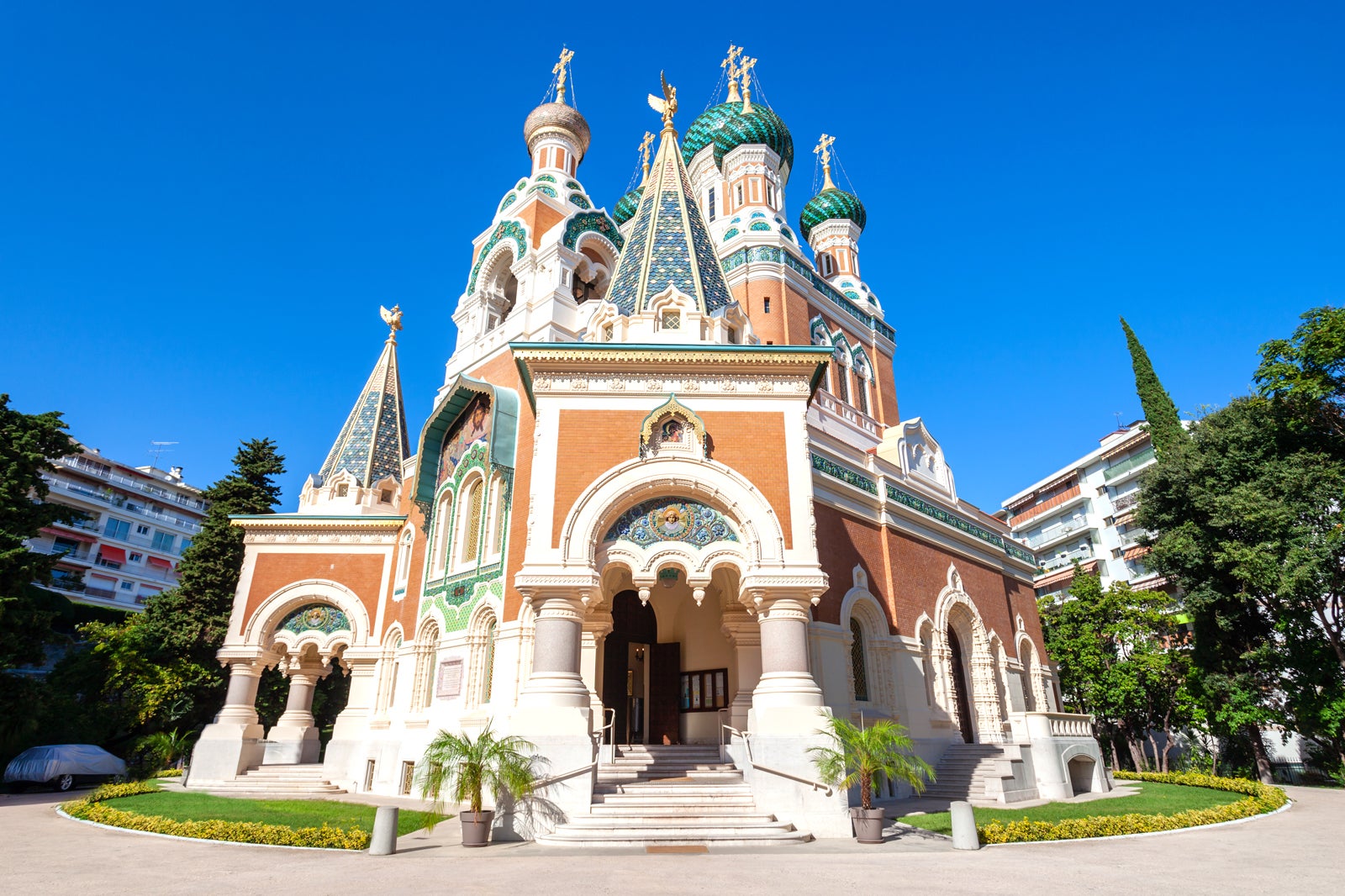 Nice's beautiful churches boast a rich history and gorgeous architecture, making them a must-visit on your holiday. Many of the churches are found in Old Nice, but you'll find beautiful churches all over the city. Cathédrale Sainte-Réparate is one of the most notable in the city and was constructed in the 12th century.
The St Nicholas Russian Orthodox Cathedral is another stunning church that boasts dramatic minarets and coloured turrets in Russian architectural tradition that stand out in the city. Some other notable churches in the city include Chapelle du Saint-Sépulcre in Place Garibaldi, Chapelle du Saint-Suaire in Cours Saleya and Chapelle de la Miséricorde in Cours Saleya.
7
Palais Lascaris
Explore a fascinating music museum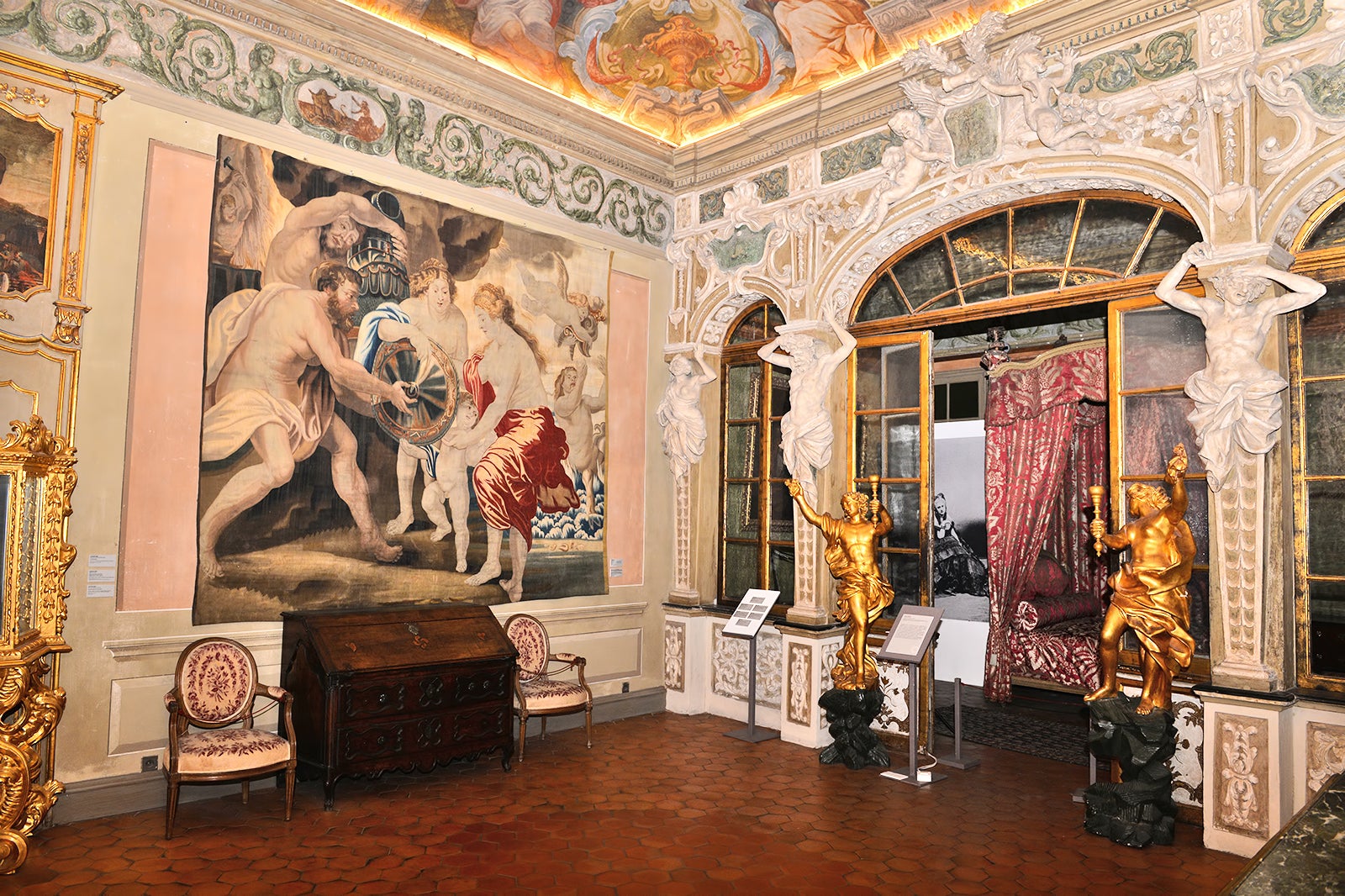 Palais Lascaris is a former 17th-century aristocratic building that's now home to a musical instrument museum that holds over 500 artefacts. Located in Old Nice about 10 minutes from the city centre, the palace was once owned by the prominent Vintimille-Lascaris family.
The museum is home to a variety of musical instruments that were requested by the 19th-century collector and amateur musician Antoine Gaultier. You'll see many unique exhibits and rare instruments, including several baroque guitars, violas da gamba, violas d'amore, experimental string instruments, and a rare collection of clarinets. The museum also has a collection of 19th-century non-European instruments on display.
Location: 15 Rue Droite, 06300 Nice, France
Phone: +33 (0)4 93 62 72 40
photo by Didier Chérel (CC BY-SA 4.0) modified
8
Opéra de Nice
See a concert or opera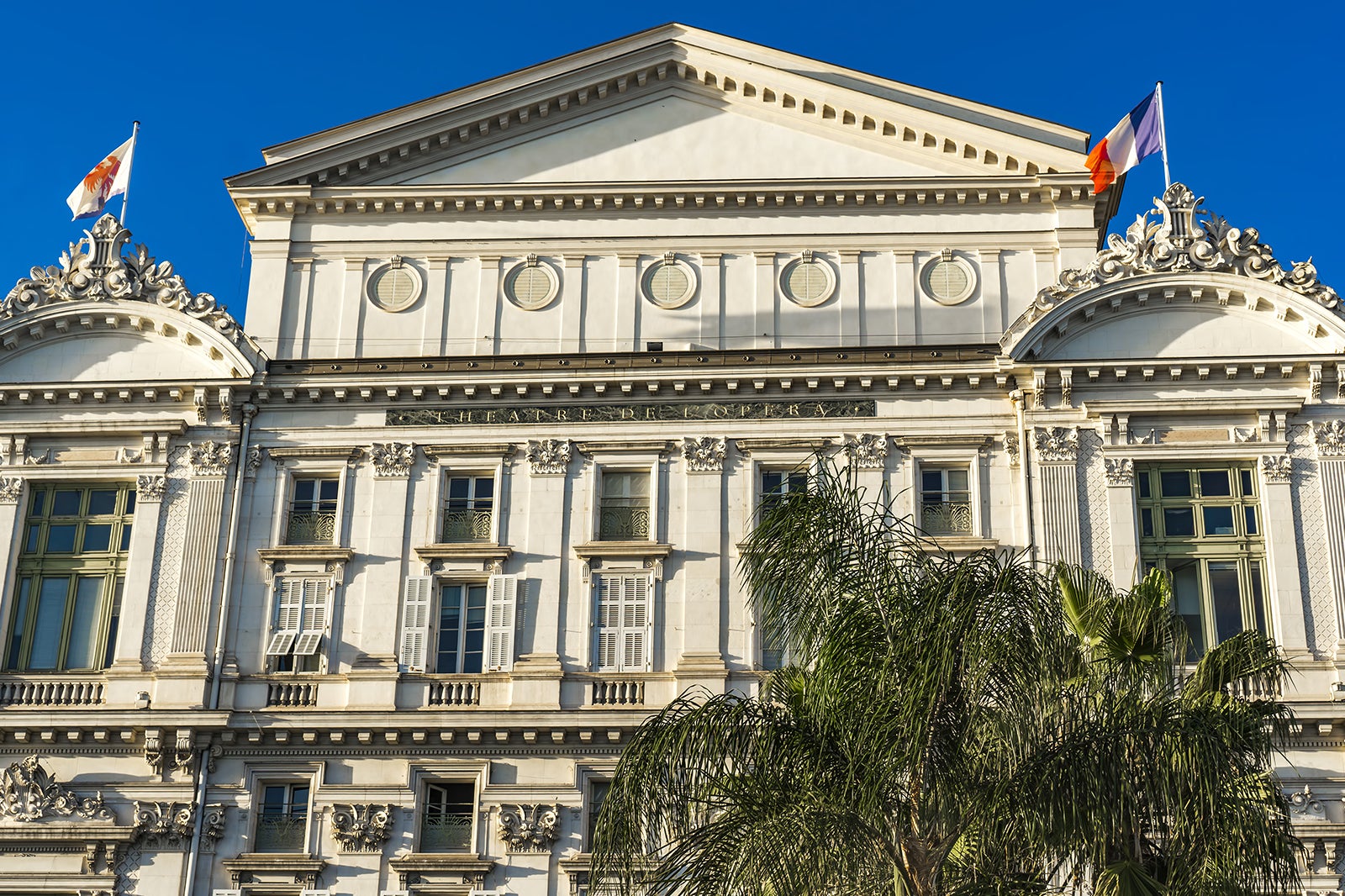 The Opéra de Nice is a spectacular performing-arts venue that hosts operas, ballets, and classical music concerts in an opulent space. Located in Old Nice about 10 minutes from the city centre, Opéra de Nice is the home of the Nice Philharmonic Orchestra and the Ballet Nice Méditerranée.
Opened in the 18th century, the opera house has hosted many prominent performances over the years, including 'Lucia di Lammermoor', 'Aida' and 'Cendrillon'. The opera house now hosts productions by the Nice Philharmonic Orchestra and Ballet Nice Méditerranée and collaborates with regional orchestras. The opera house also has a Diacosmie that creates everything from sets to costumes.
Location: 4-6 Rue Saint-François de Paule, 06300 Nice, France
Open: Hours vary
Phone: +33 (0)4 92 17 40 00
9
Sentier du Littoral (Nice to Villefranche-sur-Mer Coastal Path)
Take in views of the landscape on a coastal walk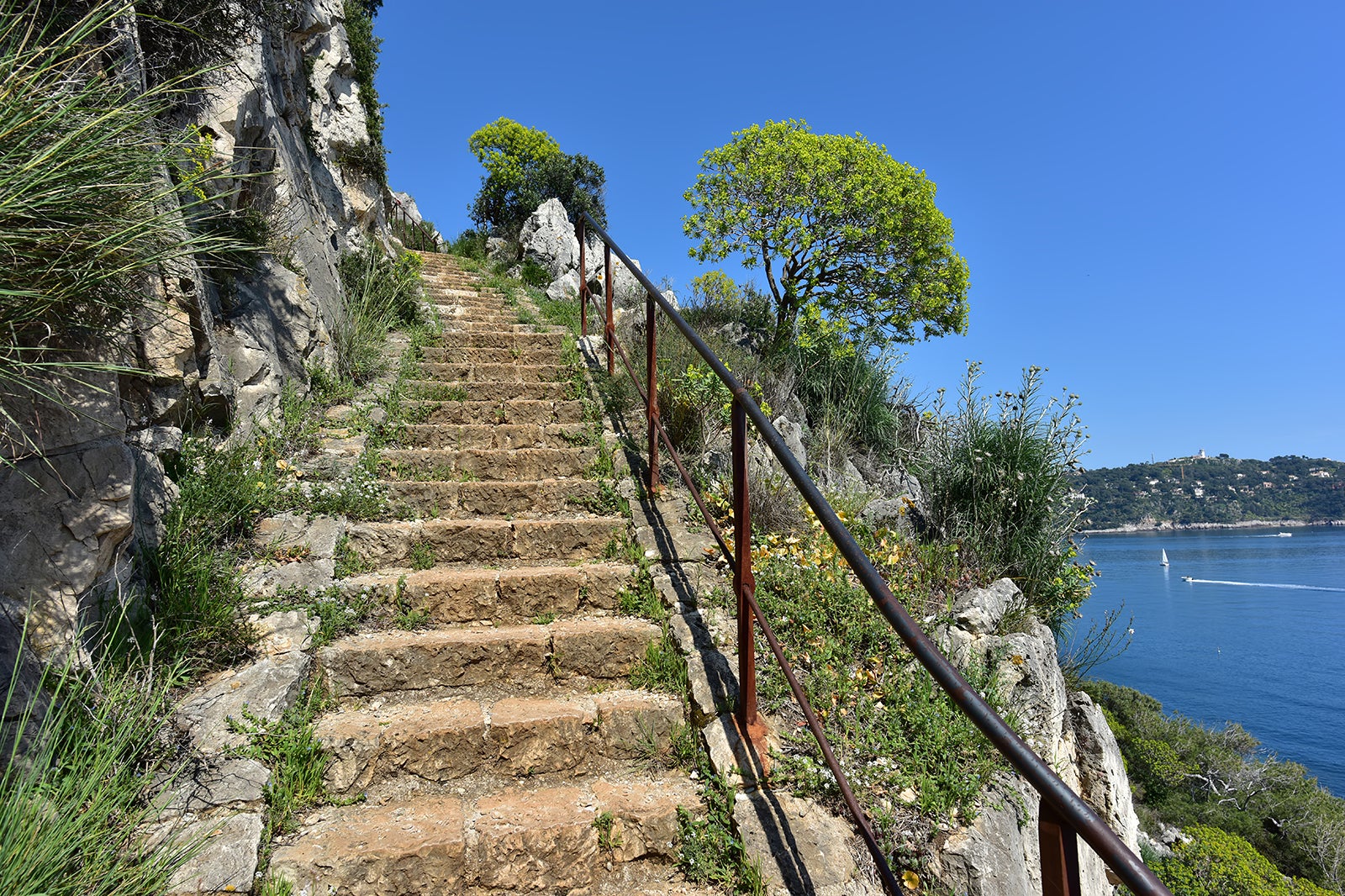 Sentier du Littoral on the Nice to Villefranche-sur-Mer Coastal Path is a point-to-point trail outside the city that offers stunning scenic views of the Alpes-Maritimes. Located about 12 minutes from the city centre, the trail is short and ideal for all skill levels.
The trail travels along the coast and takes about an hour to complete. Though you may encounter some steps near the water and some elevation, the trail is appropriate for kids and casual hikers. Dogs are also permitted on the trail with a lead.
10
Nice Ski Bus (daytrip from Nice)
Ski the French Alps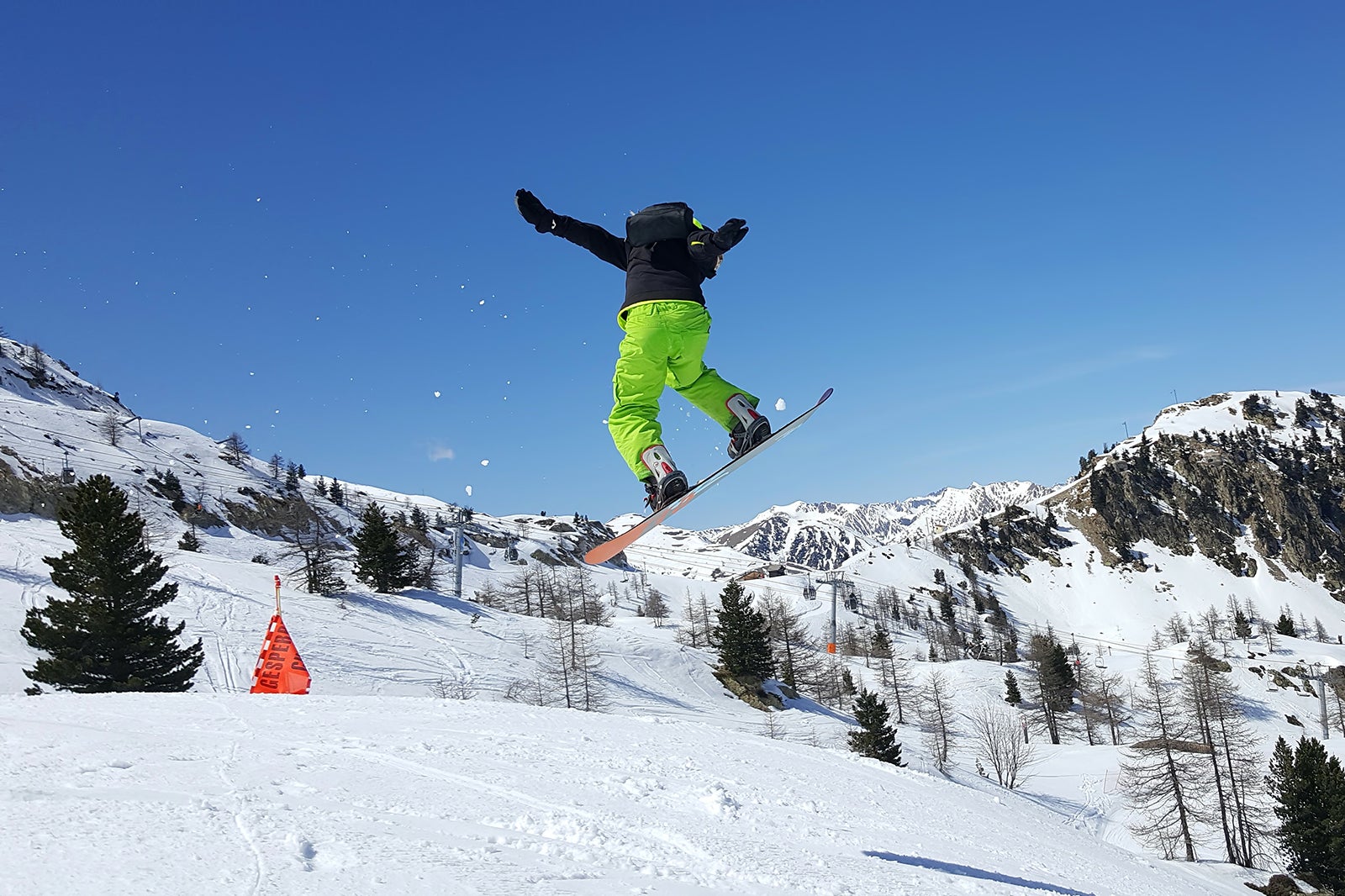 The Nice Ski Bus is a fun day trip from Nice that offers skiing, snowboarding, snow activities, and après-ski fun. Ski trips depart at various times from train stations in Nice on the way to Isola 2000, Valberg, Gréolières les Neiges, and Turini Camp d'Argent.
Along with skiing and snowboarding at the spectacular Côte d'Azur resorts, you can also hike snow trails or play with the kids in the snow. You'll also find refreshments at the resorts, including fondue, raclette, and hot spiced wine.
Back to top