21 Best Things to Do in Seoul
What is Seoul Most Famous For?
The best things to do in Seoul draw inquisitive travellers from all over the world. Home to sleek skyscrapers and shopping malls, as well as well-preserved royal palaces and Buddhist temples, the South Korean capital is teeming with unique culture and modern comforts.
Seoul has an extensive subway system, where notable landmarks are usually a few stops away from each other. There are also many bustling shopping districts with dining, retail, and nightlife opportunities for visitors of all ages. Exploring this massive city can be understandably daunting for first-timers, so we've compiled a rundown of Seoul's most popular attractions to fit into your travel itinerary.
What are the best things to do in Seoul?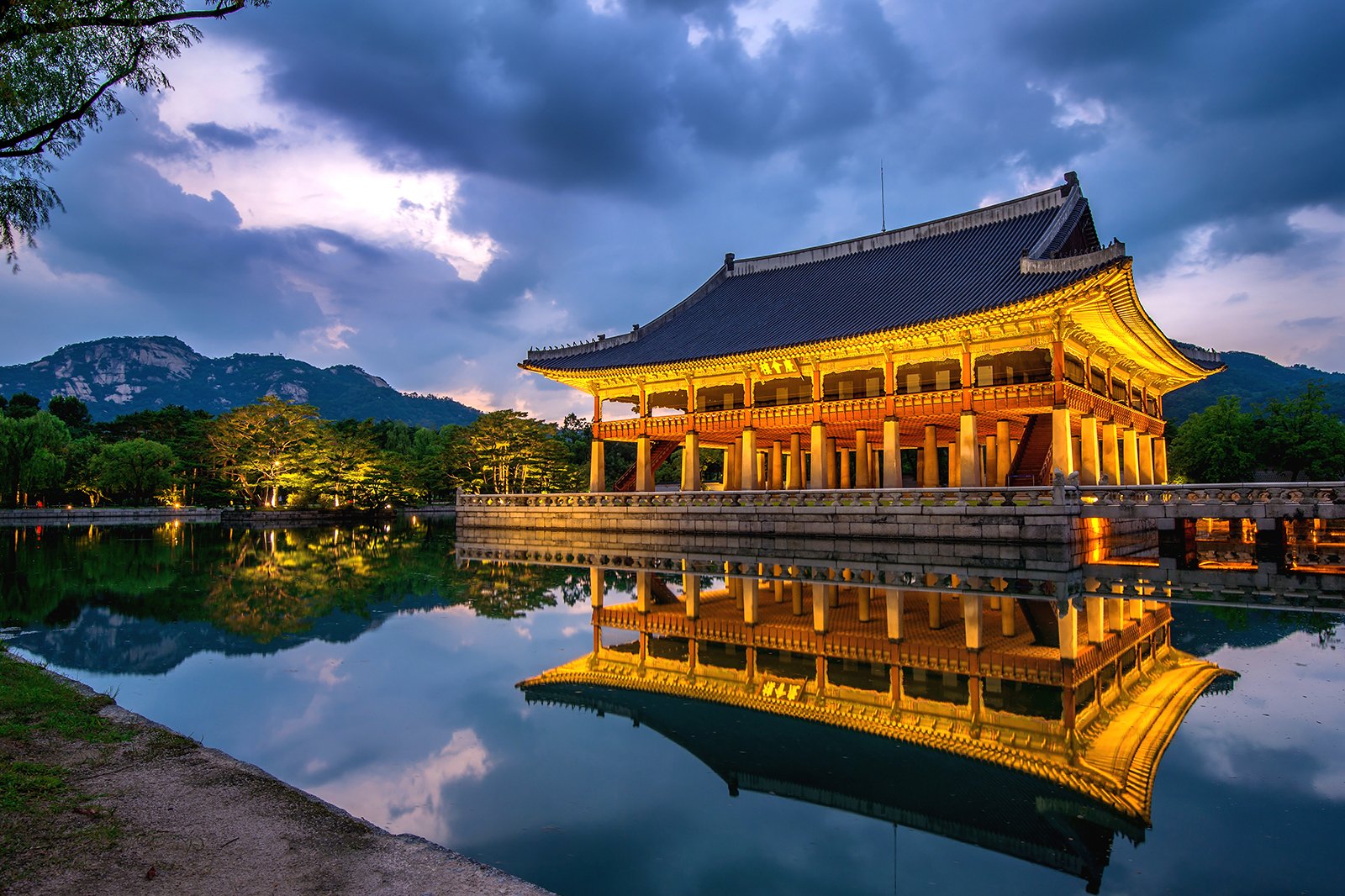 Gyeongbokgung Palace was built in 1395 by King Taejo. It is the largest and most striking of the 5 grand palaces built during the Joseon dynasty. You can explore more than 300 buildings, The National Folk Museum, and The National Palace Museum – a must see for history buffs.
Remnants of the Joseon Dynasty such as the Gyeonghoe-ru Pavilion, Hyangwonjeong Pond, and sculptures of Geunjeongjeon (The Royal Audience Chamber) remain relatively intact within the palace grounds. Gyeongbokgung Palace offers free guided tours in English, Japanese and Chinese between 10am and 3.30pm.
Location: 161, Sajik-ro, Jongno-gu, Seoul, South Korea
Open: March–May and September–October: from 9am to 6pm. June–August: from 9am to 6.30 pm. November–February: from 9am to 5pm (closed on Tuesdays)
Phone: +82-2-3700-3900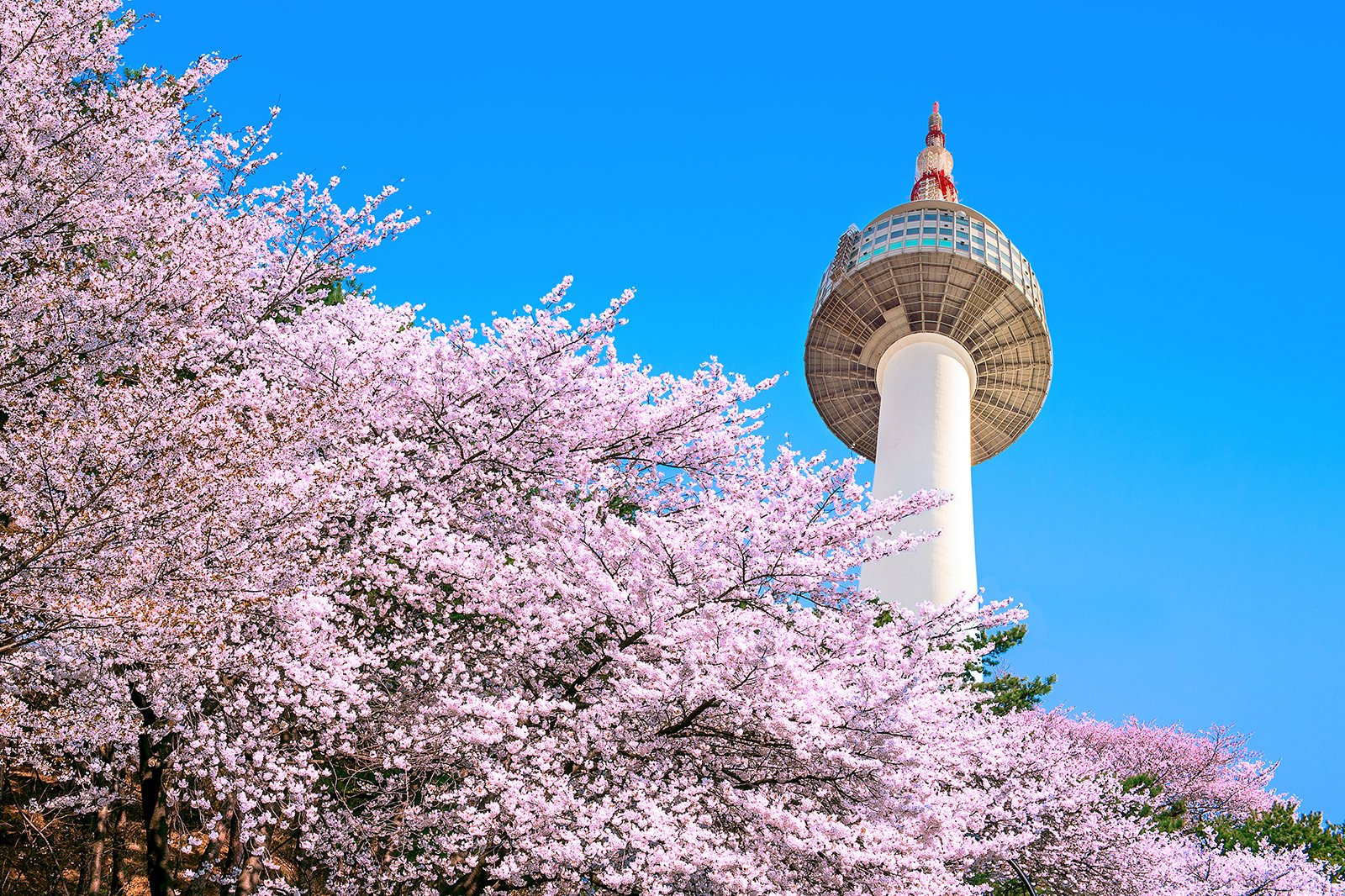 N Seoul Tower is a modern structure on Namsan Mountain in central Seoul. Standing at 237 metres above ground, you get to enjoy panoramic views of Seoul from its observatory. Inside, you'll also find a digital observatory as well as plenty of souvenir shops, restaurants, and cafes.
The terrace on the 1st floor of N Seoul Tower is a popular spot for couples for attaching padlocks and love notes to the fence as a symbol of love. Its outdoor stage hosts traditional performances and exhibitions year-round. Entrance to the observatory cost around 10,000 won for adults and 8, 000 won for children and senior citizens.
Location: 105 Namsangongwon-gil, Yongsan 2(i)ga-dong, Yongsan-gu, Seoul, South Korea
Open: Monday–Friday and Sunday from 10am to 11pm, Saturday from 10am to midnight
Phone: +82-2-3455-9277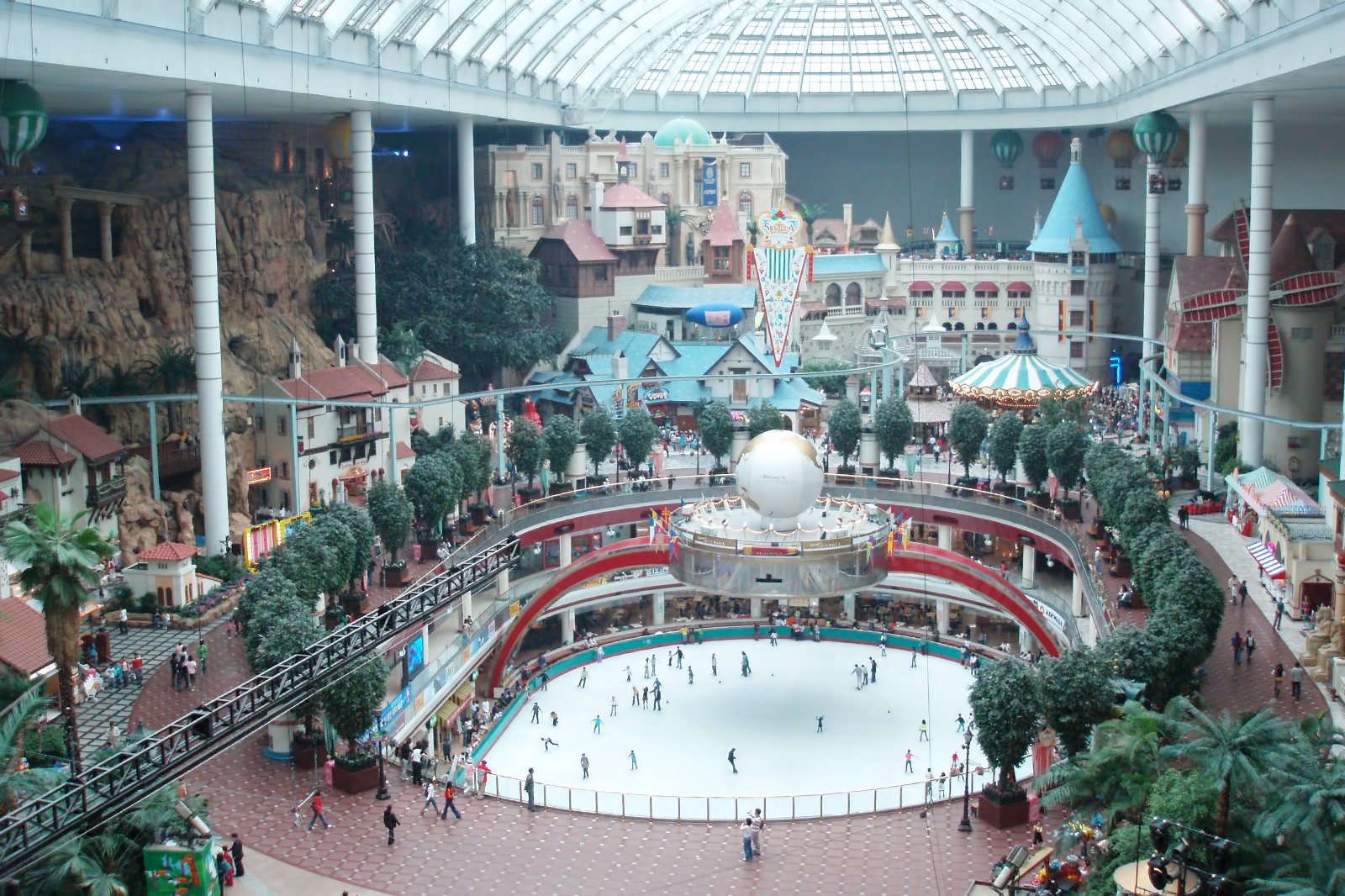 Lotte World, located in central Seoul, is one of the world's largest indoor theme parks. It has plenty of thrilling rides, films, an ice-skating rink, lively parades, and laser shows for visitors of all ages. You can also visit an onsite folk museum, which displays miniature villages and artefacts that are more than 5,000 years old.
Admission fees for Lotte World vary according to time of entry – the gives you free access to Lotte World's folk museum, Adventure and Magic Island.
Location: 240 Olympic-ro, Songpa-gu, Seoul, South Korea
Open: Daily from 9.30am to 10pm
Phone: +82-2-1661-2000
photo by SJ Yang (CC BY-SA 2.0) modified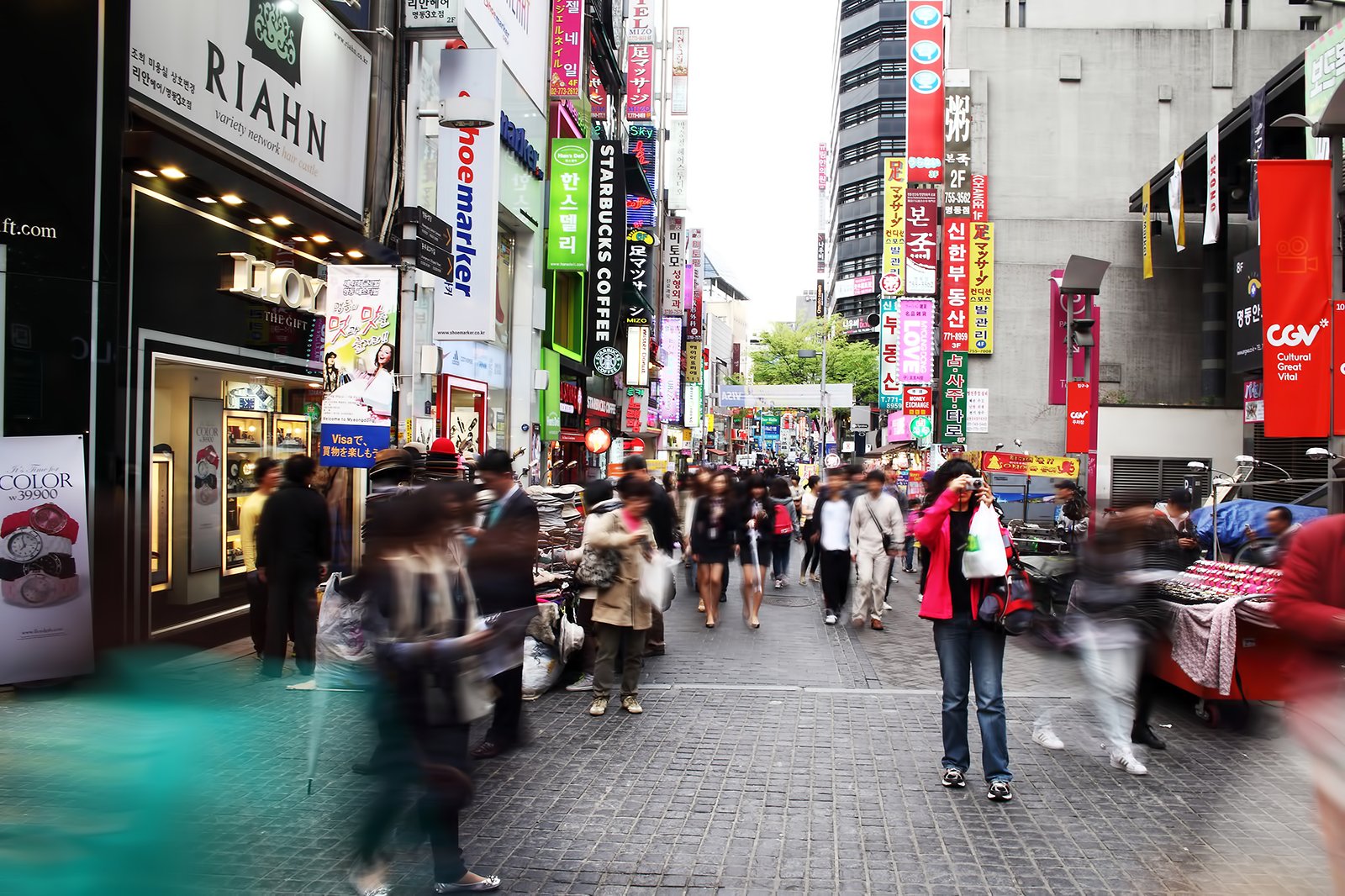 Myeongdong Market is the place to go if you're planning to hit the shops during your stay in the capital. One of South Korea's prime shopping districts, it has dozens of department stores, shopping malls, and street side shops. Popular items include inexpensive clothes, shoes, accessories, jewellery, and handbags from local and international brands. There are over 1,000 outlets selling Korean cosmetic and skincare.
Unlike other shopping districts In Seoul, Myeongdong Market also has sightseeing spots – iconic landmarks include the Myeongdong Catholic Cathedral and the gothic-style Myeongdong Theatre.
Location: 83-9 Myeong-dong, Jung-gu, Seoul, South Korea
Open: Daily from 10am to 10.30pm (hours vary by store)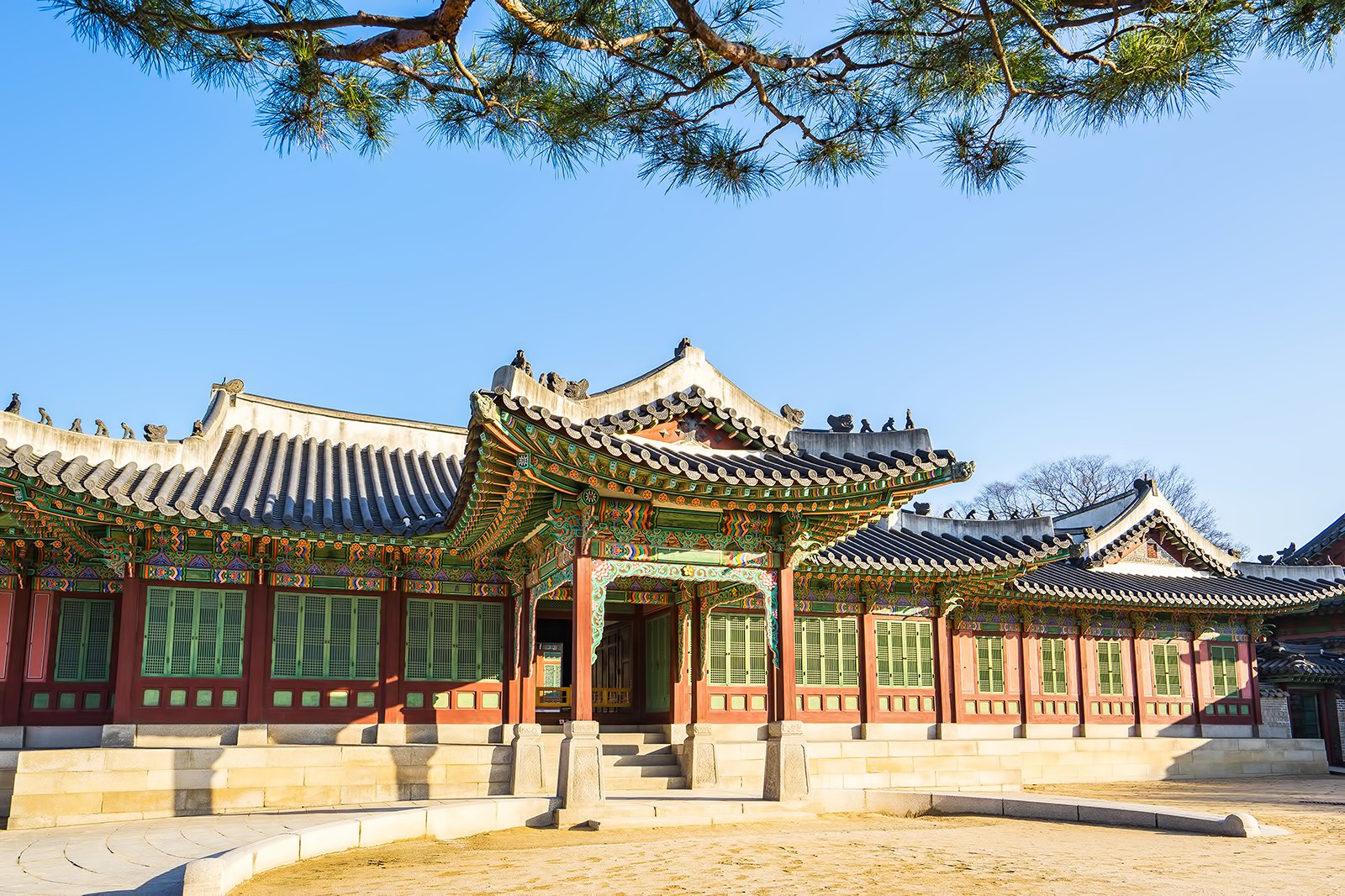 Changdeokgung Palace is the most well-preserved of the 5 remaining royal palaces in South Korea. Listed as a UNESCO World Heritage Site in 1997, it's located at the foot of Mount Baegaksan's Ungbong Peak. The area consists of a public palace area, a paved courtyard, open corridors, and the royal family's residence.
One of the most photographed spots at Changdeokgung Palace is the Huwon garden. Enjoy views of a lily pond and elegant pavilions surrounded by colourful flowers. General admission to the palace costs around 3,000 won for adults and 1,500 won for youths (7–8 years old). Guided tours are available in English, Chinese, and Japanese.
Location: 99, Yulgok-ro, Jongno-gu, Seoul, South Korea
Open: Daily from 9am to 6.30pm
Phone: +82-2-1661-2000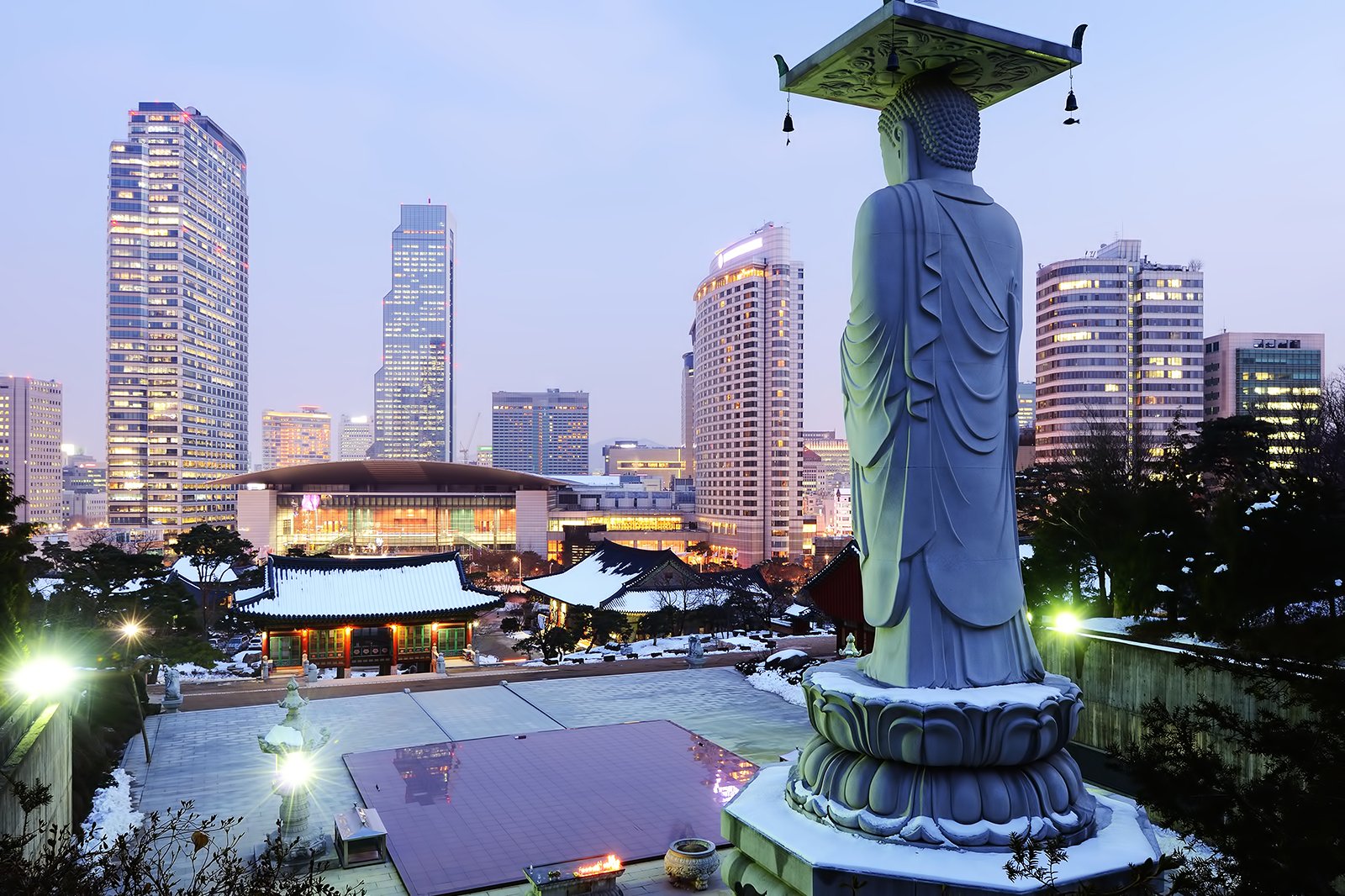 Bongeunsa Temple offers cultural events for those looking to learn about traditional Korean Buddhist practices. Surrounded by lush greenery, the atmosphere here is very quiet and tranquil. Artefacts such as woodblock carvings of Buddhist sutras and Korea's tallest statue of Maitreya Buddha dot the temple grounds.
Bongeunsa Temple hosts temple stay programs where you can experience the life of a Buddhist monk. Guided tours (in English, Japanese and Chinese), dawn services, lotus lantern making, and tea ceremonies are among the many activities you can enjoy during your visit.
Location: 531, Bongeunsa-ro, Gangnam-gu, Seoul, South Korea
Open: Daily from 3am to 10pm
Phone: +82-2-3218-4895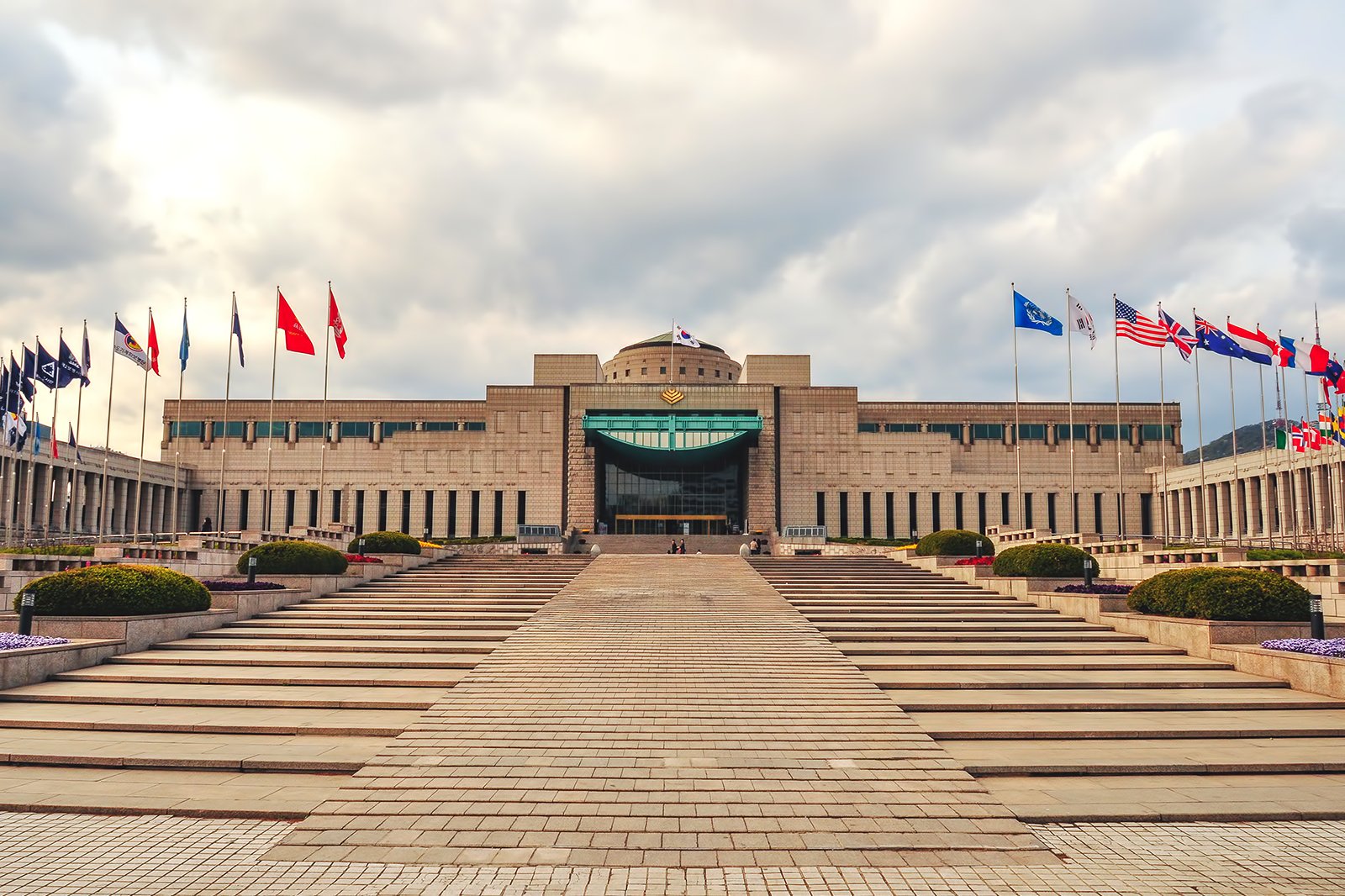 The War Memorial of Korea
The War Memorial of Korea was built to commemorate the Korean War (1950 - 1953). Located in Itaewon, the museum has a virtual combat experience room and 6 indoor exhibition halls displaying historical relics and battle records.
An outdoor exhibition centre showcases 13,000 war memorabilia, military equipment, and memorial statues. Entrance to The War Memorial of Korea is free of charge.
Location: 29, Itaewon-ro, Yongsan-gu, Seoul, South Korea
Open: Tuesday–Sunday from 9.30am to 6pm (closed on Mondays)
Phone: +82-2-709-3139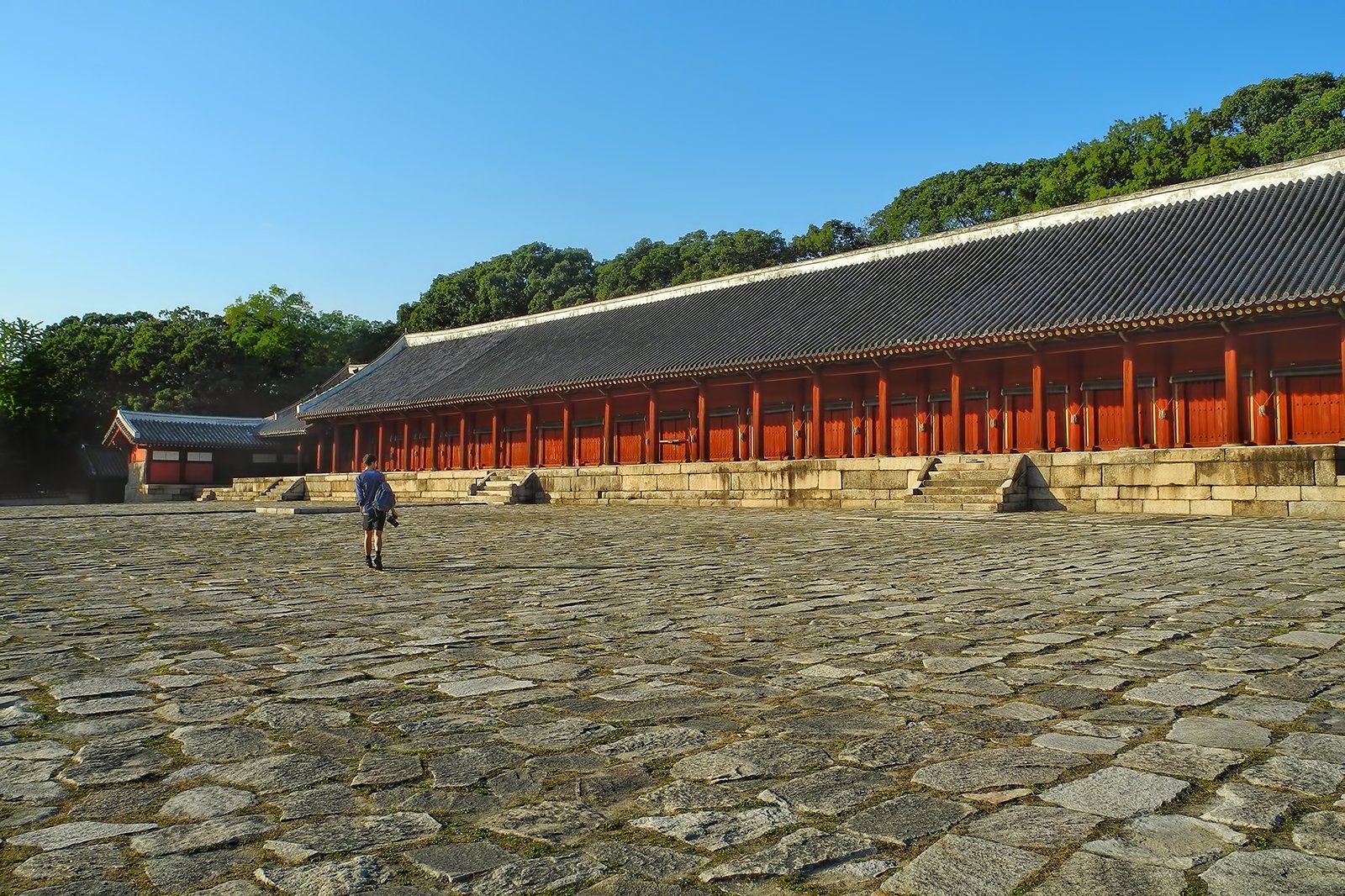 Jongmyo Shrine is a Confucian royal shrine for memorial services during the Joseon Dynasty. A UNESCO World Heritage Site, it houses the spirit tablets of the former kings and queens of the Joseon Dynasty. Cultural heritage festivals such as the Korean Royal Palace Culture Festival are also held in Jongmyo Shrine every year.
You're only allowed to enter the Jongmyo Shrine's heritage area via guided tours (entrance fees are priced between 400 and 1,000 won), while access to the shrine itself is strictly prohibited. Jongmyo Shrine is a 5-minute walk of Jongno-sam-ga subway station.
Location: 157 Jong-ro, Jongno-gu, Seoul, South Korea
Open: Wednesday–Monday from 9am to 6.30pm (closed on Tuesdays)
Phone: +82-2-762-8263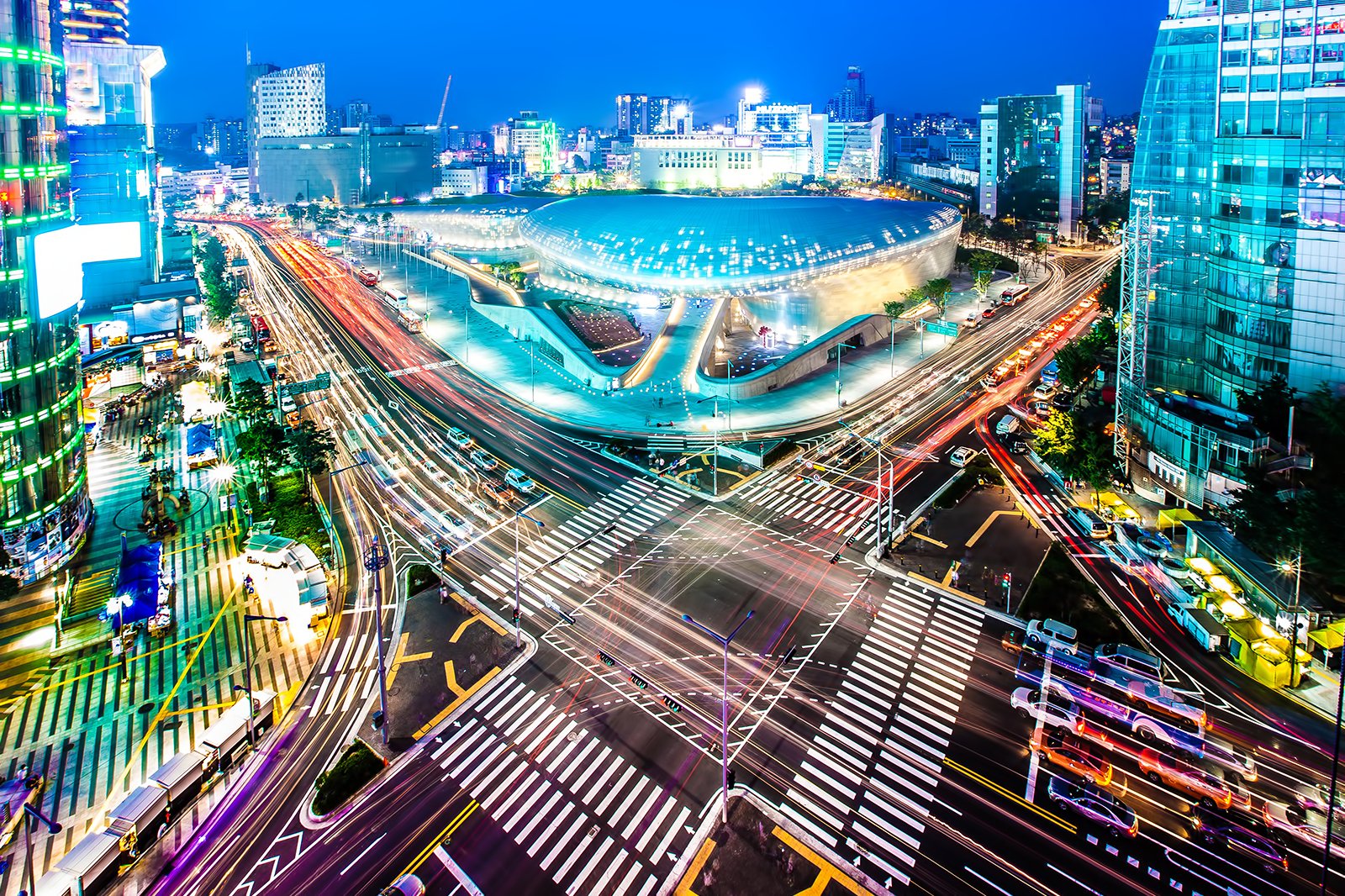 Dongdaemun Market is one of South Korea's largest wholesale and retail shopping districts. It has around 26 shopping malls, 30,000 speciality shops, and 50,000 manufacturers. Items range from textiles, clothes, shoes, and jewellery, to leather goods, toys, electronics, and office supplies.
Dongdaemun Market attracts foodies with Mukja Golmok, an alley dedicated to Korean street food and snacks. The shopping district stays busy well into the night, with festivities, fashion shows, music and dance performances taking place after the sun sets in Seoul.
Location: Euljiro 6(yuk)-ga, Jung-gu, Seoul, South Korea
Phone: +82 32-1344-4888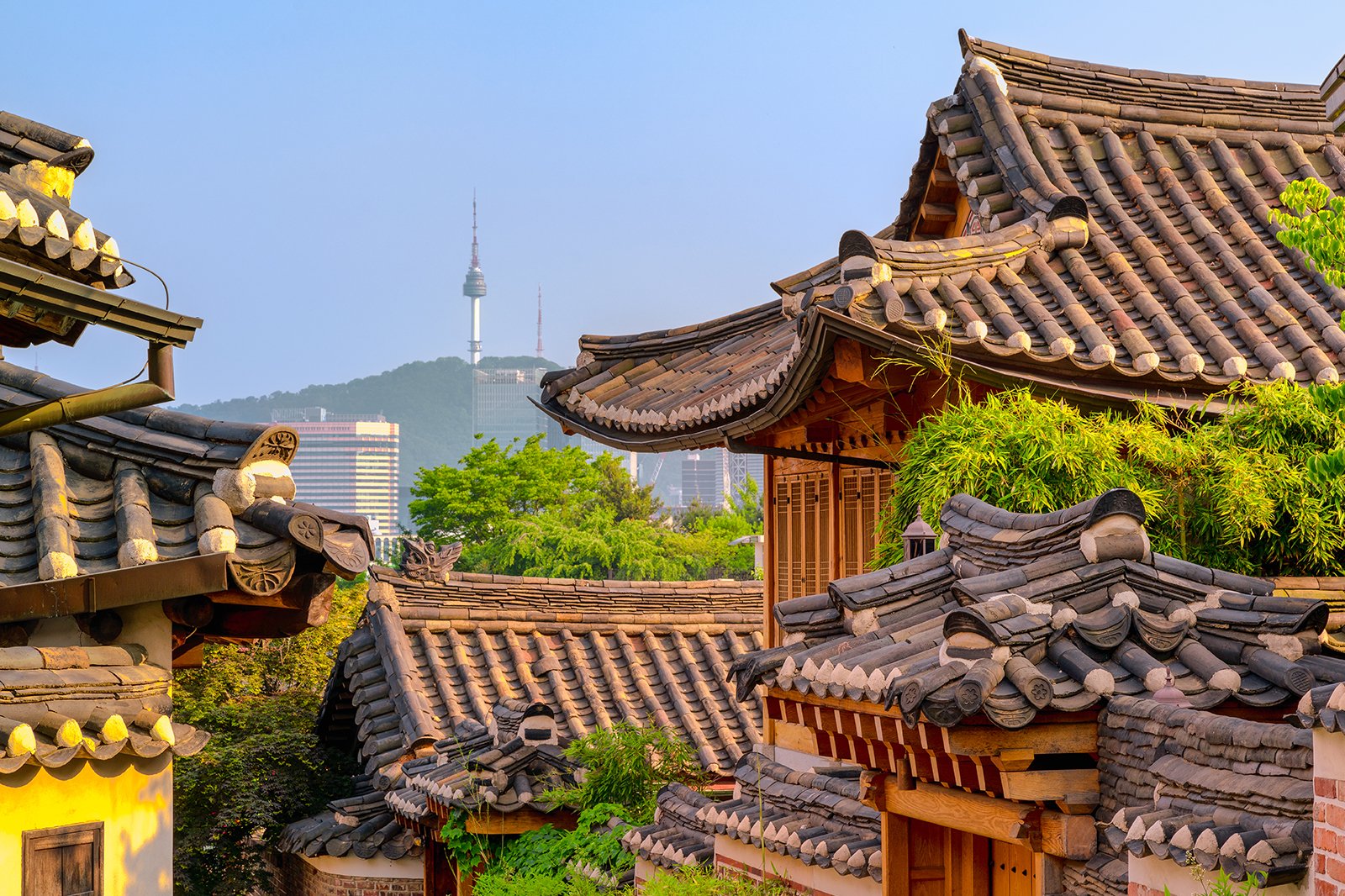 Bukchon Hanok Village houses hundreds of hanok (traditional Korean homes) that have stood the test of time since the Joseon dynasty. It's known as Seoul's most beautiful historical district, where many of these buildings operate as cultural centres, guesthouses, restaurants, and teahouses.
While entry to Bukchon Hanok Village is free of charge, you can purchase the 'Bukchon Museum Freedom Pass' for 10,000 won to visit museum within the village – Gahoe Museum, Han Sangsu Embroidery Museum, and the Museum of Korean Art are popular among curious visitors.
Location: 37, Gyedong-gil, Jongno-gu, Seoul, South Korea
Phone: +82-2-2148-4160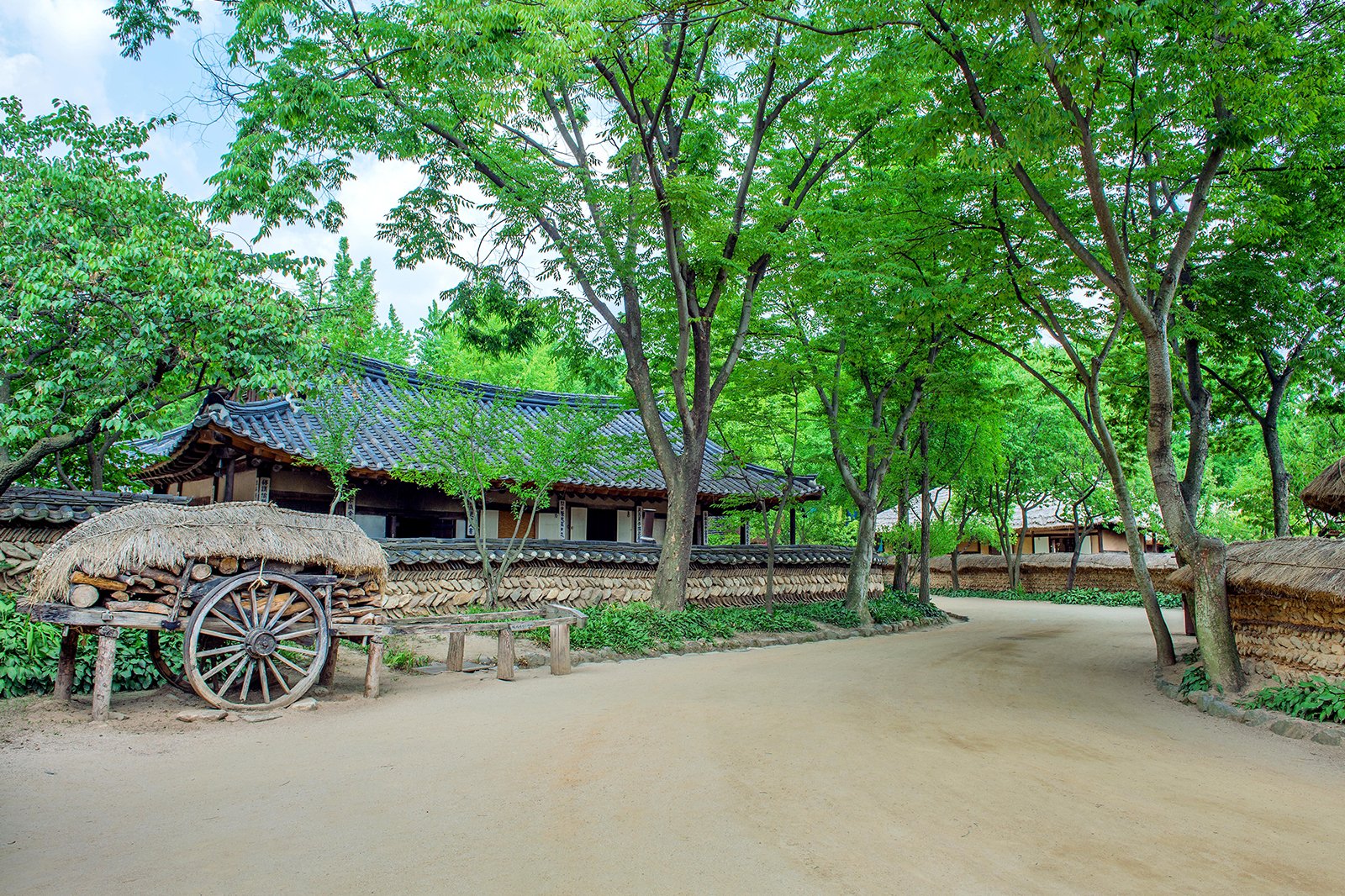 The Korean Folk Village is where visitors can relive the old days of Seoul, before urbanization took over the city. This quaint town has people performing folk art, cultural workshops that you can take part in, and a modern theme park to keep the kids busy.
Popular spots within the Korean Folk Village are the World Folklore Museum, Pottery Exhibition Hall, and the Korean Folk Museum. Visit the village's performance area to catch acrobatics on a tightrope, equestrian shows, and farmer's music and dance concerts.
Location: #90 Minsokchon-ro, Giheung-gu, Yongin-si, Gyeonggi-do, Seoul, South Korea
Open: Monday–Friday from 9.30am to 5.30pm, Saturday–Sunday from 9.30am to 6pm (extended hours apply in summer and spring)
Phone: +82-31-288-0000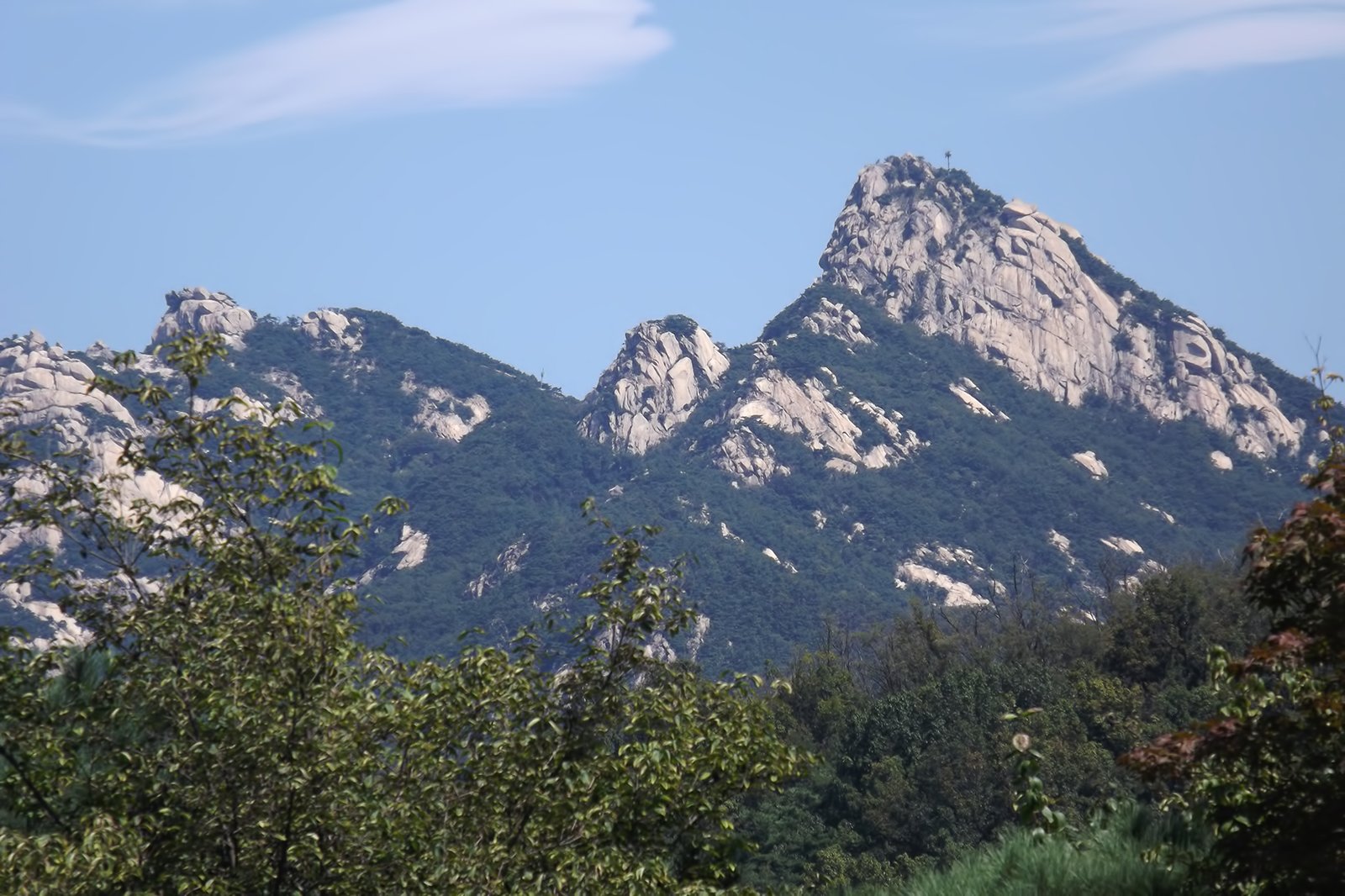 Bugaksan Mountain is one of South Korea's highest mountains. Also known as Baekaksan, there are scenic trails that take you through the city's 15th-century gates and along ancient fortress walls. It takes about 2 hours to reach the top, where you'll enjoy magnificent views of the city, Gyeongbokgung Palace, and N Seoul Tower.
Along the way, you'll pass through historical landmarks such as Seoul Fortress Wall, Bugak Pavilion, and Samcheong Park. Remember to bring your passport as you will need to present it to the authorities to gain entry to the trails.
Location: Jongno-gu, Seoul
photo by Simon Williams-Im (CC BY 2.0) modified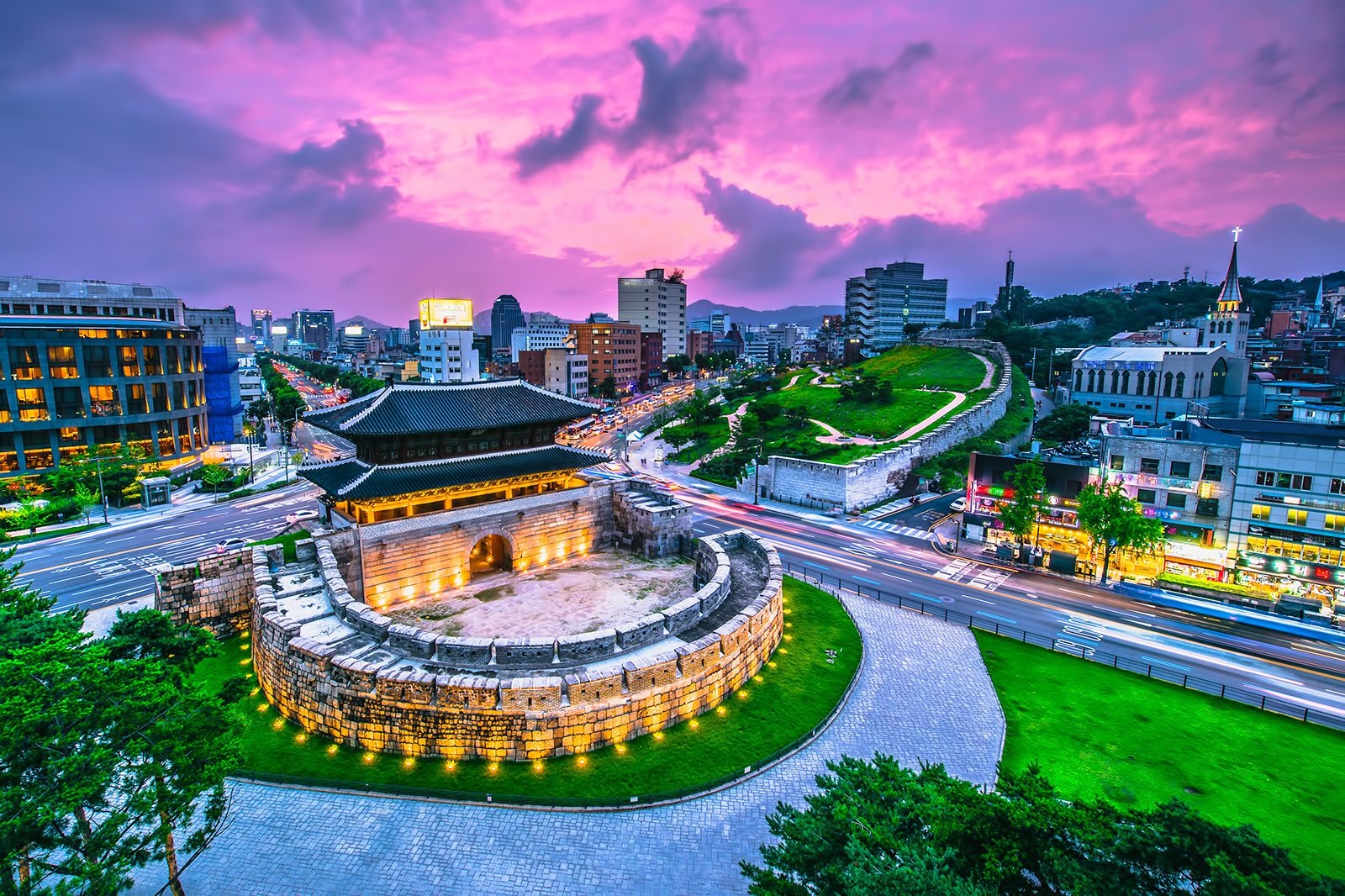 Take a bus tour of the city
With a day pass, you can get off and on any city tour bus for the day. There are 4 routes to choose from – the Panorama course stops at 16 landmarks, including N Seoul Tower, Namsan Park, and Han River. You'll also visit the districts of Myeong-dong and Hongdae.
If you're interested in sightseeing, opt for the Downtown Palace Namsan Course – the bus stops at the 5 grand palaces of Seoul, the National Folk Museum of Korea, and Namsangol Korean Town. This shuttle tour is suitable for families and visitors who aren't familiar with the city's subway system.
Location: Dongwha Duty Free Shop (Subway Gwanghwamun Station, Line 5, Exit 6)
Open: Daily from 8.30am to 9pm
Phone: +82-2-777-6090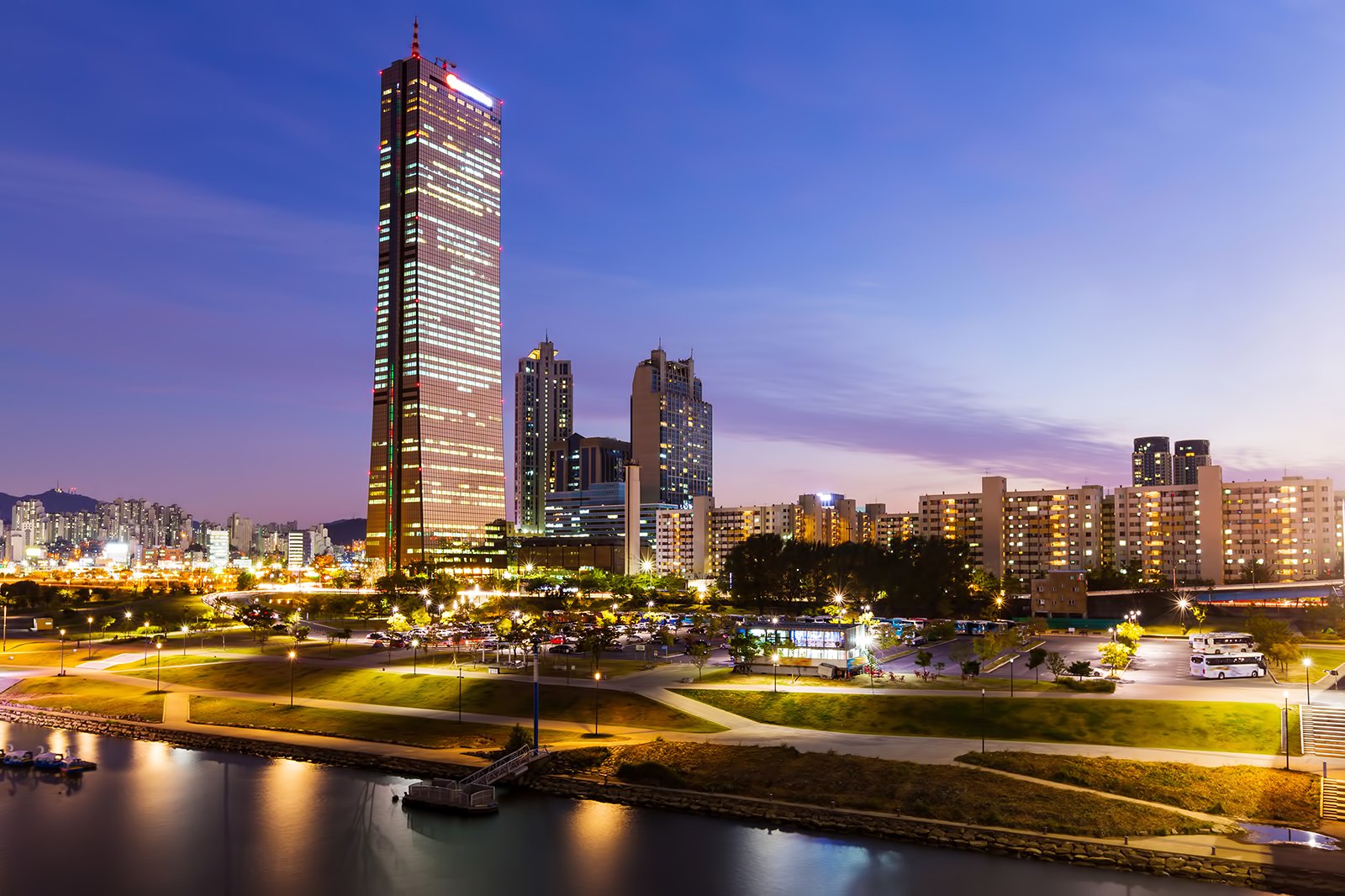 63 SQUARE, with a height of 264 metres, is one of Seoul's tallest skyscrapers. The ground floor is where you can visit Aqua Planet 63, a large-scale aquarium housing 400 species of marine life, including penguins, sea otters, and seals.
The 63 Art Gallery is located on the highest level, and has an observatory overlooking downtown Seoul and Han River, as well as the Bugaksan, Namsan and Gwanaksan Mountains. You can also find high-end and casual restaurants serving European, Japanese, Chinese and Korean dishes on the top floors of 63 SQUARE.
Location: 50, 63-ro, Yeongdeungpo-gu, Seoul, South Korea
Open: Daily from 10am to 10pm (hours vary by store)
Phone: +82-2-789-5663
Couples
Families
Shoppers
Photo
Food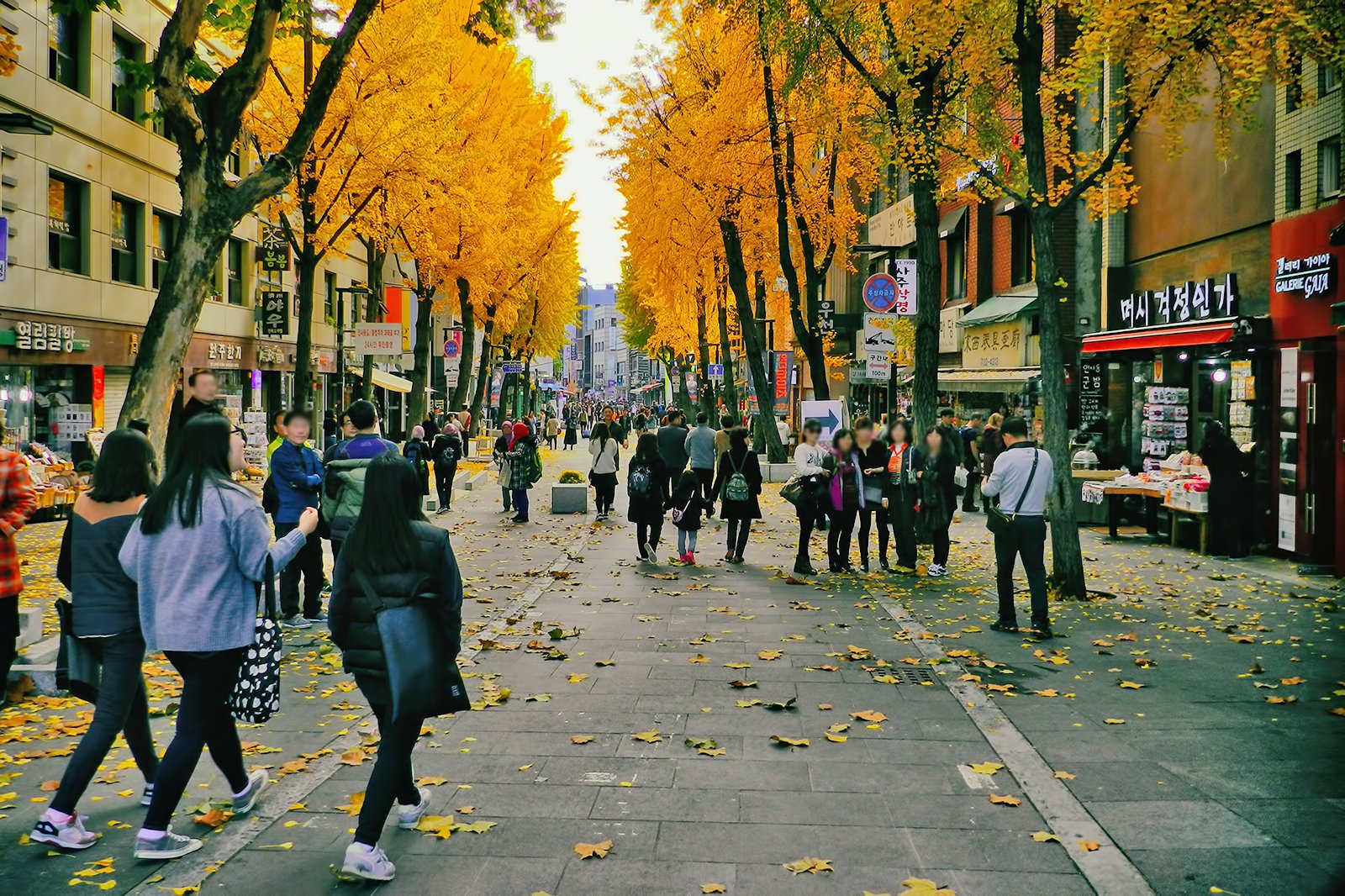 Insa-dong is a vibrant district with dozens of antique shops, traditional teahouses, and bookstores along its alleys. There are around 100 art galleries, attracting those interested in traditional Korean fine art.
Popular spots include Hakgojae Gallery, which displays folk art, and Gana Art Gallery, where you get to see works by up-and-coming artists from across the country. Every weekend, Insa-dong's main street becomes a pedestrian-friendly space. Enjoy classical concerts, art exhibits, and Korean street food during your visit in Insa-dong.
Location: 62, Insadong-gil, Jongno-gu, Seoul, South Korea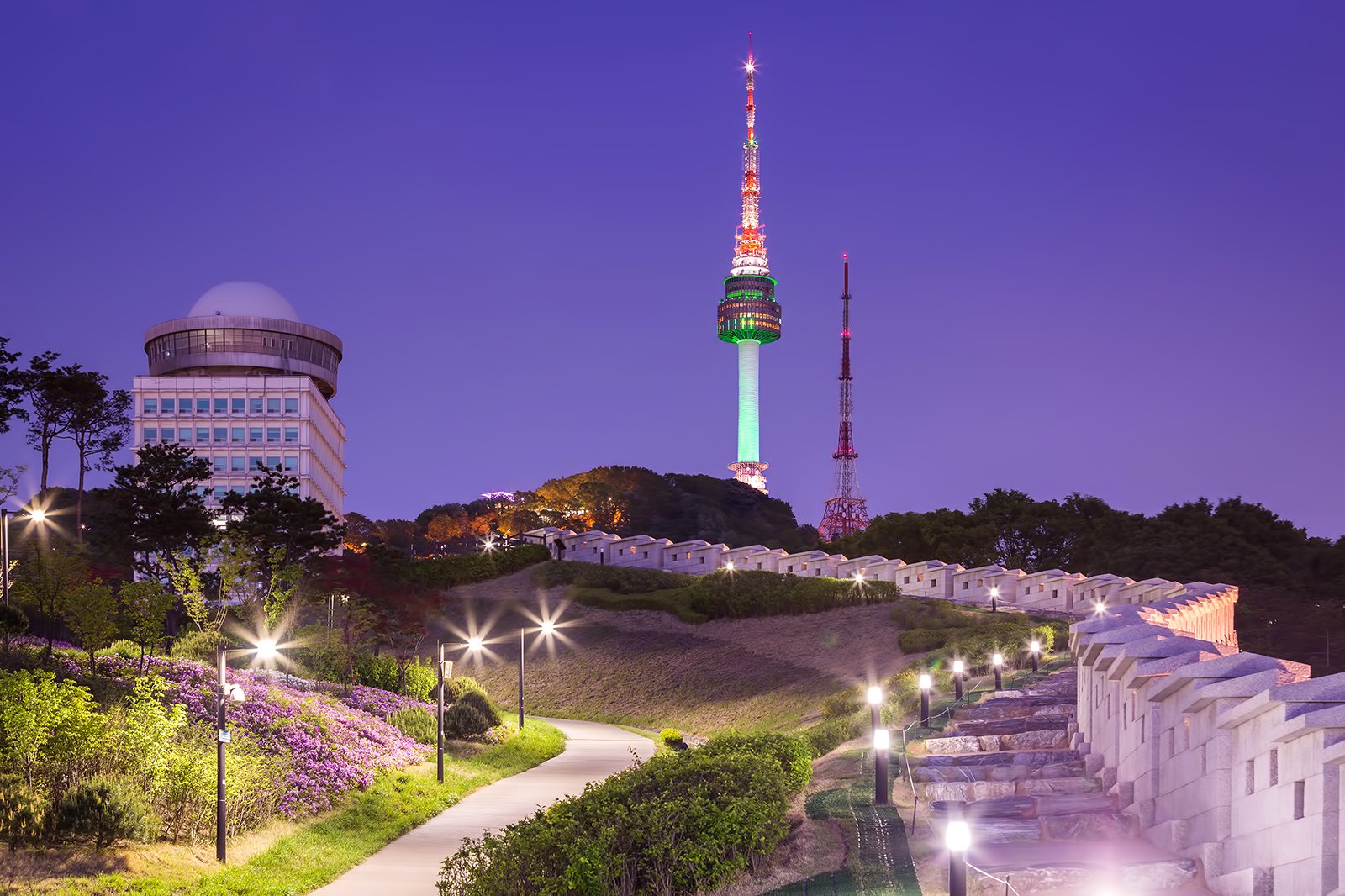 Namsan Park is a recreational spot on Mount Namsan, located in the centre of Seoul. You can choose to travel by cable car or climb a stone stairway to the Palgakjeong Pavilion, an octagonal pavilion with views of the city.
The park has plenty of sightseeing spots, including An Jung-geun Memorial Hall, Namsan Library, and N Seoul Tower. If you're visiting Namsan Park in the early mornings, you'll often see locals jogging along the pathways or practising tai chi at several open spaces.
Location: 231, Samil-daero, Jung-gu, Seoul, South Korea
Phone: +82-2-3783-5900
Couples
Families
Photo
Budget
Adventure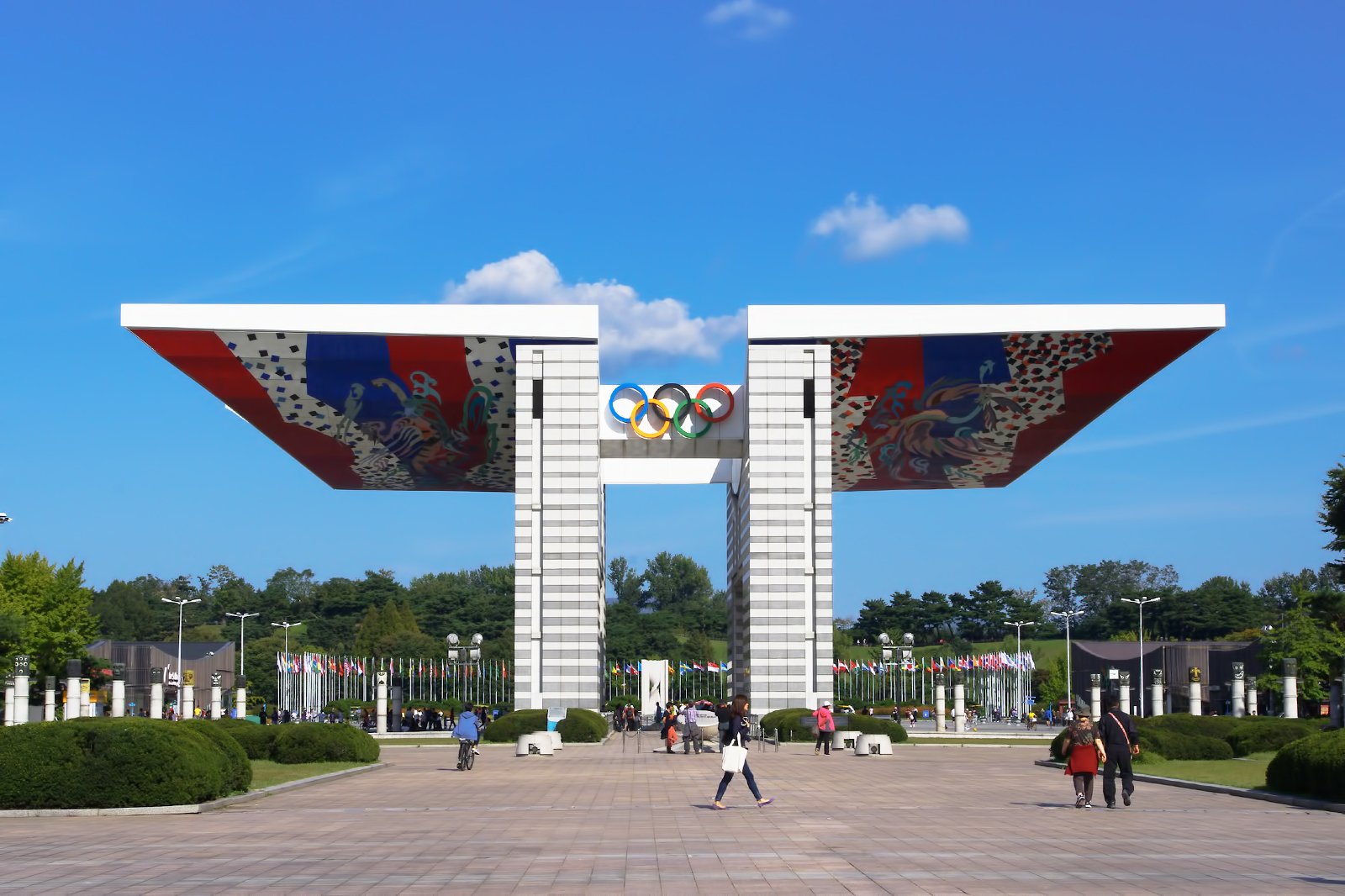 The Olympic Park and Stadium is a recreational centre for exercise-minded visitors in Seoul. It was built to host Seoul's Olympics games in 1988. Athletic competitions, concerts, and large-scale events take place at the stadium year-round.
There's also an Olympic Museum, Mongchon Fortress and the World Peace Gate. The Olympic Park has paved pathways that lead to a sculpture park, where you can see around 200 art installations. The stadium's tennis courts, gymnasium, fencing court, and indoor Olympic pool are all open to the public.
Location: 424, Olympic-ro, Songpa-gu, Seoul, South Korea
Open: Daily from 5am to 10pm
Phone: +82-2-410-1114
Couples
Families
Photo
Adventure
photo by Hhk1201 (CC BY-SA 4.0) modified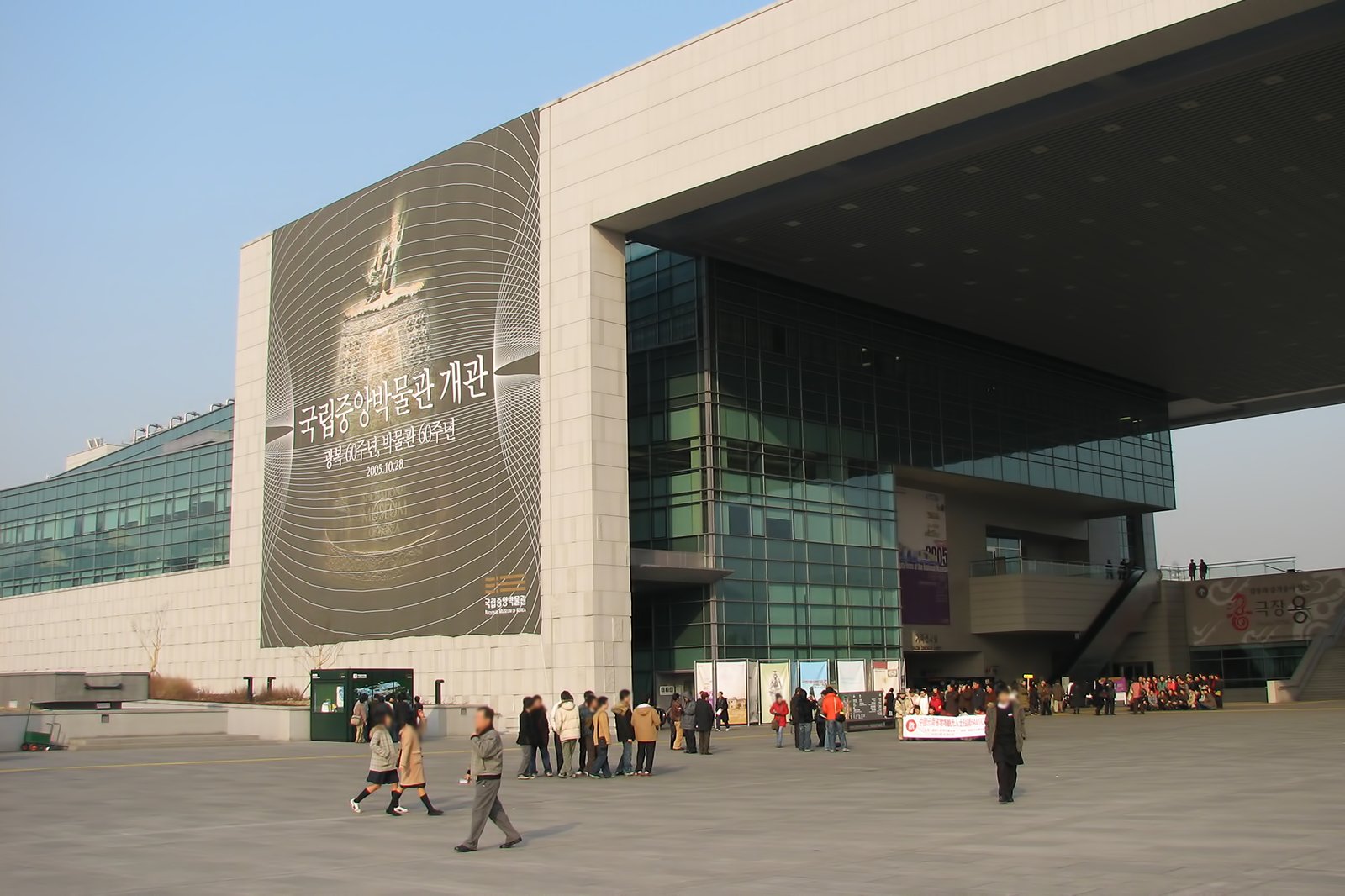 The National Museum of Korea has over 15,000 pieces in its collection of Buddhist sculptures, metalwork, and ceramics. You'll also find a fine arts gallery with paintings from Indonesia, Central Asia, Japan and China.
The 1st floor has relics dating from prehistoric times to the Chosun dynasty, while the 2nd floor houses calligraphy, paintings, and wooden crafts. Families will enjoy Yongsan Family Park, a grassy field with a pond and natural education centre – the park is home to various species of birds, including pigeons and wild pheasants.
Location: 137, Seobinggo-ro, Yongsan-gu, Seoul, South Korea
Open: Monday–Tuesday and Thursday–Friday from 10am to 6pm, Wednesday and Saturday from 10am to 9pm, Sunday from 10am to 7pm
Phone: +82-2-2077-9000
photo by sarahkim (CC BY-SA 2.0) modified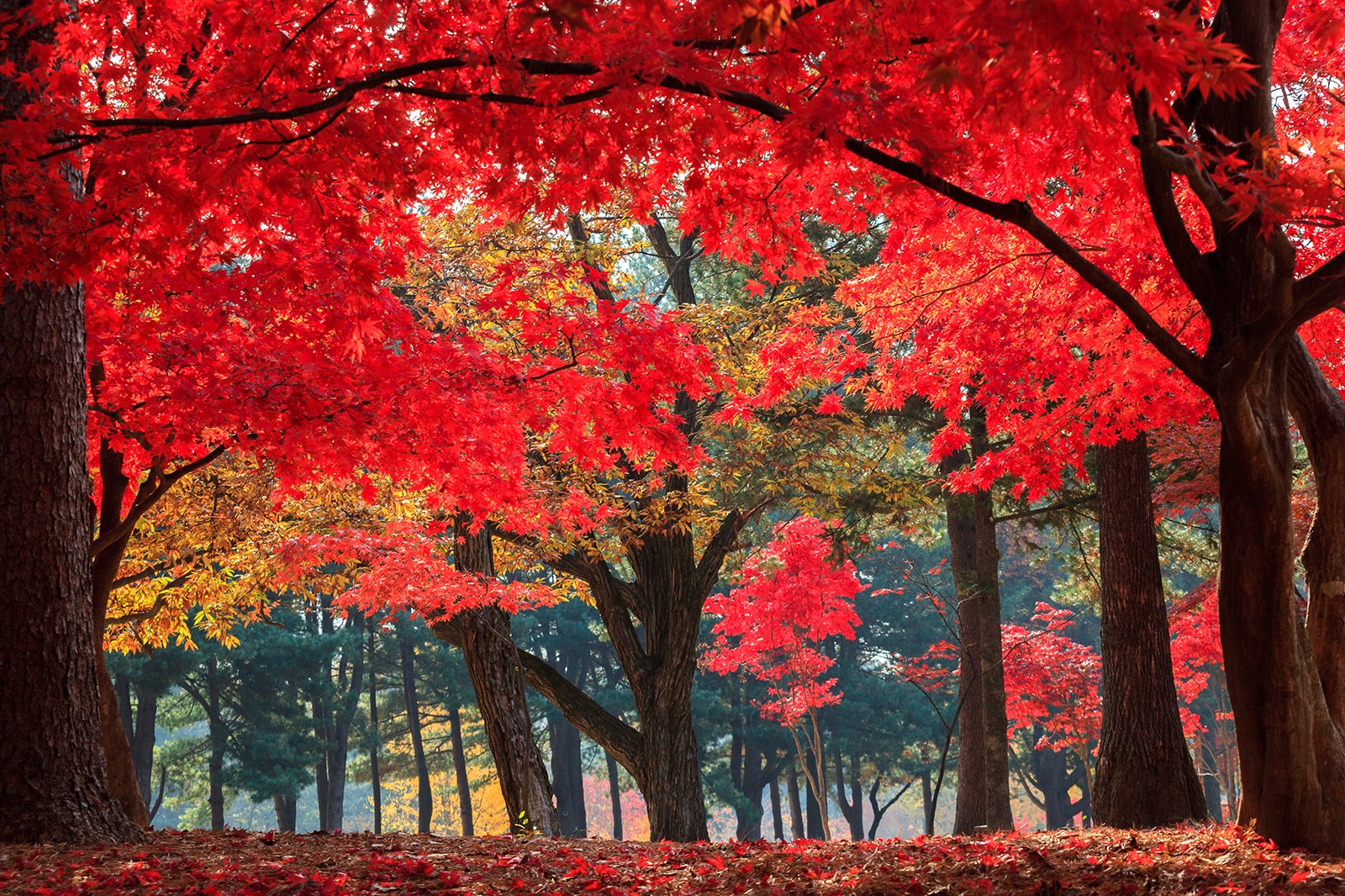 Nami Island, a half-moon-shaped isle in Chuncheon, offers natural landmarks and recreational activities for visitors of all ages. It takes about 2 hours to get to Nami Island by car, followed by a 5-minute ferry ride that departs every 30 minutes until 9pm.
Interesting facilities available on Nami Island include a theme park with merry-go-rounds, a shooting range, roller-skating rinks, resort villas, and bungalows. You can also get see wild animals roaming freely on this island, including deer, rabbits, turkeys, moles, and black woodpeckers.
Location: 1 Namisum-gil, Namsan-myeon, Chuncheon, Gangwon-do, South Korea
Enjoy an overnight experience at a jjimjilbang
Jjimjilbang is a traditional bathhouse in Seoul where you can not only relax in quirky sauna rooms, but also spend the night at an affordable price. Open 24 hours a day, many of these establishments are also fitted with facilities such as hot tubs, snack bars, swimming pools, fitness clubs, golf ranges, noraebang (karaoke rooms) while sleeping quarters are fitted with sleeping mats or bunk beds. The entry fee to a typical jjimjilbang is priced between 6,000 and 8,000 won, making it a popular stay option for backpackers and budget travellers.
A popular night-time activity in Seoul is noraebang (karaoke), where you can belt out to your favourite tunes until the wee hours of the morning. Available almost everywhere in the city, noraebang centres are usually equipped with massive televisions, ample microphones and tambourines, as well as a collection of songs in English, Japanese, Korean and Chinese. The average rate per hour is between 2,000 and 20,000 won, while beer, soft drinks and snacks are available at additional charges.