10 Best Things to Do in Tenerife
What is Tenerife Most Famous For?
The largest of the Canary Islands, Tenerife is a paradise of sandy beaches, thrilling nightlife and idyllic villages. For those looking for a mixture of fun activities and cultural events, you could hardly pick a better spot than Tenerife. The best things to do in Tenerife revolve around a local culture that's typically Spanish – intense heat drives locals to take a siesta in the afternoon and eat their evening meal late at night.
The island is one of Spain's more popular tourist destinations, so be prepared to throw yourself into a cosmopolitan mix of visitors in the towns and on the beaches. If you don't mind crowds, consider visiting the island during the Carnival of Santa Cruz de Tenerife to experience the whirlwind atmosphere and crazy parties.
What are the best things to do in Tenerife?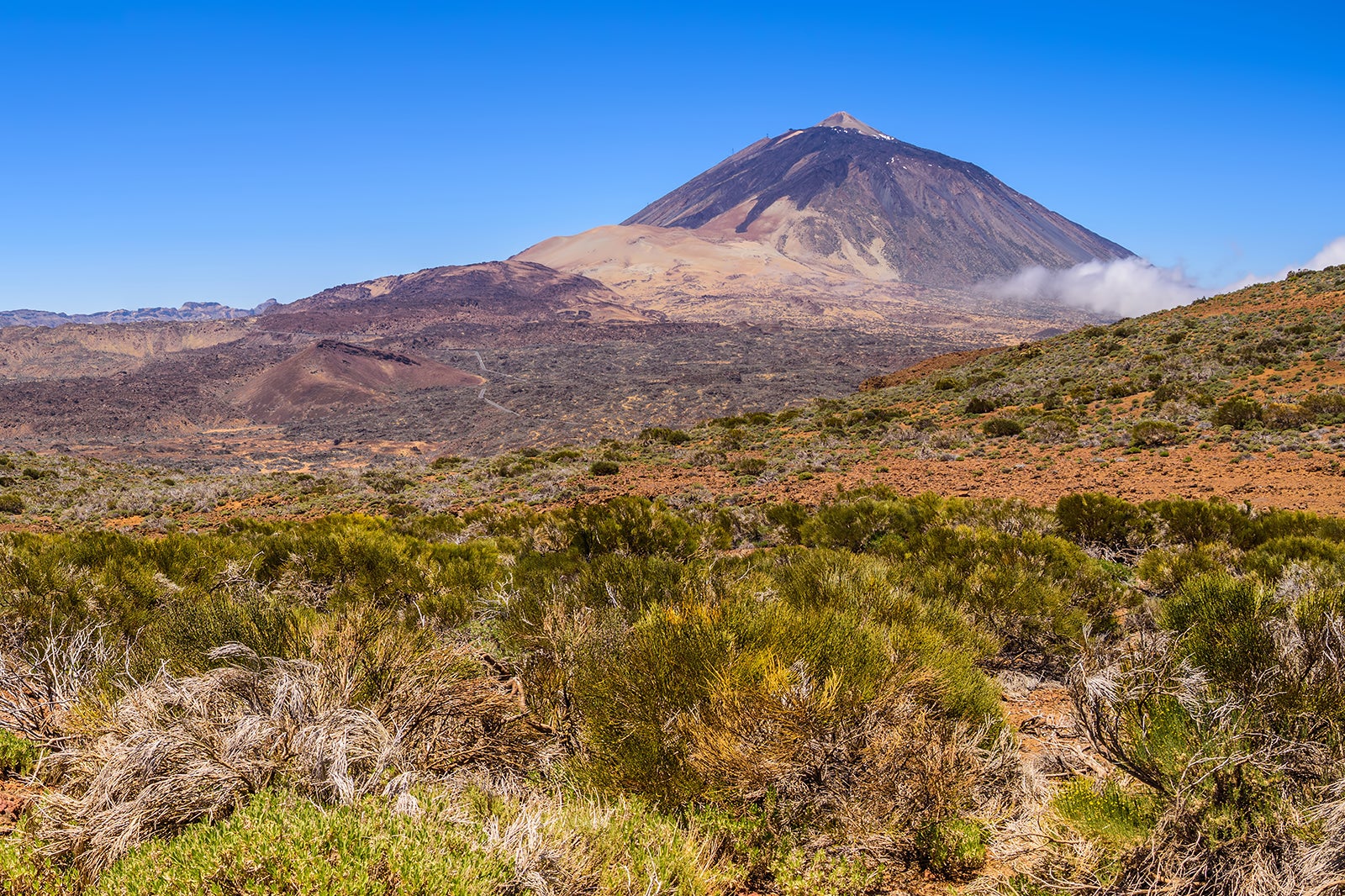 Teide National Park
Go hiking in Tenerife's natural wonder
At the centre of Teide National Park lies the natural pride and joy of Tenerife: Teide Volcano. The highest peak in all of Spain's territories, the volcano looks different from every angle – so make sure to catch them all! The park is especially popular with fans of the great outdoors, but the fascinating rock structures and caves will interest any non-specialist as shown by the millions of tourists who visit each year.
The rocks vary in shape, size and colour; some are lava tunnels and others look like moon rocks. This epicentre of natural wonder is accessible by car – and for those short of time even a speedy drive through the park will not be wasted – and those looking for a longer stay can hike around the park and up to the top of the peak of Mount Teide (with the assistance of a cable car).
Location: Teide National Park, Santa Cruz de Tenerife, Spain
Open: Tuesday–Sunday from 9am to 2pm and from 3.30pm to 6pm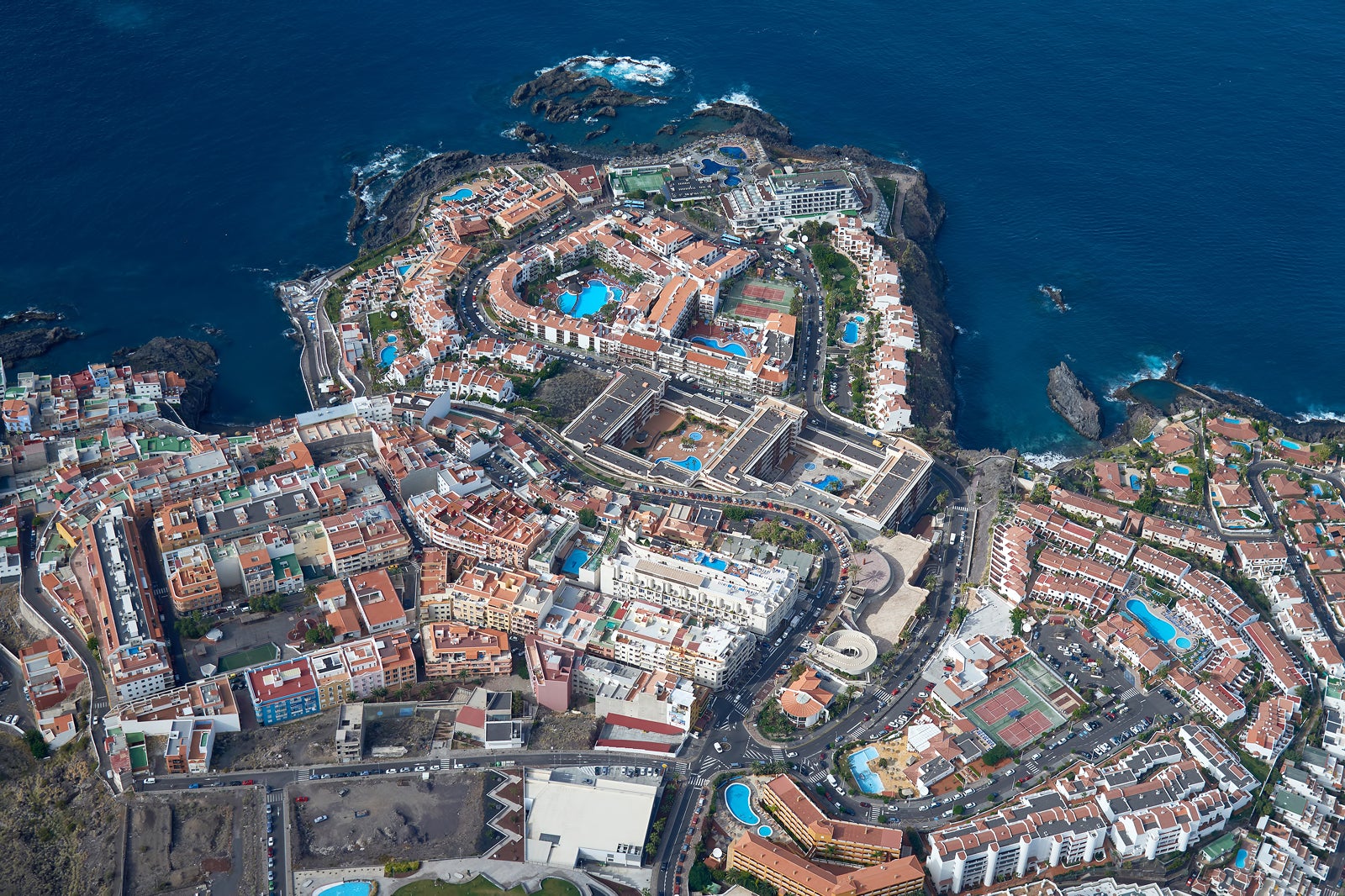 Los Gigantes
Spend some time on the black beaches in this small town
Los Gigantes is a resort town on the western coast of the island, named after its remarkable 800-metre high cliffs which translate to 'the Giants' in English. The town is quieter than other resorts on the island while still offering a brilliant selection of beaches, restaurants and hotels.
Indeed, one of the best things to do in Tenerife is simply taking in the coastal beauty. The town has Tenerife's distinctive black sand beaches (the colour due to the volcanoes on the island) such as Los Guíos, from which you can enjoy an unspoiled view of Los Gigantes while sunbathing and swimming. The town is also a hotspot for whale-watching tours.
Location: Los Gigantes, Santa Cruz de Tenerife, Spain
photo by Wouter Hagens (CC BY-SA 4.0) modified
Playa de Las Teresitas
Soak up the sun and watch the world go by
Playa de Las Teresitas stands out in Tenerife for its lusciously golden sand, in contrast to Tenerife's standard black sand beaches. The sand is imported from the Sahara and makes for a stunning addition to Tenerife's many beaches.
Breakwaters have been built so that the imported white sand does not flow into the sea, but it also has the added advantage of calming the waters, which makes for excellent swimming conditions.
Location: Playa de las Teresitas, Santa Cruz de Tenerife, Spain
Couples
Families
Photo
Budget
Unusual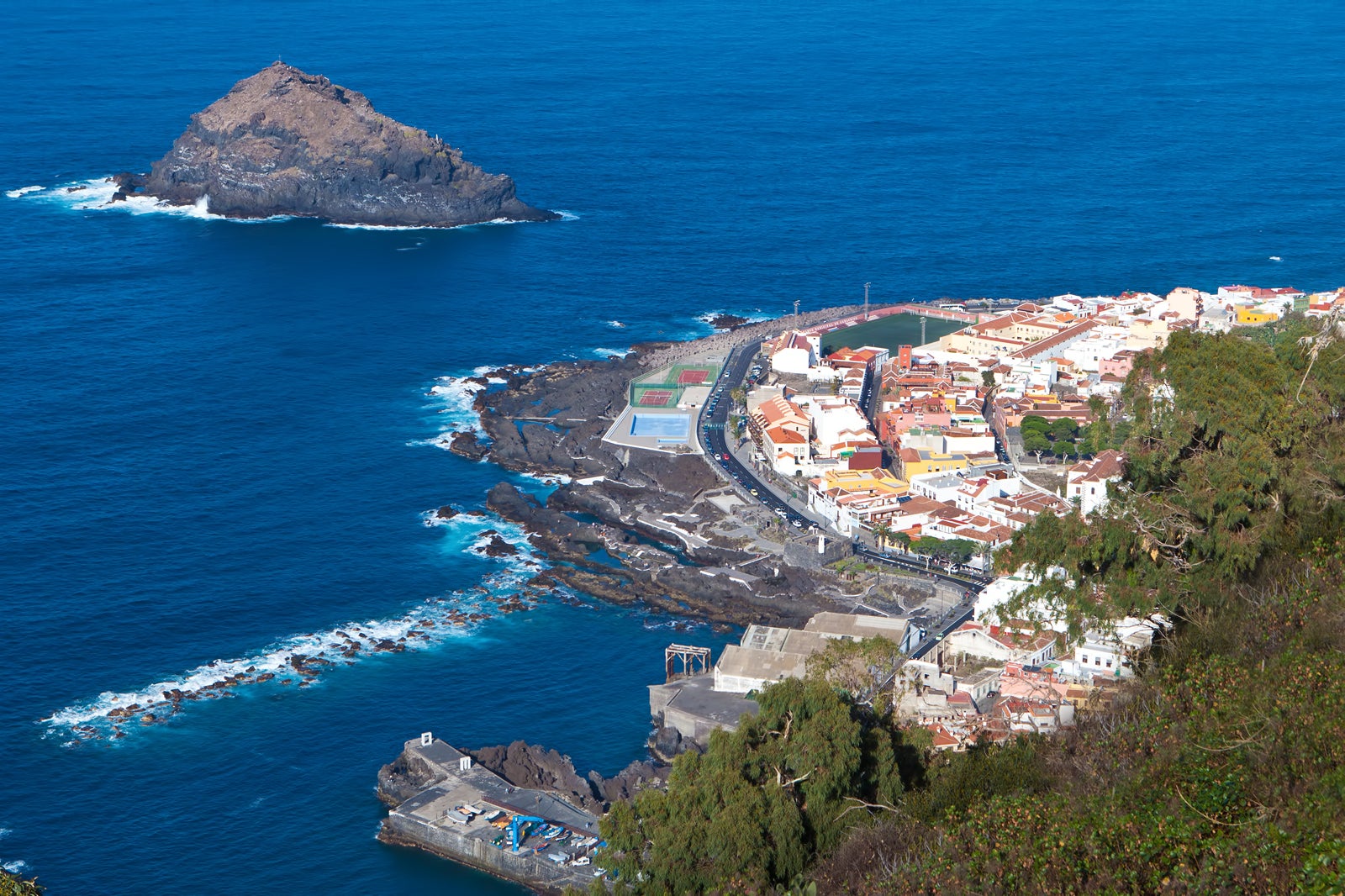 Garachico
Immerse yourself in the local culture
Garachico is a small town on the northern coast of Tenerife. The town's wealth and prosperity was hit hard by a volcanic eruption in the early 18th century, which almost destroyed the entire town. Due to plenty of hard work best summarised by the motto 'Glorious in Adversity,' the town rebuilt and is now a charming community popular with tourists.
The townspeople have little to thank that particular 18th-century eruption for, but the one positive is the distinctive rock pools it left behind on the coast, which offer a more unusual swimming backdrop. The town is full of interesting religious buildings to visit but the highlight is the typically Spanish main square, the Plaza de la Libertad.
Location: Garachico, Santa Cruz de Tenerife, Spain
photo by Bengt Nyman (CC BY 3.0) modified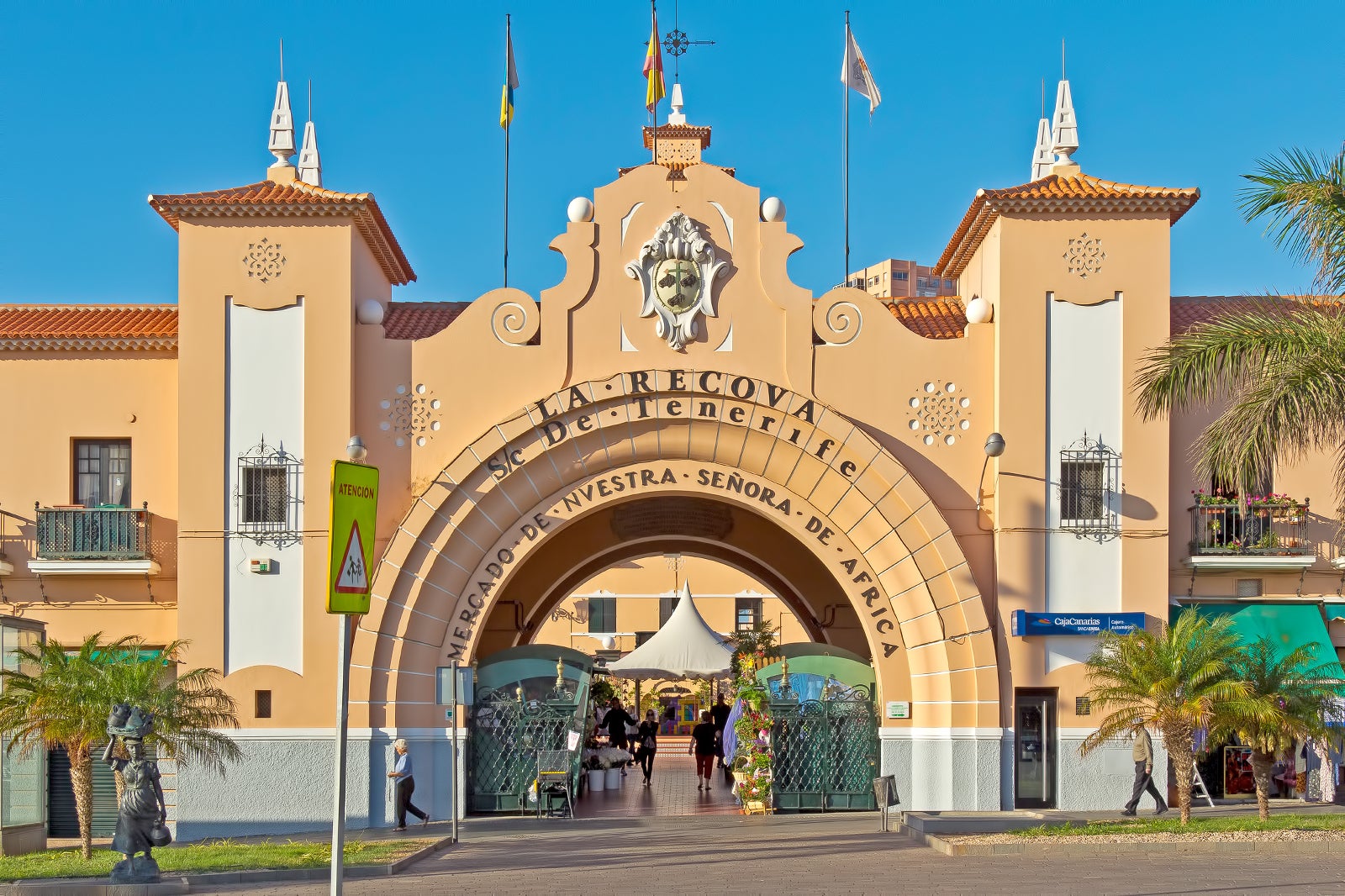 Mercado Municipal Nuestra Señora de Africa
Browse the stalls and enjoy a delicious meal
The Mercado Municipal Nuestra Señora de Africa is a large marketplace in Santa Cruz de Tenerife. The salmon-pink building is unmissable on the Avenida de San Sebastián and draws crowds of tourists and locals. There's a commercial part to the complex with boutiques and shops where you can buy souvenirs, but the bustling food market is the best place to be.
Lovers of seafood will be happy on the lower level where an extensive fish market offers everything from octopus to tuna to langoustines. These are best served with a cold glass of beer or cava, which is also readily available, and for those who aren't keen on fish there are plenty of tapas options to choose from.
Location: Mercado Municipal Nuestra Señora de Africa, Avenida de San Sebastián, 51, 38003 Santa Cruz de Tenerife, Spain
Open: Daily from 8am to 2.30pm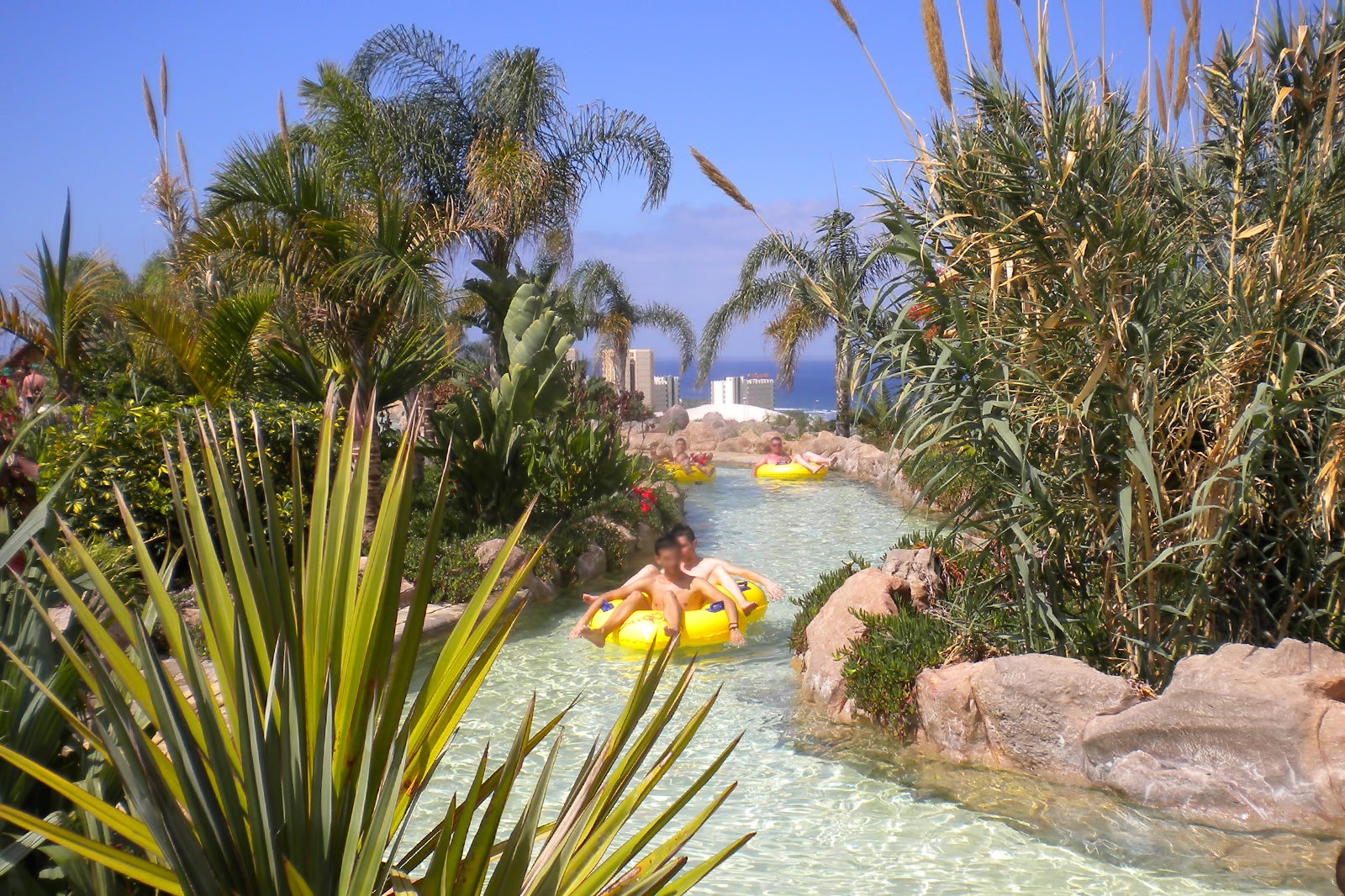 Siam Park
Cool down from the summer heat at Tenerife's best theme park
Siam Park is a Thai-themed water park popular with families. Children of all ages will have fun floating around on the mile-long lazy river in the park. The park also features a wave pool that is bordered by a long, artificial white sandy beach.
For thrill-seekers, Siam Park is also home to rapids rides and water slides that are sure to get your adrenaline pumping. The Tower of Power slide is an almost vertical drop that ends by going through a tank filled with sharks and other marine animals.
Location: Siam Park, Avenida Siam, 38660 Costa Adeje, Santa Cruz de Tenerife, Spain
Open: daily from 10am to 6pm
photo by steve p2008 (CC BY 2.0) modified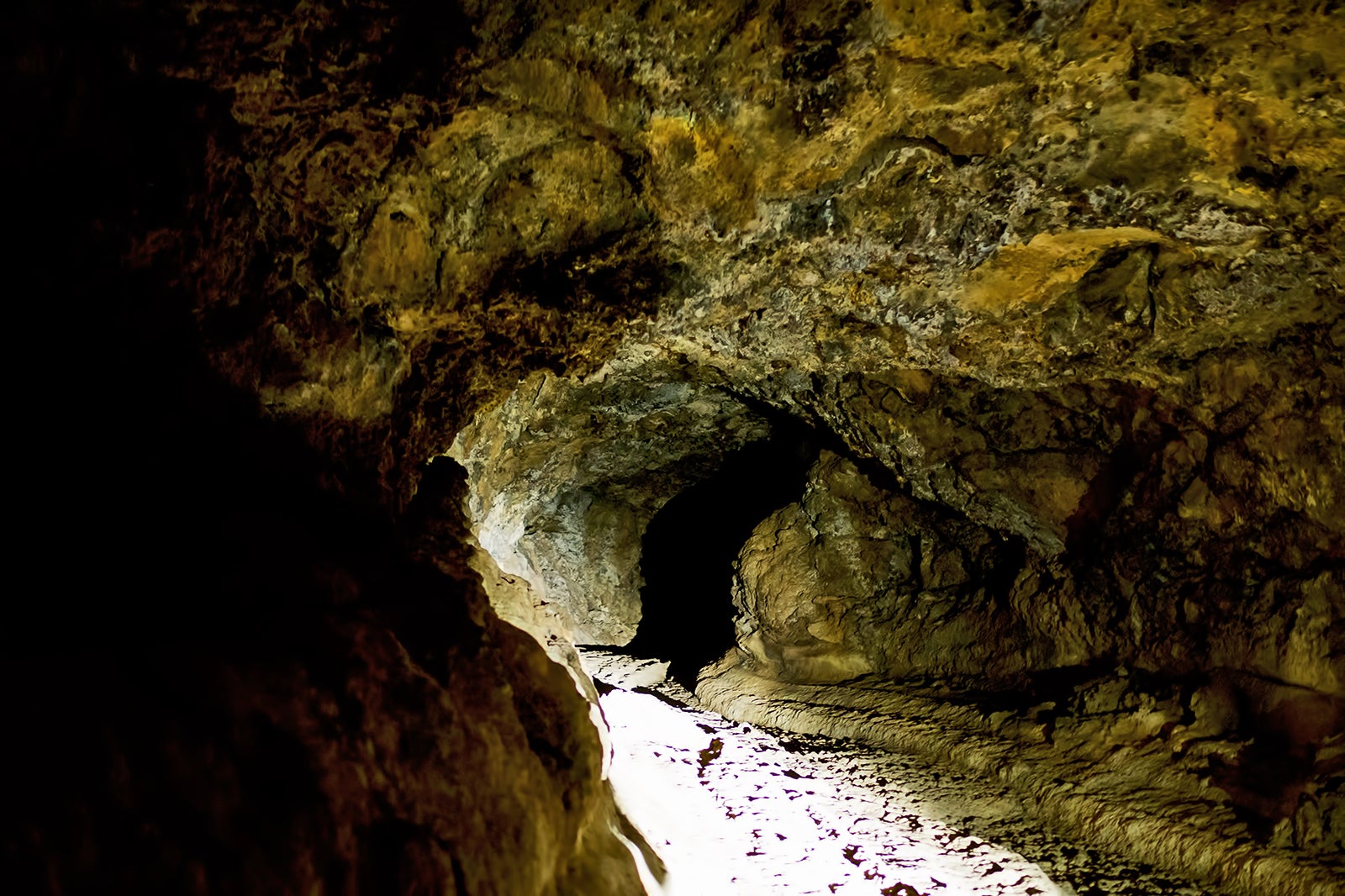 Cueva del Viento
Explore some of the biggest lava tubes in the world
Cueva del Viento is a series of caves located in the town of Icod de los Vinos in the northern part of Tenerife. The caves consist mainly of lava tubes, rock structures that formed around a lava flow from the nearby Pico Viejo, the second-highest volcano after Mount Teide.
Guided group tours of the lava tubes are a fascinating experience. Some parts of the tour will involve squeezing yourself through the tunnels, and so the tour is not suitable for people with mobility issues or claustrophobia.
Location: Cueva del Viento, Camino los Piquetes, 51, 38438 Icod de los Vinos, Santa Cruz de Tenerife, Spain
Open: Tuesday, Saturday and Sunday from 9am to 4.30pm. Monday, Wednesday, Thursday and Friday from 9am to 7pm
photo by bubusbubus (CC BY 2.0) modified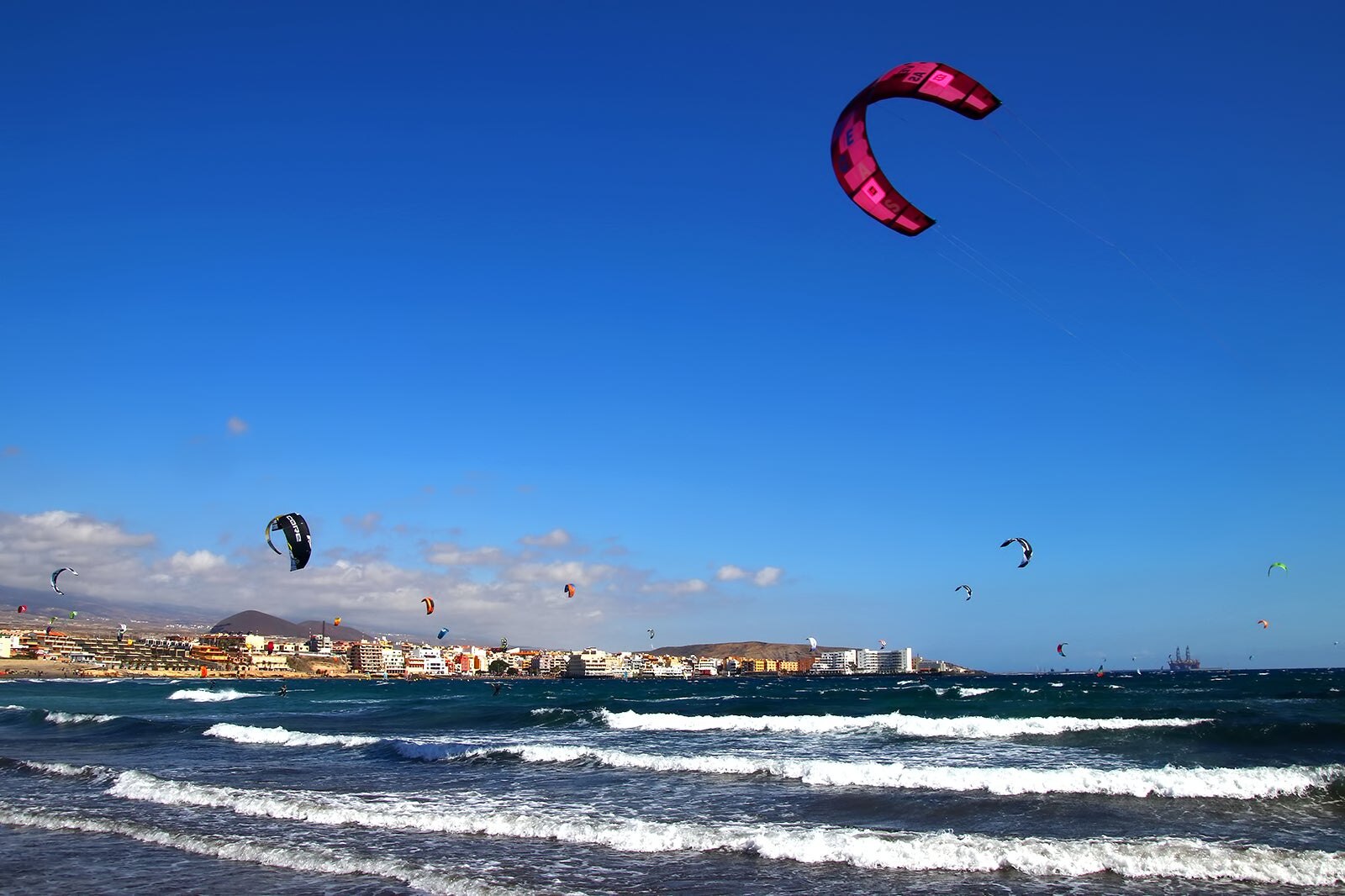 Windsurfing on El Médano Beach
Enjoy water sports at one of Tenerife's prime beaches
For water sports enthusiasts El Médano Beach is an exciting place to spend a day on the southern tip of Tenerife. Strong winds on this part of the island make for perfect windsurfing and kitesurfing conditions. Lessons are available for beginners.
The wide, golden-sand beach is beautiful in its own right and is a favourite amongst local islanders. Even so, the gusts and breezes that make it such an excellent place to windsurf can disturb those looking to sunbathe and relax on the sand.
Location: El Médano Beach, Granadilla, Santa Cruz de Tenerife, Spain
Couples
Families
Budget
Adventure
photo by Guillaume Baviere (CC BY-SA 2.0) modified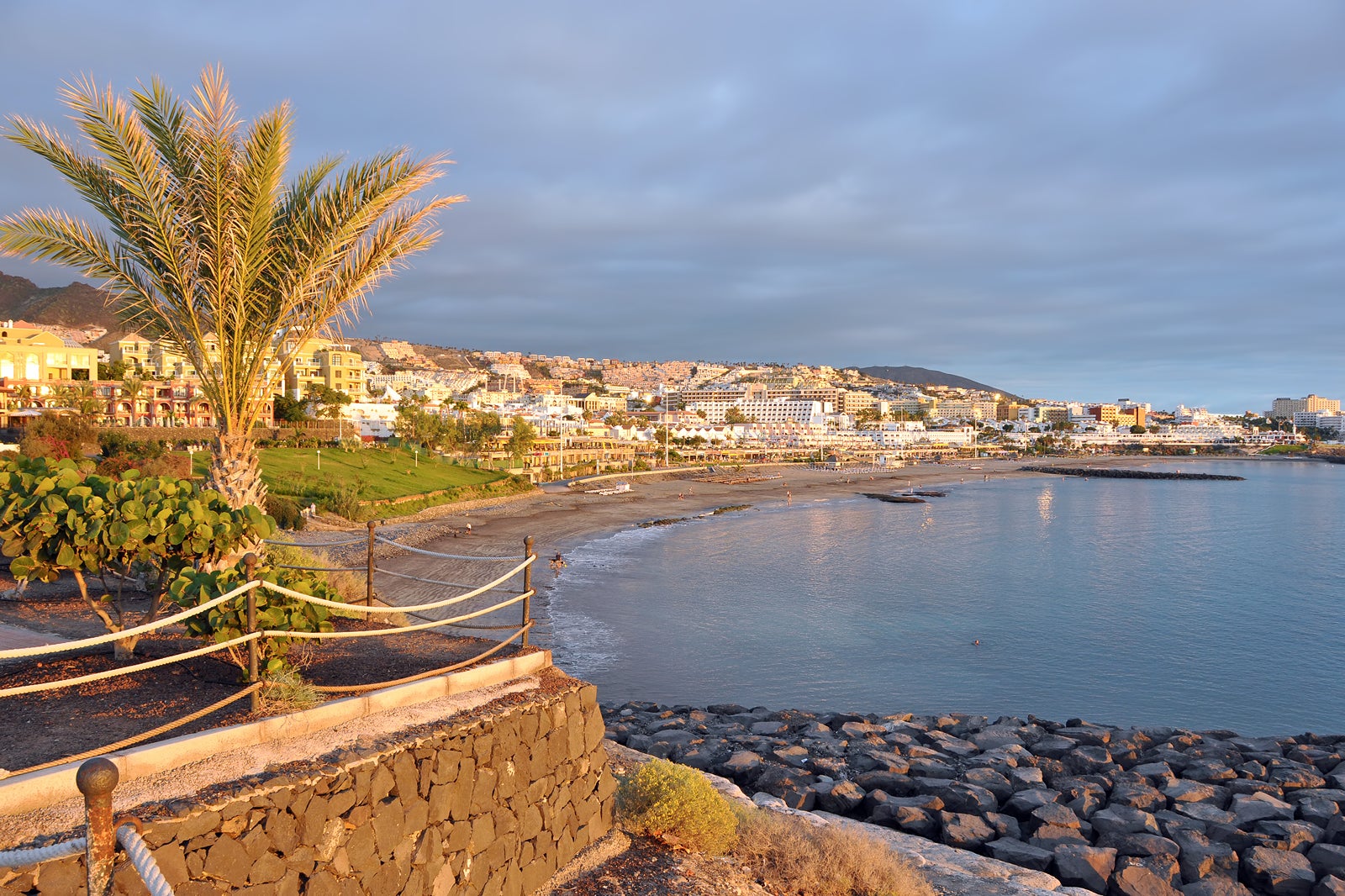 Enjoy seafood overlooking Playa de Fañabé
Sample the local delicacy and enjoy the view
Playa de Fañabé is one of Tenerife's beautiful man-made, white, sandy beaches. Immensely popular with locals and tourists, you won't have to go far away from the sandy beach to find a wide variety of clubs and restaurants.
The prime location of Playa de Fañabé makes it an excellent spot to watch the sunset while enjoying a local meal. Tenerife is a great place to eat seafood, with the most popular fish being the vieja, known in English as the combtooth blenny or parrotfish. Other popular options include squid, octopus and sea bream.
Location: Playa Fañabé, Costa Adeje, Santa Cruz de Tenerife, Spain
Couples
Families
Photo
Food
Nightlife
photo by Marc Ryckaert (CC BY-SA 4.0) modified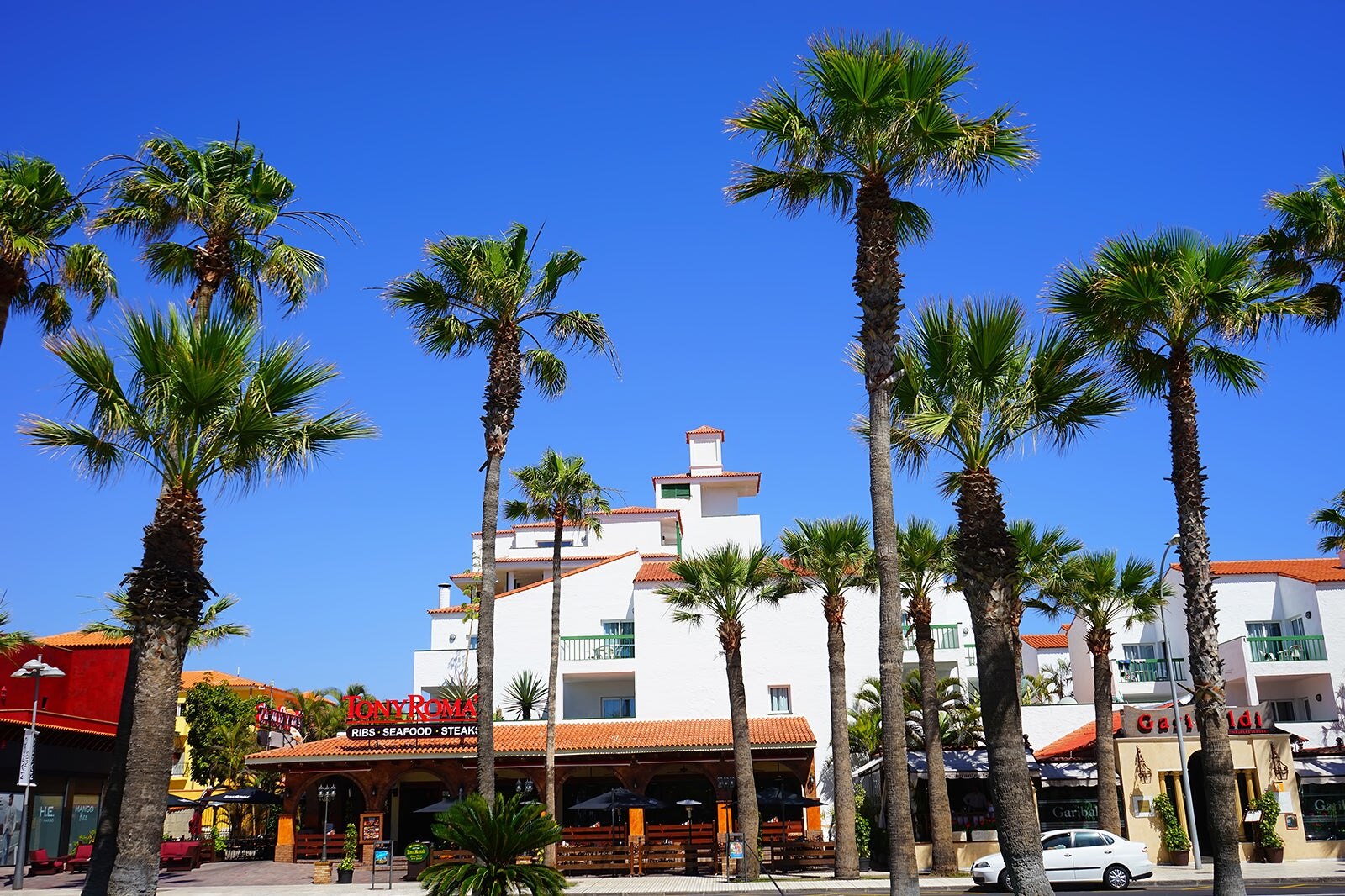 Party the night away in Los Cristianos
Experience the nightlife in the buzzing centre of Los Cristianos
Los Cristianos is a famous resort in Tenerife and one of the best spots on the island if you're looking for a night of partying. Popular with a younger crowd and full of accommodation options to suit all budgets, the town is also home to several British-owned pubs and clubs geared towards tourists.
Previously a fishing town, Los Cristianos has a beautiful port as well as stunning beaches. From the port, party cruises are available, as well as glass-bottom boat excursions and diving day trips for those who aren't too tired from the night before!
Location: Los Cristianos, Santa Cruz de Tenerife, Spain