6 Best Temples to See Cherry Blossoms in Kyoto
Great Places in Kyoto for Cherry Blossoms
Cherry blossom viewing in Kyoto is a magical time, when the fabled pink flowers of the cherry blossom (sakura in Japanese) creates a swathe of colour across the city. It's probably the most scenic time of year, when locals head to these popular spots to sit or walk beneath the trees and enjoy the fleeting bloom of the cherry blossoms (an activity known as hanami). The temples listed below are some of the most extraordinary spots to witness this unique natural phenomenon every April in Kyoto.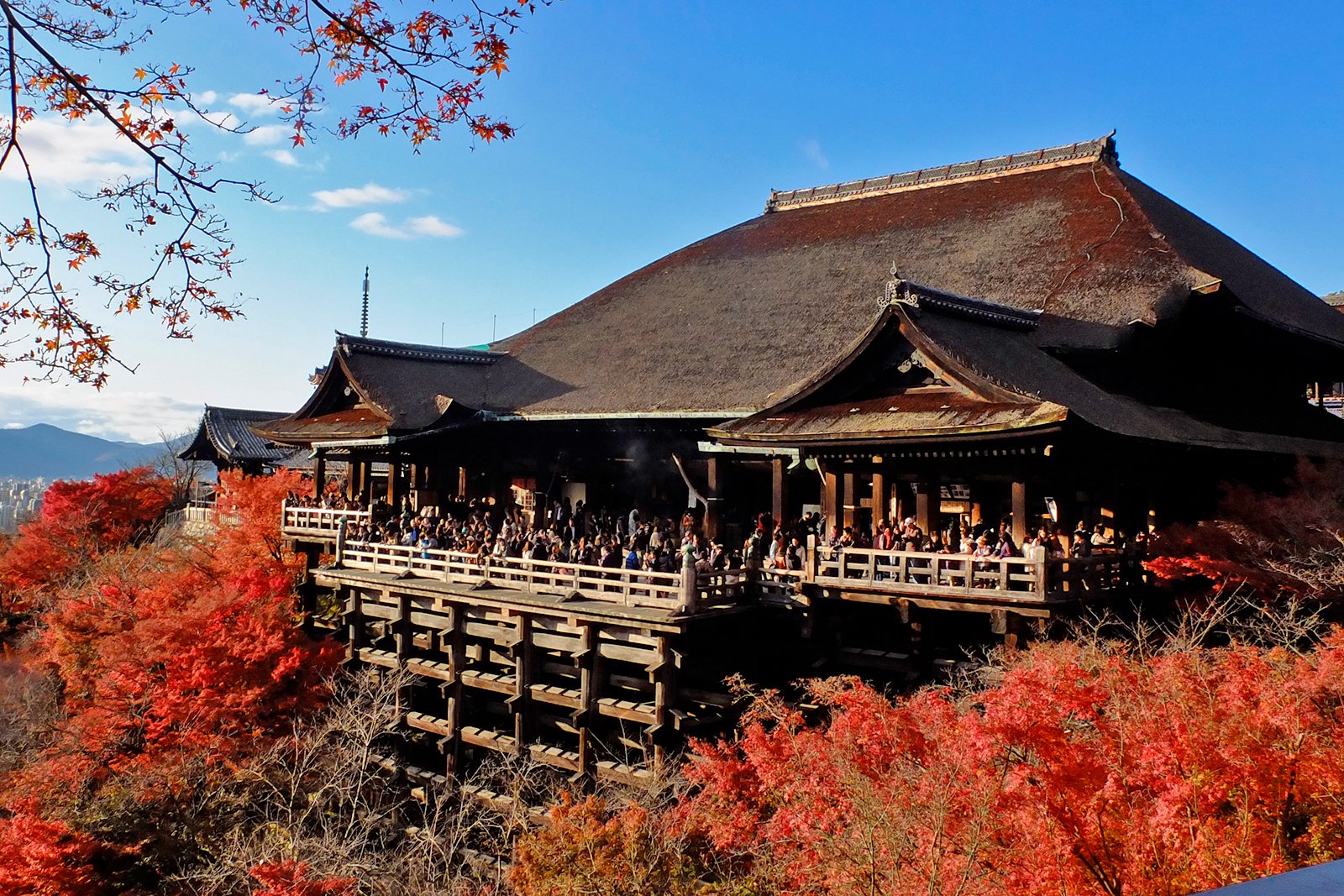 A visit to Kiyomizu-dera in the wooded hills east of Kyoto is like travelling back in time. Kiyomizu-dera ('Pure Water Temple') is a UNESCO World Heritage Site and one of the most celebrated temples in the whole country. Kiyomizu Temple is best known for its 13-metre high wooden platform that juts out from the main hall.
The platform affords visitors great views out over the numerous maple and cherry blossom trees below that burst into a bright sea of colour in spring and autumn. It also has panoramic views of Kyoto city centre in the distance. The main hall was built without the use of nails and houses the temple's primary object of worship – a small statue of the eleven faced, thousand-armed Kannon.
Location: 294 Kiyomizu 1-chome, Higashiyama Ward, Kyoto, Kyoto Prefecture 605-0862, Japan
Open: Daily from 6am to 6pm (extended opening times in the summer months)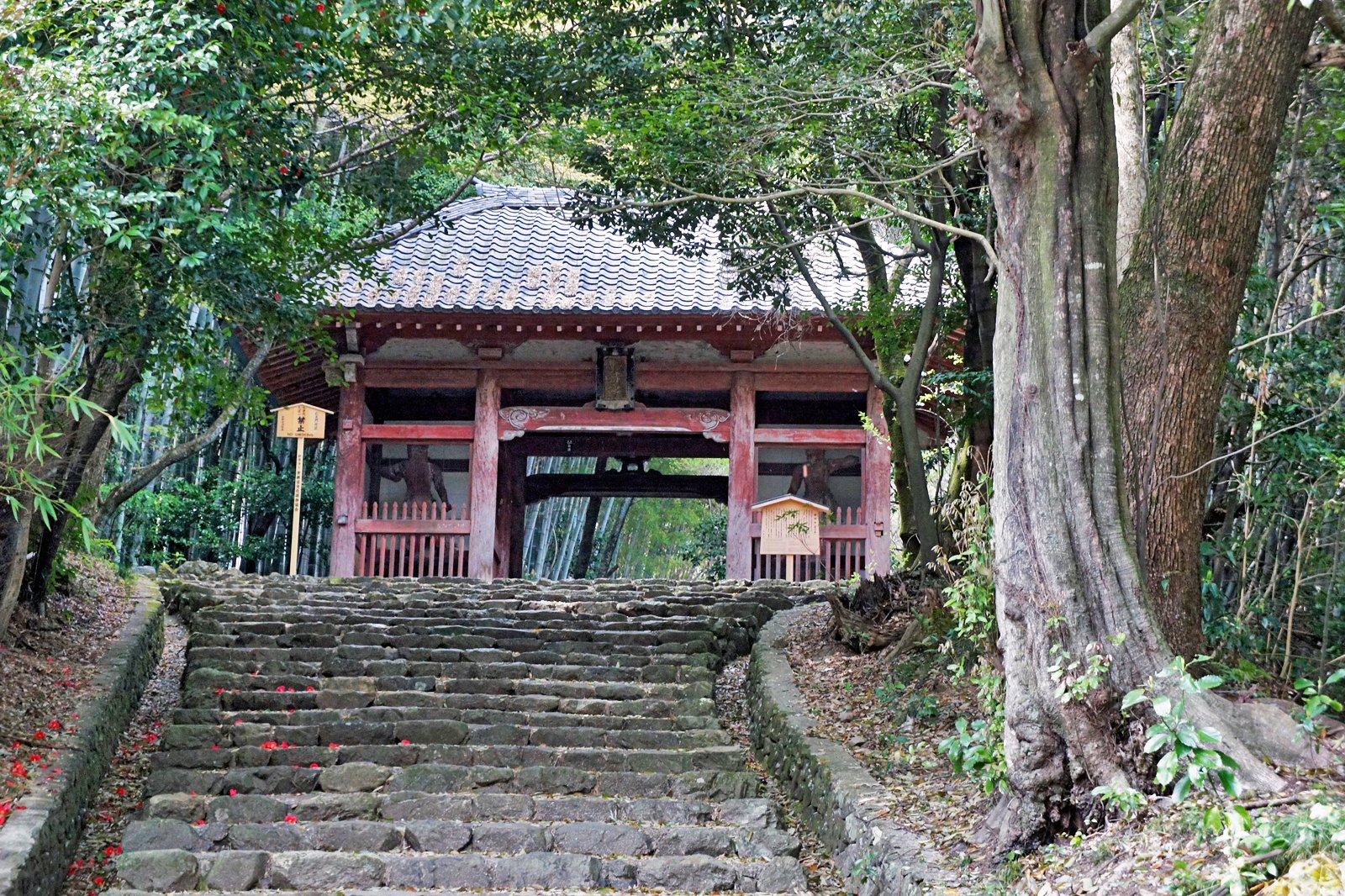 Shojiji Temple (The Cherry Blossom Temple)
Shojiji Temple is a very old Heian-period landmark that's believed to date back to 680. As with many of Kyoto's religious sites, it's famous for its cherry blossom trees and indeed the masses of pink flowers cascade in splendor every April. On the temple verandah sits a carving of Binzuru, a Buddhist devotee who is said to have had healing powers. Japanese patrons pray to the carving to ensure good health.
Location: 1194 Minamikasuga-cho, Oharano, Nishikyo, Kyoto, 610-1153, Japan
Open: Daily from 9am to 4.30pm
Phone: +81 (0)75 331 0664
photo by 663highland (CC BY-SA 3.0) modified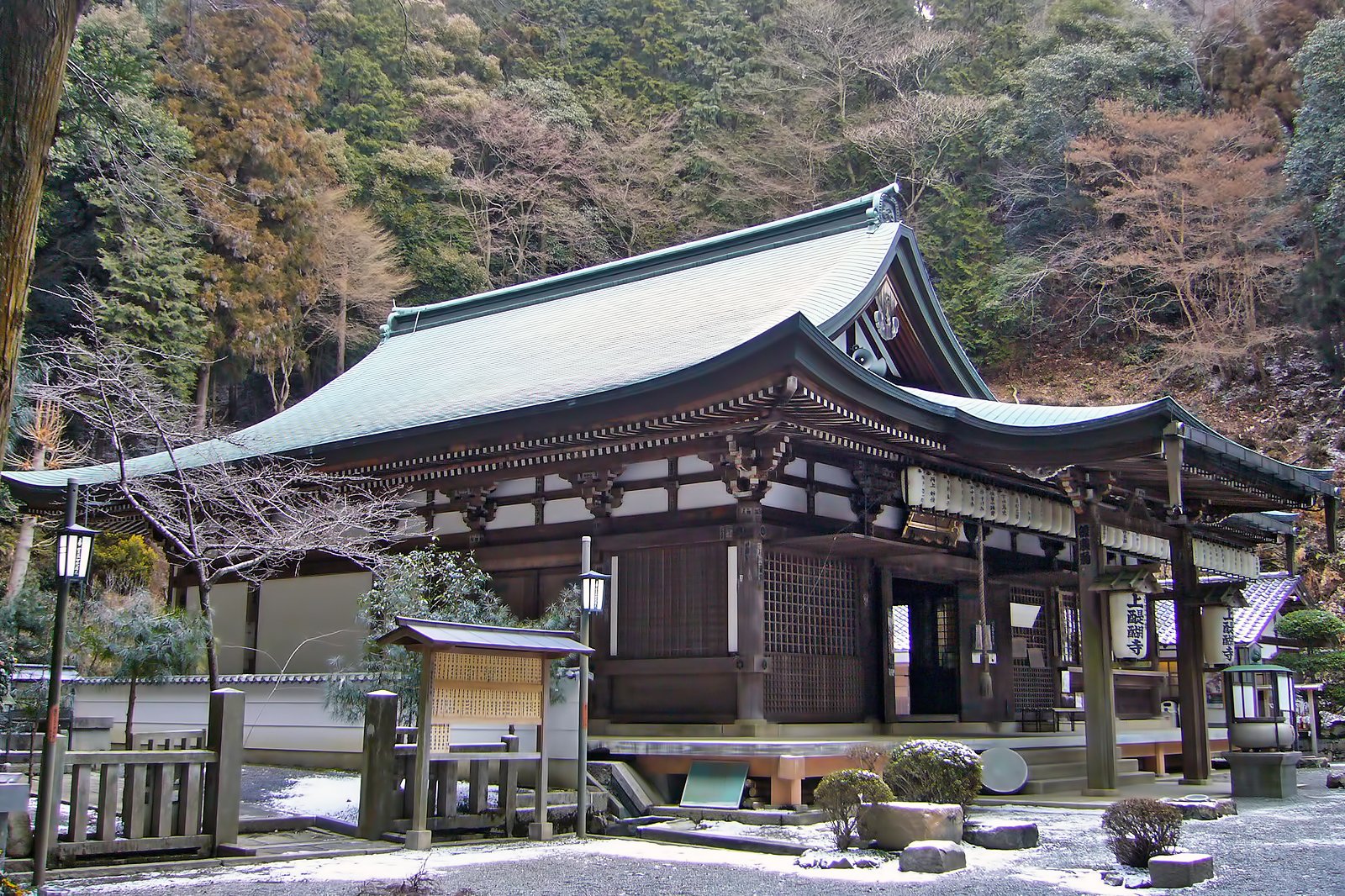 Kami Daigo-ji Temple is an exquisite place to view the spring cherry blossoms in Kyoto. This Shingon-sect temple dates back to 874, when it was established by a monk named Shobo. Local lore holds that when he died and was buried on the temple grounds, his body went to heaven leaving only his shoes. Mostly destroyed by earthquakes and fires, it was subject of a major renovation in the 16th century by Hideyoshi Toyotomi. To reach Kami Daigo-ji Temple, take the Tozai Line to Daigo Station.
Location: 21 Daigo Higashi Oji-cho, Fushimi-ku, Kyoto
Open: Daily from 9.30am to 4.30pm
Phone: +81 (0)75 371 5649
photo by 663highland (CC BY-SA 3.0) modified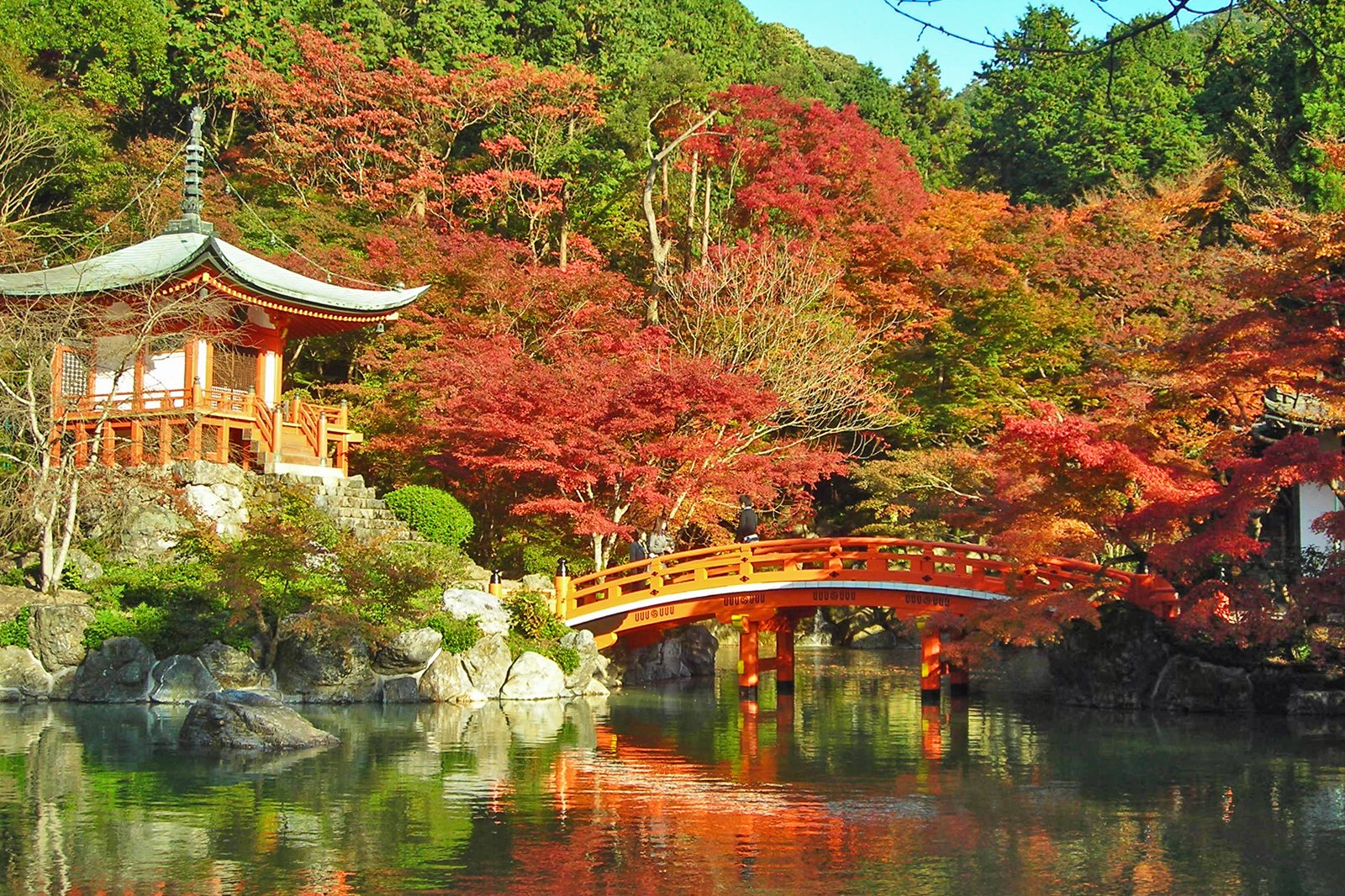 Nestled into the foothills of a graceful mountainside, Shimo Daigo-ji Temple dates back to 874 and its five-story pagoda is said to be one of the oldest structures in Kyoto. The temple was all but derelict by the 16th century until Hideyoshi Toyotomi happened to visit during the April cherry blossom season and so taken by its beauty, he ordered a complete restoration. The main temple houses amazing artworks by the Kano school and a wonderful Chinese-inspired garden. You may also like to walk up the mountain to reach some stunning sub-temples.
Location: 22 Daigo Higashi Oji-cho, Fushimi-ku, Kyoto
Open: March – October from 9am to 5pm, November – February from 9am to 4pm
Phone: +81 (0)75 571 0002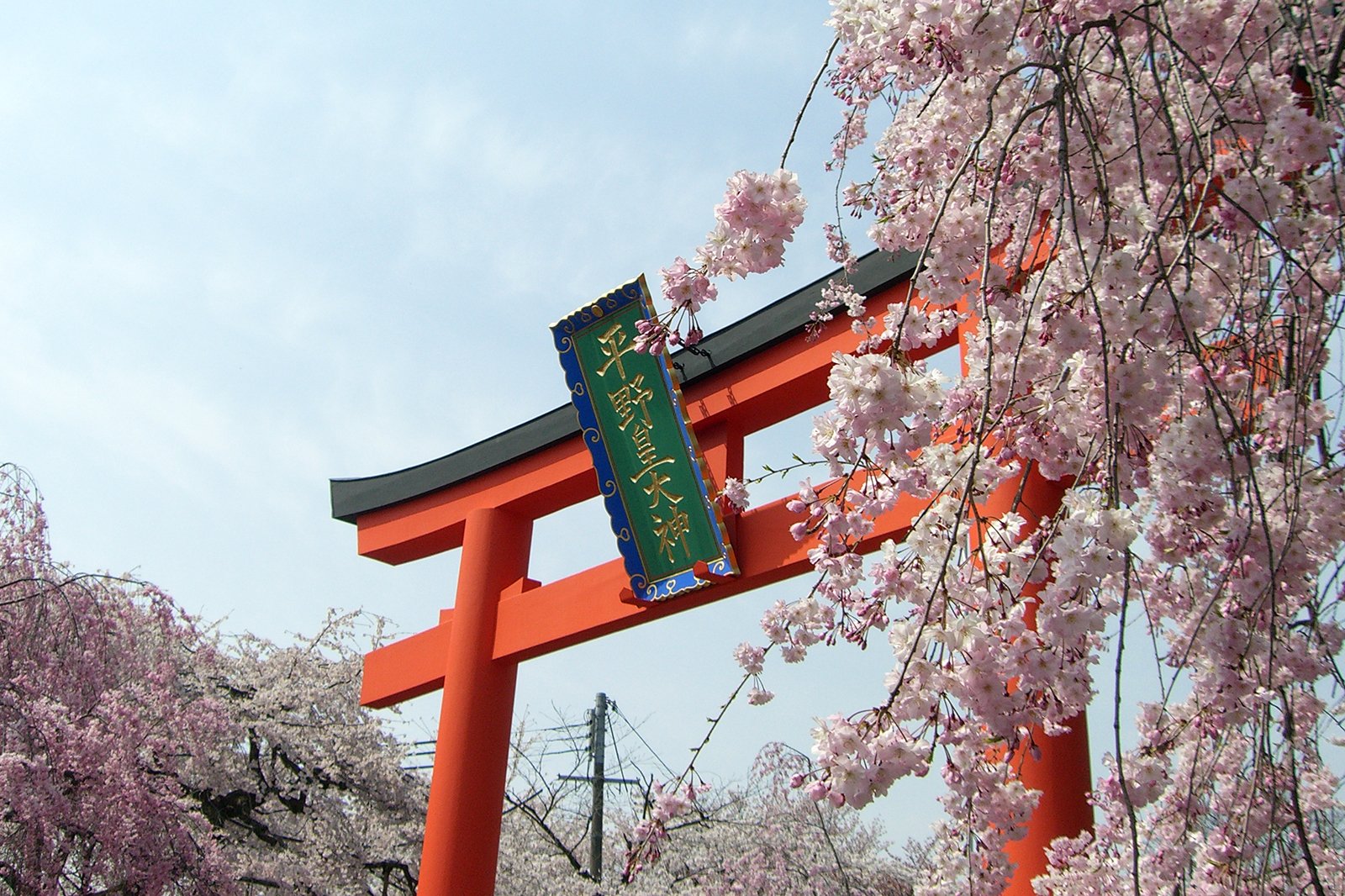 If you happen to be in Kyoto in spring, Hirano Jinja Shrine is a notable spot to witness the stunning cherry blossoms and experience hanami (flower-watching) Kyoto-style. Every year on 10th April, the Cherry Blossom Festival is held here. Food and drink stalls are set up and there are free performances of traditional koto and shamisen musical reviews.
Location: 1 Hirano Miyamotocho, Kita, Kyoto, 603-8322, Japan
Phone: +81 (0)75 461 4450
photo by Nullumayulife (CC BY 2.0) modified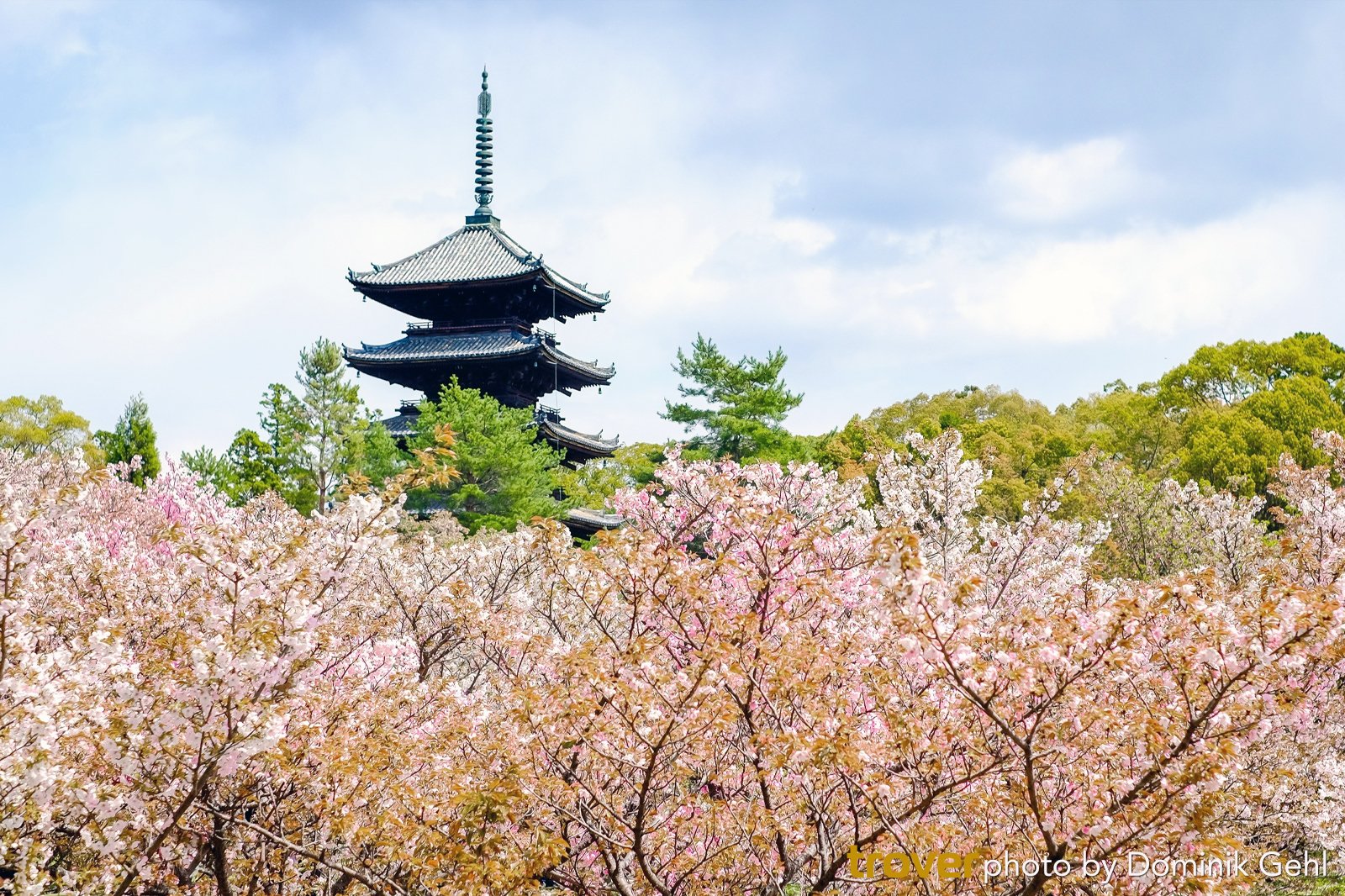 Ninnaji Temple features a 5-storey pagoda that was originally constructed in the 8th century and rebuilt along with the rest of the temple in the 17th century. One of Kyoto's most interesting UNESCO World Heritage sites, the temple is laid out in shinden style; a bisymmetrical pattern in the main hall flanked by a variety of buildings connected by covered passageways. The Amida Buddha is the main spiritual draw, but the temple houses some amazing painted screens and a walled garden with dwarf cherry trees.
Location: 33 Omuroouchi, Ukyo, Kyoto, 616-8092, Japan
Open: Daily from 9am to 4.30pm