11 Best Things to Do in Seattle
What is Seattle Most Famous For?
Seattle is known to many as the Emerald City because of its famous, lush evergreen forests. There is no shortage of things to do and places to see in this metropolis, from the thriving culinary scene to the iconic Space Needle. Famously known as the home to the first Starbucks, Seattle is sure to be a hit with coffee aficionados, especially as there's said to be almost 2,000 coffee shops across the city. Sat on Puget Sound and opposite Olympic Mountains, Seattle is also a haven for nature lovers.
Despite Seattle's rainy reputation, you can still enjoy sunny springs and summers, when music and food festivals are abundant. With a lively independent music scene and countless craft cocktail bars, a trip to Seattle will be packed day and night. To help make life a bit easier for you, we've put together a list of the top things to do in Seattle.
What are the best things to do in Seattle?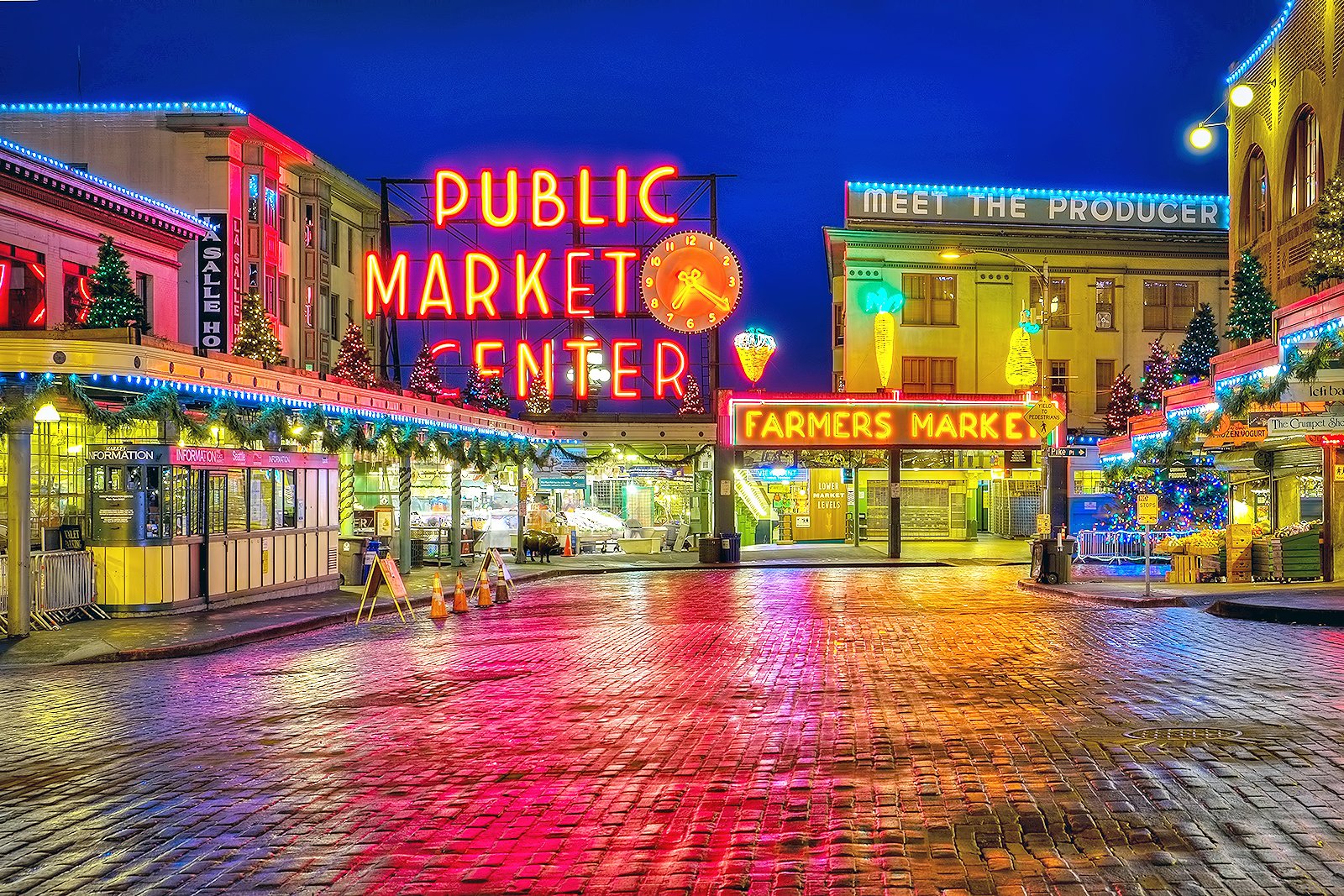 Start bright and early at Pike Place Market
Take in the bustle of the marketplace
A large historic shopping complex, Pike Place Market boasts delicious seafood. The scurry of people should wake you up, although it could be worth picking up a coffee at the world's first Starbucks. Get there early as it's very popular and there's usually a long queue. Throughout the market you'll find seafood galore, with stalls dedicated to the freshest clams, fish (especially salmon) and crab. Stalls selling arts and crafts usually open up around mid-morning, which is also worth seeing. If you're not up for a little seafood in the morning, grab a pastry at one of the bakeries – Le Panier has great almond croissants.
Location: 1st Ave and Pike Street, Seattle, WA 98101, USA
Phone: +1 206-682-7453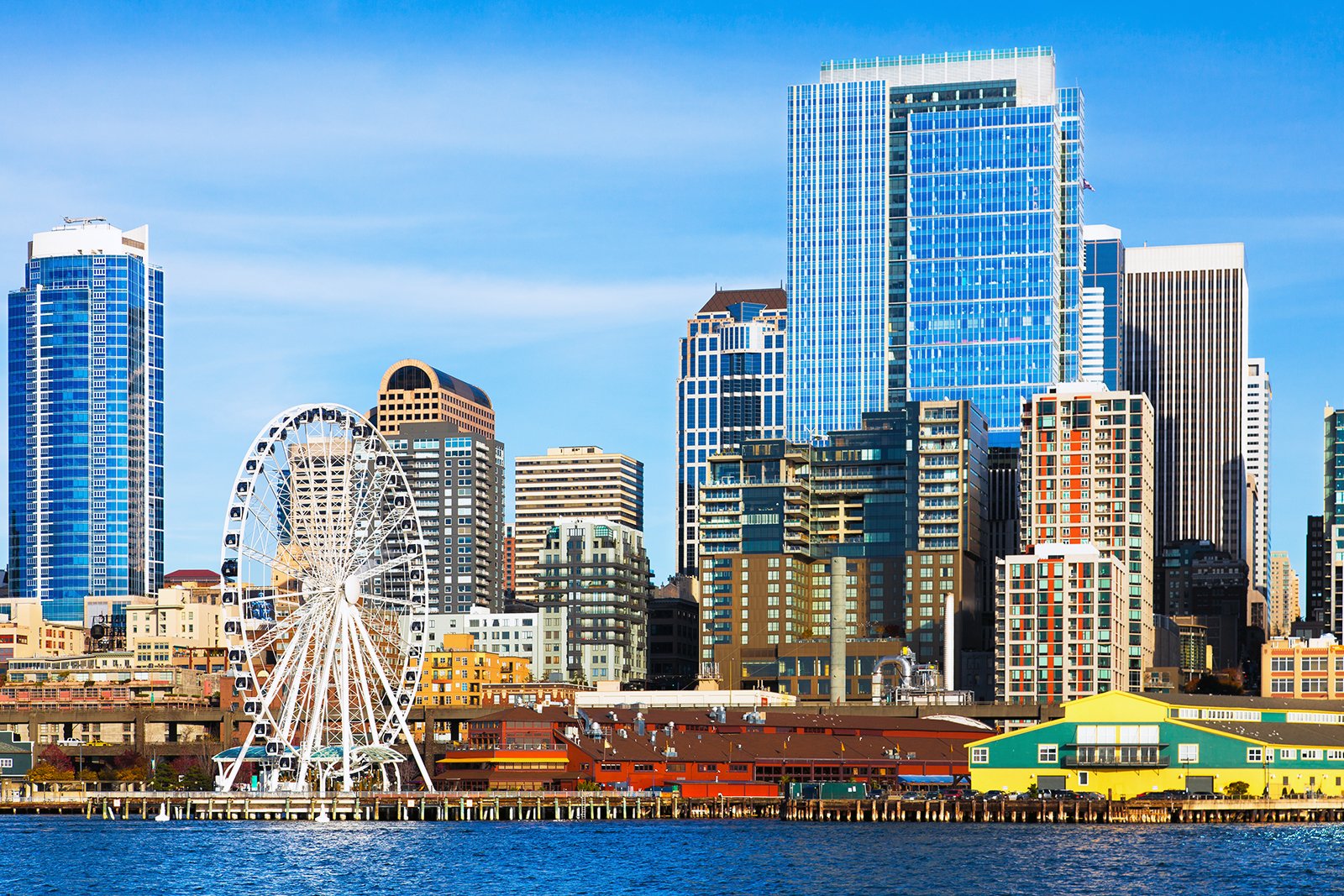 Experience Seattle from its waterfront
Walk along the pier with the Puget Sound in view
The waterfront is a tourist hotspot and fairly expensive, but its views across Elliott Bay to the Olympic Mountains make visiting a must. There are plenty of souvenir shops here, which are perfect for finding something for home or as gifts. The walk from Pike Place Market towards the Olympic Sculpture Park takes you past Seattle's Great Wheel, which has nice views of the city, depending on the weather. If your interest lies in exploring more of Elliott Bay, there is a harbour cruise from Pier 55 that offers a ride along the bay, with a guide adding details about the maritime history of Seattle.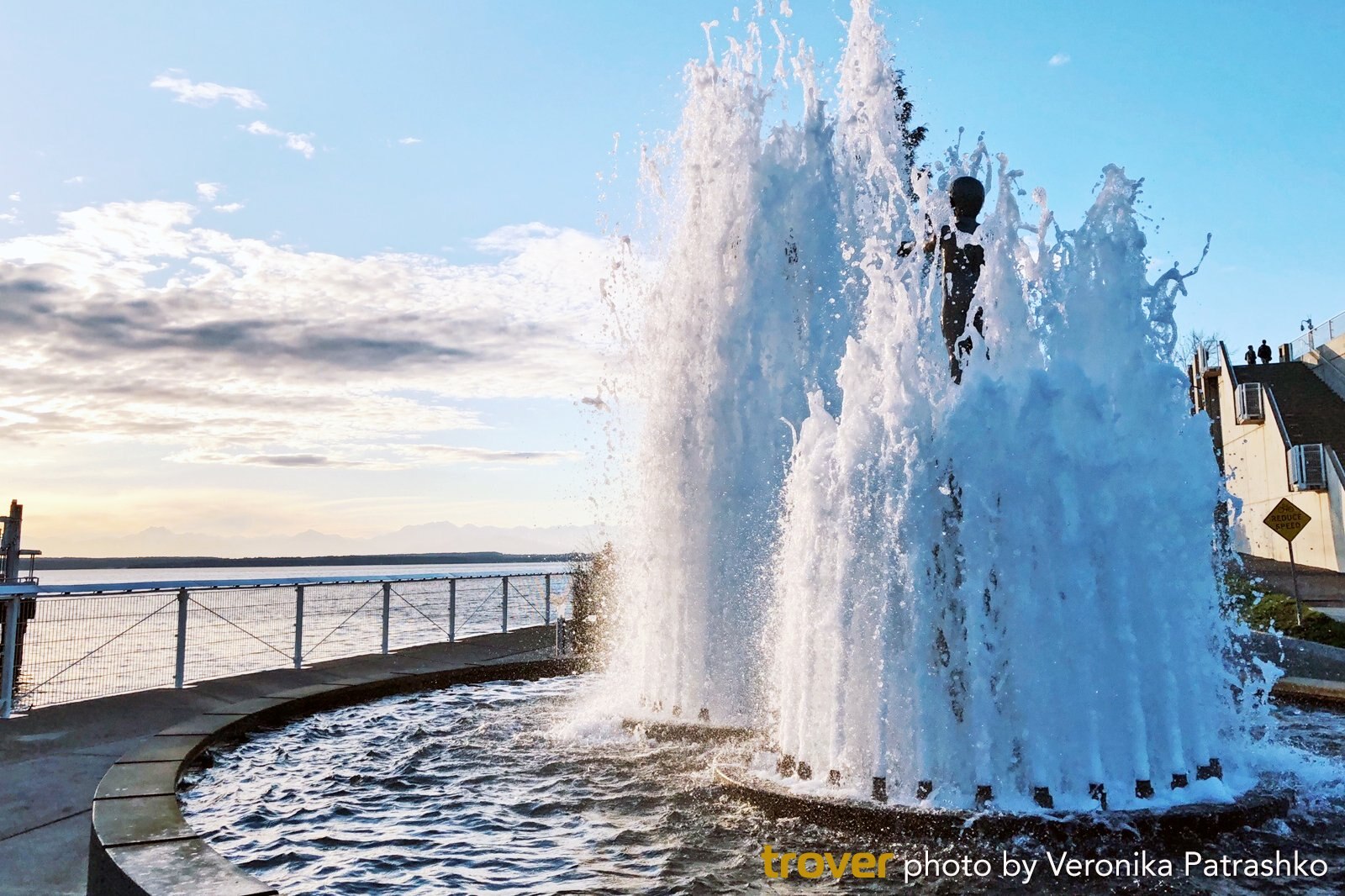 Must-See: Olympic Sculpture Park
Enjoy some contemporary art outdoors
Truly a must-do in the Emerald City, the Seattle Art Museum's Olympic Sculpture Park holds impressive artworks by contemporary A-list artists such as Alexander Calder and Louise Bourgeois. The sculptures stand adjacent to the Puget Sound with the Space Needle and the Olympic Mountains as a backdrop. A special nod goes to Jaume Plensa's mesmerising Echo, which is a 46-foot-high head that gazes towards the Olympic Mountains. No matter the weather, the park should be visited, especially since it's free.
Location: 2901 Western Avenue, Seattle, WA 98121, USA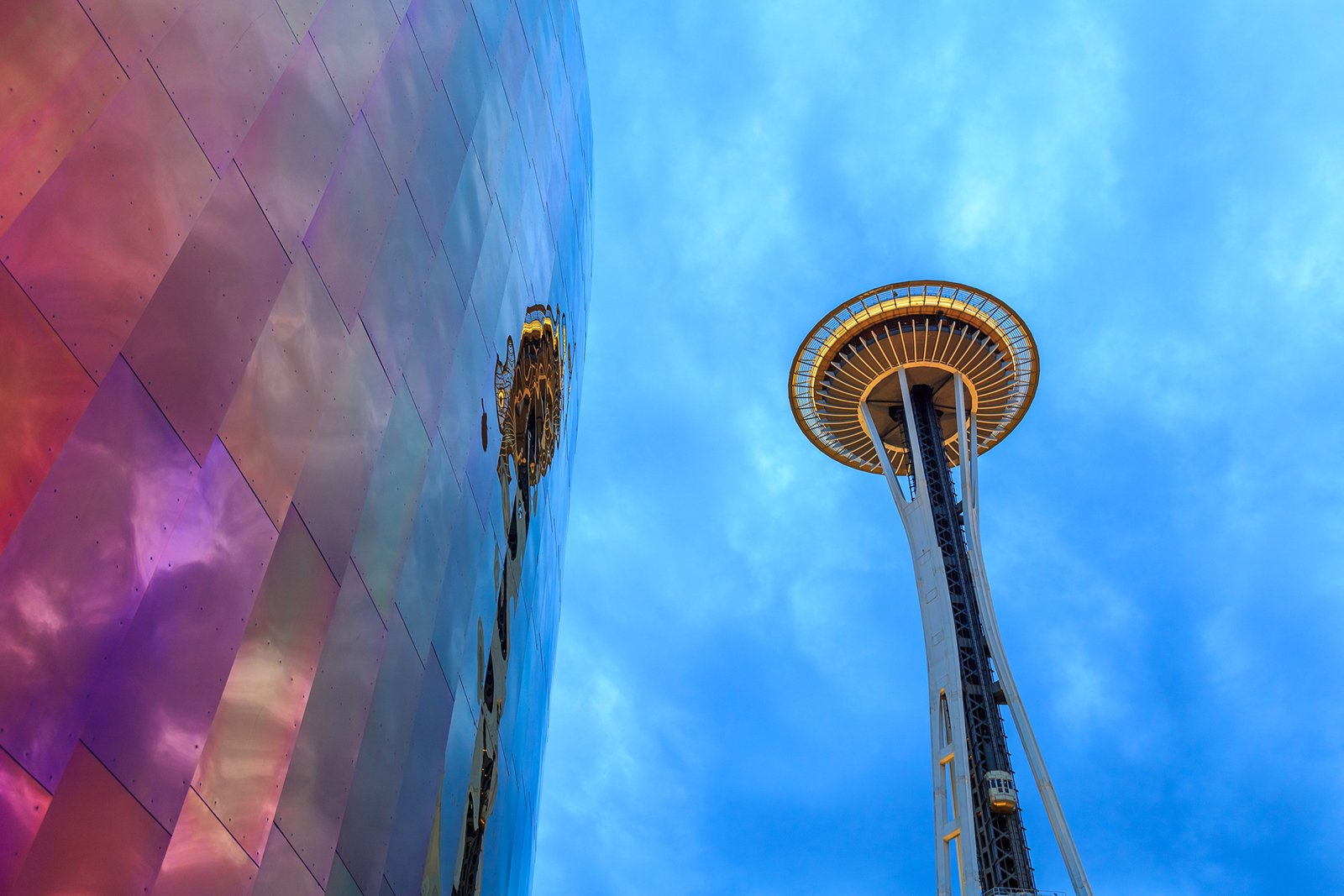 Take in the city from the Space Needle
The landmark of the Pacific Northwest
I think it's safe to say that, when you think of Seattle, you probably picture the Space Needle. Having been recently gussied up, the Needle is now even more architecturally impressive, with visitors able to experience 360-degree views and look 520 feet downwards through glass panels. You can even sit on top of Seattle on a bench and take a picture. The gorgeous city vistas are as spectacular at night as they are in the day. Be sure to check for any festivals or free film showings going on below the Needle.
Location: 400 Broad St, Seattle, WA 98109, USA
Open: Daily from 8am to 12am
Phone: +1 206-905-2100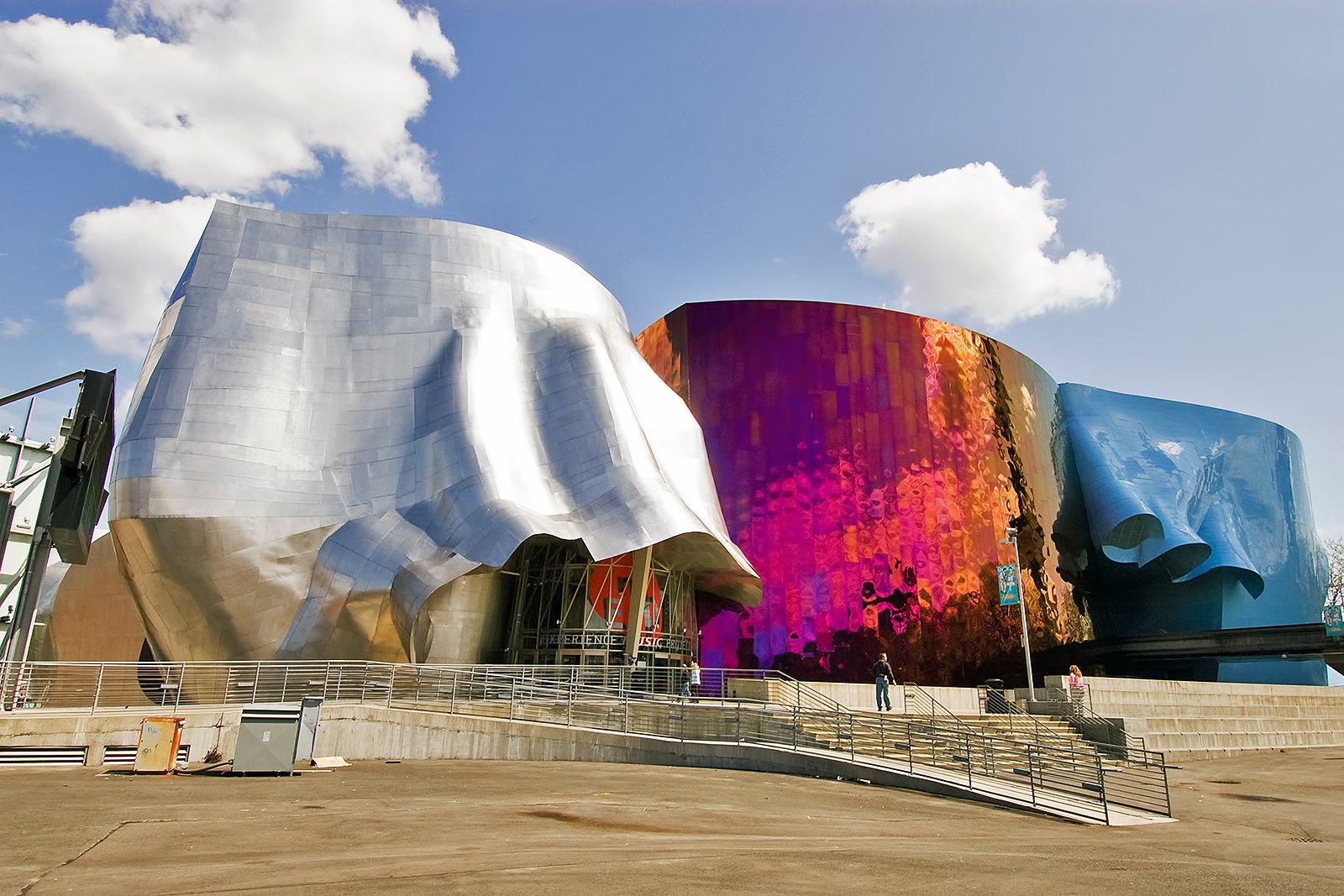 Learn about modern society at the Museum of Pop Culture
Immerse yourself in the music, films and video games of our today
The Museum of Pop Culture (or known as MoPOP) is a museum experience quite different to most others. It looks at the different times when risk-taking among society has resulted in new trends and pop culture as we know it today. The museum is very much interactive and depends on its visitors to engage with the exhibits and collections. Starting from the rock 'n' roll movement, it looks at pivotal pop culture icons such as Jimi Hendrix (a Seattle native), the Marvel Universe and game revolutions. It's definitely a place that makes you think of what drives our world today.
Location: 325 5th Avenue North, Seattle, WA 98109, USA
Open: Daily from 10am to 7pm
Phone: +1 206-770-2700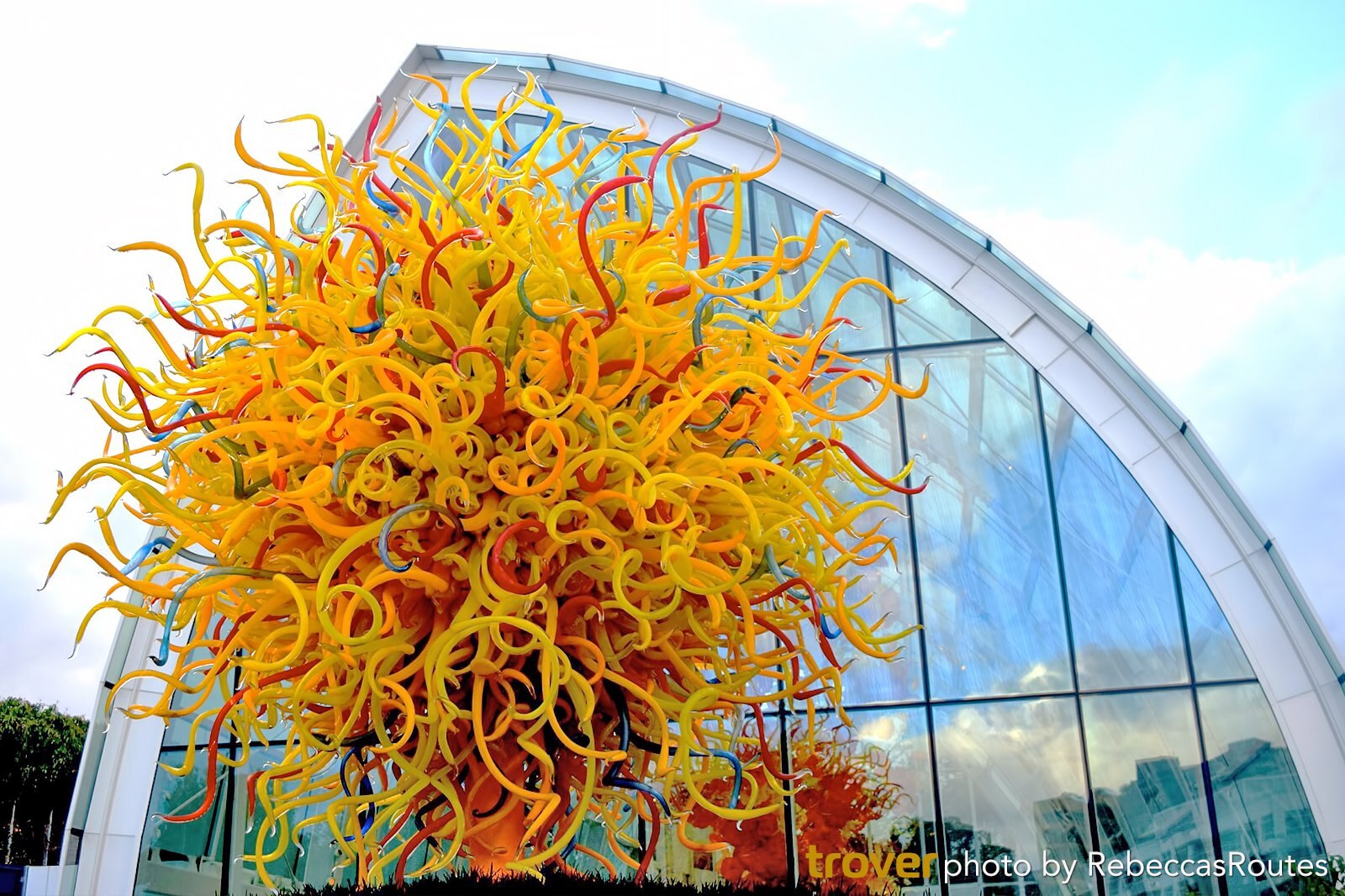 Visit the Chihuly Gardens & Glass
Check out the colour-rich works of Dale Chihuly
On one of Seattle's rainy days, the Chihuly Gardens are a source of colour and happiness. A fascinating exhibition of local glass sculptor Dave Chihuly, the gardens showcase his best work. Like something out of Alice in Wonderland, the gardens are filled with vibrant and striking colours at every turn. A mixture of indoor and outdoor exhibits, each display is unique and memorable in its own way. The gift shop should not be missed either.
Location: 305 Harrison Street, Seattle, WA 98109, USA
Open: Monday – Friday from 8.30am to 8.30pm, Saturday – Sunday from 8.30am to 9.30pm
Phone: +1 206-753-4940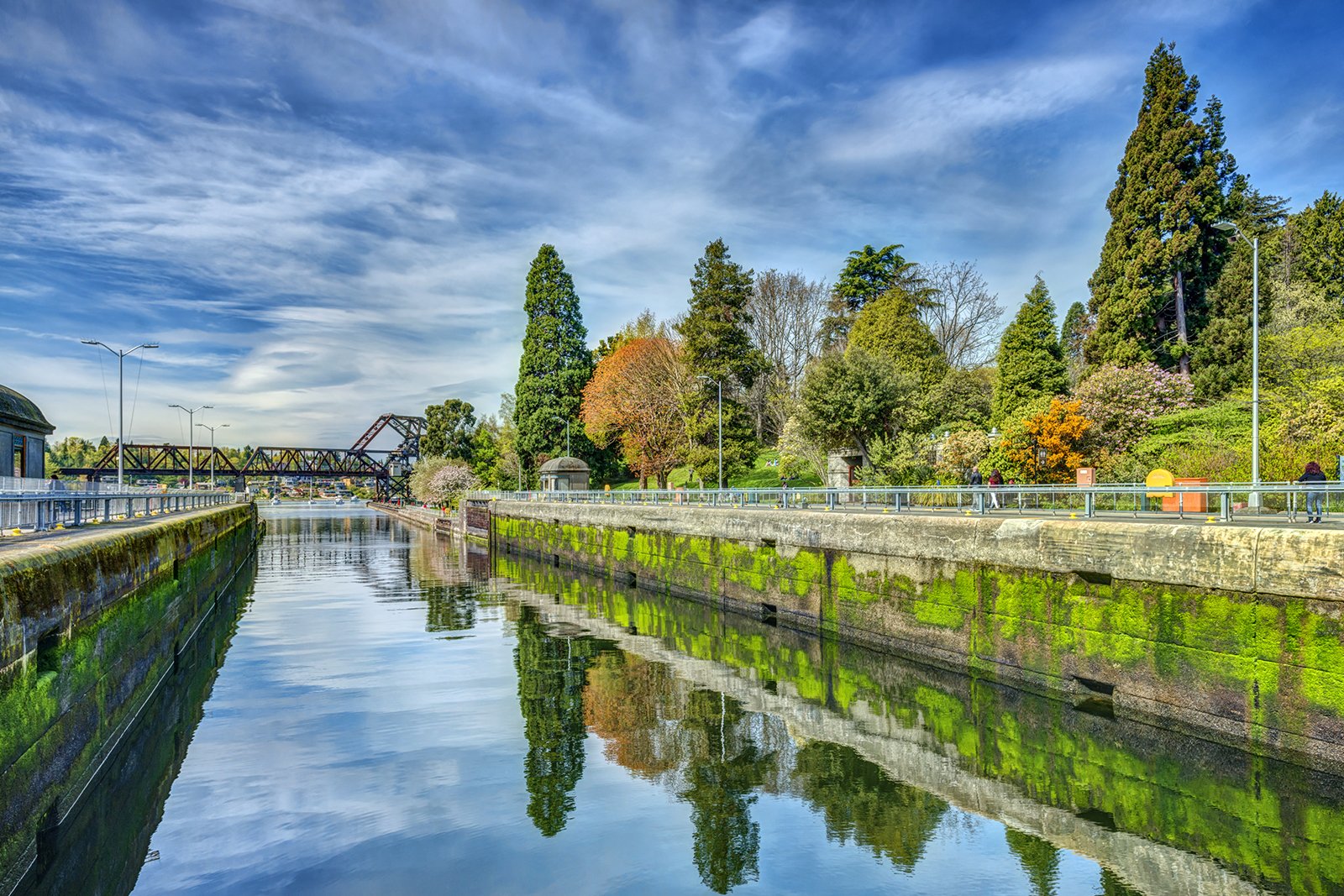 Wander around Ballard
The home to a former Scandinavian fishing community
Ballard is probably one of the most interesting parts of Seattle. Norwegians chose to settle in this charming area because of its salmon fishing opportunities, and the Nordic influence in the area can still be strongly felt today. As you walk down the historic Ballard Avenue, there's a stream of boutiques, cafes and boîtes. Ballard Coffee Works' craft expresso blends are worth a stop. To experience what initially attracted the Nordics years ago, head over to the Ballard Locks. During salmon season, you can watch salmon jumping out of the water when you walk along the canal. If you walk down towards the ladders, you may even be able to see some salmon battling the current. Nearby, Golden Gardens Park offers a stunning sunset from its waterfront.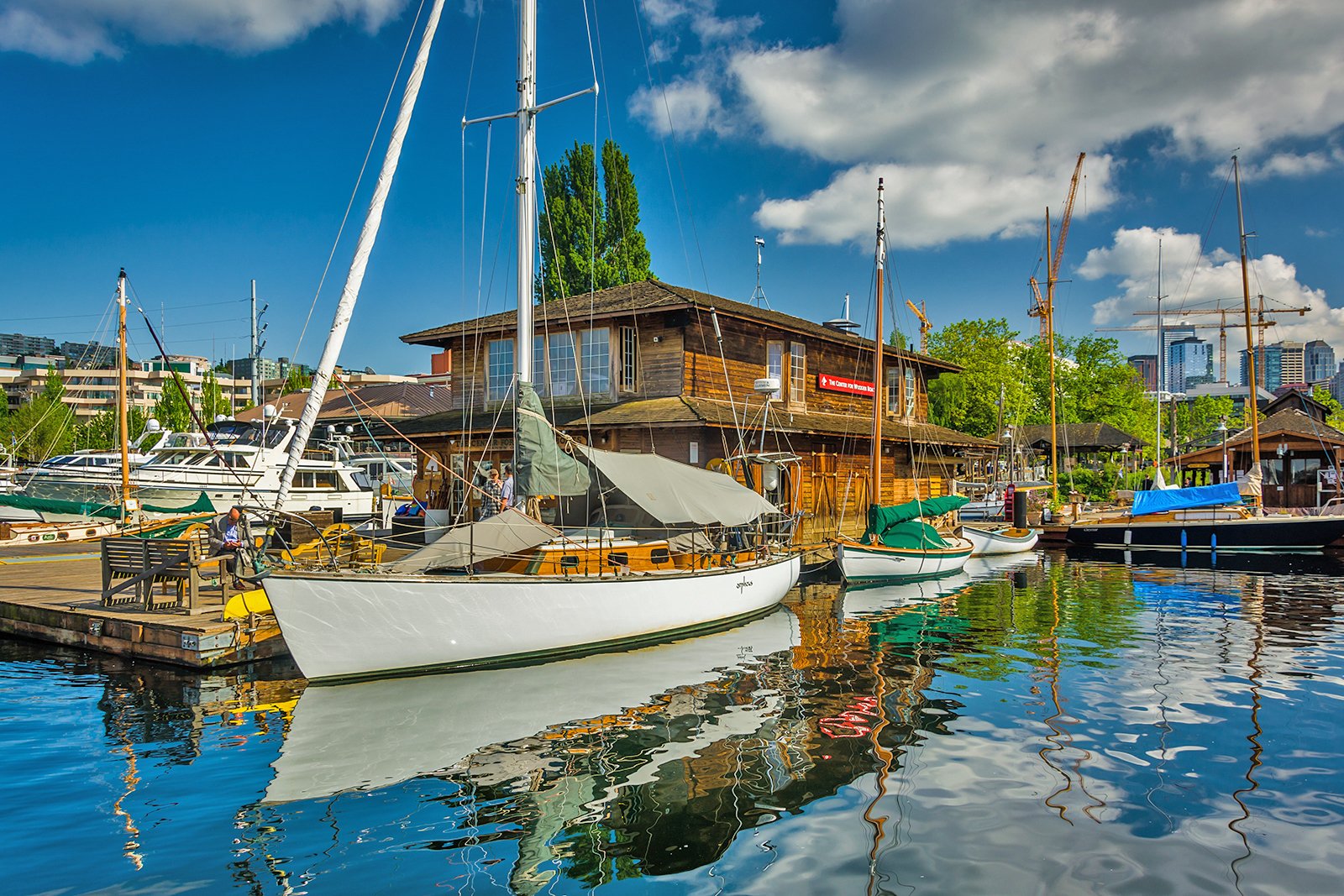 Lie in the sun at Lake Union
Escape the city
Lake Union attracts people from around the city who need a quick escape. Seattle in summer is a sight for sore eyes, which is made all the better by the giant lake in the middle of the city. This freshwater lake can be explored by hiring an electric boat or kayak (if you're more adventurous). While soaking up the rays, admire Seattle's skyline. If you want to go the extra mile, you can even book a seaplane tour with Kenmore Air, which takes you around the city and offers stunning views of Seattle's scenery, though this is a lot more expensive.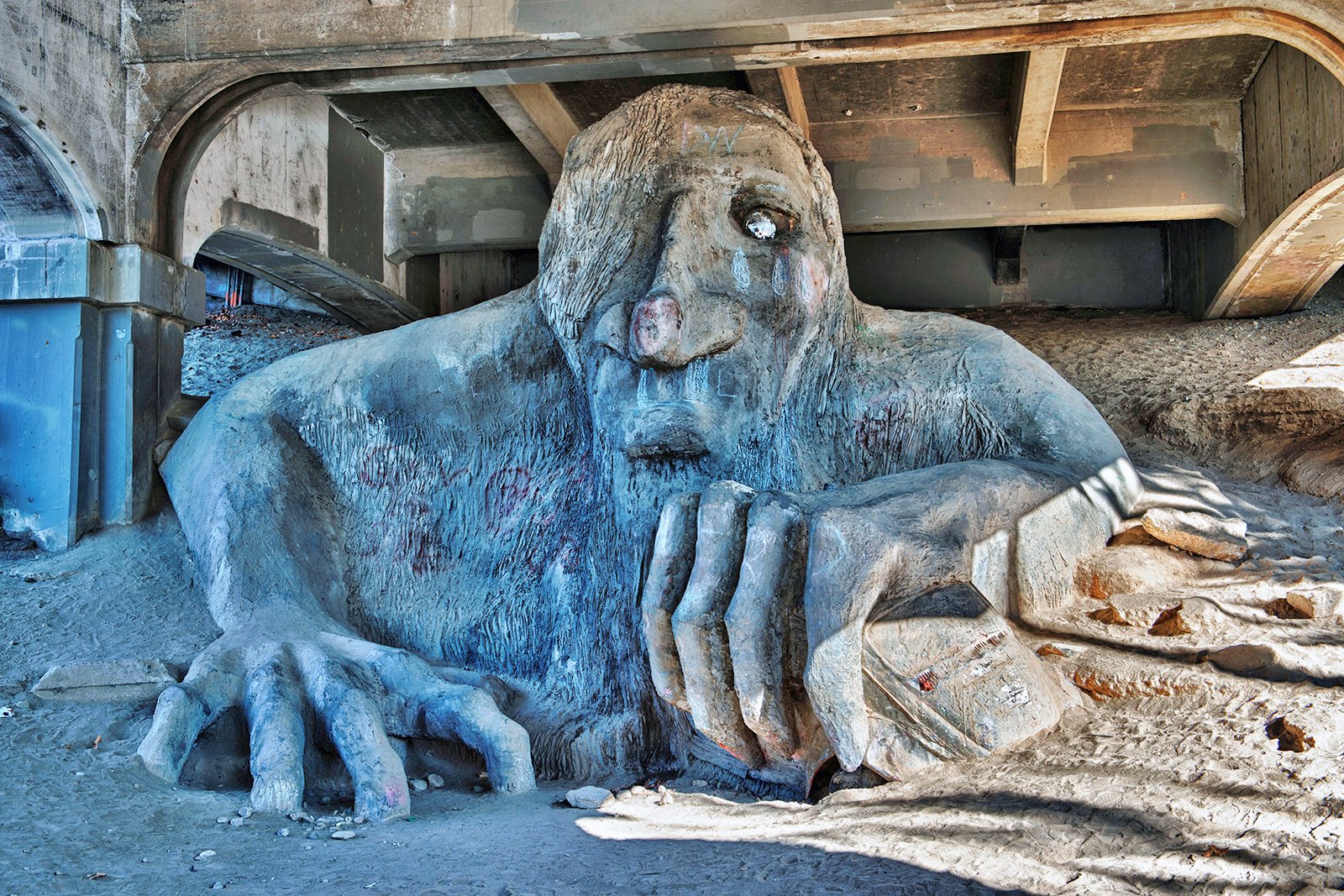 Snap a picture with the Fremont Troll
Don't worry, he doesn't bite
The Fremont Troll is an icon of Seattle that's linked to Norway. The sculpture lies under the George Washington Memorial Bridge and finds its roots in the Norwegian folklore that depicts a troll living under a bridge. The sculpture is a unique spot in the city as it's located in an unusual spot just off the freeway. The Troll lives in the self-proclaimed Centre of the Universe, Fremont. This quirky, counter-cultural area houses some of the best coffee shops in Seattle; Fremont Coffee Company and Milstead & Co. are favourites. The Sunday farmers' market stretches to Ballard and is a very pleasant way to spend your afternoon.
Location: Troll Ave North, Seattle, WA 98103, USA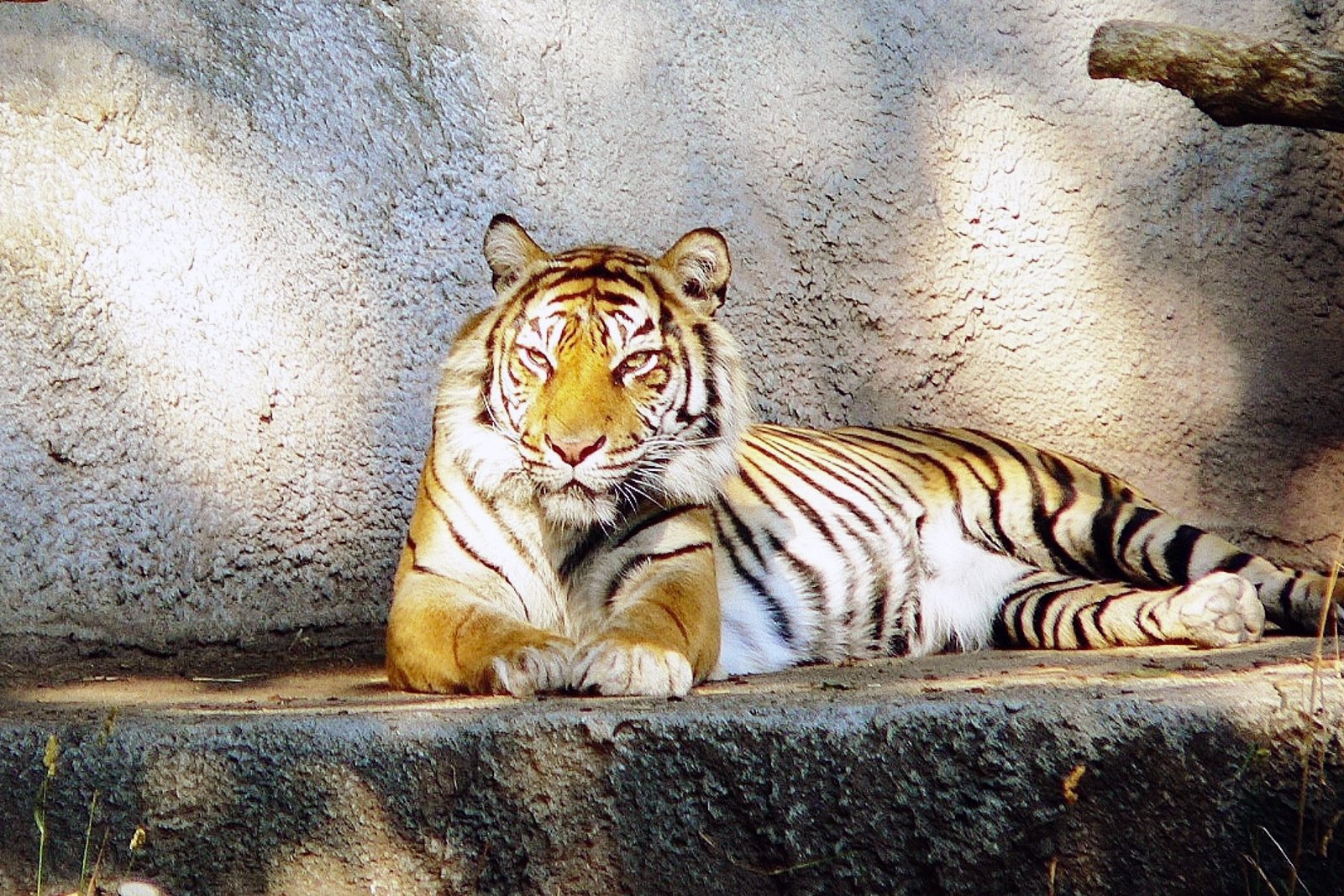 Laze around in Woodland Park
Take a stroll in one of Seattle's many parks
Seattle has countless beautiful parks to offer and Woodland Park can easily make the top 5. Woodland is a zoological garden that is dedicated to the conservation of wildlife. Although many can say other parks such as Discovery Park, Volunteer Park or Kerry Park are better, Woodland Park is the only one with a zoo. The zoo and park combination works perfectly for families. Those wanting to explore nature further can head up towards Green Lake. Situated among a dense urban environment, many locals flock to the lake during spring and summer months.
Families
Photo
Budget
Adventure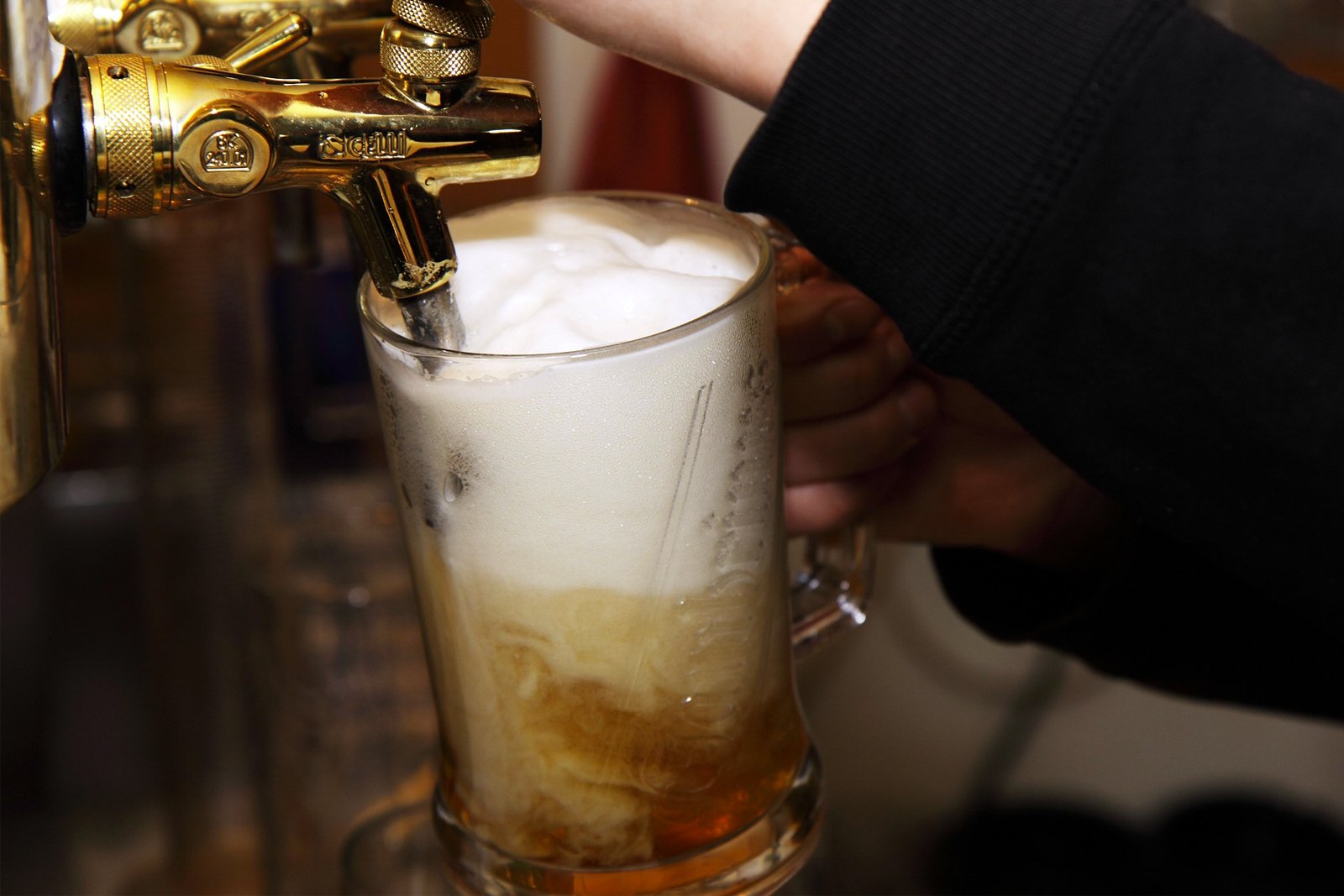 Bar-hop around Belltown
Have a few and then have a dog
Come to Belltown and you'll find young crowds heading towards happening clubs or bars. This lively neighbourhood has hosted many noteworthy musicians and is still the home of the city's indie music scene. The Crocodile has seen bands like Nirvana, R.E.M. and Cheap Trick grace its stage. Accommodation in this area is also fairly cheap, attracting backpackers and budget travellers. Look out for hot dog stands outside the bars so you can try a Seattle dog. The famous variation on a typical American hot dog adds fried onions and cream cheese, which will sound especially enticing after a bit of bar-hopping.