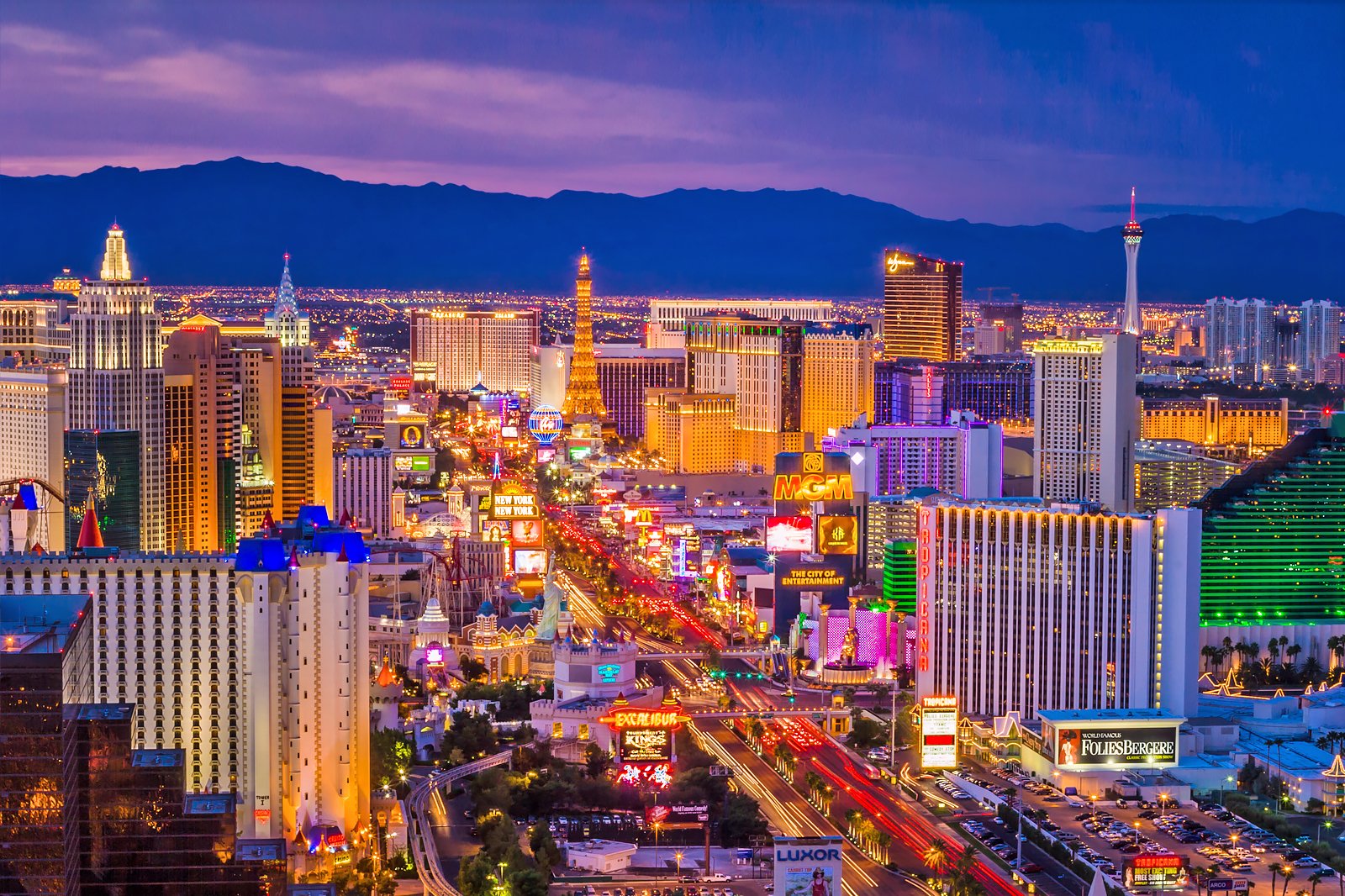 13 Best Things to Do in Las Vegas
What is Las Vegas Most Famous For?
This list of best things to do in Las Vegas proves that there's more to this city than mega-casinos and live performances. The capital of Nevada is variously known as the Entertainment Capital of the World, Sin City and America's Playground. To a greater or lesser extent, it probably deserves all of these titles.
Everyone can name gambling as one of the things to do in Las Vegas – there are few destinations in the world so famous for their casinos and exotic nightlife. The city also has plenty of things to do for travelling families (and those who prefer to skip the poker tables). You can play a round of golf, ride a helicopter to see the world-famous Grand Canyon, or visit the city's quirky museums and art galleries. Check out this handy guide of Las Vegas's most famous landmarks and activities.
What are the best things to do in Las Vegas?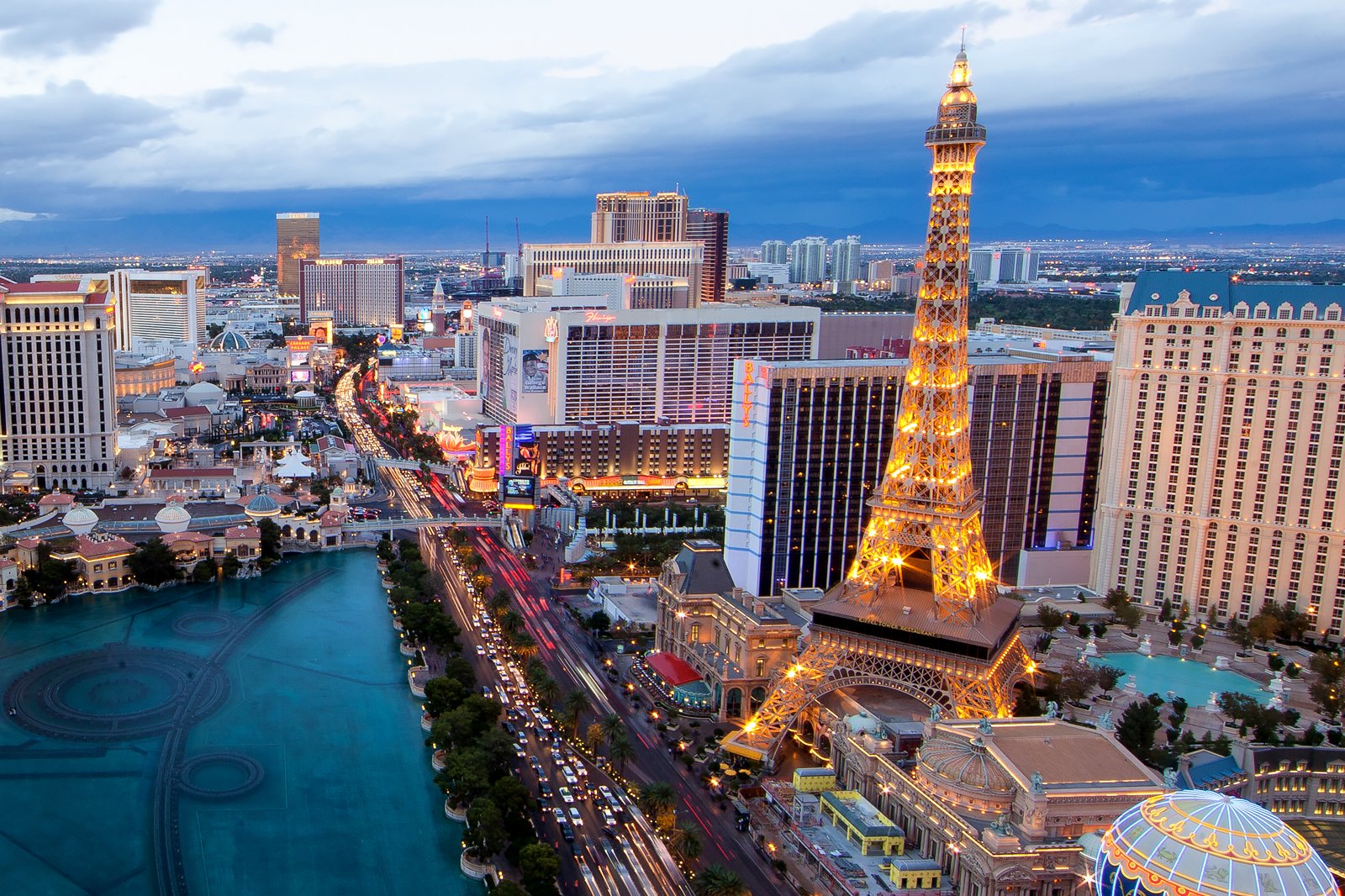 You can't possibly leave the city without visiting The Strip – it's one of those essential things to do in Las Vegas. Lined with exotic hotels and casinos, each containing outstanding theatres, bars, clubs, restaurants and more, this iconic stretch of South Las Vegas Boulevard is one of the most popular nightlife destinations in the world.
There's a bus service, which runs from Mandalay Bay up to the Fremont Street Experience, with stops at every casino along the way, making it very easy to get around. However you want to enjoy yourself, whether it's hitting the slot machines or the dance floor, you'll find plenty of choice on The Strip.
Read more
2
Las Vegas casinos
Las Vegas' number one attraction
Casinos are the main draws of Las Vegas and Sin City's ostentatious gambling palaces are on the bucket lists of many. Ever since the state government legalised gaming in 1913, an increasing number have sprung up around the city. The grandest tend to gravitate along the neon-lit Las Vegas Strip.
Over 100 casinos currently trade in Vegas, from small seedy slot-machine dens to lavish billion-dollar buildings with high-roller rooms. While it's not practical to visit them all, it's worth cashing in your chips at Vegas' top picks. Pop in to play at Caesars Palace, Wynn, the Venetian, the MGM Grand, Luxor, and Bellagio at a minimum.
3
Stage performances
High-budget extravaganzas in a glitzy casino hall
Catching a stage performance at a big-name casino is one of the quintessential Las Vegas experiences – for many, it's a bigger drawcard than slot machines. Whether it's a family-friendly Disney production, an awe-inspiring Cirque du Soleil extravaganza, or a stupefying magic show, there's a performance for everyone to enjoy.
Most live shows take place in the Strip's glitzy casinos, many of which feature grandiose and custom-built halls. Ticket prices vary widely between gigs. You can book your ticket online purchase or line up at a Tix4Vegas booth in the morning – the latter option is cheaper but not guaranteed.
4
Helicopter ride to the Grand Canyon
Enjoy impressive views of the iconic canyon and its surrounding desert landscape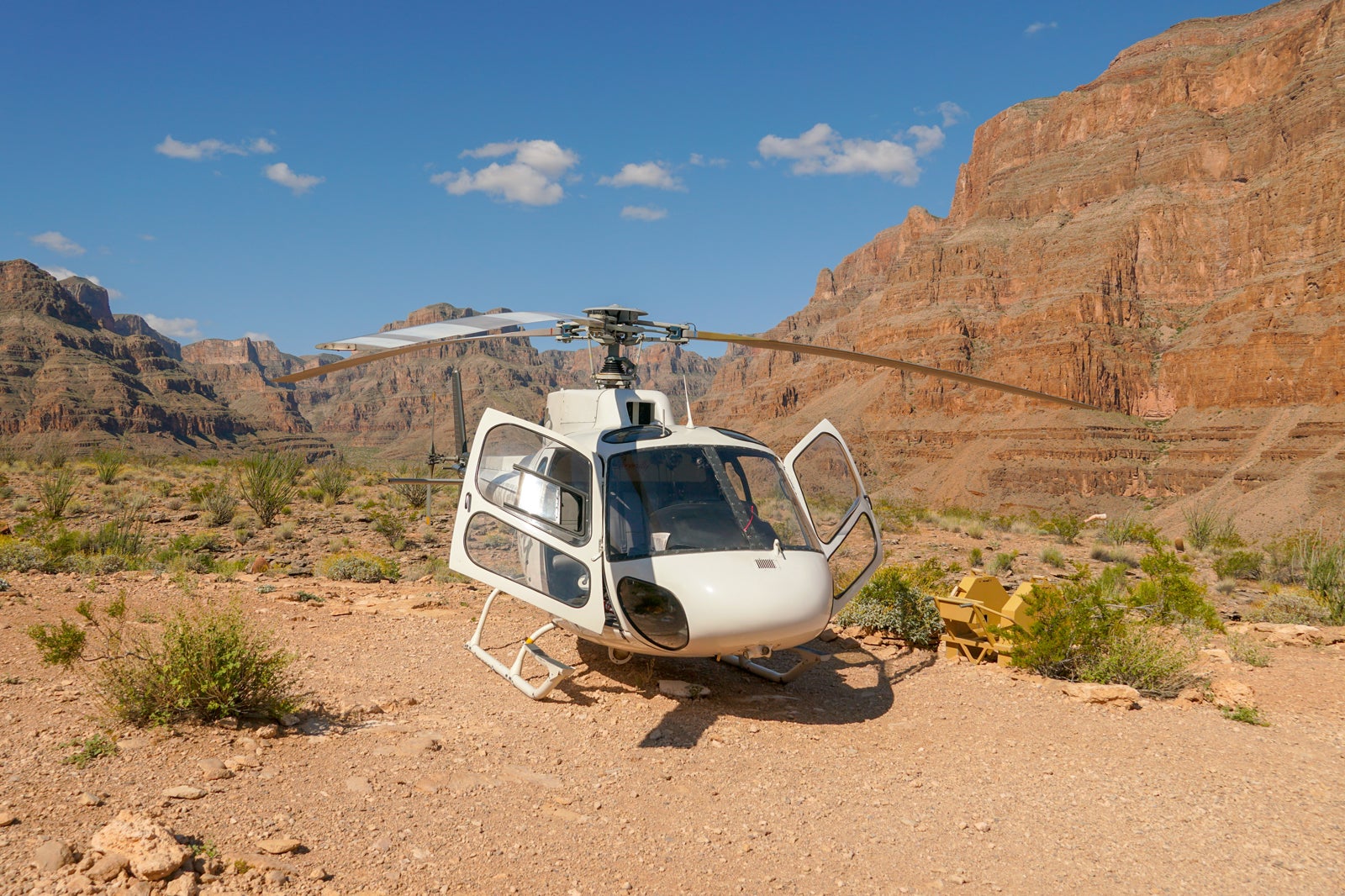 A helicopter ride to the Grand Canyon is a worthwhile expense when you're in Las Vegas, as you get to soar over the iconic canyon and its epic surroundings. The tour typically takes place in the morning so that you can enjoy the best view of this natural wonder. Aside from the Grand Canyon, you also get to see other landmarks from a bird's eye view, including the Hoover Dam, Mojave Desert, Lake Mead, and the famous Las Vegas Strip.
Location: Grand Canyon, Arizona, USA
5
High Roller
One of the tallest Ferris wheels in the world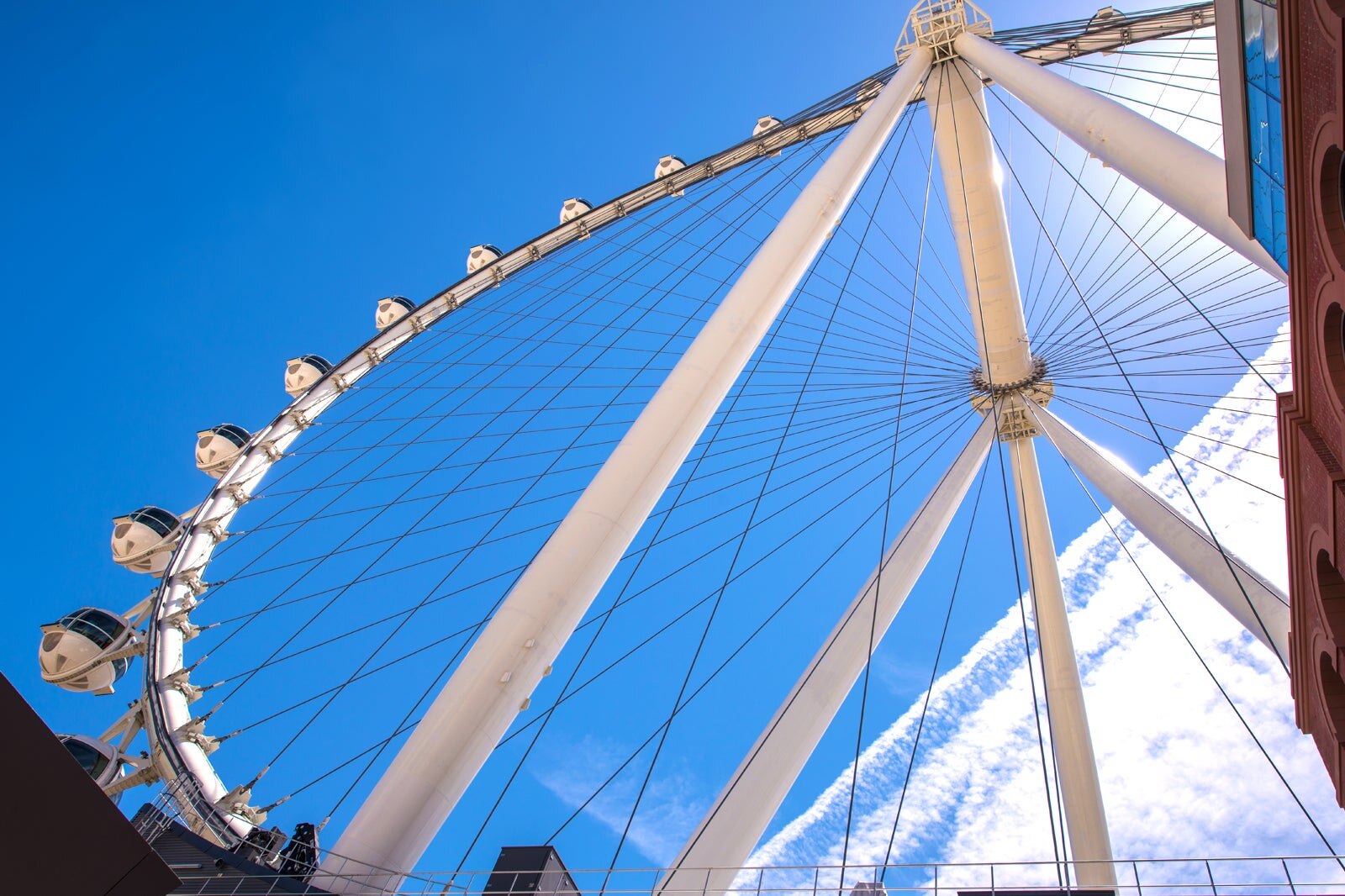 At a whopping 550 ft tall, the High Roller certainly offers some impressive views of The Strip and across a lot of Las Vegas. It takes about 30 minutes for each of the 28 pods to do a full revolution. Each pod can carry up to 40 people and, for an extra fee on top of the usual ticket price, you can get a personal bartender to join your journey. If you do, be sure to go to the bathroom before you do because there isn't one in the pod.
Read more
Location: 3545 S Las Vegas Blvd, Las Vegas, NV 89109, USA
Open: Daily from 11.30 am to 2 am
Phone: +1 702-322-0593
6
The Arts District
Get a taste of local culture
Las Vegas is mostly about tourism, so it can be quite a challenge to find some local flavour. The Arts District, is a very good place to start. Centred around East Charleston Boulevard, near the Las Vegas Freeway, it's a hub of local theatre and arts, some of which spill out of the indie galleries and onto the street. It's one of the most colour areas of the city, with murals on many walls. Head to The Arts Factory for a selection of unique shops and restaurants.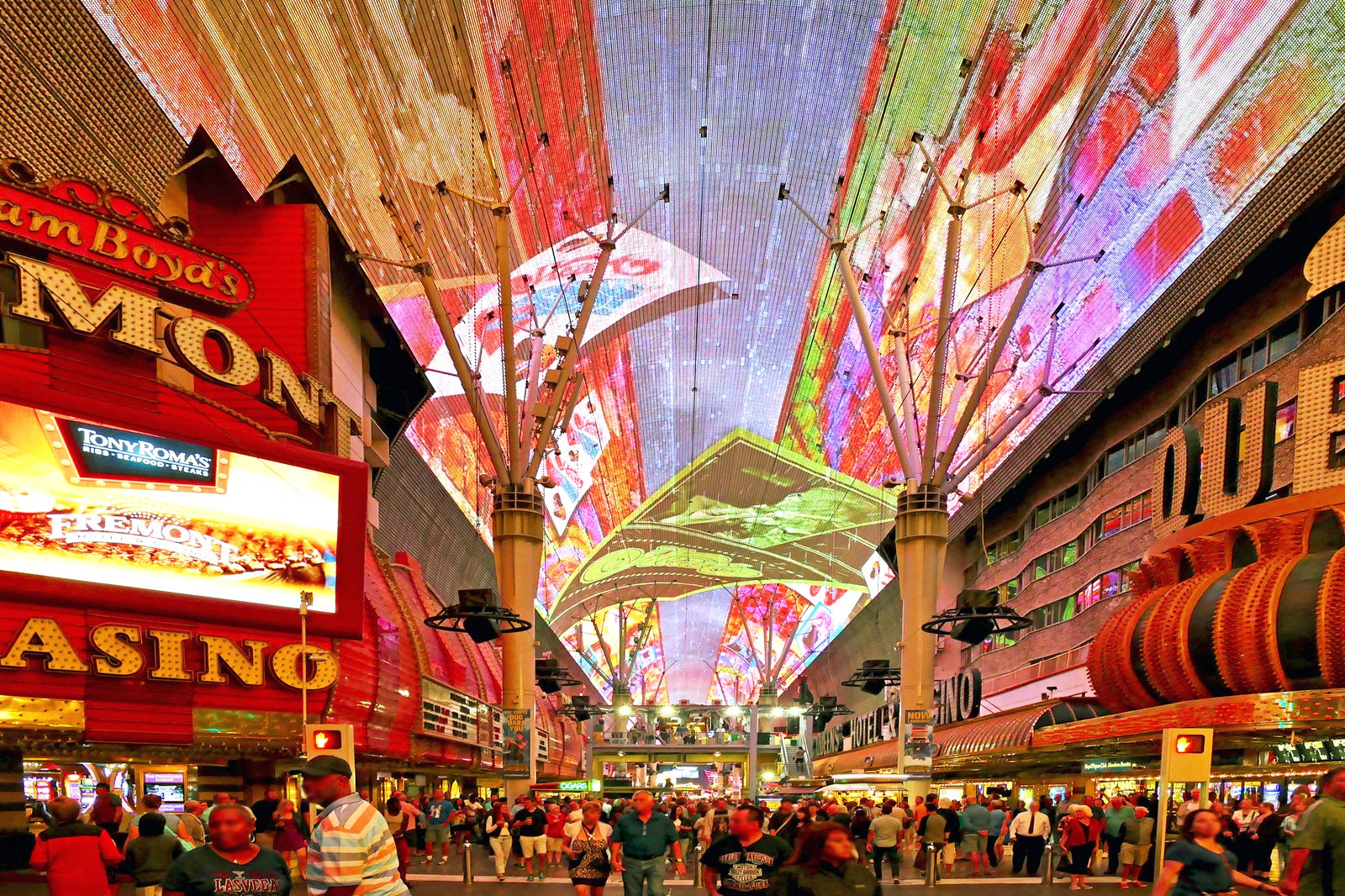 Fremont Street was basically The Strip before there was a Strip. Part of it was known as Glitter Gulch because of the huge number of neon signs for casinos. The Fremont Street Experience is a covered pedestrian mall which spans the westernmost 5 blocks, including the Gulch. The impressive illuminated roof covers casinos, restaurants, bars and a lively atmosphere. Uniquely, you can soar over the street like a superhero on the SlotZilla Zip Line.
Read more
Location: Fremont St, Las Vegas, NV 89101, USA
Open: 24/7
Phone: +1 702-678-5600
8
SkyPod
Enjoy panoramic views of Las Vegas
At 1,149 ft tall, SkyPod at The STRAT is among the tallest freestanding observation towers in the western hemisphere. Enjoying the view from the top with a nice meal at the revolving restaurant is certainly pleasant, but the unique attraction is the SkyJump. Possibly the scariest of the 4 thrill rides available, it allows you to basically jump off the tower and hurtle towards the ground in a controlled descent similar to a bungee jump, reaching speeds of up to 40 mph straight down.
Read more
Location: 2000 S Las Vegas Blvd, Las Vegas, NV 89104, USA
Open: Sunday–Thursday from 10 am to 1 am, Friday–Saturday from 10 am to 2 am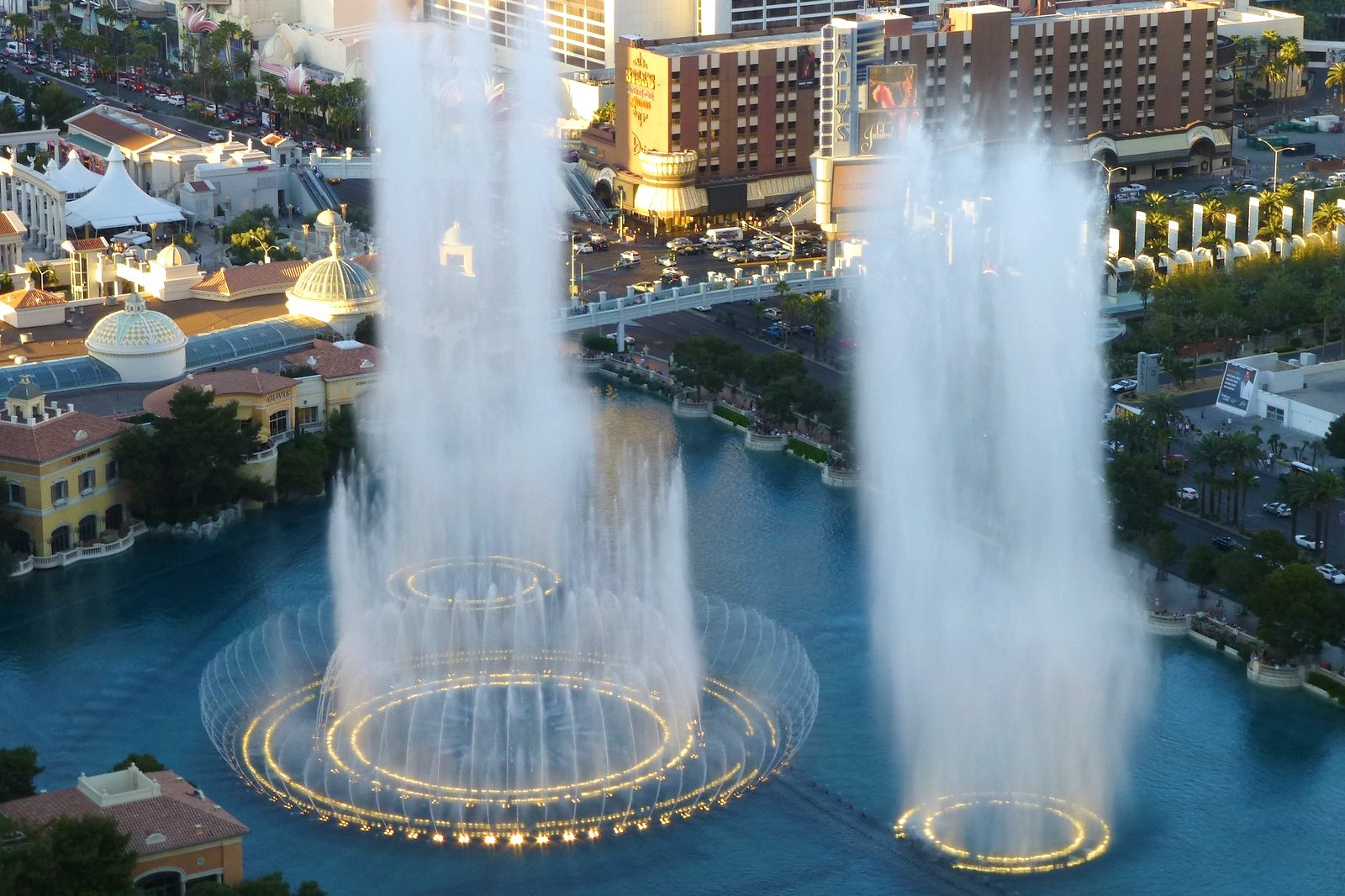 The balletic display of the Fountains of Bellagio is as iconic as the sign welcoming you to Las Vegas. Over 1,200 nozzles in the 8-acre manmade freshwater lake spray jets up to 460 ft into the air in time to a selection of soundtracks ranging from Elvis Presley's "Viva Las Vegas" to "My Heart Will Go On" by Céline Dion. Barring any unusual weather conditions, there are shows every 30 minutes during the day and every 15 minutes after dark.
Read more
Location: 3600 S Las Vegas Blvd, Las Vegas, NV 89109, USA
Open: Monday–Friday from 3 pm to midnight, Saturday from noon to midnight, Sunday from 11 am to midnight
10
Las Vegas museums
From dinosaurs to organised crime
To say that Las Vegas has had a colourful past would be putting it very mildly. You can learn a lot about that past from a series of museums just a few blocks apart, slightly north of Downtown. Start at the Las Vegas Natural History Museum for a look at the prehistoric animals which once roamed the area. Then head south along N Las Vegas Boulevard to the Neon Museum. Here, you can see the vintage Vegas signs which once illuminated The Strip from the 1930s to the recent past. Finally, explore the darker side of Sin City at The Mob Museum and learn about the history of organised crime across America.
11
Cirque du Soleil
Especially "O" at the Bellagio
There are actually several shows by the famous acrobatic troupe around Las Vegas, but O is perhaps the most remarkable. The special stage in the Bellagio transforms into a 1.5-million-gallon swimming pool in an instant, changing the performance from one of breathtaking acrobatics to a display of synchronised swimming. Featuring 85 extremely talented performers, some of whom are former Olympic athletes, it's a very memorable show.
Location: 3600 S Las Vegas Blvd, Las Vegas, NV 89109, USA
Phone: +1 888-488-7111
12
Play a round of golf
Visit a land of enchantment near The Strip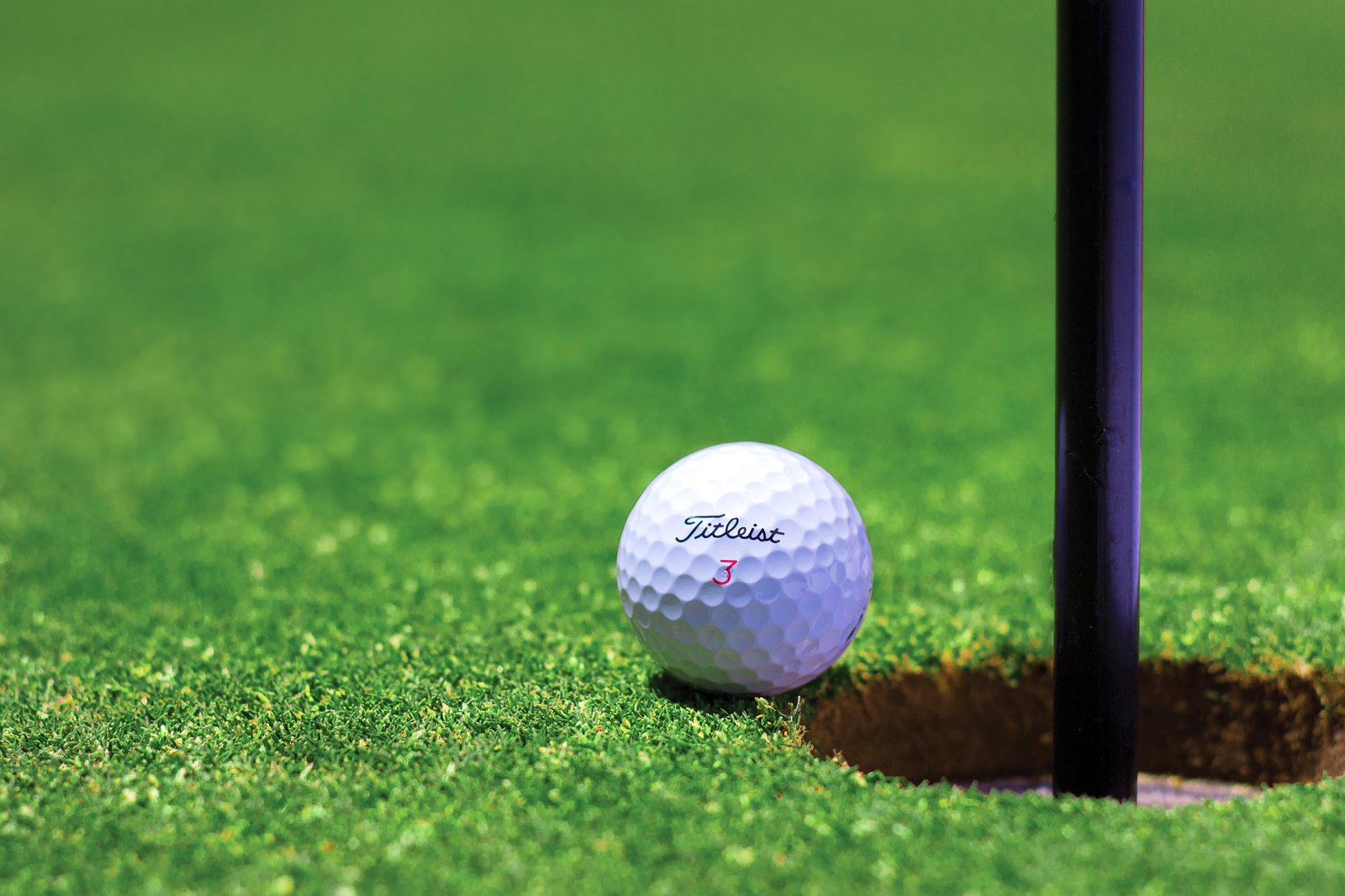 Being an upmarket leisure destination, Las Vegas naturally has no shortage of golf courses. In fact, there are about 70 of them, with desert, mountain, parkland and links courses to choose from. Among the best is the Bali Hai Golf Club, which is right next to the 'Welcome to Fabulous Las Vegas' sign on S Las Vegas Boulevard. Designed to fit its namesake Indonesian land of enchantment, the par-71 course has some unique features, like an island green on the 16th hole.
Location: 5160 S Las Vegas Blvd, Las Vegas, NV 89119, USA
Phone: +1 888 427 6678
13
Hit a Vegas buffet
High-quality delicacies in abundance
The dining scene in Las Vegas has to be seen (and tasted) to be believed. It's probably the buffets which really stand out for the staggering variety of outstanding dishes on offer. Among the best options are The Wicked Spoon buffet at The Cosmopolitan of Las Vegas, with noteworthy offerings in its Italian and Asian cuisine sections. The Bacchanal Buffet in Caesars Palace offers probably the best variety, with over 500 daily dishes, including vegan and gluten-free options. If you've got a sweet tooth, hit The Buffet at Wynn and check out the huge chocolate fountain.
Back to top