10 Best Things to Do in New Jersey
What is New Jersey Famous For?
New Jersey might not have the same travel cachet as its glittering neighbour New York City, but the Garden State still offers some alluring sights, history and nature to discover. Roll the dice on a big night out in ritzy Atlantic City, settle into the Victorian charm of Cape May, or wander the endless sands of Ocean City. Outdoor lovers can take advantage of New Jersey's long coastline to go sailing, whale-watching or kayaking, or head inland to explore its nature parks.
One thing's for sure, you won't starve in New Jersey with its hundreds of classic diners and thousands of farms, some of which let you drop by for a taste of artisanal cheeses or ripe peaches plucked from the tree. Here are some of the best places and activities to check out in New Jersey.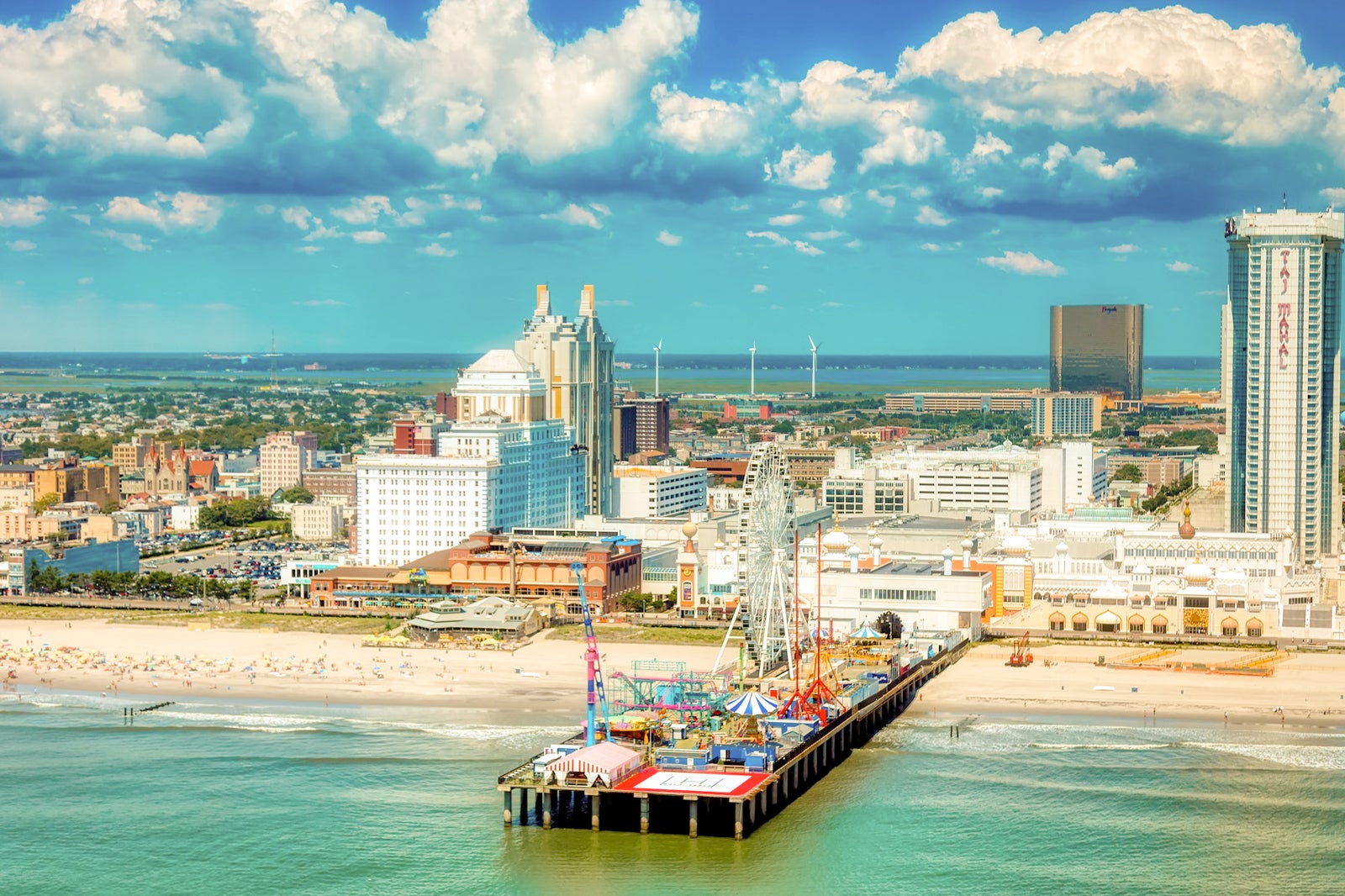 Stroll the boardwalk in Atlantic City
Gambler's seaside haven
This resort city was built with a freewheeling zest that's taken it to glitzy Las Vegas-style heights and gritty economic lows through its 150-year history. Most Atlantic City arrivals will head to its iconic Boardwalk to enjoy some fresh sea air and a bit of shopping. The boardwalk is home to Steel Pier fun park, where you can catch a ride on the huge Ferris wheel, load up on hot dogs and pizza or play the arcades.
With the slot machines enticing many to stay inside, Atlantic City's wide beaches are often not as busy as you'd expect, and there's plenty of water-sport action to try including surfing, kayaking and windsurfing.
Families
History
Photo
Food
Budget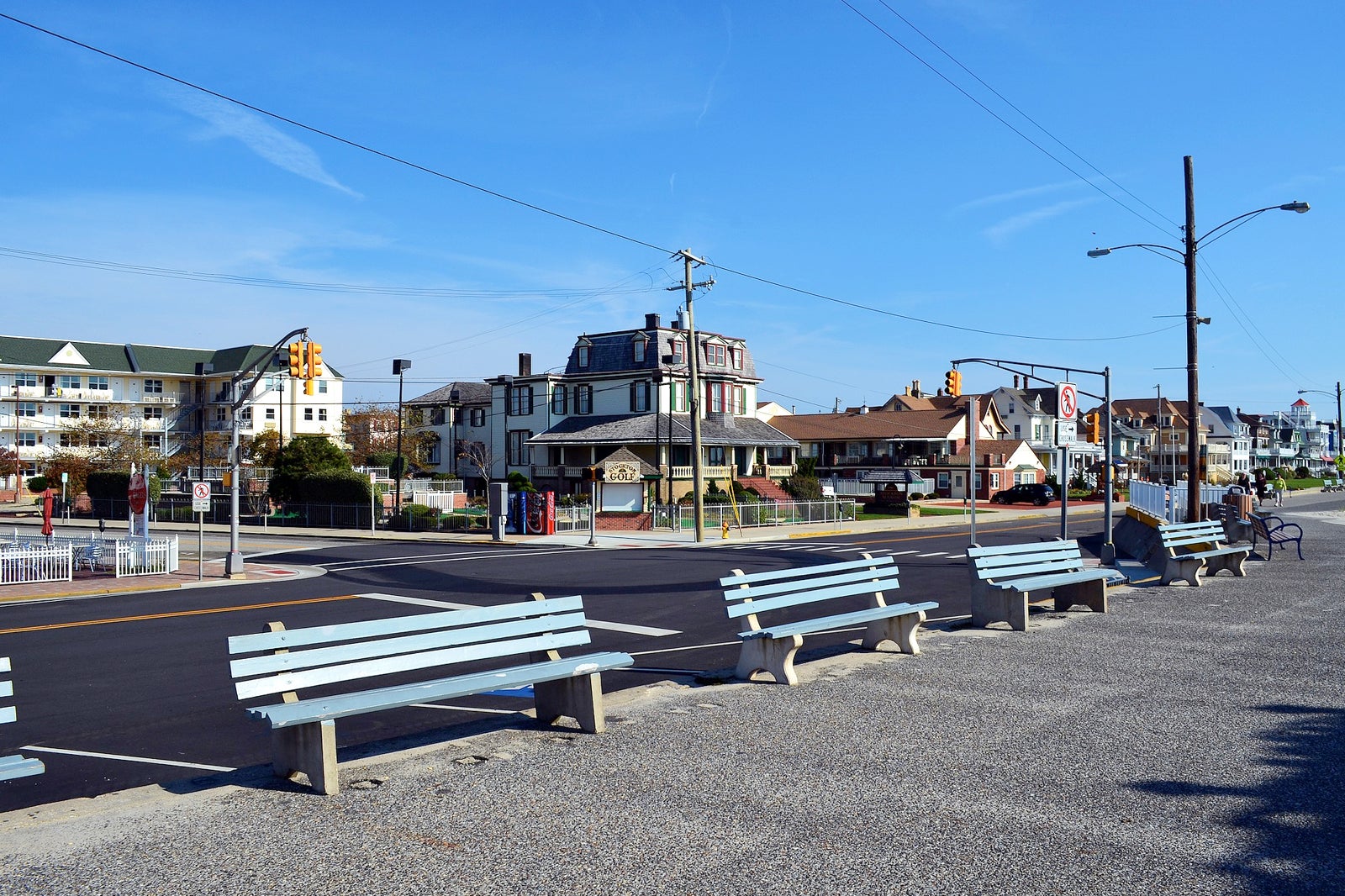 Explore the historic streets of Cape May
Heritage houses and wineries
This resort town on the New Jersey shore is where the Atlantic seaside meets Victorian splendour. Find your way through Cape May's streets by foot or trolley to discover grand heritage houses, museums and boutique shops. As a romantic getaway, Cape May is hard to beat with its elegant restaurants, horse-drawn carriages, spas and wine tasting tours.
Avid birdwatchers flock here in spring and autumn in search of migrating birds, while nature lovers have pristine beaches and coastal parks to explore. For more spectacular views, climb to the top of the Cape May Lighthouse or hop aboard a whale-watching boat.
Couples
History
Photo
Budget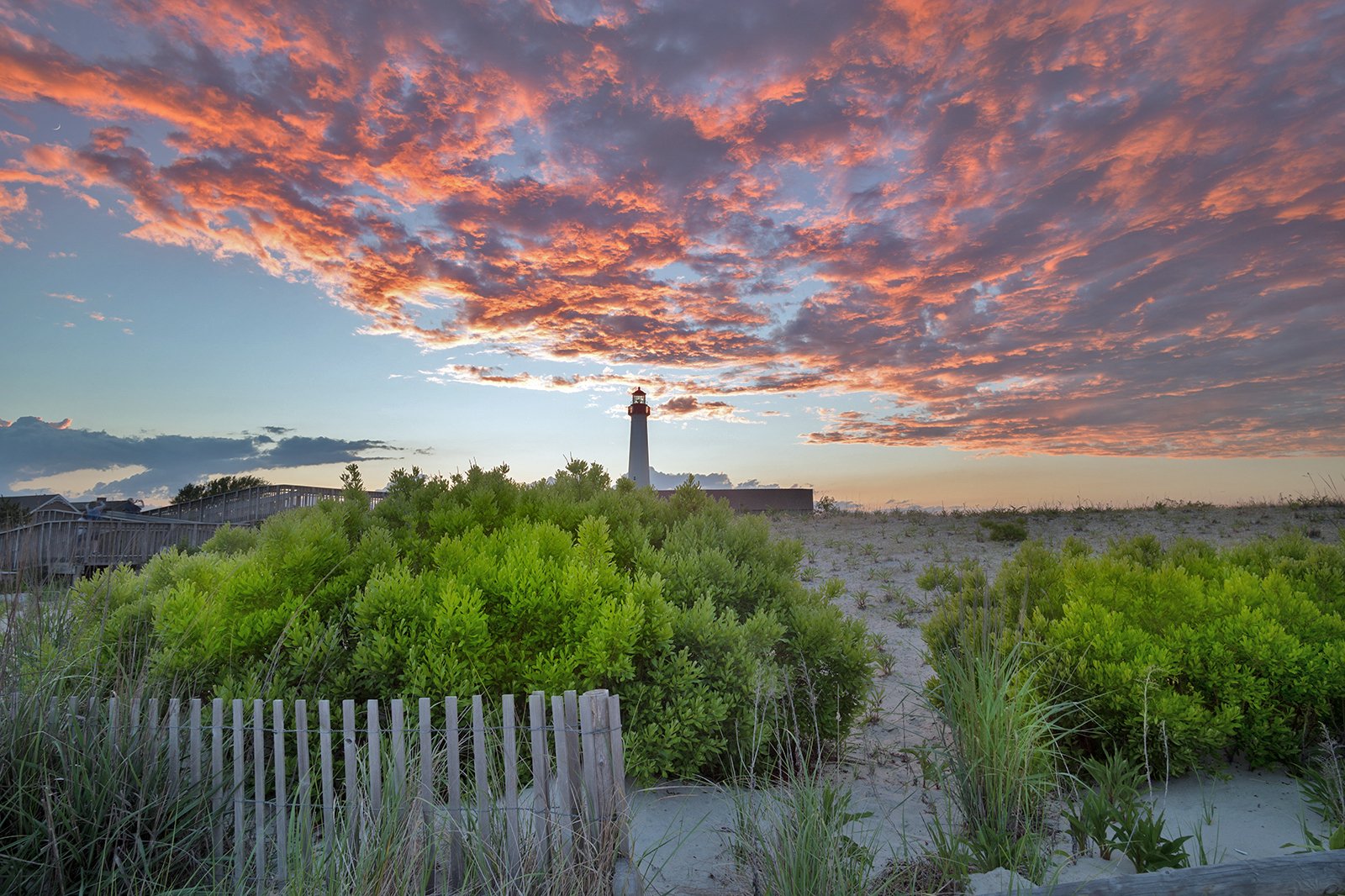 Visit High Point State Park
Hike the Appalachian Trail
New Jersey is one of the most densely populated states in America, but there's also a surprising expanse of wilderness to escape the crowds. High Point State Park has more than 80 km of trails to hike including a section of the famous Appalachian Trail. During the winter months, many trails remain open for snowshoeing and cross-country skiing.
Climb to the top of High Point Monument for spectacular views of the Kittatinny Mountains, lush farmland and forests. Sawmill and Steenykill lakes offer scenic spots to fish or explore by canoe or kayak.
Location: 1480 Route 23, Sussex, New Jersey 07461, USA
Phone: +1 973 875 4800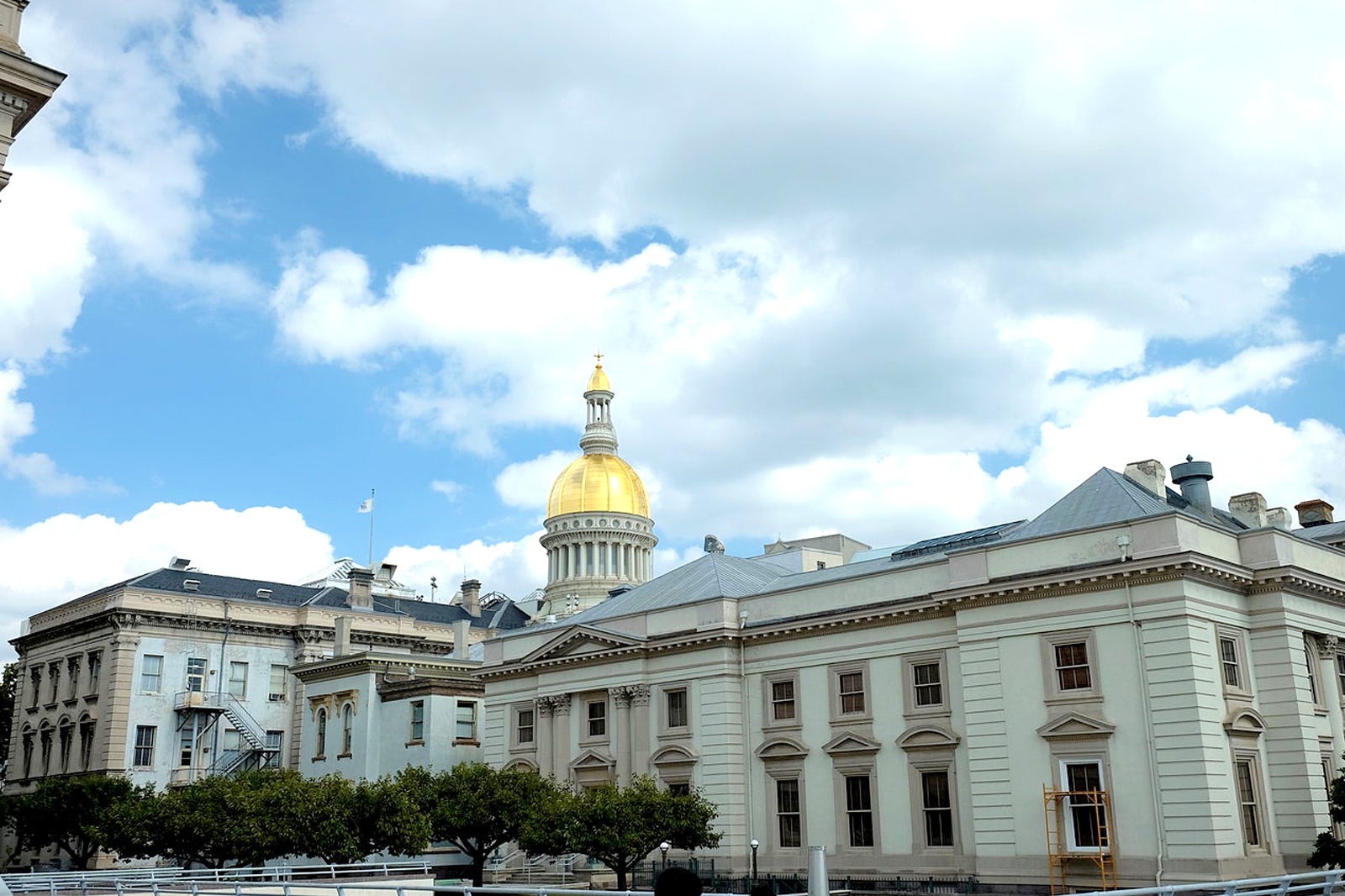 Soak up American history in Trenton
Stately centuries-old architecture and museums
New Jersey's capital city is a haven for history lovers. Free guided tours are offered at the historic New Jersey State House, home to the state government since 1792. Just across the road is New Jersey State Museum with a planetarium, eye-catching archaeology and natural history exhibits and fine art collection of more than 12,000 works to explore.
War buffs could visit Old Barracks Museum, a battle site during the American Revolutionary War, before moving on to the New Jersey World War II Memorial. Trenton War Memorial, built to honour fallen soldiers from World War I, hosts several concerts, ballet performances and orchestras in its 1,800-seat Patriots Theater throughout the year.
photo by Lowlova (CC BY-SA 4.0) modified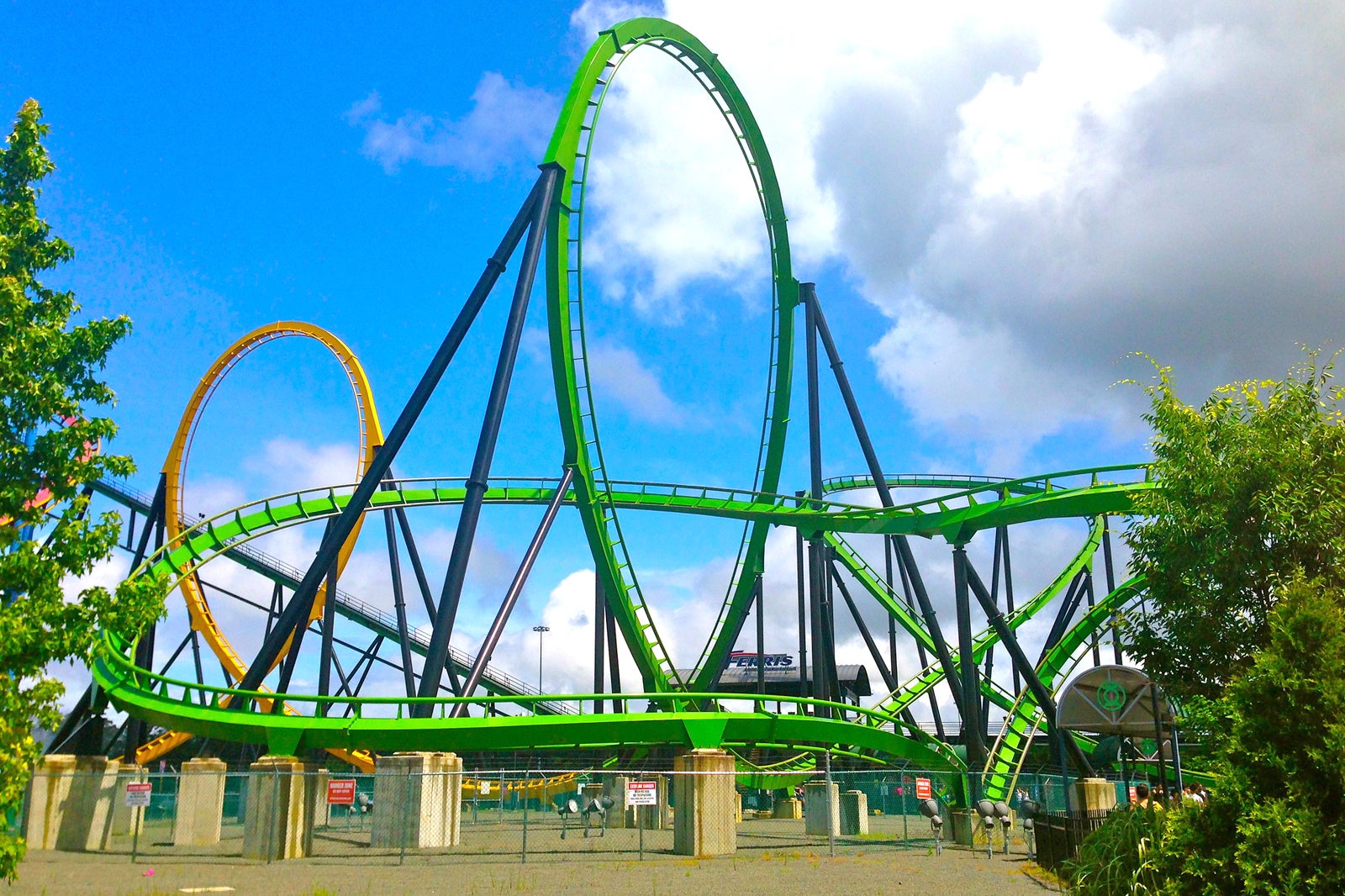 Ride the coasters at Six Flags Great Adventure
Open late March to early January
Six Flags amusement park in Jackson is a fun escape with more than 60 rides, a water park and entertainment for families of all ages. Thrill-seekers find plenty of action on rides like Wonder Woman Lasso of Truth, with its pendulum that swings 17 storeys high. Gamers will line up for the Justice League 4D interactive experience, while the Runaway Mine Train offers an exciting steel roller coaster ride down hills and through twisty helixes and curves.
Mingle with Bugs Bunny and other friendly Looney Tunes characters, or look out for some real-life animals including lions and giraffes on a sight-seeing safari through the animal preserve.
Location: 1 Six Flags Boulevard, Jackson Township, New Jersey 08527, USA
Phone: +1 732 928 2000
photo by Studio Sarah Lou (CC BY 2.0) modified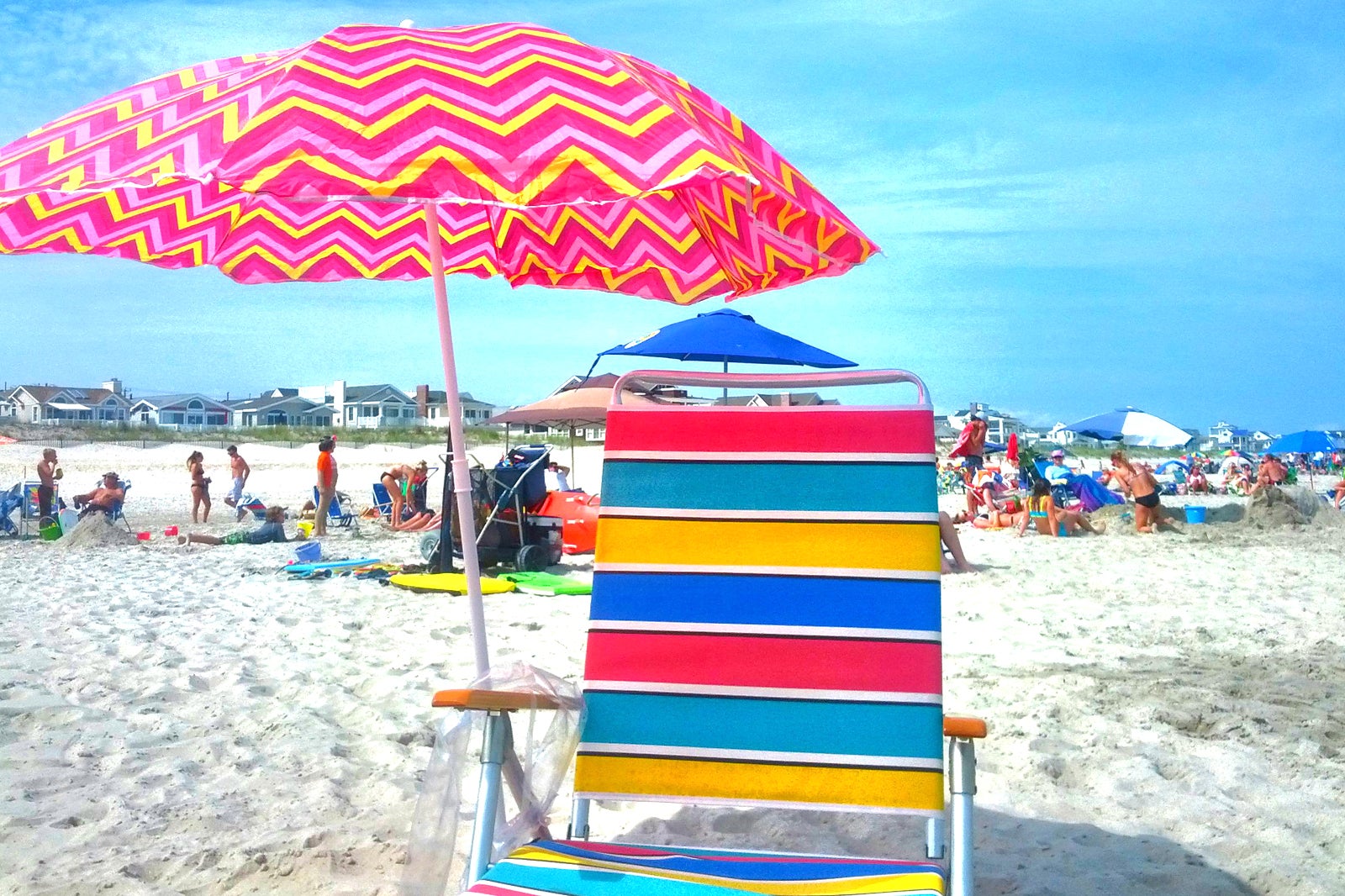 Relax on the beach in Ocean City
Seaside family escape with endless beaches
In stark contrast to the Vegas-style flash and hustle of Atlantic City, Ocean City is a more peaceful retreat on the Jersey Shore. While you won't find alcohol in this "dry" resort town, Ocean City's miles-long boardwalk, golf courses, amusement parks like Gillian's Wonderland Pier and downtown boutique shops offer plenty of fun booze-free diversions.
With some 12 kilometres of beaches to explore, visitors can enjoy long walks along the sand and many sea sports including windsurfing, kitesurfing, sailing, fishing and kayaking.
photo by SurFeRGiRL30 (CC BY 2.0) modified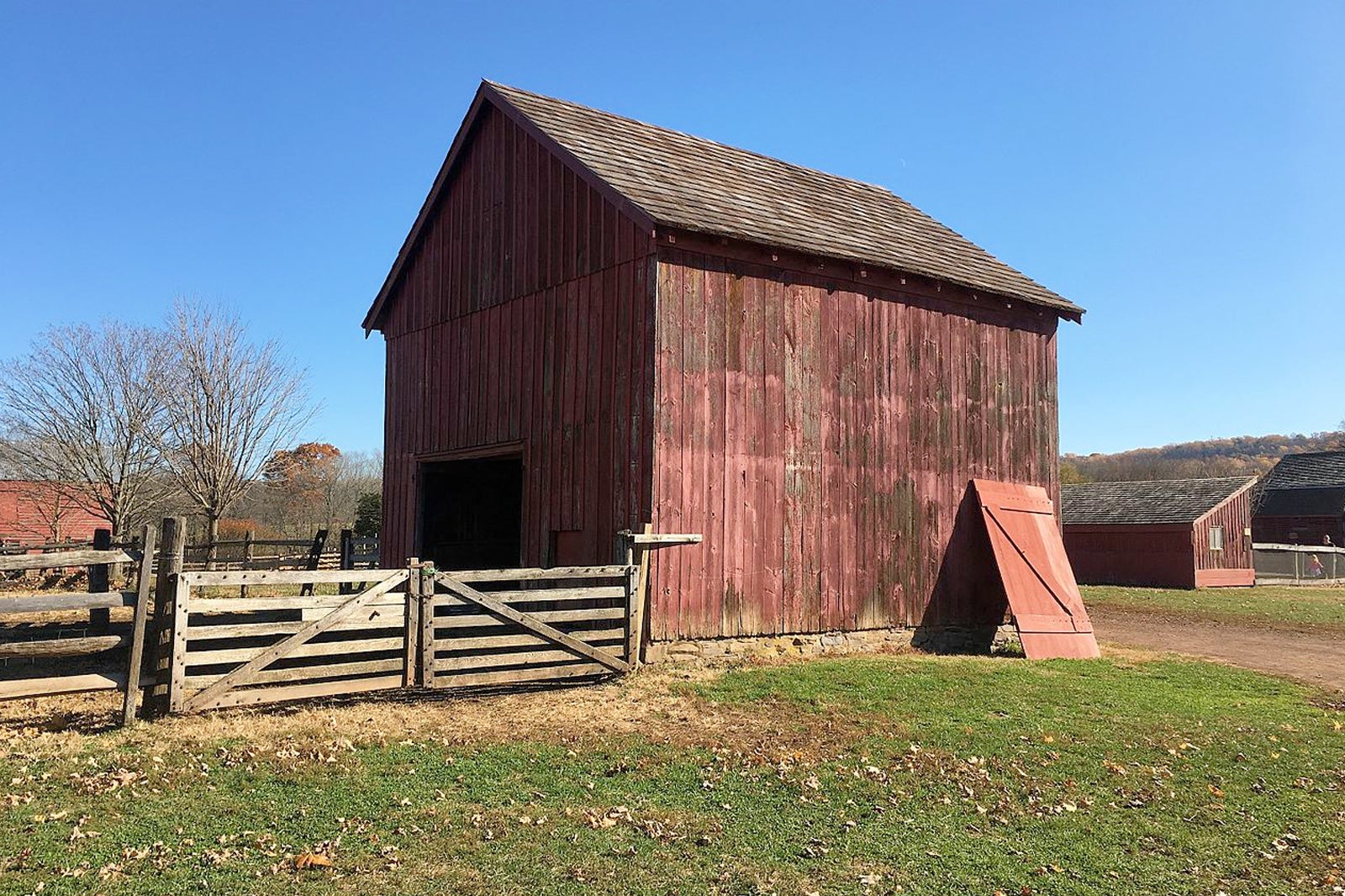 Take a farm or orchard tour
Sip wine and gorge on fresh fruits
With thousands of farms and wineries around New Jersey, there's a good reason why it's called the Garden State. Happily for foodie visitors, many busy farmers and winemakers open their properties for tours and tastings.
Visit Abma's Farm in Wyckoff in the spring for a walking tour or take a hayride in autumn. Enjoy some nibbles while learning about the art of cheesemaking at Valley Shepherd Creamery in Long Valley or Bobolink Dairy and Bakeyard in Milford. See how farming was done in the olden days at Howell Living History Farm in Hopewell Township, or go pick your own blueberries, apples and peaches at several farms during the summer months.
photo by Richard Arthur Norton (CC BY-SA 4.0) modified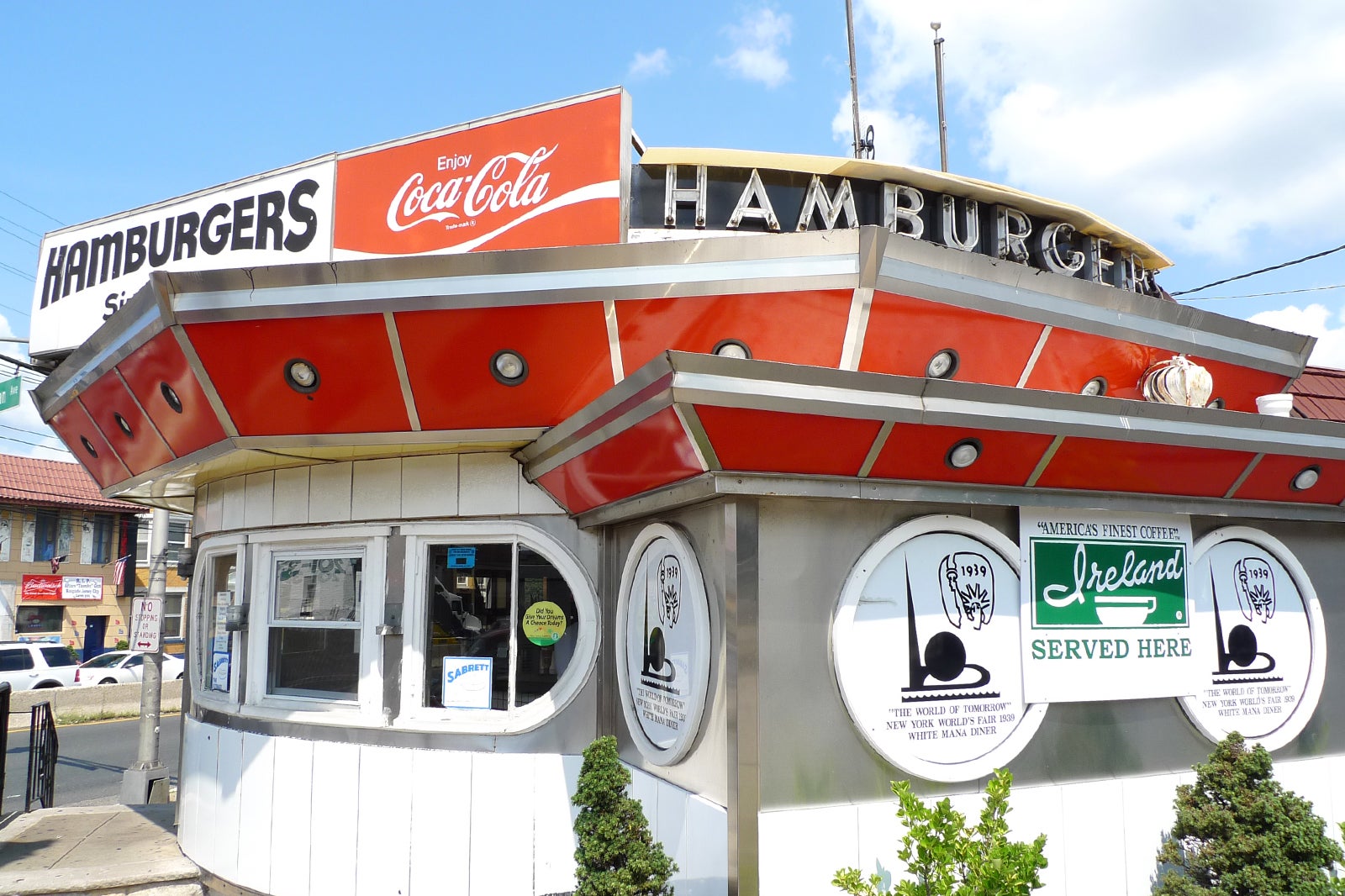 Fuel up at a New Jersey diner
A must-do in the "diner capital of the world"
Roadside diners are icons of the uniquely American way of eating on the go, and New Jersey has a ton of them – more than 600 in all. Diners weren't invented in New Jersey but they've thrived here since the early 1900s, serving famished drivers burgers, milkshakes and other greasy-spoon delights along the busy road network linking New York and Philadelphia.
Some great New Jersey diners to try include Summit Diner, one of the oldest diners in New Jersey, White Mana for a cheeseburger and milkshake, Americana Diner, which sneaks in some modern, healthy cuisine in its retro 1950s style setting, and Mustache Bill's, which serves pancakes shaped as – you guessed it – a moustache.
photo by A Continuous Lean (CC BY 2.0) modified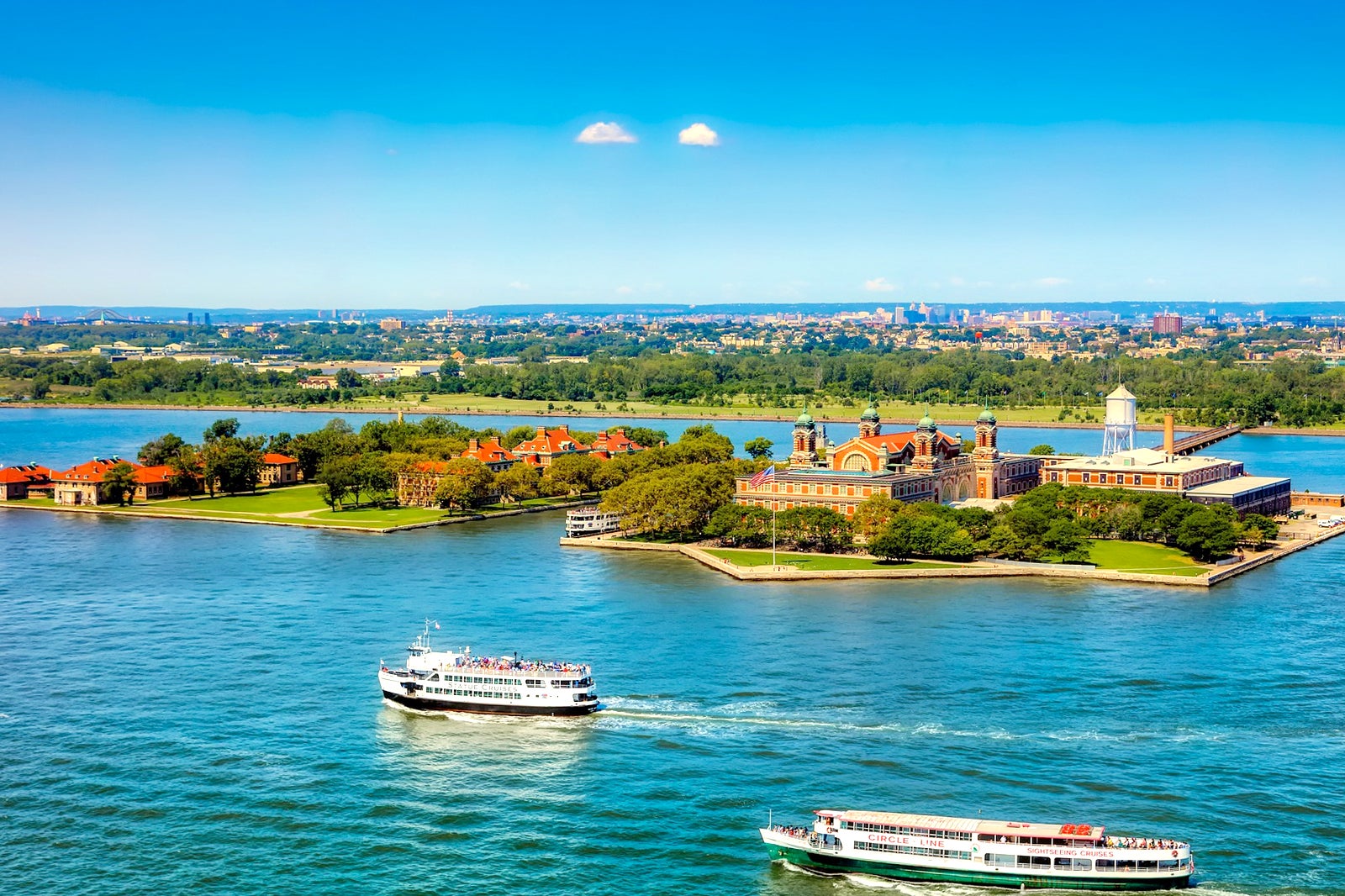 Catch a ferry to Ellis Island
Gateway to the Land of the Free
From 1892 to 1924, Ellis Island was the site of hope and heartbreak for 12 million migrants from Europe seeking a new start in America. This former immigration station in New York harbour is now open as a museum, and usually visited as part of a trip to see the Statue of Liberty.
To get to Ellis Island from New Jersey, catch the ferry from Liberty State Park. Give yourself some time to linger in the park to see the Empty Sky 9/11 Memorial, enjoy views of the Manhattan skyline and take walks along the seaside promenade or park trails.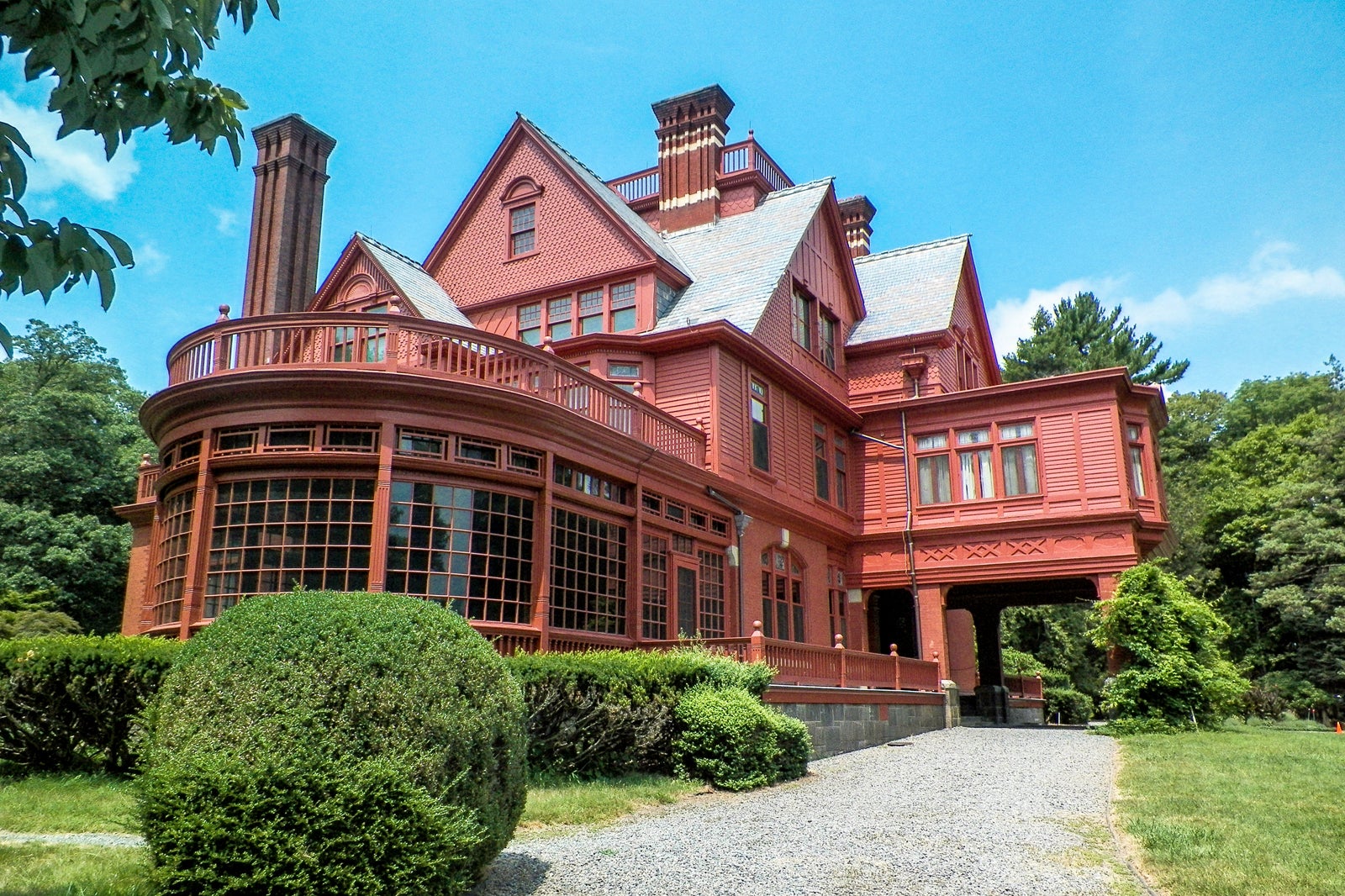 Thomas Edison National Historical Park
Where many of Edison's 1,000 inventions were born
Get some insight into the inventive mind of Thomas Edison at his former home and working space, which has been preserved as a historical park. After his breakthrough phonograph and electric power system inventions, Edison built this larger laboratory in 1887 and toiled for the next 40 years to create things that transformed societies including the motion picture camera and storage batteries.
An audio tour of the laboratory is available for an extra $5 on the $15 entry fee. If time allows, head over to Edison's Glenmont estate for a park ranger-led tour of his 29-room mansion and surrounding 13 acres of land.
Location: 211 Main Street, West Orange, New Jersey 07052, USA
Open: Wednesday-Sunday from 10am to 4pm (open till 5pm from July 4 to September 1)
Phone: +1 973 736 0550 ext 11